Yellow mustard, the warm hue with a hint of vibrance, is trending high in women's fashion nowadays. The shade may be tricky to pull off, but it lets you make the ultimate style statement when done right. To rock this appealing color with utmost confidence, you need to learn what color goes with mustard yellow so that you can build eye-pleasing outfits.
The good thing about the yellow mustard shade is that it isn't gaudy but catches attention instantly. It has the unique appeal of bright yellow, sans the flashy vibes, which makes it a great color for semi-formal and formal wear as well.
There are multiple ways to dress up a mustard sweater outfit, and you must not worry about going wrong. We have your style needs covered with suggesting colors that go with mustard yellow, plus outfit ideas that will set the bar high anywhere you go.
The Right Colors to Go With A Mustard Sweater Outfit
First things first, you must pull off a mustard yellow clothing item or a complete mustard yellow ensemble with other garments and accessories in a color that looks nice. Avoid going for brighter yellows as that will reflect an unsightly yellowness on your skin and look very gaudy.
Next up, know what color goes with mustard yellow clothing seamlessly. The neutral shades to pair with mustard are black, white, navy, grey, and tan. For a colorful look, you can go with shades of pink like fuchsia, coral, or bubblegum. You can also pair dark green, violet, teal, pale blue, burgundy, red and pastel orange with mustard yellow clothes.
If your mustard yellow clothing item is plain, try pairing it with black and white plaid, leopard print, houndstooth, or chevron pattern to elevate its look. 
Different Outfit Types in Yellow Mustard Color
Mustard yellow trench coats for women are one of the most fashion forward outerwear during autumn/winter. But wearing mustard yellow should not be limited to this only.
You can upgrade your wardrobe and add this splendid color to it in the form of pants, skirts, tops, sweaters, cardigans, and shirts.
Besides clothing essentials, you can also get your hands on any type of bag in mustard yellow. Try mustard footwear, especially pumps, headgear, scarves, and even belts, for that eye catching appeal. 
A complete outfit type with this shade can either be dresses, jumpsuits, and pantsuits. Pair them with essentials in coordinating colors, and you will amaze the onlookers. You can also learn the colors to wear with mustard yellow, and pick accessories in those shades to round off the outfits.
Mustard Yellow Dresses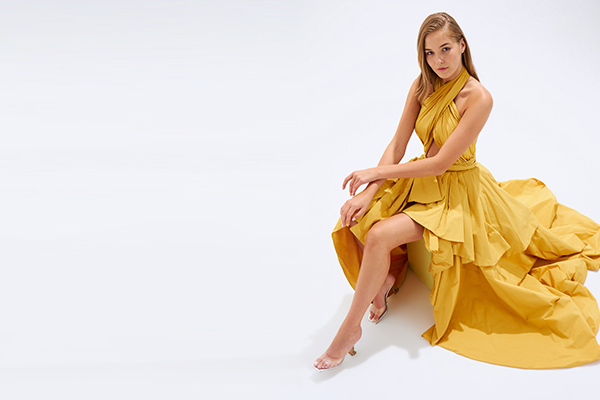 A mustard yellow dress is all you need for a stunning look. There can be several types of dresses that you want to go for. However, we suggest going for a knitted midi dress with a roll neck collar for the perfect autumn street style look. Pair it with a black belt, a black shoulder bag, and black stilettos to round off the look with perfection.
Mustard Yellow Pant Suits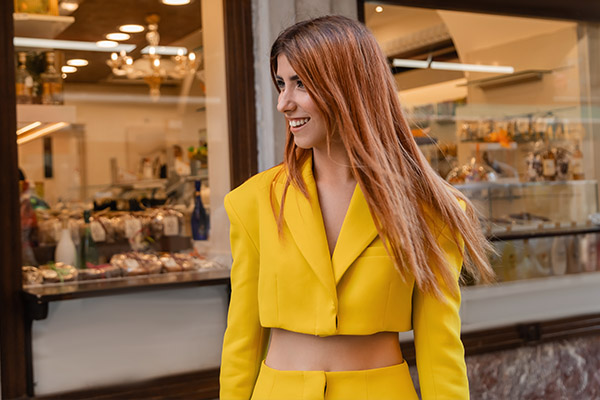 What's more elegant than a lady in a pantsuit? Definitely a lady in a mustard pantsuit! Want to know what matches with a mustard yellow pantsuit? You can safely go with either white or black tux shirt.
A well-fitted mustard yellow pantsuit, paired with a white tuxedo shirt, is the key to nailing the modern corporate attire effortlessly. A loose curls hairstyle and black shades are the perfect finishing touches to this look. 
If you don't want a complete pantsuit, you can also go for a less formal style with yellow mustard flared trousers and a blazer in the same color, matched with a shirt in blue or white.
Mustard Yellow Jumpsuits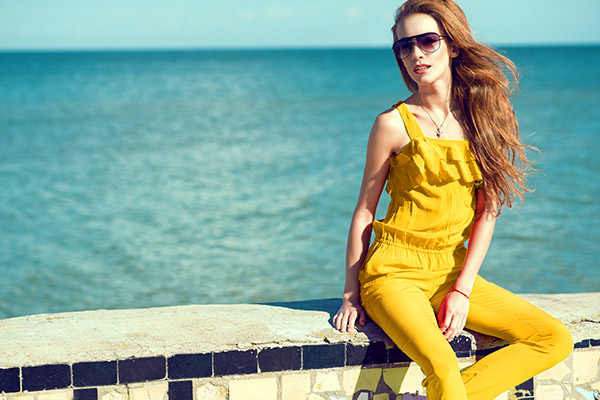 Go for a glamorous, figure-flattering jumpsuit in a mustard yellow color to show everyone that your fashion sense is on point. Jumpsuits are chic, one-piece garments that make you look taller, which means short women should opt for them. If you are going to a formal event, layer the jumpsuit with a black blazer to instantly make it a cocktail attire.
Mustard Yellow Co-ord Sets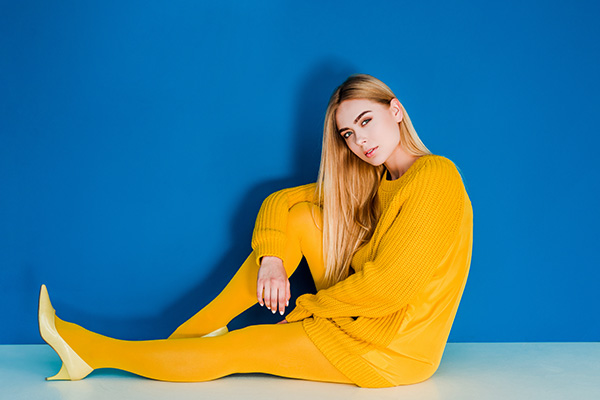 Another casual mustard yellow outfit can be created with a sweatshirt and trousers. No need to worry about what colors go with mustard yellow. You can look like a baddie by wearing a matching mustard yellow cropped hoodie and sweatshirt. Just up the glamour quotient by making a neat bun, wearing silver hooped earrings, and a soft glam makeup look. For footwear, go for black pumps. 
Mustard Sweater Outfit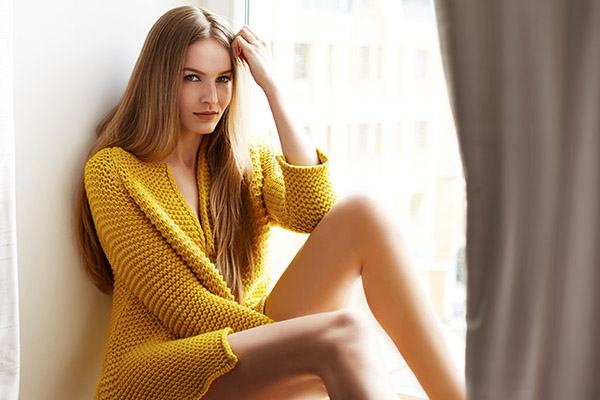 A stylish yellow mustard sweater should be a mainstay in your capsule wardrobe. It can be paired with pants, skirts, and jackets in the same or different colors effortlessly. Experiment with different combinations and pick what goes with the yellow top.
The complementing colors for yellow sweater outfit ideas are navy blue, black, and light blue. Your sweater can be a long oversized one or a cropped one. It can also be a turtleneck which is trending high these days.  
A basic street style looks for spring would be pairing an off-shoulder mustard sweater in an oversized fit along with mom jeans. This mustard sweater outfit can be styled with white pumps and glam makeup. 
Yellow Mustard Clothing with Different Colored Outfits
Mustard yellow clothing pieces are timeless. They look absolutely fabulous in casual style outfits, as well as dressy street looks, and even if a higher level of formality is required. To rock these spectacular pieces, you need to know what colors go with mustard yellow clothes.
What Pants To Wear With Mustard Yellow Tops?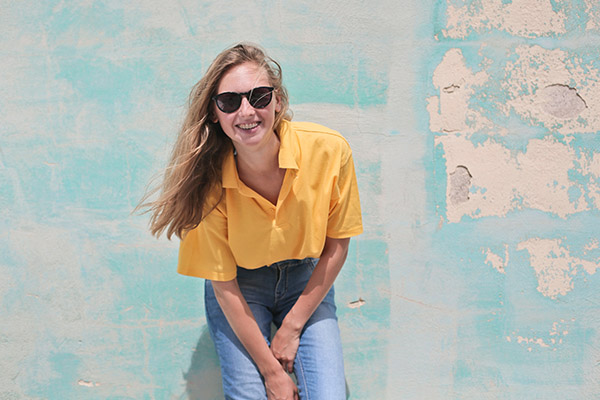 For your chic mustard yellow tops, many pants can be paired. A short-sleeved blouse or a ruffled top will lend itself to a black leather skirt. For more laid-back looks, pair blue ripped jeans along with a lace blouse, a one-shoulder tunic, or a stylish sleeveless top.
If the question is what color compliments mustard yellow the most, the answer is black. Mustard looks flawlessly good with black. Therefore, the easiest way is to wear a mustard yellow top with black jeans. You can layer the outfit with a black shrug and carry black accessories like a small pouch bag, t-strap heels, and black earrings.
Classy black biker shorts for women are perfect for chic outfits. Biker shorts with an oversized mustard sweatshirt is a laid-back outfit that ranks high on the style meter. White sneakers and a cute fanny pack are all you need to nail this casual look.
Black Leather Jacket with a Mustard Yellow Cardigan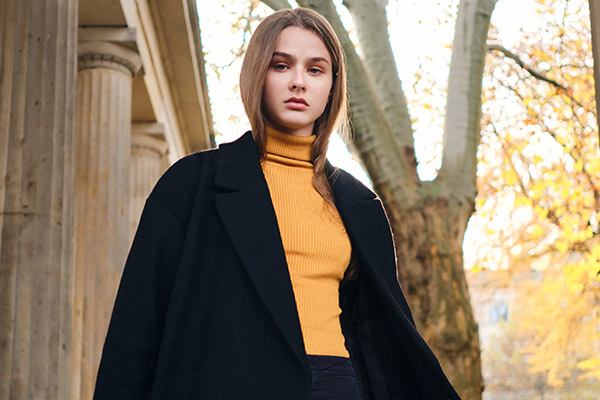 Diversify your layering choices with a splendid cardigan in mustard color. It will be easy to pair the cardigan with different types of shirts, tops, dresses, and even jumpsuits. But the best option would be to style it with a black leather jacket. 
Mustard yellow cardigan outfit with a leather jacket provides extra layering, which results in a cozy yet chic attire that is perfect for a street look. Check different layering combinations to see what matches with mustard yellow cardigan.
You can choose a white shirt and black jeans as the foundation layer, and wear your cardigan and then the jacket. Add some jewelry, like antique silver necklaces and rings, for a captivating look.
Styling a Mustard Yellow Long Coat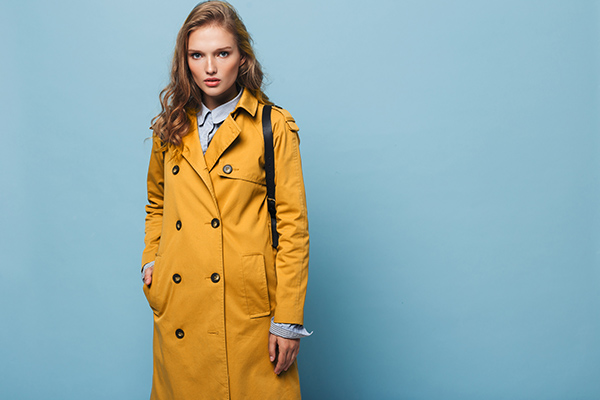 It is the cold season, and women flock to stores to buy elegant long coats in earthy tones, like brown, beige, and mustard yellow. There are multiple options, like a minimalist duster coat, a single or double-breasted trench coat, or an extravagant parka coat for the harsh winter weather. 
The easiest way to pair a mustard yellow long coat is to wear it over a black turtleneck and black tights. Round off the ensemble with black ankle boots and a scarf for a graceful appeal.
Denim Shirt or Jacket with Mustard Yellow Outfit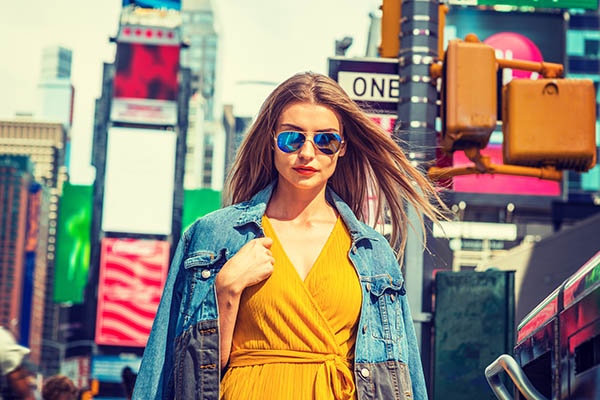 Want to look downright gorgeous in a casual outfit? Try teaming up faded bootcut jeans along with a lightweight denim jacket and a mustard yellow long cardigan. 
White Pants with Mustard Yellow Cardigan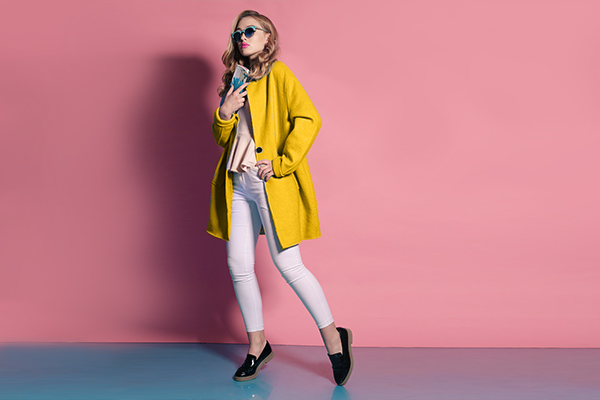 The vibrancy of mustard and the subdued and crisp look of white make an eye pleasing combo. It is certainly one of the best colors that go with mustard yellow. A pretty look can be achieved by pairing white jeans with a beige blouse tucked in and the outfit layered with an elegant mustard yellow cardigan.
You can also try swapping the cardigan with a loose mustard fleece jacket. Add white t-strap heels and a beige purse to the mix for a chic feel. 
Black Pants with Mustard Yellow Tops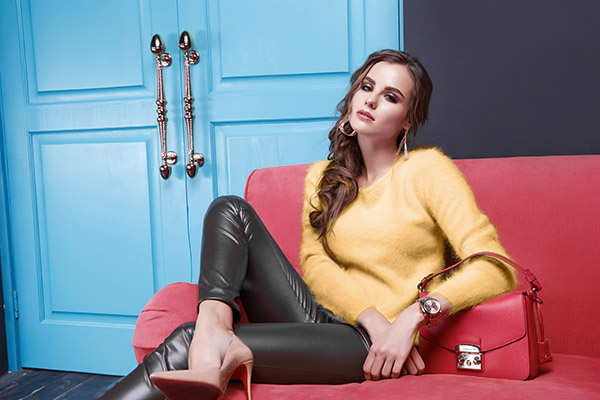 If you want to look stylish in a cute mustard top, pair it with black pants. Black and mustard yellow are complementing hues. Depending on the silhouette you want, you can choose the type of pants with your top. 
We suggest teaming up a halter neck top with wide-legged black pants. Accessorize the ensemble with a brown belt, handbag, and stylish wedges. If you want to layer up for the colder weather, swap the halterneck with a turtleneck in mustard color, and go for a black sherpa jacket and skinny jeans instead. 
Blazers with Mustard Yellow Pants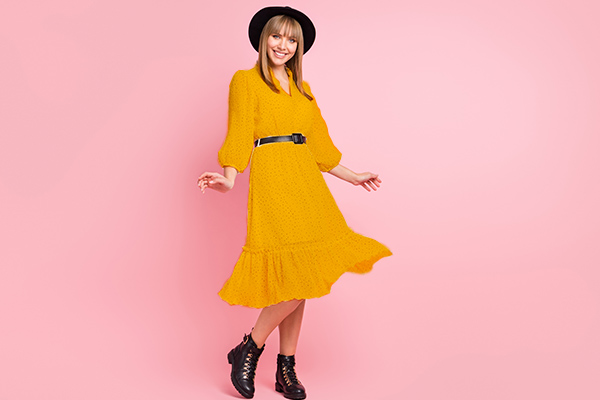 Building a work appropriate outfit with mustard yellow pants requires white or black shirts and blazers in different colors. You can go with a simple white blazer or elevate the look with some color and go for a violet blazer instead. Opt for sleek pumps and a shoulder bag to complement the look. 
Mustard Yellow Skirts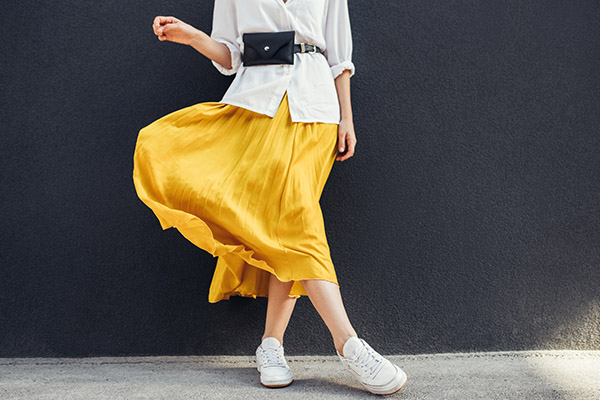 Skirts are the most feminine clothing item that is a must for your wardrobe. If you are looking to diversify the skirt choices, look for mustard skirts in stylish silhouettes to spice up your day-to-day and evening looks.
You can either go with a mini skirt or pair it with a white blouse. Layer a cropped black leather jacket to get those chic vibes.  Round off the outfit with black heels and a statement necklace.
Or, go for a pleated yellow mustard skirt with a black sweatshirt and a black beret for a chic Parisian style look. You can wear black mules to finish off this look. 
Boots with Mustard Yellow Outfit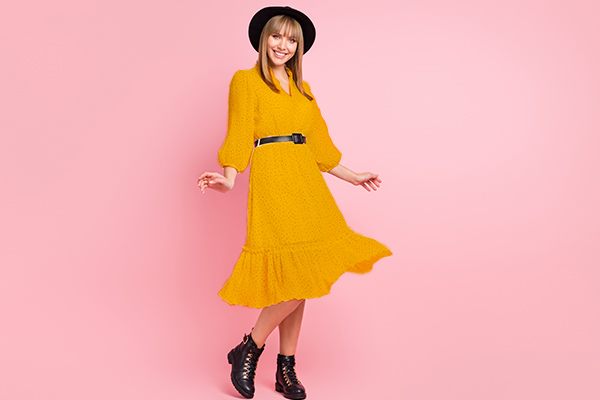 When it comes to choosing the appropriate footwear, you can safely opt for boots with your mustard yellow outfits. The complementing colors for boots are black, tan, beige, and brown. When wearing shorter dresses and skirts, go for long boots in darker shades. Choose ankle boots and Dr. Martens with jeans, wide-legged pants, and long jumpsuits and dresses.
Mustard Yellow Accessories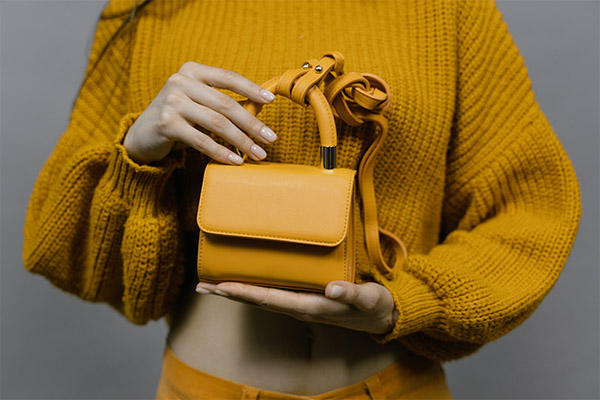 Subtle hints of mustard yellow with accessories are a great way to add a splash of color to monochrome outfits. Go for purses, shoes, and belts in this color to add vibrancy to your ensembles. You can also wear a beanie in this color for a cute look. 
FAQ – Mustard Sweater Outfit
What Color to Wear with Mustard Yellow?
Basic neutrals, such as black, white, navy, and beige can be paired with mustard yellow. Other bright hues, such as burgundy, pink, tan, bottle green, and teal also complement mustard yellow clothing. 
Conclusion
If you have mustard yellow clothing, such as stylish sweaters, cardigans and accessories in your wardrobe, kudos to you for being style-conscious. But even if you don't have one, it is worth buying a few pieces in this color to experiment with all the mustard sweater outfits and other looks that we have mentioned. Whether it is a complete outfit in this color or a single piece in mustard yellow, it will surely turn heads and give a lasting impression on everyone.