Leather bags are amongst the most versatile and hard-working accessories in our wardrobe. Not only do they functionalize our living but also add a touch of glamor. Whether you prefer carrying the classics like satchels or love the street-favorite crossbody and shoulder bags, finding the right women's leather work bag is never difficult – considering the endless options and variety available.
TruCarry is known for its collection of sophisticated and functional bags; having the best leather work bags in different colors, designs, and finishes. Previously restricted to a woman's closet, leather bags are now well-integrated into men's capsule wardrobes, too.
In this guide, we mention the best bags for women, but their multi-purpose, gender-neutral design appeases men as well. Let's dive right into it.
What To Expect In This Article?
Our Collection Of The Best Leather Work Bags
There are so many different types of bags out there, so finding the one that you can wear to work every day can be slightly daunting – you want to keep things simple and classy without going over the top with glitz and glamor, and at the same time, ensure optimal functionality. The best work bags for women are made from durable materials and require little to no maintenance. Not just that, you want to find a bag that looks great with every outfit. It shouldn't be too casual and shabby without being too eccentric and funky.
In this situation, the color and design become extremely important. Although women blindly go for black leather bags, a brown leather work bag is not a bad idea either. In fact, one would argue brown is a superior choice. As for the design, various trends have come and gone but the classy styles always beat the game and stick around. Hence, shoulder bags with long and adjustable straps should be your first option with tote bags being the second. Briefcases are mostly restricted to the men's section but with gender-neutral fashion creating buzz, it has become a seamless option for women, too.
Women's Leather Work Bag – Leather Backpack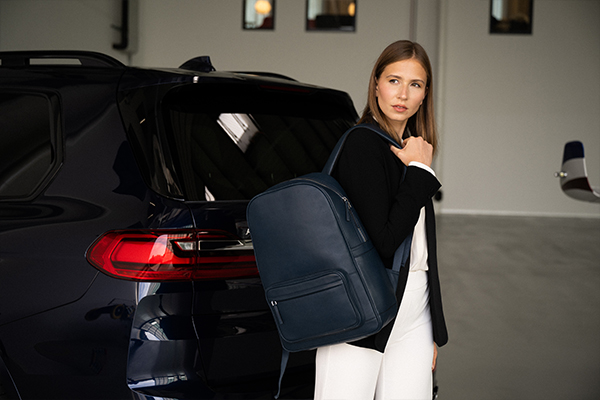 When we think of the best work travel bag, we definitely think of its design. Are they spacious enough? Can they carry all your stuff? What are the things that you would ideally carry to work daily? Do you want to fit in your laptop and other electronic devices? Would you want to keep your makeup bag and other utilitarian items? These are simple but important questions. Of course, leather crossbody bags might not be the best option considering they are small-sized and won't be spacious enough to carry all your stuff easily.
Leather backpacks are one of the best bags for commuting to work. The reason we list it amongst the best leather travel bags is because they have a utilitarian design. They are big enough to carry the big items – laptops, electronic devices, and utility items. And really, why wouldn't you be a fan of these leather backpacks? They come with front and back panels, a leather top handle, padded shoulder straps, pockets, and a two-way zipper with leather pullers and whatnot. Thus, do check out these backpacks as they come in four different colors and have distinct finishes and immaculate looks.
Looking For The Best Work Travel Bag – Check Out This Leather Messenger Bag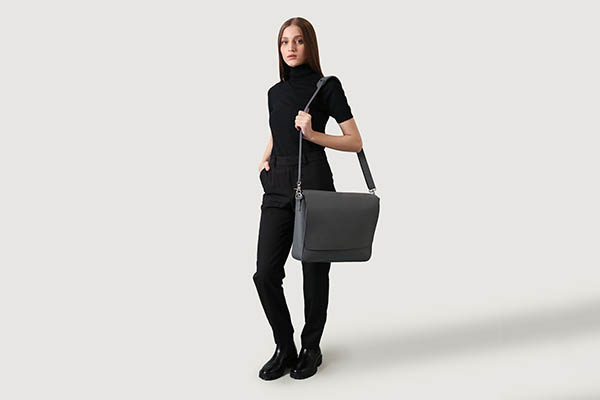 Messenger bags are undoubtedly among the best business leather bags. They have a luxurious and compact design and are made from lightweight, naturally-milled cowhide leather. You've got multi-purpose pockets adding to the utility and spaciousness of the bag. The messenger bags offered by TruCarry have rust-proof leather accessories with a chrome finish. There are padded laptop pockets, too. And with the integration of adjustable and detachable straps and shoulder padding makes it one of the best leather bags for women for work.
The List Of Best Leather Bags For Women Is Incomplete Without These
Here are some more options if you are still not sure about the best work bags for you.
Our Best Leather Tote For Work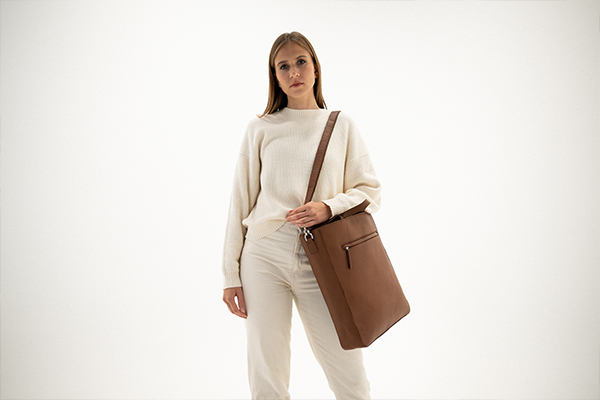 Tote bags are the moment. They are fashionable, trendy, and extremely versatile. Hitting the park with a friend? Going to attend a casual brunch? Need to rush to the office? There are so many ways you can wear tote bags. You can check out tote bag outfits on pinterest for ideas as well. TruCarry can help you find the best leather tote bag for work. We have a collection of the best tote bags for work – available in different colors; blue, brown, grey, and black. A black leather work bag is a must-have for anybody.
But if you're someone who likes to keep her attire trendy, a large leather tote bag for work is a must in midnight blue to brown color. These colors are versatile and can effortlessly match every outfit. If you're wondering why our bags are the best leather tote bags for work, then we must address that they're made of naturally-milled cowhide leather. The construction and stitching are done with high-quality materials. So, what are you waiting for? Get the best leather tote for work from us!
Best Leather Laptop Bag, Leather Sleeves For Eclectic Purpose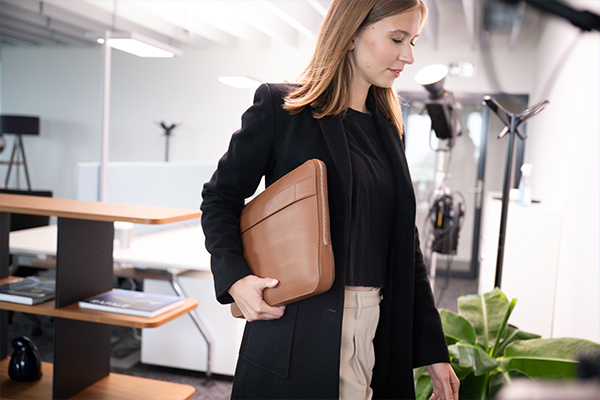 You should realize that one doesn't have to buy a leather work bag laptop that is huge. You can simply purchase leather sleeves for your laptop and put them in your backpack or other shoulder bag to keep it all organized and clear. Of course, do check out our best leather laptop bag or sleeve available in four colors. It's durable, water-resistant, and requires little to no maintenance.
Our Best Briefcase for Professional Efficiency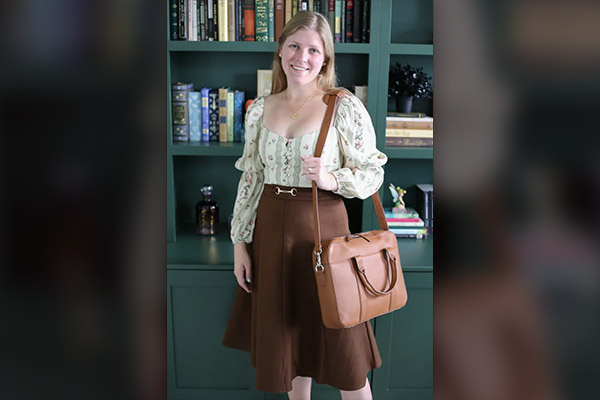 Although we have made work easy by taking a digital route for everything work-related, there is still some paperwork that you must carry with you – either to court for your next hearing or to any other corporate meeting. And with the paperwork comes laptops, cards, and other business essentials. To be efficient and have all your documents at your fingertips, make sure you invest in a leather briefcase. We have a collection of leather briefcases in four unique colors that stand out and go really well with every outfit. Because at the end of the day, you want to look great even when you mean business.
Carry Essentials in Our Folio Organizer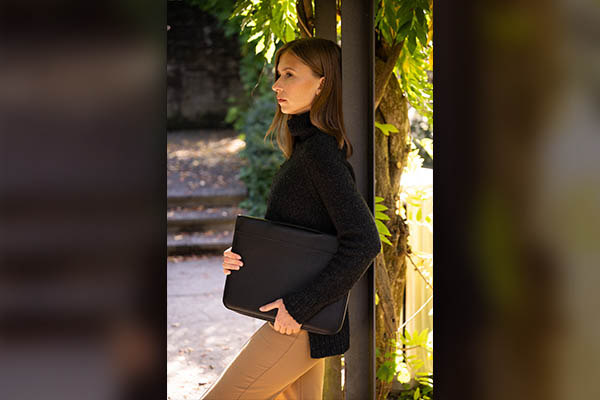 Work means being practical and having all your business essentials in place – right in front of your eyes and exactly where you put them the last time. And for that, you need to buy yourself a durable and stylish folio organizer. It keeps all your professional accessories in place. You won't have to search for your business essentials during a meeting because you will have it all organized in one organizer. It is affordable, eclectic, and extremely resourceful.
Are Real Leather Bags Worth It?
Yes, real leather bags are extremely durable and will last you a lifetime – with very little maintenance. Thus, make sure you invest in a real leather bag!
What Thickness Of Leather Is Best For Bags?
If you're buying a leather bag, make sure it has a thickness of 1.0mm or greater.
How Can You Tell The Quality Of A Leather Bag?
If the leather bag is made of real leather, it will be long-lasting. Make sure you find leather bags made of full-grain leather as they stay durable and are resistant to abrasions and water. The material and craftsmanship are the only indicators of quality. 
What Is The Highest Quality Leather For Bags?
Full-grain leather is the highest quality leather for bags.
Conclusion
In this guide, we discussed the best leather work bags for women. TruCarry has to be the ultimate option for you to buy leather bags. We recommend investing in leather tote bags, leather backpacks, leather messenger bags, or leather laptop sleeves for work. They come in various styles and colors – and guess what? You can always get them customized according to your personal preferences.