Fall is one of the best seasons when it comes to dressing up and experimenting with men's upper wear fashion. The temperature is perfect for trying out some best men's fall jackets and other amazing winter wear without having to overstuff yourself with warm clothes. This is especially true in areas where it snows a lot, because going out in just your hand-crafted leather jacket will be chilly, and wearing something warm under it will ruin the perfect fit. It is almost as if this season was made specifically for men to enjoy their coats, tops, blazers, and of course, fall jackets.
There are many designs and styles of jackets that look best in the fall season. Here are some of our most popular ones:
1. Ionic Black Leather Jacket
Standing in the general color category but with an entirely unique finish is this black sheep biker jacket. One thing that anyone will notice immediately about this jacket is its distinct leather finish.
Made from real sheepskin leather and processed in an exceptional way, this jacket is a must-own for anyone trying to build a wardrobe. This jacket is a perfect fit for anyone who wants a jacket that they can just put on, and be confident that it looks good.
Styling: Try to opt for lighter colors, preferably whites and light greys for a monochromatic look.

Colors: Black. Brown, Red, Blue, Tan Brown, Distressed Brown, Green
2. Noah Black Leather Biker Jacket
Let's kick things off with one of the most stylish and out-of-ordinary leather jackets you can buy on the market. The defining feature of this men's fall jacket is definitely its notched peak lapels, which makes you look stylish and fashionable.
The best thing about the look of this jacket is its ability to exude pure confidence.
Styling: Pair it with an all-black outfit.

Colors: Black, Brown
3. Inferno Brown Leather Jacket
While we are on the topic of leather jackets that exude confidence, take a look at this brown leather jacket. This is pretty much the opposite of the previous jacket in terms of color and the atmosphere it radiates. With its earthy brown color, this jacket takes the cake for being refreshingly classic and contemporary at the same time.
Styling: You can create whatever look you want. You can go all-black or all white. Or, if you want to create a specific banger ensemble, pair this beauty with a white t-shirt, fresh blue jeans, and a pair of similarly colored leather boots.

Colors: Black, Brown
4. Bomia Ma-1 Black Leather Bomber Jacket
Let's bring our attention back to a jacket that is the perfect example of the phrase, "If it isn't broke, don't fix it." This best-looking mens fall jacket is proof of the timelessness of classic leather jackets. The simple black design with brass-colored accent zippers creates a clean and clutter-free look that is ideal for daily wear.
Styling: This best lightweight men's fall jacket can be worn with anything between plain t-shirts of any color and denim Jeans. The only thing standing between you and infinite outfitting options is your imagination.

Colors: Black, Blue, Matte Black, Brown
5. Ranchson Black Leather Shirt
When it comes to lightweight fall jackets, this very shirt is the timeless go-to, which provides style along with essential comfort. The buttoned closure provides warmth in the chilly falls without overstuffing any other warm apparel.
Styling: This leather shirt can be styled in basic manner on a white plain tee and denim jeans and like a cherry on top complete the outfit with black everyday sneakers.

Colors: Black
6. Vincent Alley Brown Leather Jacket
Staying on the topic of brown leather jackets, this brown jacket holds the crown for uniqueness and timelessness The richness of color that is borderline burgundy adds to its unique element. The overall finish of this sheepskin leather jacket is very polished and lustrous, which highlights the unique color very courteously.
Add the unique color and fancy design in the mix, and you've got yourself a jacket that will not only look great but also protect you from much colder temperatures.
Styling: Style this brown biker jacket with plain white tee along with classic beige chinos and stylish brown suede boots and you're good to go.

Colors: Brown
7. Nintenzo Black Hooded Leather Jacket
This particular one is all black leather with a subtle glossy semi-aniline finish. This jacket provides a contemporary style along with a hood. We can say it's a classic example of the best-hooded men's fall jackets. The hood will definitely help you escape the chilly nights in the fall season and will make you look confident anywhere you choose to wear it.
Styling: This classic hooded leather jacket can be styled easily over a maroon or red tee, denim jeans and black everyday sneakers.

Colors: Black
8. Coffmen Black Leather Bomber Jacket
If we compare the number of ways you can wear a jacket, this leather biker jacket will take victory by a landslide. There are even more outfitting options with the deep brown color of this particular piece. But before we talk about the styling options, let's focus on the material a bit. It is made from real sheepskin leather, thus providing a snug fit and feel that offers comfort that is difficult to get from other materials.
Styling: When it comes to pairing a jacket, there are two main styles you can aim for. First is a more traditional approach with, basic tee and denim jeans. Or, you can go super modern with colorful polo t-shirts and fancy sneakers.

Colors: Olive Brown. Black, Tan Brown Suede, Brown
9. Charcoal Navy Blue Suede Biker Jacket
If you are looking for a luxe finish then suede leather is the best go-to for you. This Navy Blue biker jacket provides a simplistic look when worn over basic attire. It helps to highlight the overall ensemble by adding a flash tone to it.
Styling: Pair it with an all black outfit and let the jacket suave the ensemble.

Colors: Navy Blue, Brown Suede, Black
10. Adornica Black Leather Biker Jacket
This classic contemporary biker jacket can be your all-time choice. With its simple yet bold style element. it can make you stand out among others. The silver trim radiate the overall essence of the jacket.
Styling: Pair it with simple white t-shirt and a denim jeans and white sneakers and you are good to go.

Colors: Black
11. Austere Matte Black Leather Biker Jacket
If you are a fan of matte black finish then this biker jacket is going to be the best men's fall jacket for you. The classic matte finish gives off a unique look when paired with the right outfit.
Styling: Pair it with a black polo, blue denim jeans and tan brown sneakers and you're good to go.

Colors: Black, Matte Black
12. Lavendard Blue Leather Biker Jacket
This flashy unique piece is for the people who like to add colors to their everyday lives. The classic party jacket for nightlife lovers. The jacket definitely makes the person stand out with its classy blue color.
The light color helps you in keeping at the right temperature with the sheepskin leather, you can say that it's one the best men's fall jackets.
Styling: Pair it with all black everything and you're all set for the party.

Colors: Green, Brown, Blue
13. Daron Black Leather Blazer
All the jackets we have talked about so far are mostly intended for average everyday wear. Sure, you can rock some of them like the fall bomber jacket in a business setting, just fine. But this one is specifically designed to be the jacket that you can wear to work every day without it looking out of place.
Its suit-like design makes it the excellent smart-casual fall jacket for men while also providing all the style and fashion benefits that come with a leather top.
Styling: You can wear it with a turtle neck for an up-to-the-minute and fashionable look. Or, you can simply pair it with a dress shirt and a colorful tie for the business casual or semi-formal office look. Its shiny black material also matches really well with formal dress shoes, so that's an added plus.

Colors: Black, Brown
14. Moda Maroon Leather Bomber Jacket
IF you are a fan of the red tone scale then this very piece is for you. The jacket gives a unique appearance with the quilted aniline sheepskin leather. This bomber jacket is the best to go for to ensure ultimate style.
Styling: Pair this unique jacket with a black t-shirt and jeans along with black suede boots and you're good to go.

Colors: Black, Maroon
15. Gatsby Blue Leather Biker Jacket
Just like the Lavendard blue, The gatsby blue has an even lighter blue tone to it. best for those who like to add colors to their refreshing lifestyle. This sheepskin fall jacket is the best to go for in the mildly chilly weather.
Styling: Pair it with a plain white t-shirt and a black denim jeans along with black sneakers and you're all set for the day.

Colors: Green, Mocha, Blue, Black, Distressed Brown
16. Youngster Distressed Black Leather Jacket
As the name suggests, Youngster. This jacket aims for the youth who like to follow trends in fashion with its snuffed leather finish and contrasting leather stitching the jacket emits a classic immature vibe, best for youngsters.
Styling: Pair this stylish fall jacket with a plain white tee and black denim jeans along with black or brown suede boots and you're all set.

Colors: Black, Brown, Distressed Black
Vegan Fall Jackets
Are you not a big fan of leather goods? Do you already own a leather jacket and just want to try something different? Or are you looking for a more vegan option? Then these are the perfect fall jackets for your needs.
17. Hanklin Ma-1 Blue Hooded Bomber Jacket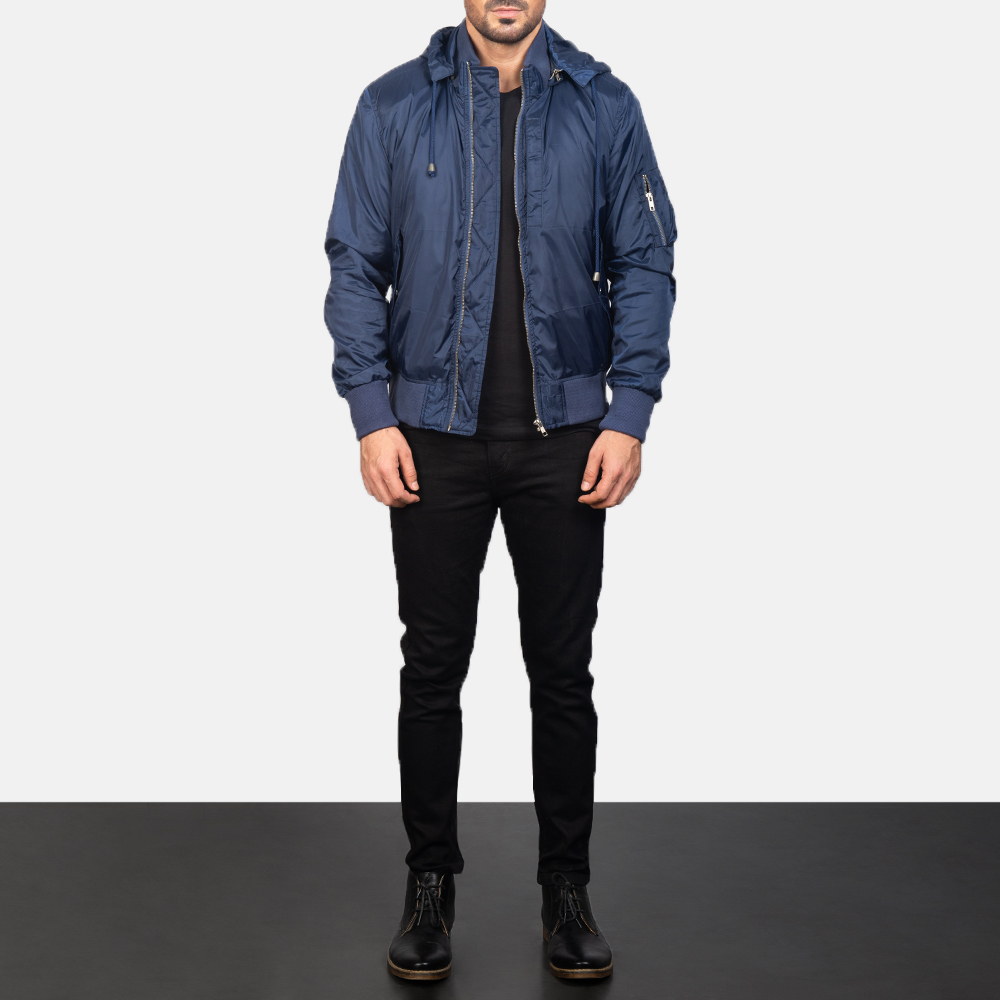 It is based on the design of historical bomber jackets and created with polyester material that gives it a very lightweight and breathable feel. It is a utility champion but isn't lacking in looks either. Rocking it with a pair of ankle jeans and boots will give you a very modern and trendy look that is exclusive to this design of men's fall jackets.
Styling: You can pair the classic bomber jacket with a plain black t-shirt, black cotton jeans and black everyday sneakers, and you're good to go.

Colors: Blue, Green, Red, Black
18. Zack Black Bomber Jacket
This polyester varsity jacket is the go-to for a contemporary yet preppy style. The jacket is the best alternative for a leather or fabric bomber jacket. This very style staple provides a boyish yet masculine style element which would definitely make you stand out among others.
Styling: The classic jacket can be worn with plain navy polo and black cotton slim-fit jeans, and black classic boots.

Colors: Red, Blue, Black, Green
19. Kajetan Beige Safari Jacket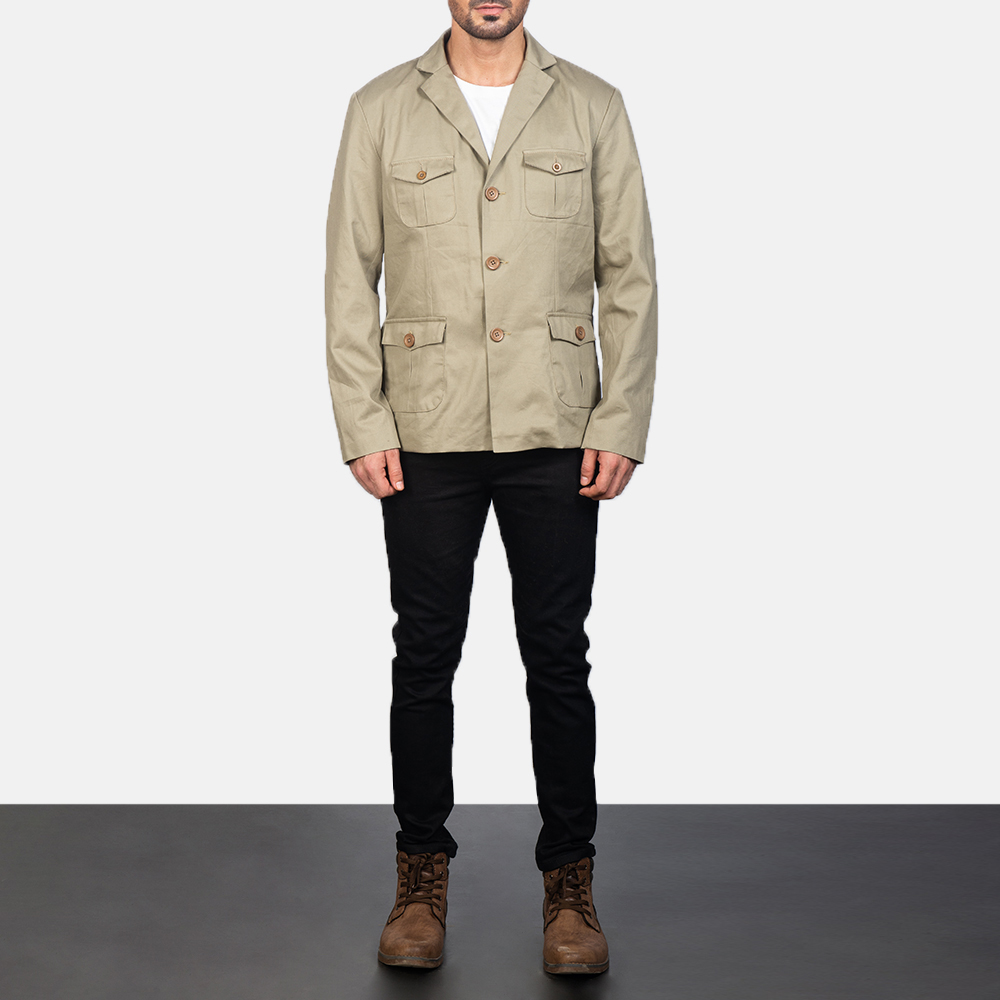 Last in the list but not in the collection of fall jackets The Jacket Maker offers. This Safari Jacket is a classic example of comfort with accessibility. If you are planning to go on an expedition then this Kajetan is the best mens fall jacket you can get.
Styling: The jacket can be styled with safari beige trousers and classic white tee along with ankle boots. If you plan to wear it as a casual attire then pair it with black t-shirt, ripped denim jeans and everyday sneakers.

Colors: Khaki, Grey, Beige
F.A.Qs
Are fall jackets still in fashion?
Men's leather jackets have had a lustrous run throughout human history. From the early caveman days when they were just animal skin draped on a body, to 1800 when the long leather coats became popular, to the world war two era when bomber jackets smashed all popularity charts, they have been a part of men's daily attire in one way or another. So, to say that they are still very much in fashion would not be wrong.
Are leather jackets too expensive?
To a person who has never owned a fall leather jacket, or any other leather upper wear, the prices may seem a bit steep and a little too high. But to properly understand the pricing and the value of a jacket, we have to look at the full picture.
Ending Note
Above we have listed some of the best men's fall jackets offered by The Jacket Maker which will help you in making a wise choice while opting for the best fall jacket. These jackets provide style, functionality and comfort and not to mention the option of going vegan or not.