A rugged look is anything but subtle; it is an attitude and a state of mind. To create a rugged look, one has to adopt the ultra-hybrid style model consisting of strong, durable, and textured clothing items to go with grunge hairstyles.
Denim, Tweed, and Woven fabrics along with leather are deemed necessary to create a rugged look after which the aesthetics will come to play. From the perspective of a layman, a man with a rugged sense of style would usually adorn earthy tones, torn or ripped jeans paired with a heavy-weighted and durable leather jacket, and of course, completed with an undone or messy hairstyle. But is that all that one needs to create the perfect rugged look?
Well, we have more to offer, in this blog we are going to talk about how to dress rugged.
What is a Rugged Style?
Before you hop on how to look rugged, you should know what is rugged style is. A rugged style meaning, would be an immaculate balance of danger and play. The clothing would essentially be mobile that allows free body movements and something that is not too baggy or tight – to elevate the stature and build.
When you're creating a perfectly authentic rugged look, think of durable fabrics, sturdy hardware, and a fit that allows effortless movement. Of course, the clothing would be durable and simple with no additional accessories or embellishments.
How to Create an Effortless Rugged Look?
If you are opting for the rugged style the impression one should get from a rugged look is this: long-lasting and strong. If you're trying to add pieces to your wardrobe to create a rugged look, search for traditional pieces with no patterns and flapped pockets. Add character to your wardrobe by buying more basics made of durable and woven materials.
There are several styles of rugged jackets available; bomber, hooded, suede, safari and biker leather jacket, etc. You don't have to go with one style of jacket as you have a variety of options to choose from. It's a misguided idea to only wear one type of jacket – add nuance to your laid-back persona by getting monochrome, ready-to-wear pieces for your wardrobe.
More importantly, you must know that you have more options to play with if you want to look rugged. Jackets are not your only option, you can also add flannel shirts, tweed trousers, ripped jeans, and even bulky-wool coats to your collection. Creating a rugged look is actually quite fun since you have so much to work with and no pressure to give off an appropriate and put-together vibe.
Best Rugged Style Outerwear Ideas
Are you wondering what it means to look rugged? To dress in a rugged fashion, one has to adopt an effortless and functional style. Leather jackets, denim, minimalist and flannel shirts, and rugged knitwear.
Half of the work is done by clothing and the other half is dependent on attitude. There are different rugged looks that you can achieve by combining many separates together. 
Rugged Shirts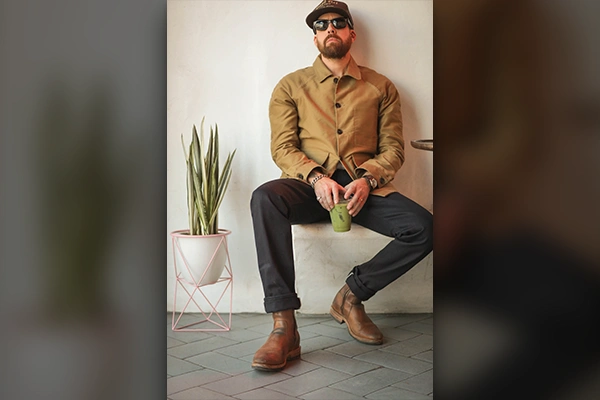 If you want to wear rugged clothes then a rugged shirt can be the staple item in your wardrobe. Add comfort to your capsule by bringing a palette of earthy-colored shirts. Cotton-woven plaid shirts will also do the trick. These garments have soft finishes and they're made of breathable material making them perfect for your casual and daily outwear.
Denim Pants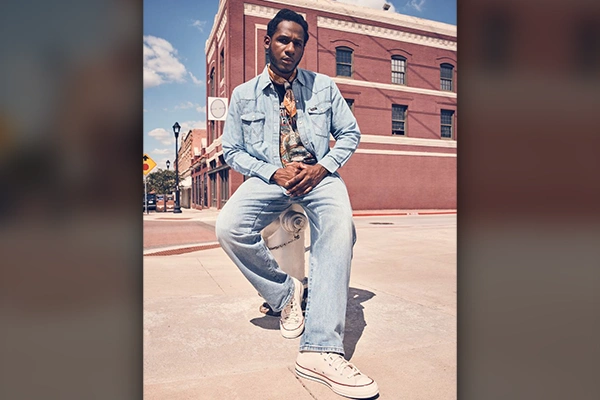 For your rugged style of clothing opt for denim. Denim is essential – they allow you to move freely and breathe easily. Men aiming for a rugged look should go for simple denim pants that are free of funky dyes and embellishments. Faded denim jeans may still work, but include sturdy, functional, and made-to-measure jeans in your daily wardrobe for an authentic rugged look. 
Rugged Leather Jackets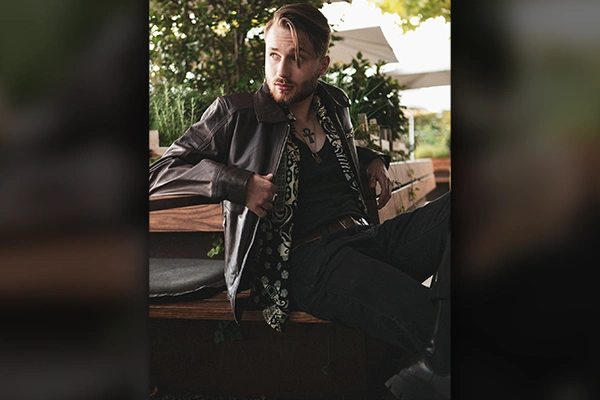 Leather jackets and coats are a must to create a rugged wardrobe! There are several styling options to choose from – from vintage, full-grained, and exquisite brown leather jackets to distressed, cross-stitched rugged leather jackets with snap button collared designs – the options are endless! However, always try to get neutral colors so that you can enhance ruggedness and genuine appeal.
Rugged Blazers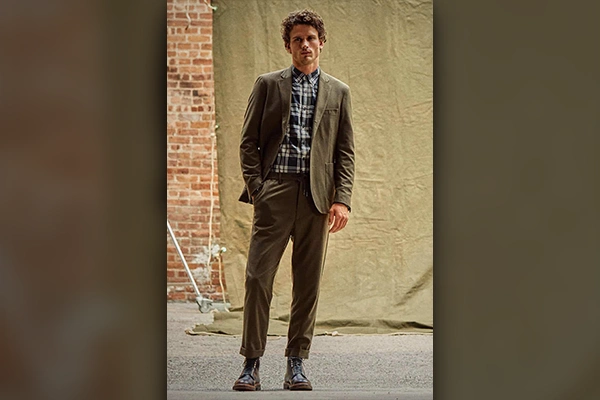 Of course, blazers stand for all things smart and professional and surely lie in the category of rugged gentleman style. How do you create a rugged look out of a blazer? Well, try spotting blazers with a strong heritage; suede, antique finish, and finished distressing blazers are always in fashion!
Choose beige and deep tones to go with blue-washed jeans and cowboy boots. Create effortlessly rugged looks by opting for a textured, earthy-toned blazer.
Rugged Vests and Scarves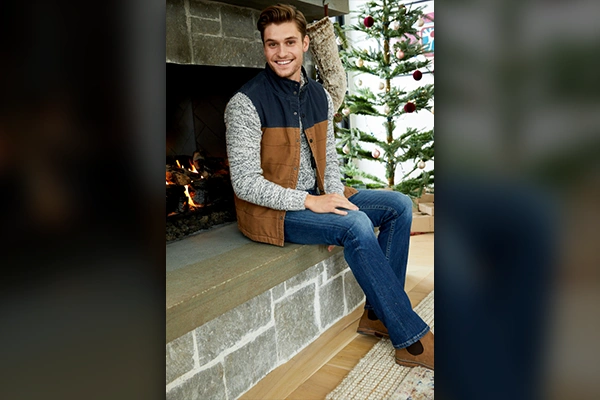 If you want to know how to look more rugged then add rugged headgear, vests, and scarves to your winter capsule wardrobe. By wearing a distressed drape over a plain t-shirt, you can bring edginess to the look and make it more rugged.
It's a misconception that scarves can only be worn on certain occasions; a classic scarf can do wonders to your entire look by adding a hint of drama and personality.
Masculine and Rugged Boots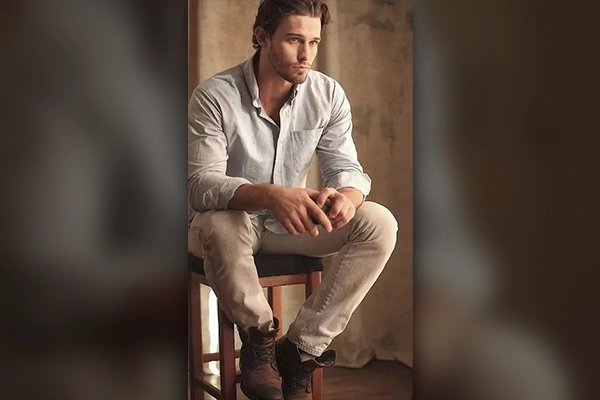 Rugged boots should be the part of your rugged men's capsule wardrobe. When buying shoes to complete a rugged look, ask yourself whether or not you'll be able to climb your way through a mountain wearing those.
If the answer is yes, make it an essential part of your wardrobe. A gentleman's footwear is one of the most crucial aspects that can't be undermined while creating the perfect rugged look. The right pair of shoes will enhance the masculine and dangerous vibe of your entire personality.
Rugged Knitwear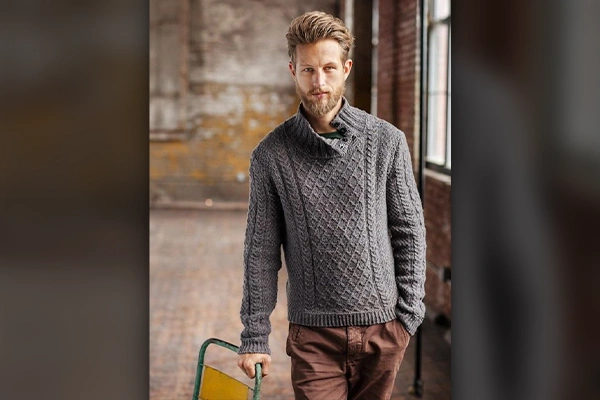 Is knitwear manly? Of course, it is. There is nothing better to wear to tell you how to be rugged. Don't get stuck on the stereotypical grounds of what masculinity is and should look like. Men wear rugged knitwear all the time without compromising their masculinity.
Again, there are certain rules; make sure that the knitted sweaters are chunky and minimal. You don't want to wear bright-colored knitwear – that's just not going to work when you're trying to create a rugged look.
How Do I Maintain a Rugged Look? 
You can create and maintain a rugged look by adding roughness to your clothing. That is the optimum level of a rugged man style. Don't prioritize the latest trends, instead choose traditional outfits that blend well with decently washed-out jeans and footwear. Perfection is not exactly the goal here, you want to ensure smooth and flexible movement. Your outfit should have a distressed grungy hemline with or gradual slim fit. 
How Do I Look More Rugged?
Your outwear obviously has the most important role to play but never underestimate the power of your mood. If you're not comfortable with your clothing, you will never be able to pull it off. To create an authentic rugged look, you must feel like it. And yes, add sturdy and wicked bomber and biker jackets to your wardrobe. In addition, wear rough and edgy boots, plain denim and ripped jeans, sophisticated and chunky knitwear, and beige-colored blazers to your everyday look. 
In Conclusion
The article provides a detailed guidelines for fashion enthusiasts aiming to create and maintain the perfect rugged look. To summarize the above, you need to include leather jackets, denim trousers, masculine headwear, and scarves in your wardrobe. There are no hard rules but by following these basic guidelines you can upgrade your capsule wardrobe and make it more rugged.