Many items of clothing may be tried, but only a handful manage to be stylish, comfortable, and easy to pull off at the same time. Flannel is one of these great pillars of men's fashion that stands strong no matter what. Wearing a flannel shirt today is just as, if not more, popular than it was a decade ago.
So, what is it, and how to style a flannel shirt?
Let's dive in.
A Brief Introduction to Flannel Shirts
Flannel is a soft cotton fabric with a napped finish. The medium-weight cotton in a fuzzy finish makes this summer fabric incredibly soft and cozy all year round. It keeps you warm in winter and regulates your body temperature in spring.
Then we have the flannel shirt. You'll know these as soft shirts with checkered or plaid patterns and interesting blends of unique colors. However, that is just one of the many types of flannel shirts out there, as there is quite a bit of variety in colors/patterns and the flannel fabric itself.
The Different Types of Flannel
There is a lot of debate about what is and isn't considered flannel. Different cultures and regions around the world have their own interpretation of what flannel is. Some even have their own unique blend of natural and synthetic fibers that make something resembling flannel.
There are, however, three main types that are universally agreed upon.
Cotton Flannel
Cotton flannel is made entirely out of high-quality cotton. It is extremely lightweight yet remarkably soft. It became popular in the West during the colonial expansion era and is highly sought after to this day.
Wool Flannel
Wool flannel, as the name suggests, consists almost entirely of wool. You'll see woolen flannel in use in shirts and other men's winter fashion due to its excellent heat retention and overall coziness.
Synthetic Flannel
Lastly, we have synthetic flannel, which is made out of man-made fibers like polyester and nylon. Although the quality and feel of synthetic flannel are getting better every year, it is still a long way away from actual cotton or woolen variants. But synthetic also tends to be the cheapest, so there is plenty of demand for it.
The Many Colors of Flannel
Flannel lends itself perfectly to all kinds of vibrant and exciting color combinations. There are flannel shirts out there with one solid color. They look great for what they are, but the colorful flannel that everyone knows and loves is the one with plaid.
You can find a men's plaid flannel shirt in red, maroon, green, yellow, grey, black, and countless other colors. The crazy thing is that almost all of them work flawlessly in modern-day men's fashion. You'd be hard-pressed to find a color of flannel that looks awkward or out of place. There is something about this combination of flannel fabric and plaid pattern that makes a flannel shirt the perfect garment for color experimentation.
Now that we know what flannel is, what its types are, and how it integrates different colors, it's time to dive headfirst into the style guide.
Don't know how to style flannel? These are the ten best ways.
Flannel, T-shirt, And A Leather Jacket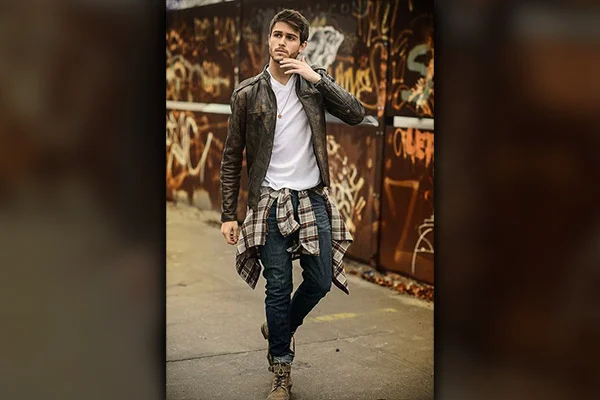 If we had to pick just one outfit to show the great potential of flannel shirts, this one would be it.
To rock this outfit, all you need is a simple white or grey t-shirt, black or men's brown leather jackets, a pair of slim-fit jeans, and a colorful plaid flannel shirt. Start by wearing a plain T-shirt over black or blue jeans. Now wear the flannel on top of the T-shirt and keep its buttons open. Top the whole thing off with your leather jacket, and you're done.
It's extremely simple, and all kinds of flannel colors will work with this outfit. Despite its simplicity, it is one of the best-looking outfits in a man's arsenal, period.
Another way to rock this combo is to skip the flannel while keeping the rest of the outfit as is. Now tie the shirt around your waist, and you're dressed to impress.
Flannel Shirt with Casual Blazer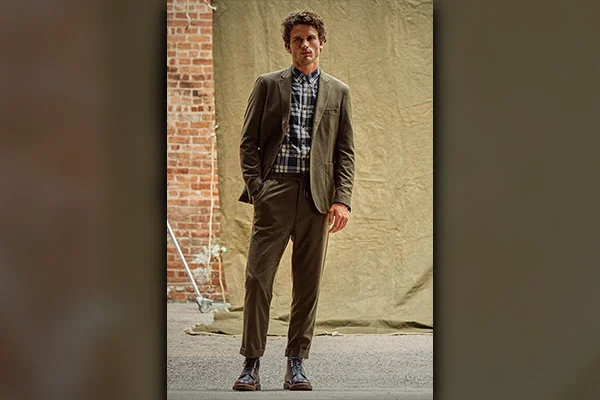 Want to look well-dressed without stepping into the territory of formal or semi-formal? Try this simple combination of a tucked-in flannel shirt with a blazer. You can definitely experiment with different color combinations. However, a white or grey flannel with a dark grey or dark blue blazer is a tried and tested option that works every time.
You can even add a slim black tie to your outfit and wear it to work. As long as you're not wearing colors that are too vibrant, this outfit should be compliant with most workplaces' dress codes.
Flannel Shirt and A Leather Vest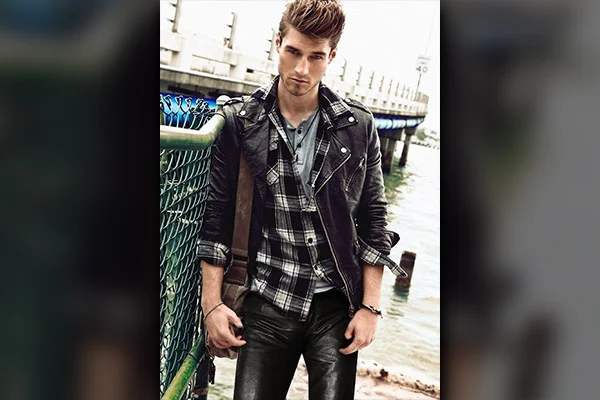 Looking to recreate the leather jacket and flannel look, but it is too hot to wear a full jacket? Try swapping the jacket out with a leather vest, and you've got yourself another quality outfit to add to your collection.
Just wear your flannel shirt over a pair of ripped jeans and a dark leather vest on top. That's it. It's sleek, easy to pull off, and looks mighty fine.
You can even find leather vests with flannel lining on the inside, and they would look amazing in this attire.
Flannel Shirt with Your Varsity Jacket
A varsity jacket is one of the most versatile outerwear a man can own. It works surprisingly well with almost anything, and flannel shirts are no different. Just wearing your varsity jacket over a colorful flannel shirt should get you an outfit that you can daily drive.
However, if you want to grind for those extra style points, you need to evaluate your color combinations.
Suppose your varsity jacket is white and black; congratulations. You can now wear any color of flannel you want.
However, if you own a varsity jacket, that is, let's say, purple, then you have to wear flannels that either match or contrast that purple. In this example, both light blue and grey flannel are fantastic options. Even a combination of green flannel with a purple varsity jacket would work perfectly.
Flannel Shirt and A Leather Duster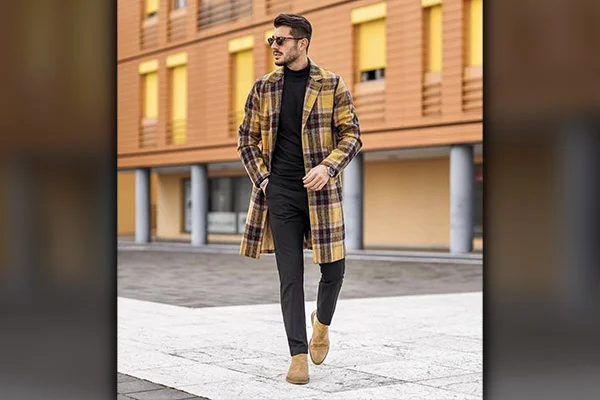 Let's get a bit creative with our outfit ideas and create something that you don't see very often. Yes, flannel shirts and leather dusters not only work together but create some truly unique attires.
The concept is simple. You just take a standard flannel shirt and jeans outfit and put a leather duster on top of it. How good can it look?
Well, it turns out, a lot.
Keep in mind, though, that this is not something that you can wear every day. But, when you do decide to rock this attire, you'll be turning more heads than someone in a supercar.
Flannel and Denim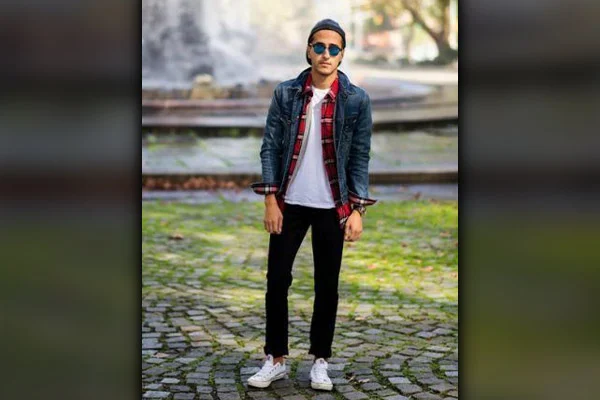 Flannel, especially cotton flannel, is a match made in heaven with denim. An outfit with a pair of blue jeans, a blue denim jacket, black sneakers, and a maroon flannel shirt look too good to be real. However, it is real, and you can rock it right now with little to no effort.
If you don't fancy wearing all-blue, then something like a pair of black jeans and a grey denim jacket should work just as well, if not better in some cases.
Flannel Shirt Plus Leather Pants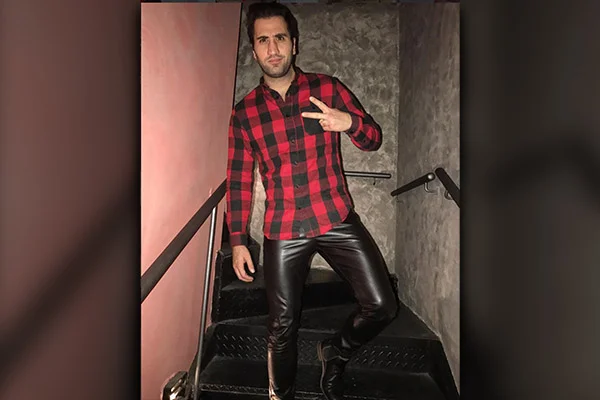 Yes, you read that correctly, leather pants. They are not that common, so you might have never even seen them before. But they exist and are super cozy, especially in winter with cold winds. Your selection of shirts is a bit limited with leather pants.
Luckily, colorful flannel shirts are all you need to create some of the most memorable outfits. This attire is also perfect for parties and other fun gatherings.
Flannel Shirt, Flannel Pants
Looking for ultimate lightweight comfort without having to go out in your pajamas? Admittedly, even though this outfit is the coziest thing ever, it is not suitable for anything more than pure casual.
This outfit works best in situations like grocery shopping, hanging out with your friends on the weekend, or walking down the street to get some coffee.
One thing to keep in mind is to avoid wearing the same color and pattern on both the flannel shirt and pants.
Flannel Shirt with A Trench Coat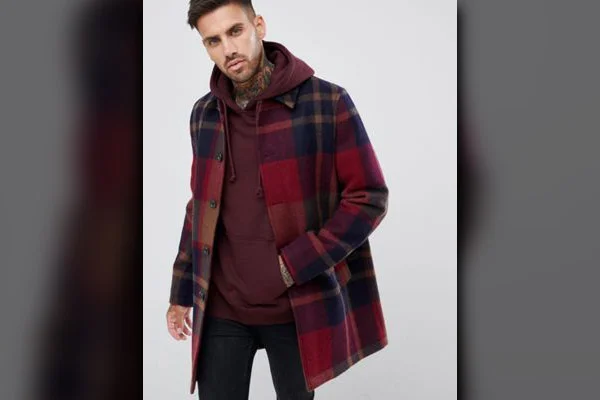 The trench coat and the flannel combo are for folks who love the aesthetic of wearing a leather jacket on their favorite flannel shirt but want something that covers a bit more. Especially in areas with freezing winter, this could be one of the best winter outfits in your arsenal.
You can even create multiple styles within this attire by changing little things. For example, tucked-out flannel over a t-shirt radiates a different vibe than a tucked-in flannel with a slim black tie to (pardon the pun) tie the whole outfit together.
Flannel Shirt and A Hooded Leather Jacket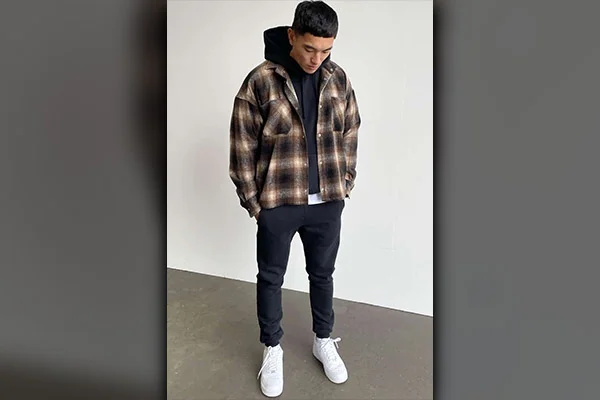 One might assume that a hooded leather jacket would look the same on a flannel shirt as a regular leather jacket. But that is not the case at all. A leather jacket looks well-put-together and clean-cut. A hooded leather jacket, on the other hand, looks relaxed and laid-back, yet stylish to no extent.
There are two main options for hooded leather jackets. One is a hooded leather jacket, while the second is a fabric one.
The leather jacket with a fabric hood is, generally, the better combo for a flannel shirt.
Final Words
Flannel shirts are colorful, full of life, and deceptively universal. If we're talking about a plain black shirt, then it is understandable how it will fit with so many outfits. But the fact that a shirt with striking colors and defined patterns can be worn in so many ways is mind-blowing, to say the least.
These ten styles are not even all of them. There are still many amazing combos out there that we haven't even touched upon. The best way to experience them is to just buy a couple of flannel shirts and start experimenting with outfits you already have in your closet.
Who knows? You might find the next big trend in flannel shirt fashion.