The black tie shoes of your choice will have a bigger impact on your look than you might anticipate. Think about it this way. Most black tie events require men to wear black tuxedos with certain design parameters. In other words, your tux will look very similar to everyone else at the event.
So, how do you stand out in this crowd without violating the black tie dress code? Well, you choose men's black tie shoes that express your individuality and sense of fashion. While your options of shoes to wear with suits are limited compared to black tie shoes for women, there is still enough variety to set yourself apart.
What To Expect In This Article?
Shoes To Wear With a Tuxedo at a Black Tie Event
There is a lot to learn about black tie men's shoes and what you should look for. But, the fastest way to get a better understanding of this is with examples. So, here are some of the best tuxedo shoes for black tie events for you to consider.
Take a look.
Cap Oxford Shoes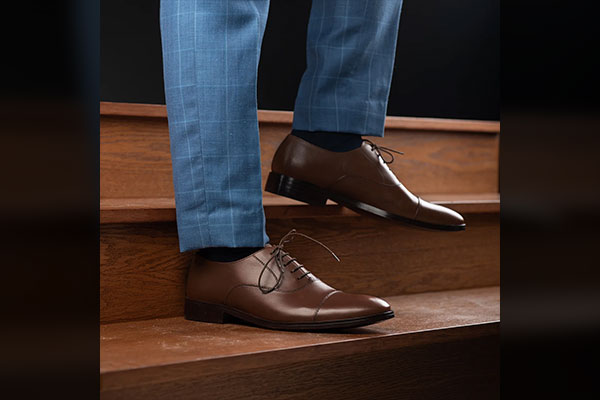 First on our list of the best black tie tuxedo dress shoes are the classic cap oxfords. These are the quintessential choice for black tie events. Scratch that, a pair of black cap oxfords is a great choice for formal clothing in general, not just black tie.
The design of these shoes is simple and easy to blend. Even the texture on these is not that eye-catching – making these easy to style with almost any black tie attire. Not to mention the comfort of this design that allows you to wear it for hours without any issues.
Patent Leather Tuxedo Shoes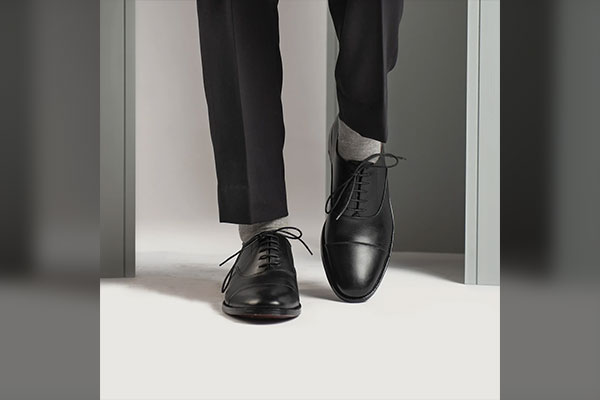 The next entry on our list is on the opposite end of the spectrum from the classic cap oxfords. The overall design of the is fairly simple with a streamlined slender shape and thin laces on top. The attribute that makes these men's tuxedo shoes such a good choice for black tie events is their shiny patent leather surface.
Polished properly, these shoes have the potential to become the focal point of your attire – elevating your style and sharpness from good to legendary.
Rocking these shoes with black pants and light color button-ups for everyday business formal will also be quite successful – giving them an excellent use outside the occasional black tie events.
Plain Toe Derby Shoes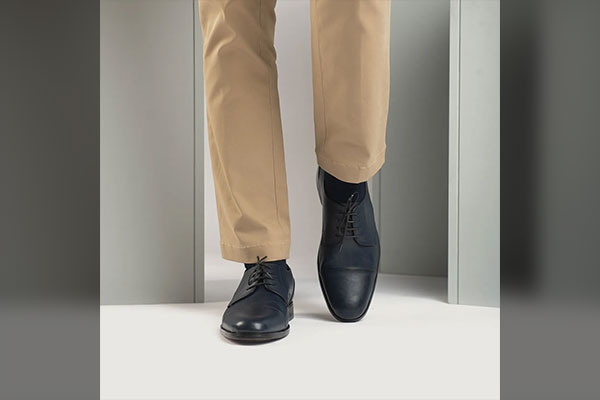 These are the ideal middle ground between the two previous options. They have the simplicity and effortless styling of cap toe oxfords while maintaining some of the glamour from patent leather tuxedo shoes.
Wearing these to a black tie event will give you a very sophisticated and mature look. Just make sure the fit and finish of your tuxedo are on par as well.
Also, if you're looking for black shoes with khakis and other day-to-day use pants, these black tuxedo shoes fit the bill perfectly.
Leather Slip-On Loafers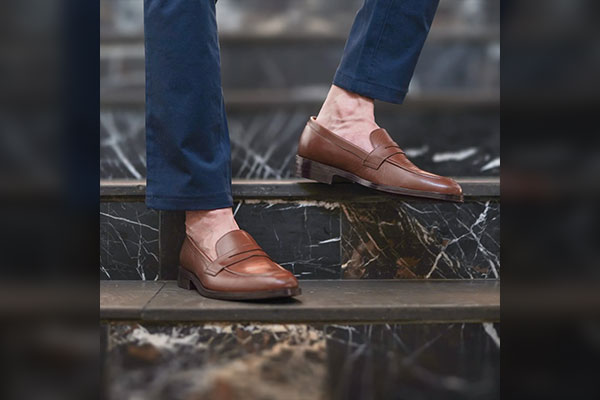 Getting outside the realm of lace-up shoes, we have leather slip-on loafers. These get full marks for convenience and comfort. As for style, these have a very minimalistic design which can be a great addition to an already minimal tuxedo outfit. You can also pair these with fancy double-breasted tuxedos as a contrast piece.
Just keep in mind that some black tie events might not include tuxedo with loafers outfits in their dress code, so make sure to do the research before showing up with these tuxedo loafers.
Velvet Loafers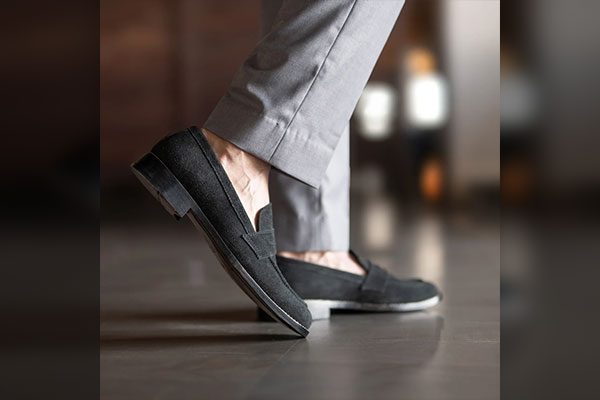 The silhouette and shape of these are very similar to the traditional leather loafers. Despite that, these are some of the fanciest and eye-catching black tie shoes you can wear and it's all thanks to their velvet material.
The texture and glisten of these tuxedo shoes for men are instantly recognizable even from a distance. Note that these might not work well with all tuxedos. The simpler tuxedo designs usually have a harder time keeping up with the allure of these velvet loafers. So, if you want to rock these to the next black tie event, make sure to pair them with a fancy, shiny tuxedo.
Dual Finish Oxford Shoes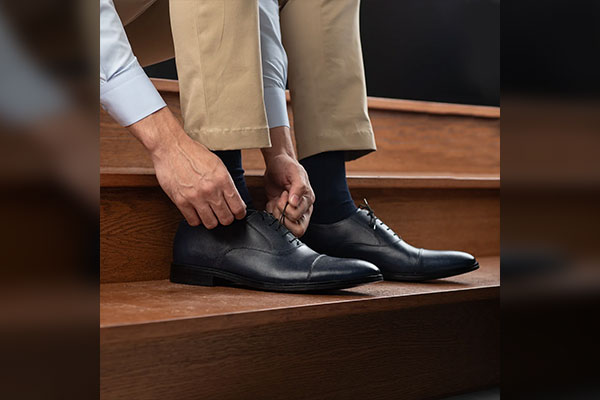 Can't decide between shiny and matt? Why not both? These oxfords can be considered both patent and suede tuxedo shoes. The vamp is matt suede leather while the rest of the shoes, including the cap toe, is patent leather.
This dual finish approach makes these very memorable and a must-have for anyone interested in testing the boundaries of the black tie dress code.
Black Tie Shoes & Color
You might have noticed that there was very little mention of color in the exemplary shoes for tuxedos we discussed above. This is because there is one true shoe color of black tie events, black. Almost everyone at a black tie event will be wearing black shoes. You might see some variation in the intensity of black due to different materials and textures, but black reigns supreme.
However, while black is the prime color for a black tie event, it is not your only option.
White and Black
One of the most noticeable deviations from basic black shoes is the white and black tuxedo shoes. These alter between dark black and bright white for the different parts of dress shoes. For example, black toe cap, heel cap, and quarter with a white leather vamp.
This contrasting design immediately stands out from the crowd and draws unnecessary attention. But if style and looking fancy is your goal, these might be worth considering.
Brown
Whether you can wear brown shoes to black tie events is highly debatable. Some say that they are totally okay, while others claim black to be the only valid option for black tie shoes.
Then there is the middle ground of very dark brown leather oxfords or derby shoes. They are dark enough to have a similar vibe to black while also displaying a rich color.
Attending black tie with brown shoes gives you an excellent pair of shoes with brown pants for work and other professional settings as well.
Do Tuxedo Shoes Have To Be Shiny?
No, they do not. The answer to "what shoes to wear with a tuxedo?" has nothing to do with shininess. Sure, the most popular tuxedo shoes for black tie events are quite shiny with a patent leather construction. But you can also find shoes made from velvet, and even fully matt suede.
What Shoes Can I Wear For Black Tie?
The safest black tie shoes for you would be black leather oxfords, cap toe oxfords, and patent leather loafers. If you are in a more experimental mood, give velvet loafers or dual finish cap top oxfords a try as well. A pair of black and white oxfords are also a great choice for standing out from the crowd.
Can I Wear Matt Shoes With a Tuxedo?
Yes, you can wear matt shoes with a tuxedo. Just make sure that the matt shoes aren't too bland and match the vibe of a tuxedo outfit and black tie events. Also, shoes that are matt enough to look gray are not a good choice.
Do You Need Patent Leather Shoes For Black Tie Events?
You do and you do not. The thing is, patent leather is the most popular material for black tie shoes. So, if you want to blend it, you need patent leather shoes. That said, shoes with a suede or aniline leather finish are just as valid. Even velvet shoes can work well within the black tie dress code as long as they are matched with the right tuxedo.
Can I Wear Double Monk Strap Shoes To Black Tie Events?
Depends on the dress code really. Some black tie events might be fine with it. In general, double monk strap outfits are not recommended for black tie events, even if the tuxedo on top fits the bill perfectly.
Final Words
Getting invited to a black tie event for the first time can be terrifying. You might not have much experience in following a strict dress code and now you're thrown directly into the second most formal one (the most formal being white tie).
But, once you give it a thought and do some research, most of it is fairly simple. All you need is a well-fitted tailored tuxedo with a white button-up and a shiny black bowtie. The only decision left is footwear, and this is where you have a chance to display your sense of fashion while staying within the confines of black tie.
You can choose from a number of valid black tie shoes, each with its own appeal. Options like cap toe oxfords and derby shoes are the easiest to style while patent leather tuxedo shoes are the most widespread option. You also have the option to go experimental with velvet or suede loafers or black and white oxfords.