Tuxedo with loafers, a combo that many men don't even realize is possible when they're in search of the ideal tuxedo footwear. The traditional shoes to wear with suits are classic dress shoes like oxfords and derby shoes. But these are not the be-all and end-all of men's tuxedo shoes.
Let's take a step back. Can you actually wear your tuxedo with loafers? More importantly, should you match a pair of loafers with a tuxedo? And if yes, what's the best way to craft this matchup? Let's find out.
What To Expect In This Article?
Are Loafers the Right Shoes to Wear with Tuxedo?
In short, yes. There is nothing wrong with rocking a pair of loafers below a tuxedo. This matchup isn't limited to a certain situation or season either. You can rely on it almost everywhere.
That said, this matchup does work better in some scenarios than others and wedding tuxedos with loafers is a prime example of that. It fits so well that many even consider it the default option. The same goes for semi-formal business events that don't have a strict dress code on what shoes to wear with a tuxedo.
Should You Wear Your Tuxedo with Loafers?
You definitely should. You might find leather shoes that are a "better" fit for your tuxedo outfit, but none have the convenience and distinctly whimsical style of a pair of loafers.
The different designs of loafers offer a great level of customizability that you don't get in something like a double monk strap outfit or tuxedo outfit oxfords. Besides, no matter the design you choose, most loafers are instantly recognizable and leave a lasting impression of your attire.
Additionally, loafers are slip-on tuxedo shoes. In other words, you don't have to finesse with laces or straps when wearing them. This comes in real handy at occasions like a wedding after party where you might have to remove your shoes for the dance-off.
Best Tuxedo Loafers
While most loafers can play the role of men's tux shoes, some designs are better at it than others. If you're looking for the best tuxedo shoes for men, these are the types of loafers you should consider.
Patent Loafers with Grosgrain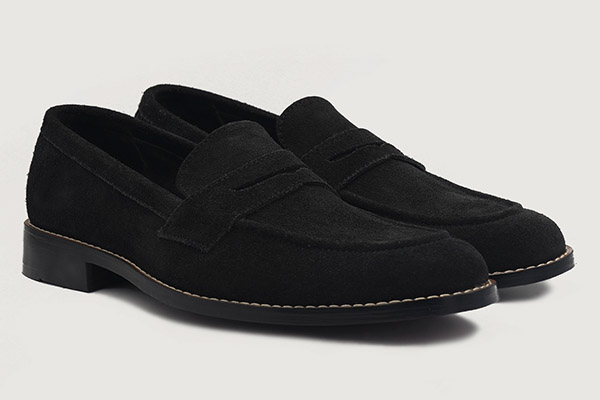 These loafers are one of the most fitting pairs of shoes with black pants. The first thing you'll notice about them is their exceptionally shiny patent leather surface. This texture can be super eye-catching and stylish as long as you keep it properly clean.
The addition of a grosgrain to these loafers further adds to their charm and uniqueness. You can rock these to wedding invites, business parties, and other events where you need to look sharp with a tuxedo.
(Also, if these are your first real leather shoes, learn how to stretch leather shoes to make them more comfortable.)
Velvet Slip-Ons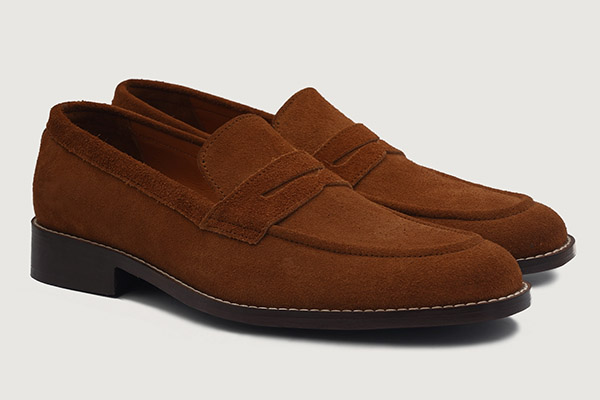 These are on the opposite side of the coin from the patent leather loafers. Their soft velvety texture gives them a more laid-back look, while the plain design keeps them a valid choice for tuxedos.
These shoes also stand out from the rest so wearing velvet loafers with a tuxedo takes a bit more confidence than usual. That said, the classiness and style you gain with them make the extra styling effort well worth the trouble.
The best matchup of these, however, is with tuxedos other than black. Don't get us wrong. They still look excellent below a sharp black tux. But there is something about rocking black velvet slip-on loafers with a maroon tux that cannot be replicated with any other combo.
Leather Penny Loafers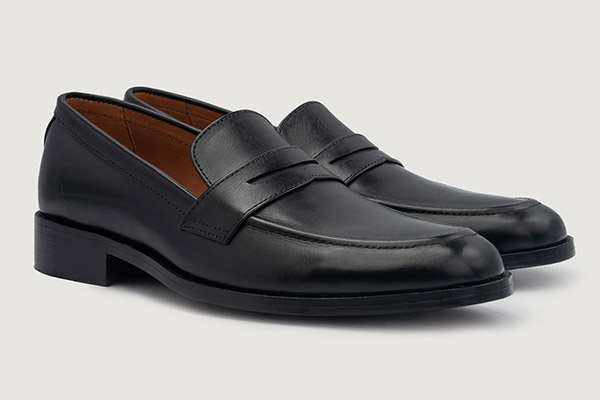 Leather penny loafers are the middle ground between the first two options. They don't have the flashiness of patent leather, nor the uniqueness offered by velvet. What these have instead is almost effortless styling. Almost every pair of black penny loafers fits comfortably below a tuxedo.
They don't draw much attention toward them either so you can keep the focus of your outfit on your tuxedo. Plus, getting a pair of black penny loafers for your tuxedo outfits gives you the best black shoes with khakis as well.
Leather Opera Pump Loafer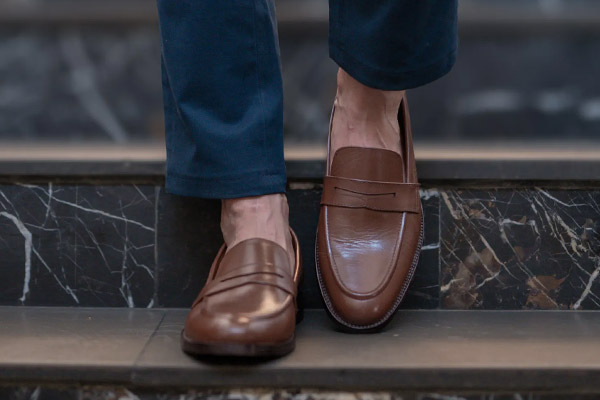 Opera pump loafers are the ideal choice for super formal events. Among all the different types of loafers, these have the most classy and formal vibe to them. Get these in black patent leather and you'll have one of the most fitting pairs of black loafers with tuxedos.
While this extremely sharp design makes them an absolute choice for black tie shoes, it also prevents them from regular everyday use. Even wearing them as work shoes with brown pants and white button-up outfits is not an option.
Considerations Before Wearing Tuxedo With Loafers
Thinking about wearing a tuxedo with loafers? Consider these factors before you make the final decision.
Event Dress Code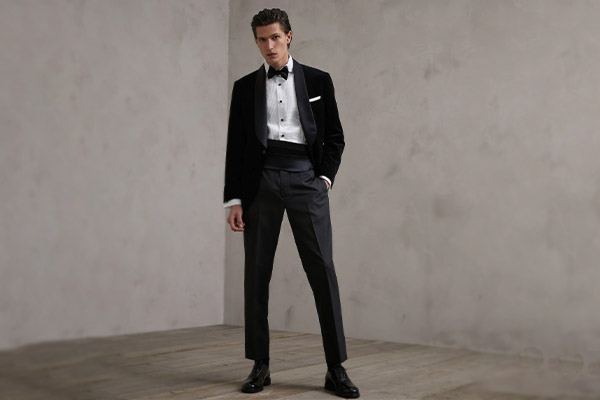 Are loafers even allowed at the event? Go through the dress code in detail and make sure that you can wear loafers to that event. If it asks you to wear classic formal footwear, you're better off sticking to oxfords or derby shoes. Some event dress codes might outright prohibit loafers as a potential choice for your tuxedo outfits.
If you're still unsure after going through the dress code, it is best to contact the event organizer and ask about wearing loafers directly.
Catching Attention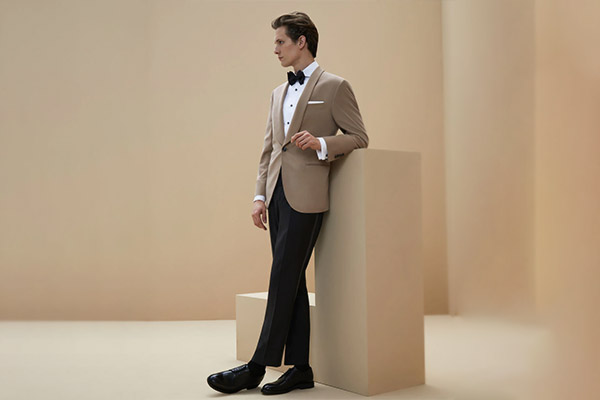 Loafers have a distinct design that is instantly recognizable. It also stands out completely among traditional formal shoes like oxfords. In other words, wearing a tuxedo with loafers will draw more attention to your shoes and your whole outfit by extension.
On the other hand, rocking classic formal shoes will allow you to blend in with everyone around you at the event.
Personal Style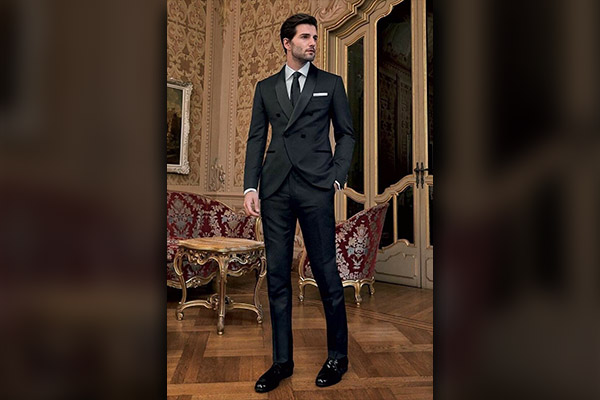 The final major consideration of wearing a tuxedo with loafers is your personal style and sense of fashion. Loafers look great with tuxedos and they represent a more modern approach to tuxedo fashion. But, do you want to wear loafers instead of more classic formal shoes?
If the answer is no, then that's fine. Unless the dress code calls for particular footwear, you can wear any formal shoes you want to complete your tuxedo outfit.
Tips for Wearing Loafers With Tuxedos
So, you've made up your mind about wearing loafers with your tuxedo. Here are a few tips to help you succeed.
Don't Wear Socks
If you're wearing a tuxedo with loafers, no socks are allowed. Well, technically you can wear socks with loafers below a tuxedo but that will only downgrade your style and classiness.
If you're not comfortable in any shoes without socks, give low-ankle socks a try. They sit within your loafers and don't show on the outside while providing the same comfort as regular full-length socks.
Keep Note of the Season
The low-cut designs of most loafers are a better fit for the warmer days of the year. If it's particularly chilly outside, wearing something like tuxedo boots will be the better choice. While loafers might still look better, they will not be nearly as comfortable.
(Remember that tuxedo boots mean plain semi-formal boots designed for tuxedos, not tuxedos with boots of any design.)
FAQ – Tuxedo With Loafers
Can You Wear Loafers With a Tuxedo?
Yes, you can. Formal/Semi-formal loafers are a fantastic choice for tuxedos. They're also the more modern alternative for tuxedos than traditional footwear like oxfords.
Is It OK To Wear Loafers With a Suit?
It is completely OK to wear loafers with a suit. Just make sure that the loafers you choose actually match your suit. Also, make sure that the event's dress code allows loafers before it's too late and you're the only one at the event with these shoes. 
Can I Wear a Tuxedo Without a Cummerbund?
You can. But if you don't want to wear a cummerbund or vest, make sure that the jacket is double-breasted. Also keeping the jacket buttons closed throughout the event would be the ideal choice.
What Kind of Shoes Can Be Worn on a Tuxedo?
The safest footwear options for tuxedos are traditional dress shoes like the different types of oxfords and derby shoes. Loafers are also a great choice that strays from tradition while also looking incredible. On the other hand, casual options like wearing a tuxedo with leather sneakers are not a good idea.
Final Words
While tuxedos are almost a complete attire on their own, a tuxedo outfit will not feel complete without the right footwear. Now, you can go with the classic well-known dress shoes and blend in with everyone else in a tuxedo. Or, you can challenge the established fashion by wearing your tuxedo with loafers.
Loafers allow you to stand out from the crowd and establish a personalized fashion identity, all while looking exceptionally stylish. They're also a great way to liven up otherwise plain-looking tuxedo outfits. Not to mention the vast design and material variety at your disposal.