Brown pants are more of a wardrobe staple for every gentleman. But styling the right shoes with brown pants isn't an easy task.
While pairing your regular black dress shoes with brown pants may seem easy. However, there are many other trendy shoe options that can make you stand out from the crowd with a unique style statement.
Let's be honest; you do not have to be a fashion guru to pull off a perfect brown pant outfit. All you need are suitable shoes and accessories.
Here are a few footwear options with brown pants to help you level up your style game. So, let's dig in!
How To Choose The Right Shoes With Brown Pants?
Since shoes are the most dominant part of your overall look. Multiple factors contribute when it comes to choosing shoes to wear with brown pants,
From the shoe style to how perfectly you shine your shoes, everything counts in pulling off a sophisticated look. So, adhering to the basic dress code rules becomes crucial sometimes.
Here are a few important points you should keep in mind while putting on a gentleman's look with a brown pant outfit.
Formality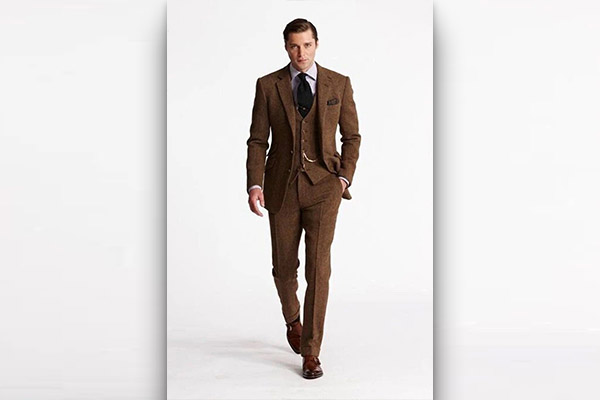 In order to pull off an appropriate look for a particular occasion, considering the event's formality is crucial.
For Instance, wearing a pair of white sneakers with brown slacks may be acceptable for smart casual work days but would be highly inappropriate with brown suits in a professional setup.
However, there are a few options that have a neutral vibe like Chelsea boots, derbies, and brogue dress shoes to cater to your casual dressy needs.
These shoes not only complement your brown pants and will cover you for both the professional work setting or the happening night outs at the club with your fashion game on point.
Seasons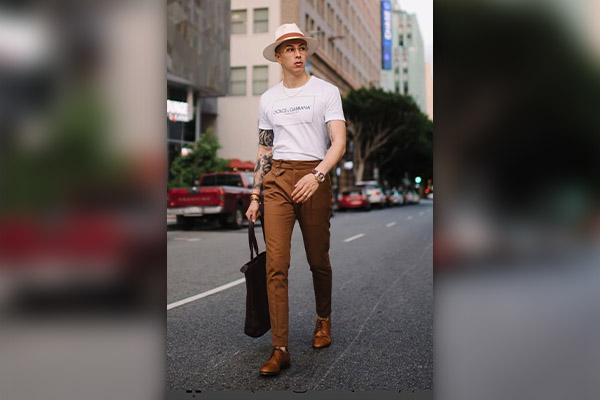 As per the universal gentleman's dressing rule, darker shades are more appropriate for winter times and vice versa. That kind of make sense.
Therefore, reserve your tan and khaki slacks for spring and hot summer days to embrace the fresh vibe and avoid ruining your entire look with some uncalled rain.
However, if you want to go for dark and warm tones of brown, fall is your season. Brown pants are mostly stitched out of fabrics like corduroy, wool, and tweed, making them best for cold and windy weather.
Going for leather loafers with no shoe socks is acceptable for summer, but for winter, you need to look for closed shoes to protect against the cold. Wearing leather boots or laced dress shoes with your brown trousers will do the work.
Accessories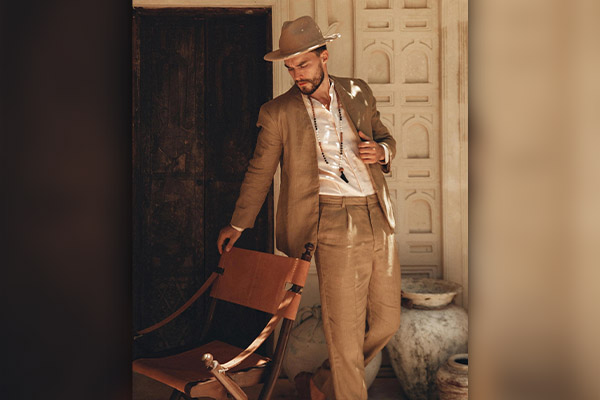 Although, accessories have the power to elevate any look in a blink of an eye. The mismatched accessories can also make it turn otherwise. Here are a few accessories and clothing items that can take your brown pants outfits a long way.
Blazers, Coats, And Jackets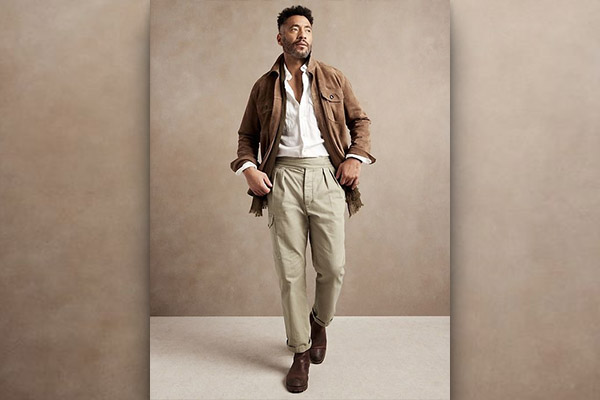 No matter what, a monochromatic look can never go out of style. So, pull out that cozy brown blazer or leather jacket and style them with your favorite brown pants.
However, choose a different shoe color, i.e., black, to add some contrast to your entire ensemble. A pair of navy blue shoes also makes a great option with this outfit for a laid-back and relaxed look.
Some other jackets and blazer colors that go well with brown pants include grey, brown, tan, and creme. In this case, choose your brown pants in a darker shade to contrast well with your blazer.
Hats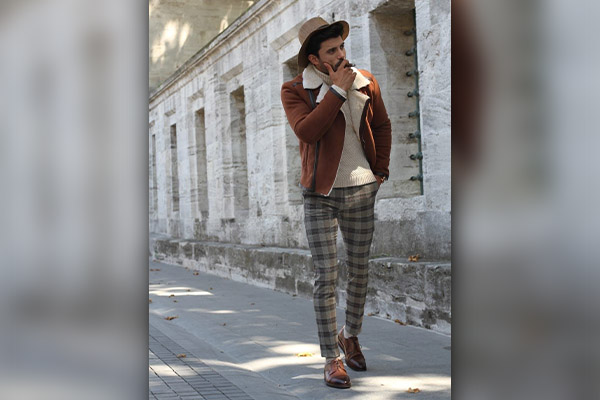 A hat is a tricky accessory. So, If you are fond of wearing hats with your brown suits, choose them wisely.
As per the fashion gurus, wearing your hat the same color as your shoes is a foolproof idea. However, make sure your pants are in a more intense tone than the other accessories.
Socks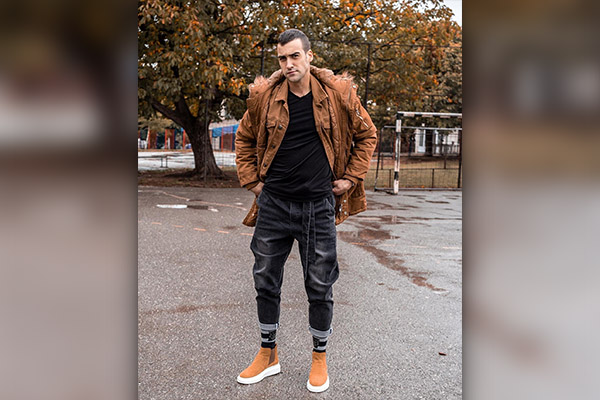 Opting for the right pair of socks to complement your shoes and brown pants is crucial.
For Instance, if you are planning to wear a brown pants suit at a semi-formal event, matching your socks with the color of your tie would be a great idea. However, you can play with colors and patterns for casual outfits to create a unique style statement.
Others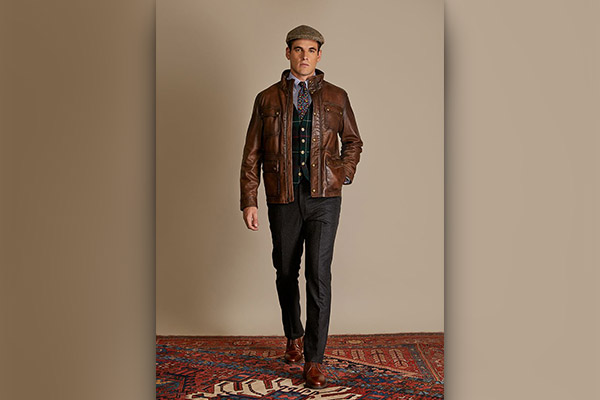 The other less notable things that add to your overall look are ties and pocket squares. If you are up for a monochrome outfit, these accessories can help you break the monotony in style.
So, next time you wear brown pants with brown shoes (of course, with a slight shade variation), do not forget to add these power accessories to incorporate the right flair and contrast into your look.
What Color Shoes With Brown Pants?
Sometimes, we all get overwhelmed with so many color choices and shoes available today. Choosing the right color to wear with brown pants is tricky. So, to help you out in this fashion venture, here is the list of shoes for brown pants that will never go out of style.
Burgundy
Oxblood or burgundy shoes have a class of their own. Brown suits paired with oxblood shoes are a dapper combination you can wear to semi-formal events like a wedding cocktail party or with smart casual outfits. However, never try to play with burgundy shoes at formal events.
For a smart casual workwear look, try to coordinate all of your accessories, from the tie and watch straps to the waist belt, in shades of burgundy.
Besides dark brown pants, burgundy also looks great with khakis, beige and tan pants. However, these pants are more suited for a relaxed, casual look, like on a casual hang-out with friends or family.
Grey
Grey shoes and brown pants are another good outfit combination for casual outfits. However, Styling grey shoes with suits is a little tricky, and is never encouraged to wear them with a brown suit.
You can pair your brown or khaki chinos with grey trainers or suede loafers to pull off a fun everyday look with your casual shoes. Moreover, adding a brown leather jacket with a contrasting color button-down would be a great style move to elevate your entire look.
Brown
Monochromes are all the rage these days. Wearing brown dress shoes with brown pants is a great idea as long as you add some contrast to your look with the variation of shades.
However, If you want to add a second color to your brown shoes and pants outfit, go for the one that complements your shades of brown.
Tan
The tan shoes with dark brown pants create the perfect contrast when paired together. Aligning the perfect complementary shades of brown into your outfit shows your style, and no one will go by noticing the intentional hard work put into the look.
Tan shoes are a good alternative to those standard monotonous black shoes. So, go for it and create your style.
Navy
You might not be comfortable wearing navy shoes with brown pants but let us tell you, navy shoes with brown pants are a classic. Wear this combo with your workwear shirt for a relaxed office look or a casual roam around the town in style.
Additionally, you can also wear navy dress shoes with your brown or tan suits for a unique style statement. However, this combination will only be workable for less formal black tie optional events.
Black
Black shoes with brown pants are the most effortless combination while styling with browns. You can wear black dress shoes with both your casual and semi-formal brown pants and suits.
While dark brown suits and black shoes are a great combo to wear formally, you can go for black shoes and khakis for more casual occasions.
White
Ok, who does not love wearing whites, especially crisp white sneakers? If you are also fond of whites, white sneakers with dark brown or tan chinos are your outfit combination.
You can pair a white or black polo or button-down with this outfit combo to pull off a fun summer look with your fashion game in check.
Brown Shoes Go With What Color Pants
We have certainly discussed all the right shoe colors and styling tricks that can make you slay your brown pants. But, it will be unfair if we go by without acknowledging all the other pants that go along well with your favorite brown dress shoes.
So, let's begin!
Brown Shoes With Grey Pants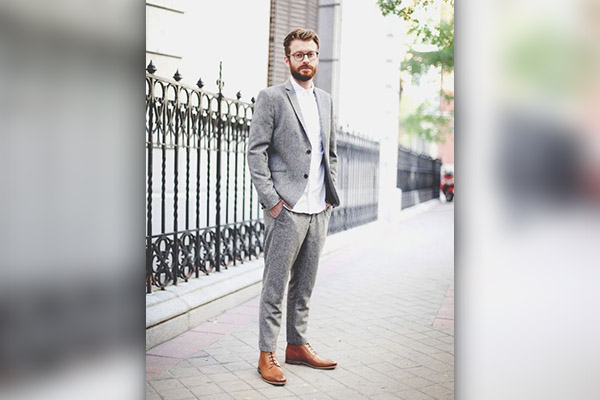 Brown shoes with dark grey pants are a fashion rage for all the right reasons. The most apparent reason this color combination caught fire is its ability to serve both casual and dressy clothing needs.
For centuries black has been the go-to color to pair with grey. It's still the easiest way but certainly not the best.
You can pair your grey suit with brown dress shoes with a matching leather belt for a sophisticated formal look to look absolutely dapper for your next business meeting or other formal events.
Can you wear brown shoes with black pants?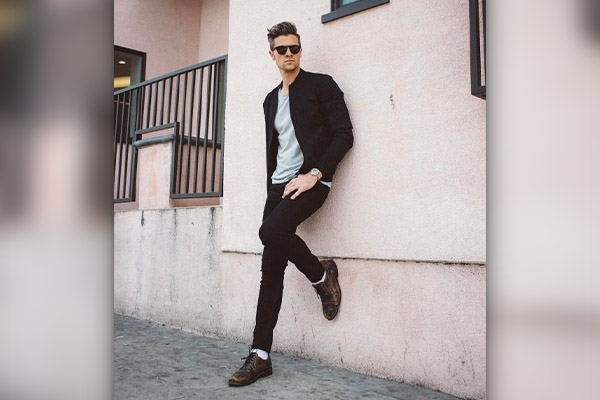 Brown shoes with black pants are a timeless trend that can never go out of style. Even an amateur with some basic fashion knowledge can pull off this dapper look, effortlessly.
For a classy look, considering the formality of the occasion is crucial. As a general styling rule, lighter tones of brown are suited for a more casual event and vice versa.
However, sticking with your patent black oxford is a good idea if you are up for some formal outfit.
Brown Shoes With Brown Pants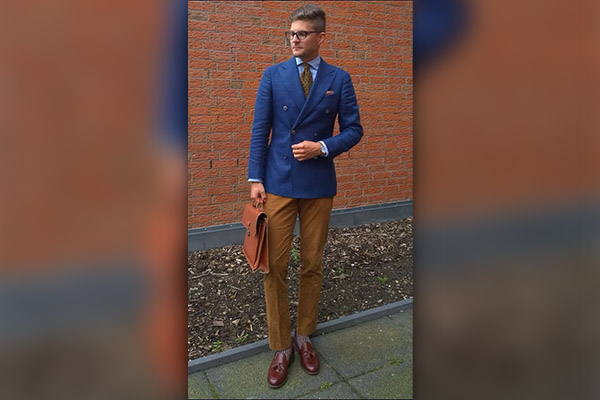 As discussed earlier, brown shoes with brown pants follow the same styling logic. While you can always match the colors, it's best to play with the undertones. The unique tones will bring dimension to the overall look.
Therefore, to avoid ending up in such a fashion disaster, combine different shades of brown with your shoes and pants for a balanced look.
However, you can wear the same shades of brown but with an addition of a second color through your jacket or shirt.
Brown Dress Shoes With Khakis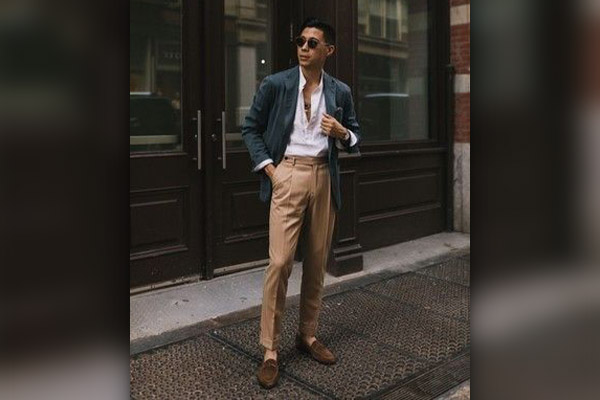 Khakis are the most underrated brown pants. Wearing brown or black dress shoes with khaki pants is a great outfit combination for casual wear. You can style them with your smart casual attire for a sophisticated workwear look.
Although, you can wear a khaki suit to some semi-formal events like a wedding reception. However, khakis are not a great choice to wear formally.
Shoes With Chocolate Brown Pants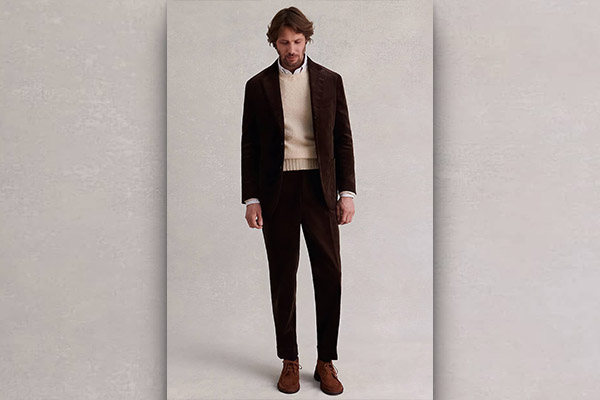 Wearing brown shoes with chocolate brown pants is acceptable casual attire as long as the shoes are in a lighter contrast of brown. Adding a second color, preferably black or white, through a shirt or blazer would work wonders to enhance your entire look.
However, for wearing a chocolate suit formally, it is better to play by the rules with a patent black pair of oxford or derby shoes.
FAQs – Shoes With Brown Pants
Can You Wear Brown Shoes With Grey Pants?
Yes, brown and grey outfits are a classic outfit combination worn as casual or semi-formal attire with utter sophistication and grace. So, next time you feel uncertain, adorn your brown shoes and grey pants and slay the day.
Conclusion
Brown pants are a raging trend in men's fashion these days. But choosing suitable shoes with brown pants is a tricky task. However, with the right fashion knowledge, you can ace your styling game in no time.
The factors that influence the choice of your shoes with brown pants include the formality of the occasion, season, and contrast. Besides wearing black shoes with brown pants, the other complementary shoe colors include; burgundy, grey, white, brown, and navy.