It's a known fact that men's apparel has undergone many changes over the years and has evolved from a purely practical state of dress and being; a more experimental-friendly, aesthetically pleasing sensibility. Involving such elements as striking colors, patterns, and lots of pizzazz being achieved by using some fun inducing fabrics and materials that include suede leather.
Below are nine best suede jackets for men that you can find at The Jacket Maker. A perfect way to update your wardrobe with style staples that are simply perfect for any kind of seasonal refresh.
Allaric Alley Awesomeness!
Not only does this Allaric Alley Mocha Brown Suede Biker Jacket give you an uber-awesome look, but it also offers you a deep earthy richness. Made of goatskin leather, some of its impressive features include a notch style collar, zippered cuffs, quilted viscose lining, not to mention functional pocketing, two on the inside; and three on the outside. A great wardrobe essential for anyone looking for a classic contemporary styled brown suede jacket.
Eaton's Effortless Style Suede
This cool piece is a great modern interpretation of the classic style, it offers you an effortlessness that goes with many different looks. This Eaton Black Suede Bomber Jacket is made of goatskin leather, has a simplistic design, and a very subtle yet functional set of details. Whether it is the ribbed knit collar and cuffs or pockets that add some depth and dimension to this must-have suede bomber jacket.
Terrific Tomchi Tan Suede Jacket
Aside from the fun-filled name that it has, this Tomchi Tan Suede Leather Jacket is just as stylish looking as it is functional. A goatskin piece that offers luxurious softness and richness of color, simplistic design elements, and detail that captures the eye for all the right reasons. The ribbed knit cuffs and shirt style collar add further oomph to this cool suede jacket for men. 
Sheriff Brown Suede on the Town
The goatskin made, Sheriff Brown Suede Jacket says, comfy, a bit laid-back, and adventurous. An incredible piece that has an interesting faux fur lining, high neck style collar, open hem cuffs, and two inner as well as two outer pockets that offer great functional storage. Not to forget the rich earthy brown color that adds a dash more of love for nature. This one is hands-down one of the best suede jackets for men in this line-up.
What a Suede Professor
A classic case of simplistic and timeless style easily found in this amazing Professor by Day Suede Jacket. Not only does this piece offer great opportunity to style it in several different ways, it gives you great value for money that is reflected in its impeccable craftsmanship, durability, and style that will be 'in' for eternity. Add on the fact that it is made of goatskin and has a viscose quilted lining, a notch style collar and sturdy button closure.
Black Stallon Style
An interesting fuse of old-school style and contemporary material, hardware, and overall look, this Stallon Black Suede Jacket is an instant crowd-pleaser. Made of goatskin leather, having a polyester quilted lining and snap-button closure down the front and on the cuffs. The shirt style collar adds a timeless element that makes this piece undoubtedly a great wardrobe essential for any style-savvy man.
Eaton Suede Brown Bomber Jacket
Much like it's a black color variant, this Eaton Brown Suede Bomber Jacket is all about having fun with classic style outerwear. Whether it is going by color, which in this case offers you a luxuriously soft suede in a rich tan brown color, or the timelessness of this style that makes it another style staple that many different men can depend on. From the goatskin leather from which it is made to the quilted polyester lining, ribbed knit collar, and cuffs, as well as the two inner and outer pockets offering great storage, contribute to making this as much as a great personal wardrobe piece as it would make a great gift to give a style-conscious man in your life.
Simplistic Shane Style
This Shane Black Suede Bomber Jacket may be simplest by appearance but demands just as much attention as any other awesome bomber jacket out there. The clean lines, gradual fall and easy-to-wear quality makes it one of the best suede jackets that just happen to also be a bomber jacket for men not seeking loud tones in their everyday lives. Made of goatskin and having a quilted viscose lining, a varsity style collar, two inner and outer pockets as well as a zipper closure work together to give you good looks with great depth and function.
Faux fur and Fierce!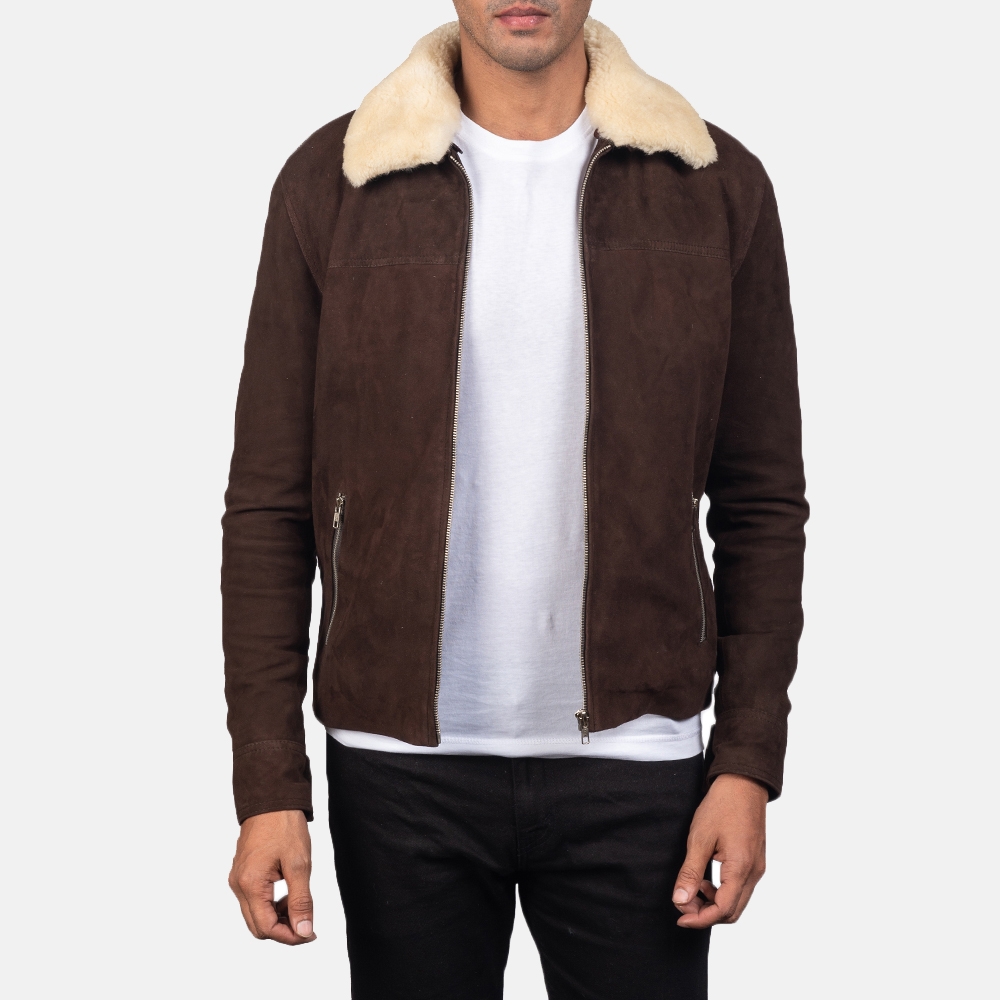 From it's fantastic faux fur lining to the incredible goatskin leather from which this great looking Coffner Brown Shearling Fur Jacket is made. Say hello to the uniquely designed men's suede jacket you will ever see. Offering you a shirt style collar, buttoned cuffs and zipper closure. Two inner and outer pockets give you some great storage and a strikingly cool distressed finish that hinges on a truly classic, must-have timeless style staple.
Closing Thoughts
After going through this list of nine best suede jackets for men, it is not only apparent how men's suede jackets have changed in some way over the last few years, but also offers men a great variety while still remaining true to the suede aesthetic as well as popular demand of men across the world. Whether you're inclined to pick brown, classic, simplistic or something with a noticeably interesting design element or color. This list is sure to serve many men a generous dose of style, comfort, and let's not forget great quality.