Leather jackets in all its glory, have secured their place in a woman's closet and heart by all means. They have been a source of absolute flair for outfits all year round. But they especially come into play as a perfect transition piece from summer to fall. In this blog, we have curated a perfect guide for you to prepare stylish leather jacket outfits for you which you can ace all year round.
Some might ask, 'What is so special in a leather jacket afterall?' And we tell them that it is a universal winner which binds fashion with grace. Leather is highly comfortable and luxuriously warm, and jackets made with it are certainly a capsule wardrobe mainstay for the fashion conscious women. When you are looking for an extra sass, there is no better option than a leather jacket to do it.
What To Expect In This Article?
Women's Leather Jacket Style
You have stumbled on the right page if you are in search of inspiration on how to style a leather jacket. Leather jackets – in all of its iterations, symbolizes the fearless side of women. Be it a classic women's biker jacket, a cozy shearling coat, or a statement moto jacket. Combine it with the panache of a faux leather pant, or pair it with a dress, and you have tailored your outfit of the day.
Before we begin into styling, let us introduce you to a few types of women's leather jackets so you know the right one to opt for the day. 
Bomber Jackets
Probably the most common type of all, a bomber jacket is a woman's best friend. It is a  vintage icon that has made its way into streetwear fashion, where you'll find an array of style inspo. A variety of bomber jackets feature statement collars, metal work and spacious pockets, but a ribbed hem, cuffs, and collar are a consistent feature. With or without, these leather bomber jackets for women deserve the most hype as they elevate your outfit like no other.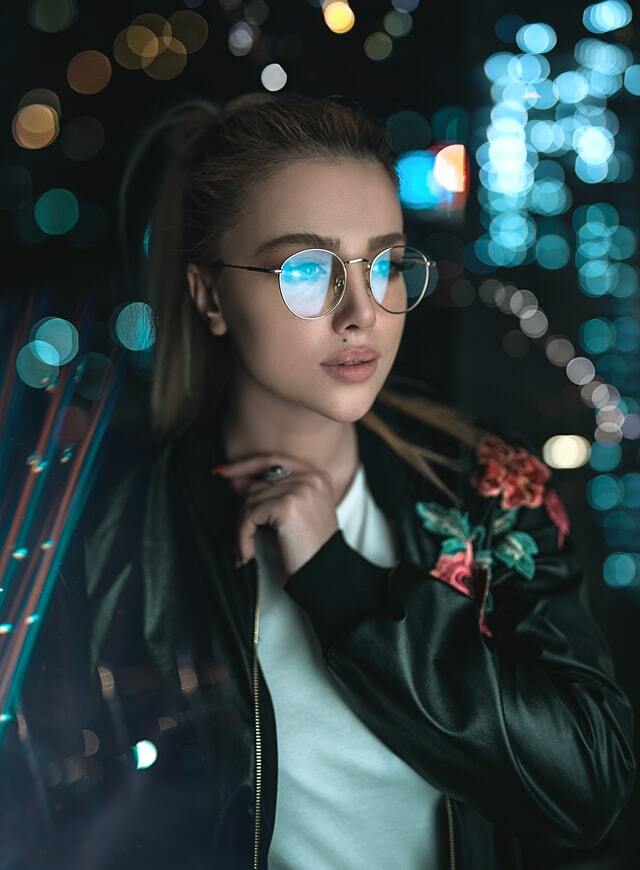 Cropped Leather Jacket
The cropped leather jacket is one of the most popular cuts of the original leather jacket. It is designed to perfectly sit on your figure, providing an accent to your waistline. Women with shorter torsos opt for these jacket types as it allows them to experiment with longer bottoms. A leather bolero jacket is a voguish type of cropped jacket that looks fabulous with chic outfits.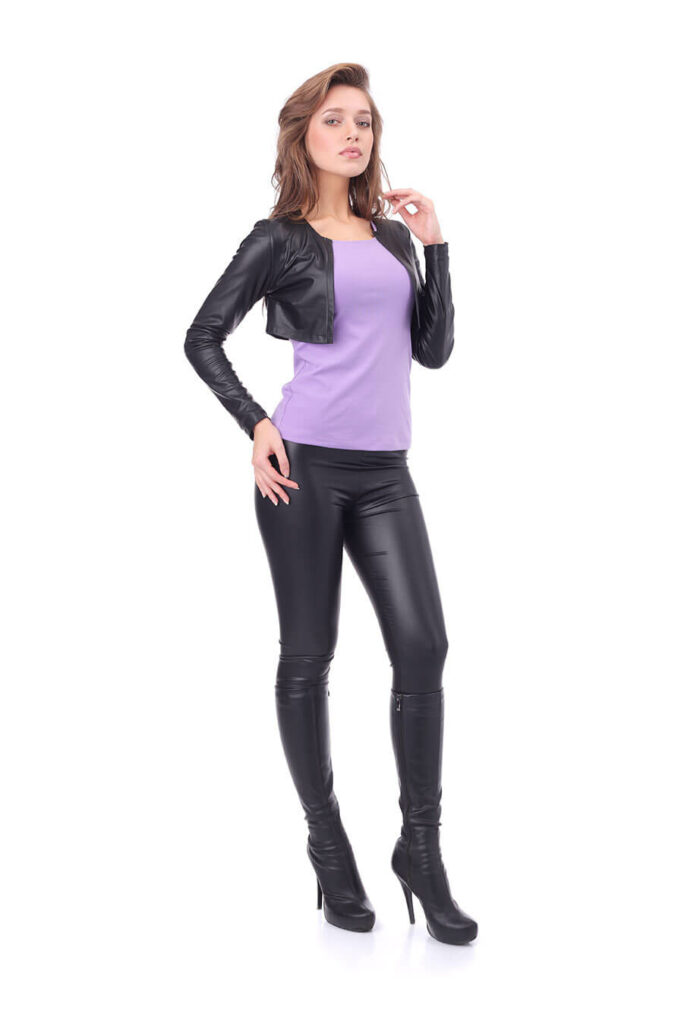 Leather Jacket Outfits for Day
We concur that leather jackets are an all rounder. But you might hesitate wearing leather during the day. Only until you nail all the tips and tricks mentioned in the guide below.
Muted Color Palettes
It may not be the obvious choice to wear black during the day, which is why it is advised to make full use of muted shades on the color spectrum. One of the easiest way is to don a black biker jacket over a white tank top and white slim fit jeans for a snazzy black and white outfit. Some more ideas are:
Brown Leather Jacket
If black is too mainstream for you, brown always comes to rescue. Since women's brown leather jackets feature a lot less intricacies, they are mostly preferred during the day.
A brown leather jacket can easily be paired with a white T-shirt and blue jeggings for an easy, laid back look during the day. This leather jacket outfit is perfect for the day you are avoiding black but also remains chic.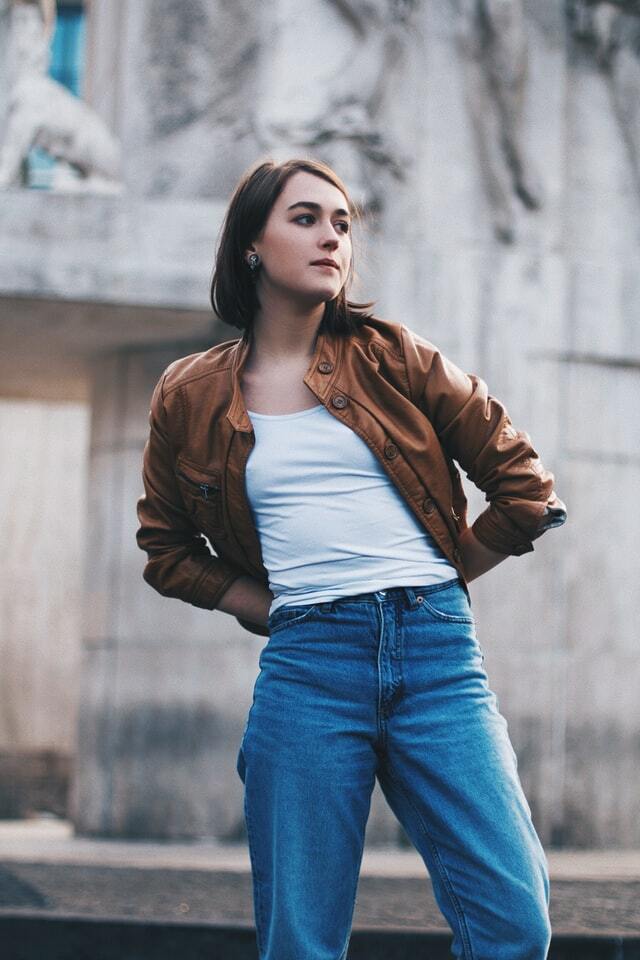 To seal the look, add a minimal golden necklace and a pair of sleek ankle boots. Combining the comfort of this outfit and the refined beauty of simplicity, you can absolutely never go wrong with this one!
Beige Two-Piece Leather Outfit
We can never get enough of leather, and this look will prove it! Blending two pieces of the same material can be tricky, but if styled right, it can be a game changer.
To match the luster and sheen of the magnificent leather, a satin or silk blouse could do wonders for your style. If you prefer dressing down, a simple cotton shirt or a chiffon blouse would make a great pair with the leather skirt and the jacket. Add a pair of open toe heels of a neutral shade to top it off. If you need to layer up, go for a khaki trench coat to add the cozy vibes to this stylish look.
Blush Leather Jacket
Muted colors are not necessarily designated only to work outfits. For a casual brunch look, pair a neutral colored T-shirt with black ripped jeans. Drape on the blush leather jacket over your shoulders for a breezy look. Put on your favorite sneakers and you are good to go.
Pairing Prints with Leather Jackets
Playing with patterns is always fun. It not only adds funk, but it's also a nice distraction from minimalism.
Summer Striped Dresses
The casual combo of colored stripes with a polished brown leather jacket is easy to put together without any second thought. It reflects your fashion intellect and is a pleasant outfit for day time.
Accessorize the outfit with a pair of shades and a cute crossbody bag to add an extra oomph of glee. As the festive season approaches, this type of look is a perfect holiday outfit for a casual day out or even a quick outdoor trip.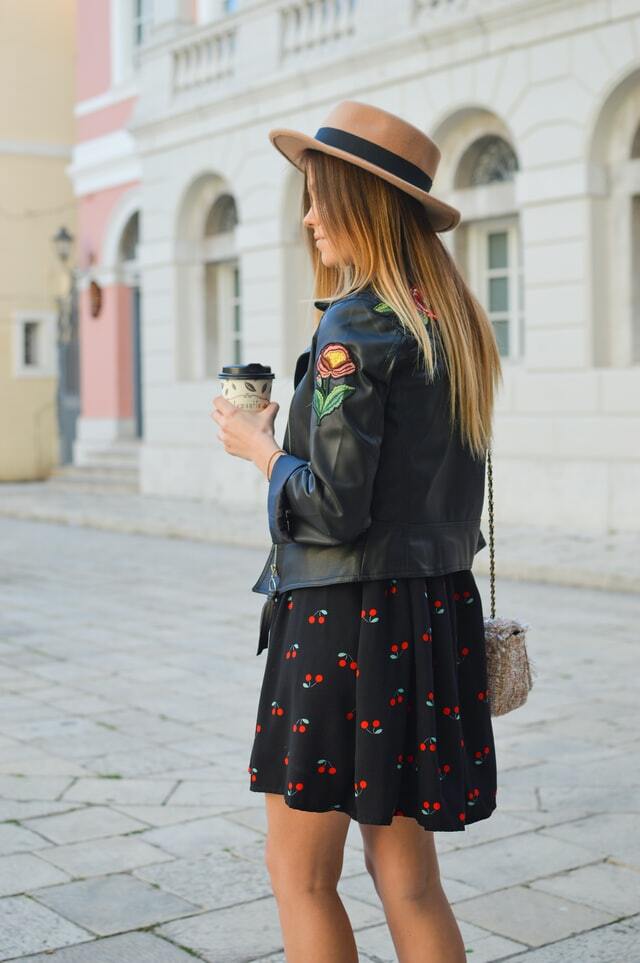 Plaid Shirt
A relaxed mix of plaid and leather is what we need to seal our day! A red plaid dress shirt is convenient and very flowy which compliments the sturdiness of a leather jacket so well. A simple pair of black faded jeans would bind this look easily. For footwear, you can opt for a pair of ankle boots and we're done!
Accessorizing Leather Jacket Outfits
Leather jacket outfits may seem to be masculine at first. If the right accessories are added, it can transform your entire look into a feminine, appealing one.
For that, we need to make smart adjustments like adding a funky necklace to an otherwise dull outfit. Moreover, adding a set of studded earrings can add femininity which some custom leather jackets might lack. Accessories to add are later listed in the guide below.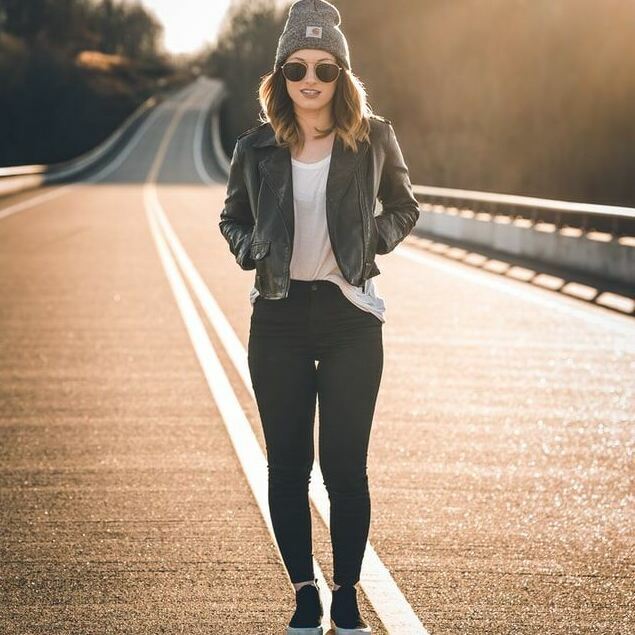 Leather Jacket Outfits for Evenings
Relax during the day, and flaunt at night! That will be our forever motto for the leather jacket outfits.
Evening Color Palettes
While we try to tone down for daytime outfits, we have a wide range of colors to experiment for evening looks.
Black
It is impossible to not include a black leather jacket outfit when it is so rightly loved. Exhibit your sartorial elegance with a black biker jacket and an evening dress for a night out combo. 
There is so much to explore with black outfits that you can even pair it with pink clothes and still be on top of your game. For a passive look, opt for an all black outfit while for an outgoing one, you can always use the bright neon shades over black.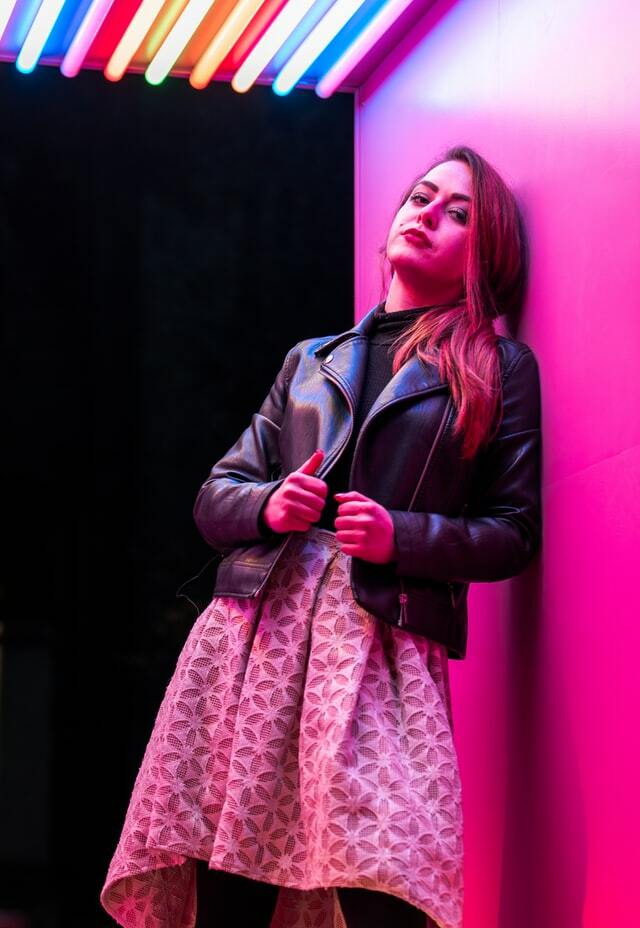 Burgundy
Burgundy is a color of warmth. It is an exquisite shade which tones down the glitz while maintaining the glam. Pair a burgundy leather jacket with a lighter body-con dress for a night with friends. Add a pair of patterned high heels and a set of silver earrings to steal the show!
Silver Glam
What can ever go wrong with glitz and glam! With this look, we revive the Rock Fashion with heavy metal embellishments and all the glitter to mesmerize the onlookers.
Leather Jackets and Nightlife
Elevate your festive night looks with the edgy leather jackets. Here are a few suggestions on how to do it.
Lace Tops
A perfect date night dress consists of a lace dress and a matching leather jacket. This combo exudes charm and femininity. Pairing a black lace top with a biker jacket keeps you warm and stylish at the same time.
Add a pair of lavish red high heels and a silver necklace to make the night yours!
Summer Dress
Leather jackets can be the perfect pairing with any type of dress. Display your playful side by wearing a leather jacket over a fun floral dress. Opt for a dressier approach with footwear and add a pair of silver heels to your outfit. This simple look is guaranteed to turn all eyes on you!
Footwear, Accessories and Leather Jackets
A great outfit isn't great till accessorized right. Below is a list to glamorize your look with a few additions to your outfit.
Footwear for Night
Pumps
Stilettos
Mules
T-strap heels
Footwear for Daytime
Sneakers
Flat Pumps
Loafer Heels
Ankle boots
Gladiators
Ballet flats
Platform heels
Accessories
Sunglasses
Long Earrings
Necklace
Metal Rings
Cross body bags
Besides all the chic accessories and shoes, make sure your hairstyle is on point. Soft, loose curls, a messy bun, and different styles of braids look good when you are wearing a leather jacket.
FAQs
Can I Pair a Leather Jacket with Denim?
Yes! Luckily, leather jackets are versatile to go with most fabrics, especially denim. Such looks require great technique to pull a stellar outfit. You need to master what type of leather jacket goes best with jeans which includes biker, bomber and suede jackets.
How Should a Leather Jacket Fit a Woman?
Leather jackets are tailored for a slim fit mostly. It is preferred not to wear baggy and oversized jackets. Make sure to have a snug fit around the shoulders.
Can Older Women Wear Leather Jackets?
Leather jackets are ageless! An older woman can definitely wear a leather jacket that too of her choice. Here are some awesome ways to wear a leather jacket over 40 for the style inspiration.
Which Color is Best for Women's Leather Jackets?
It is suggested to opt for darker shades of leather jackets but there is no set rule when it comes to fashion!
Are Women's Leather Jackets in Style in 2021?
We can never get enough of leather jackets. They are very much in trend in 2021 and will remain here for long. It has been one of the oldest wardrobe staples which never goes out of fashion.
What Season Do You Wear Leather Jackets?
All year round! But they are best worn for fall and spring weather. For colder weather, a shearling jacket would serve the best purpose.
Can I Wear a Leather Jacket in the Rain?
While it is advised not to, leather jackets can be worn in rain if treated correctly afterwards. Ensure complete dryness to avoid any damage. Wear a waterproof topcoat to avoid ruining your jacket in a heavy downpour.
Wrapping Up
The effortlessness of a leather jacket outfit speaks of its grace. It ranges for all body types, age, and occasions which marks the timeless nature of a leather jacket. If you don't already own one, this is your sign to add a leather jacket to your wardrobe right now!