There are different types of leather; each varies greatly in quality and function. Before buying your leather jacket, you'd want to make sure that you know what you are paying for. Distinguishing between different types of leather can be very confusing. This guide is developed to enable you to get the best bang for your money and to straighten out any confusion regarding different types of leather.
It is safe to say that the different types of leather have transformed the way people dress, hence the many different online channels that have been saturated by this timeless material for wardrobe staples, especially outerwear. Whether categorized by gender, age, color, style, fit, quality, or even price range, leather outerwear, in particular, is more accessible to the masses now than in years gone by.
We at The Jacket Maker are all about spreading awareness on this subject from where it matters most, the beginning. Starting from a grass-root level, you will find real leather and synthetic leather that are further subdivided into many other types, all easily available in many global markets.
However, for better understanding, we will only address the types of leather from within the real leather camp and leave synthetic leather for another post and time.
Types Of Leather – An Overview
Types Of Leather – An Overview
Introduction to Leather
We all know that leather made from cows or buffalo, camels, and even horses is referred to as leather hides, and sheep, goats, and lambs or deer are identified as leather skins.
The mere mention of the 'types' of leather and many are often left confused and even mistaken in some cases, that lead to purchases that are unsatisfactory or products that are short-lived, simply because of the miscommunication and misunderstanding of information that is found floating around the world of internet.
The types of leather mentioned below have a difference between them that ranges from appearance, and weight to feel and finish, which is why finished products look and feel the way they do.
These differences, however, are not as easy to point out or detect by a layman as opposed to a leather expert who would be able to tell a sheepskin from lambskin in a second.
This is because many products often look too closely alike or similar, for them to be differentiated, which is why a leather expert would be needed. This guide will not make you an expert but will set you on your way to make better decisions when it comes to leather.
Types Of Leather Based On Selection
While we've will cover many other factors regarding the types of leather, many may not know but selecting which grain of leather you'd prefer holds the most importance as it contributes to the quality of the product This choice often affects how the end products appear. Below we cover the basics.
Full Grain Leather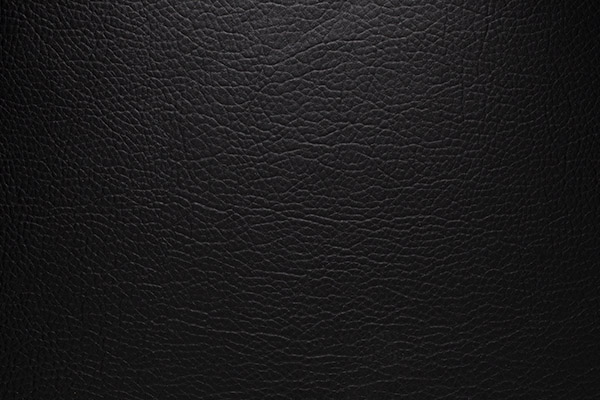 The top layer of hide, close to the hair i.e. the outer layer and including all of the grain, is how it gets its name of full grain leather. The best quality leather that is also reflected by its expensive price point, it has a unique quality of developing beauty with usage.
This means the more this leather is used the more beautiful it will look. While full-grain may be the highest quality grade of leather, even more than top grain, it is often mistaken for top grain as most people presume it is of top quality hence its name which is not so.
Speaking of confusion, some people even spray paint inferior leather to make it look like full-grain so beware. One way of identifying full-grain is its thinness due to it being from the top-most layer of the animal and so marks, blemishes, or scars are what is often found and makes it easy to recognize.
Aside from this, full grain is also durable and strong and breathable, leading to less moisture after extended use or contact. Another distinct quality of full grain is that it does not wear out but rather ages beautifully to reveal a strikingly cool patina that adds further style and character to the product.
Our Best-Selling Full-Grain Leather Jackets
Top Grain Leather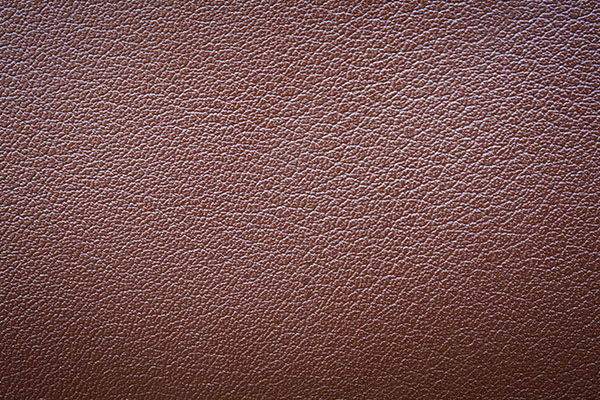 This would be the second-highest grade of leather that is split from the top layer of blemished hide then sanded and refinished to get rid of scars or scrapes.
With all-grain removed in the process, an imitation grain is added in a more uniform pattern and a finishing coat is given to further develop durability, breathability and the possibility of a natural looking patina that is more visible with age and time.
While top grain leather is also strong and durable, as full-grain, it does not age nicely after extended use and is less expensive as well.
Genuine Leather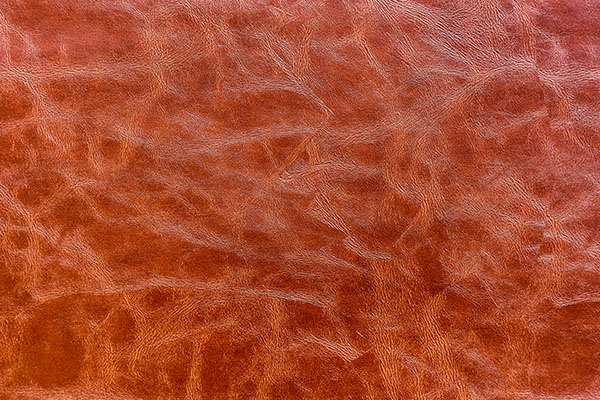 The third grade of leather is genuine leather also referred to as a corrected grain. Another misconception regarding leather types and genuine leather, in particular, is that it is made of real leather hence the name.
Which in its defense, is real leather but one that is from the bottom end of all the leather types. This applies to grade as well as quality. This leather type is commonly used in making belts, shoes and bags all with a lower price-point.
With any type of genuine leather product, you will notice a fuse of many layers of low-quality leather bound together with glue and then painted to take on a uniform appearance. It is technically the pieces that are left-over from higher grades that are used for pricier products.
Bonded Leather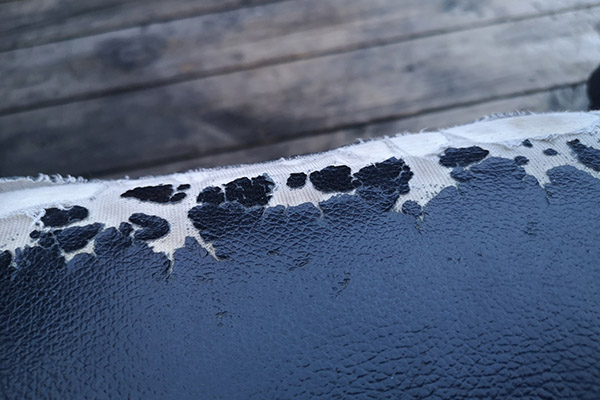 At the very bottom of the line is bonded leather which are basically scraps such as shavings of leather, dust etc. that are leftover, they are shredded and ground to a pulp then bound together using polyurethane or latex on a fiber sheet.
The different degrees of leather and chemicals in the mix hampers the look, feel and even smell that are then resurfaced to look like the real deal but are not even close. With poor durability and such, it is best to stay away from this type as it will degrade quite rapidly, leaving you at a los
Types Of Leather Based On Animals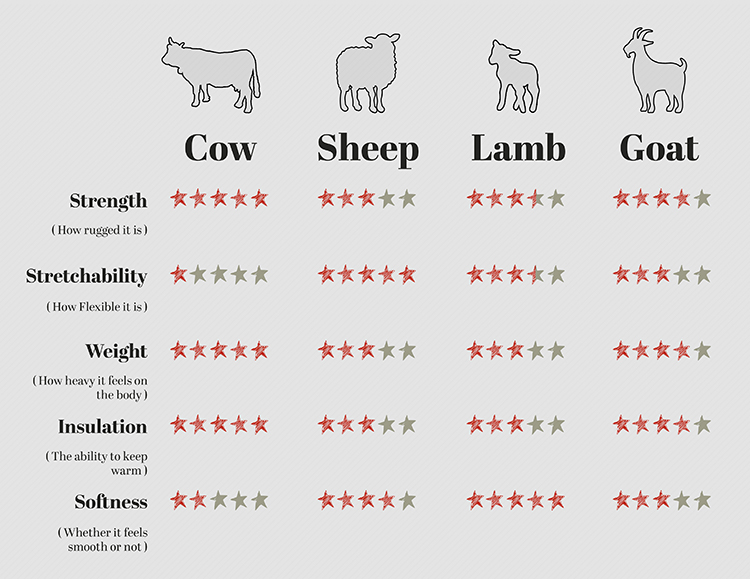 Although the types of leather-based on animals are many, we'll just cover the ones that are most often used to avoid any complications and hence simplify the information to understand.
Before getting started, it is important to know that a particular type of leather cannot be rated the best or worst, even more so when comparisons are made among themselves. For example, cowhide may be considered tough and rugged while lambskin may be soft to the touch.
In no way can one be termed better than the other as all of the leather types have their pros and cons alike. It also depends on the type of product being discussed that may have a different need or is of a specific preference to the owner that also shifts the pendulum in a certain direction. All in all, it is a subjective area that is subject to change.
Cowhide Leather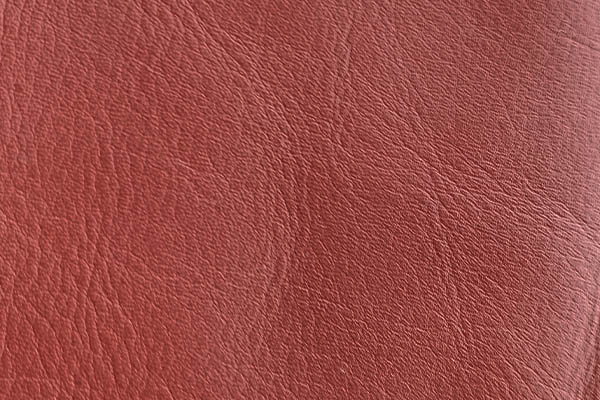 In terms of strength, durability, toughness, and ruggedness, cowhide is considered a better option than most types of leather. It is used in making wallets, belts and shoes as well as men's jackets, especially biker jackets and motorcycle jackets that are mostly made from cowhide leather.
With cowhide, function and fashion go hand in hand and are mostly purchased by males as opposed to females. Then again it may be a personal preference rather than a gender-specific one, which again is a matter of opinion.
Aside from the obvious factor of warmth, cowhides can be found in different qualities, starting from the best that is very often used in its most natural state and color, surface hair optional, to the not so high quality which is often used where dyeing and treatments are carried out to resemble other skins, such as tiger or zebra.
As far as thickness goes, cowhide has different weights and thicknesses but on the whole, it is stronger and more durable, which is an added advantage to its good looks.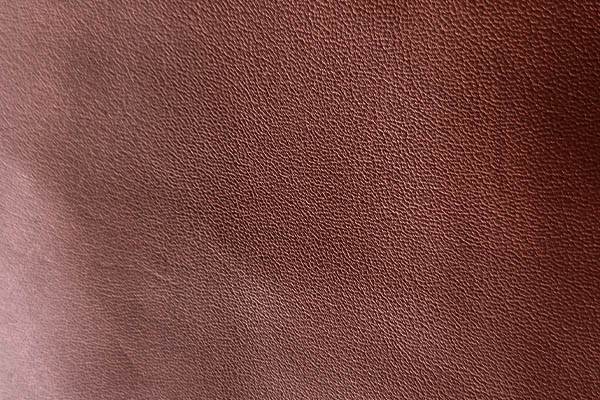 Sheepskin leather is greatly preferred by people as it is soft, smooth, and very lightweight. It is also greatly desirable as it is stretchable and it adjusts to the shape of the body with use.
When it comes to clothing, sheepskin is greatly used and is preferred by both genders due to its gentle feel. Perhaps one of the most interesting subjects in this section of leather types based on the animal is sheepskin. Used not only for leather but also for wool, sheepskin is often tanned with the fleece intact.
Aside from being used for women's leather jackets, hats, gloves and boots, the fleece of sheep has excellent insulation properties and is resistant to flames and static electricity.
One downside with sheepskin is that it is prone to damage if it gets in contact with sharp objects due to its softness; also its finishing deteriorates with time.
As far as quality goes, this type of leather can be determined through several traits mostly revolving around whether the pelt which is the back of the skin will be visible. Should pelt be visible, a better quality skin with minimal seed will be used.
You may ask, what is a seed? And what does seed have to do with sheepskin or its quality? Seed or seed contamination as it is also referred to is the scar tissue that exists from a wound that has healed which may have occurred sometime during the animal's life.
This scar tissue can fall out, leaving behind small holes post-processing of the pelt. Once this happens, any kind of imperfections cannot be reversed or corrected.
Seed contamination will mainly be important when talking only about the skin or pelt and should not be taken into consideration when talking about the quality of the product. Because leather in the final product may not be used from the area of skin which has seed contamination.
Seed contamination is further divided or graded as the following:
No visible Seed
Although this is not 100% likely in every case and depends strictly on visual appearance, the invisible seed is when no seed can be seen anywhere on the surface of the skin.
Light Seed
This type or grade often indicates the subtle visibility of seed, mainly around the belly region of the animal.
Medium Seed
The presence of light seed that is visible along the belly and legs of the animal would indicate that it is of a medium seed grade.
Heavy Seed
Indicating the presence of seed along the belly and legs of the animal but in a bit, the more prominent quantity highlights this type of heavy seed grade.
Burry
This refers to the wool contamination of light to heavy seed presence that may cause problems if it is not removed before the fleshing process which is basically conducted for rehydration and cleansing, the rollers that are used may puncture them through the skin.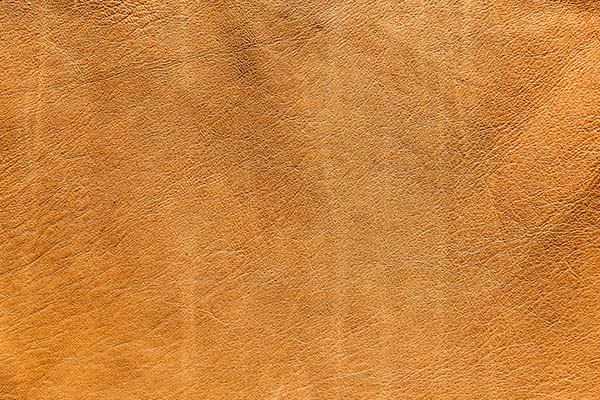 Lambskins, as well as Calfskin, are known for the soft and supple texture that they have, which pushes them to the top for premium products, as they are ideally preferred for high-quality leather jackets, shoes, and other apparel.
With the thinness and flexibility that they offer, unlike the older animals of the same species, lambskin and calfskin are without a doubt the first choice in terms of quality, durability and appearance.
Aside from looks and texture, lambskin is also known for its insulative and protective properties especially considering its thinness. Hence, it is the go-to choice and type of leather to go for, in extremely cold temperatures.
The downside with lambskin is that, as it's smaller in size, it cannot be used to make large-size apparel. Additionally, it's difficult to make apparels that have large panels incorporated in the design and thus, this is one reason because of which some lambskin jackets are extremely expensive.
With so many vital points falling to their credit, naturally makes lambskin and calfskin to be more expensive and is thus used, not surprisingly, in making many luxury items that include footwear and furnishings.
Goatskin Leather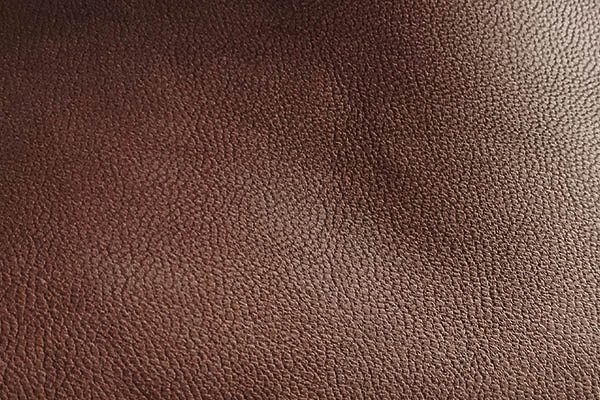 The presence of lanolin in goatskin leather makes it softer and suppler in feel as opposed to cowhide, which has none. Although this is a subject up for grabs, goatskin as a leather type is definitely warm, breathable and comfortable to wear.
Sheepskin is more flexible, lightweight and soft than goatskin, but goatskin is more durable than sheepskin.
Similar to pebbles, goatskin can be identified by the distinctive ridges on the surface and is used by many big brands for making leather bags, purses, and jackets simply due to its quality and feel as well as the lightweight it possesses in comparison to cowhide.
Goatskin also has a much better appearance as opposed to cowhide and enjoys the flexibility that makes it a front runner in apparel, footwear and accessories.
Types Of Leather Based On Finishes
The finish of any product matters more to us than the customers themselves and so we try our best to not only guide each customer on which finish would work best for them but which finish quality would best suit their requirements and lifestyle. Below we cover these a bit more.
Aniline Leather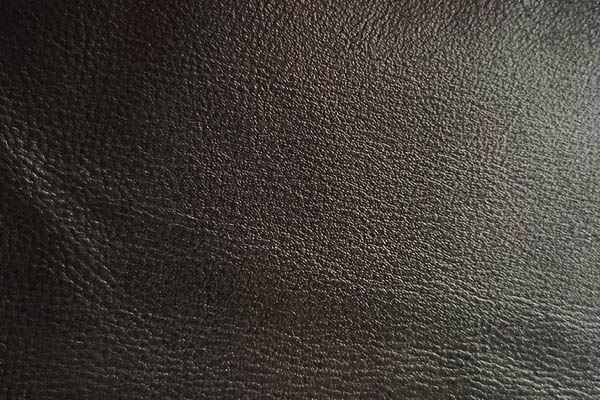 Let's start with the purest and most natural leather type which is aniline leather also known as 'Natural Nappa.' By appearance this type of leather has all the natural characteristics from the hide it was taken from, marks and wrinkles included.
Fun fact: Many people don't' realize that certain natural wrinkles in the leather are actually a good feature to have, which highlights the leather's authenticity. As for color, aniline leather is only colored with dye, and not with a pigment.
Another fun fact: Aniline leather is very rarely found which is why many people mistake semi-aniline leather for aniline leather. If any product that is tagged aniline leather also highlights a rugged quality, appearance or both, this would be where you would know that these two elements cannot co-exist.
Aniline leather does not have the ruggedness that is found in semi-aniline leather. Another important point would be that aniline leather is more expensive mainly due to the top-notch selection that is required as well as the fact that it is rarely found.
As with any and everything, aniline leather has some disadvantages. Aniline leather may be the most natural, but it does not provide any protection from water and sunlight. It may get damaged when exposed to water and sunlight.
Whether it is exposure to sunlight in which case it will fade or any kind of spillage that leads to it being stained or dry out, makes this a leather type that is really high maintenance.
Furniture made with aniline leather, for instance, would not be the best option in a home with children or pets as it will not survive for very long.
Semi-Aniline Leather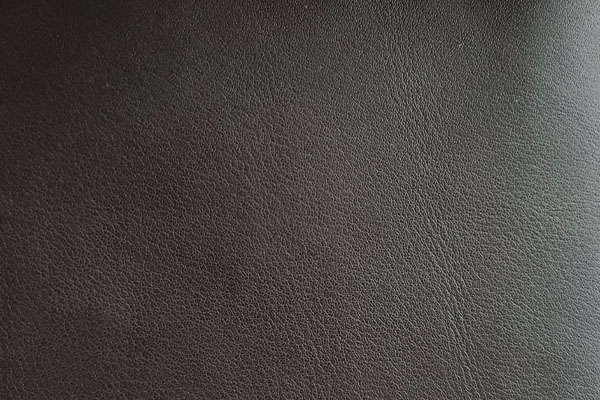 Another type of leather that can be described as a durable version of aniline leather is semi-aniline leather. Not only does this type of leather maintains its natural characteristics in feel but is also able to last longer than aniline leather.
For instance, it can withstand water and sunlight; which means that exposure to the sun will not fade or damage this type of leather. The same goes for any spillage that may occur that will prevent any kind of stains from occurring.
Interestingly, a slight pigment is applied to this leather, which is how it gets its name, to remove all the light marks and blemishes which are there in aniline.
Aside from the durability factor that makes semi-aniline leather a better option than aniline leather, semi-aniline is also of better quality than pigmented leather.
This point often leads to misunderstanding as pigmented leather is often sold as or confused with semi-aniline leather. You may ask as to what makes semi-aniline leather so durable? Even more than aniline leather.
The answer would be a slight surface coating that also contains a tiny amount of pigment that ensures consistent color and some stain resistance.
Pigmented Leather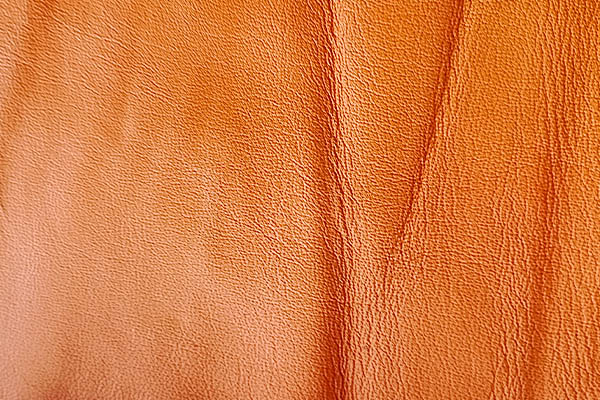 This type of leather may be divided into two parts, full grain and corrected grain pigmented leather. Full-grain pigmented leather is when the grain or textured surface is left intact before the solution is applied to the surface.
Corrected grain is when the surface is scrubbed to eradicate imperfections, scars, etc. before the surface solution is applied.
Interestingly, pigmented leather can also be called protected leather and not because it is a low maintenance leather but rather maintenance is essential on a regular basis to avoid any damage.
On the plus side, any type of cleaning, color restoration or repairs to be carried out on pigmented leather is really simple to do. On the other hand, this type of leather not possessing its natural leather characteristics has been rendered one of the cheapest types of leather.
Though it is usually considered cheap and not premium, it does have the benefit that it would offer the highest protection against water and sunlight.
This is due to the fact that no selection is required to be made, as any natural blemish or mark though present will be hidden once the pigment is sprayed on the surface.
As a result, pigmented leather is greatly used in the automotive industry mainly due to its price point as well as its ability to withstand scratches and stains. Furniture and upholstery are some other areas where this leather type is commonly used.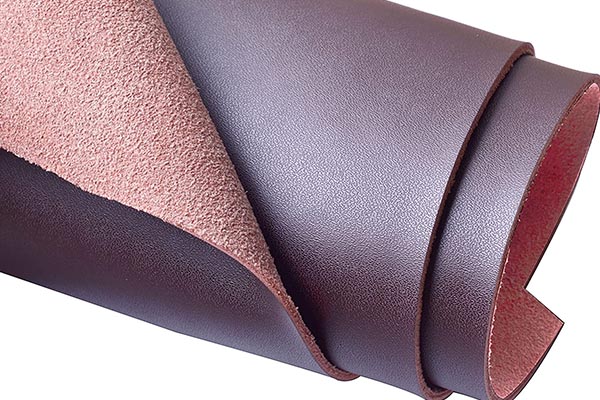 This type of leather is referred to as the middle or lower section of the hide which is sprayed with polymer and embossed to give it a more natural-looking appearance.
Being weaker than grain leather, it is best to use this type of leather in minimum to low-stress situations. While most people would find it difficult to distinguish finished split leather from a full-grain one or a corrected grain pigmented leather.
This can be done by looking for a cut or torn edge. Ingrain (top) leather, the fibers are more tightly packed near the grain surface as opposed to finished split leather (middle) where the fibers are packed loosely and equally all the way to the pigment coating. The lack of a grain layer is also apparent if a finished split is torn.
Oily Pull-up Leather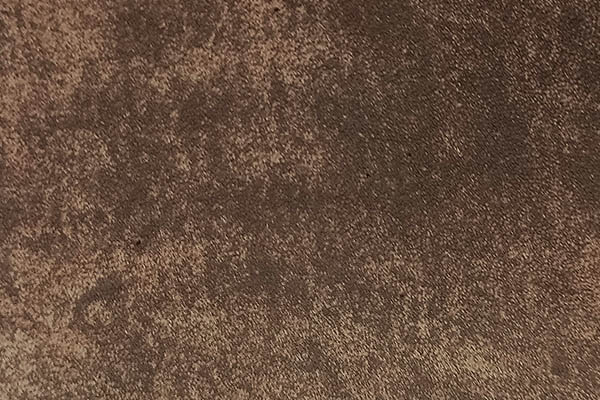 Also referred to as waxy leather, pull-up leather is a type of aniline leather that is colored with aniline dyes that are sealed using natural oils or waxes instead of paint or pigments. This results in them having a colored wax or oil finish on the top.
This type of leather is used in making shoes and bags and has also been used in making furniture.
Pull-up leather also has a sanded surface below the finish. On some types the natural grain remains undamaged in which the grain structure can be fine or coarse with either a gloss or a matt finish.
An important point regarding this leather type is the patina that develops quite rapidly. Pull-up leather gives out a lighter color when stretched or scratched, which occurs easily where you can remove some of the colors by rubbing the surface with a damp cloth.
On one hand, this leather type is soft and feels natural while on the other they carry a lived-in look that is highlighted by a patina that underlines an aged elegance.
What is really important to remember is that pull-up leather should not be confused with PU leather as is the case with many people. PU leather or bi-cast as it is commonly referred to is basically synthetic leather. It is polyurethane-coated split leather, which is very different from oily pull-up leather.
Antique Grain Leather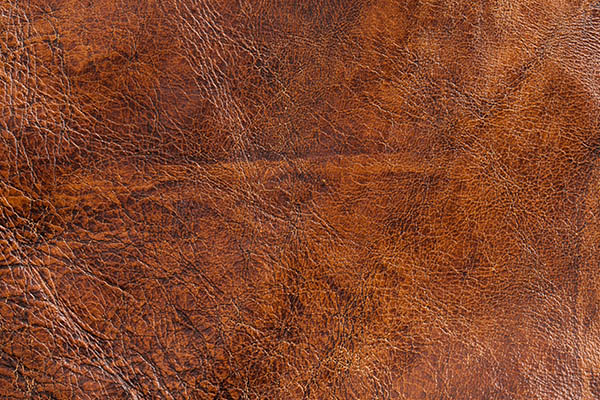 Often referred to as two-tone or rub-off, antique grain leather holds a special surface effect to mimic the unique 'worn' or vintage look of traditional leather. This is achieved by applying a contrasting top-coat which is then applied evenly or partially to reveal a paler underlying color.
Nubuck Leather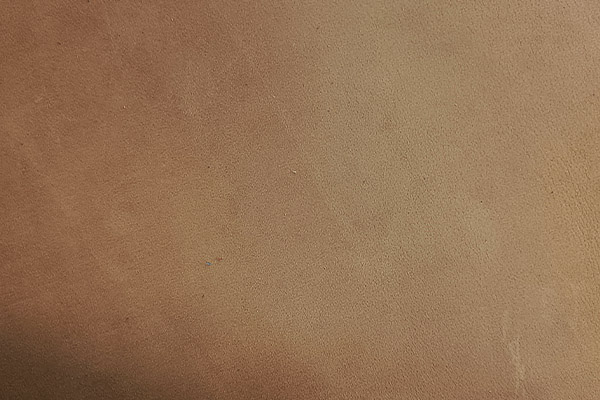 Simply put, top-grain that has been sanded and buffed on the grain side or outer layer to achieve a slight nap that resembles a velvety surface is what we call Nubuck.
Resistant to wear, it can be white or colored and maintains strength and thickness, unlike suede. This is because of the outer layer that is used, making it the exact opposite of how suede is achieved.
Nubuck is more expensive than suede and must be heavily colored or dyed to conceal the sanding and stamping marks, should this be an issue for some people.
Suede Leather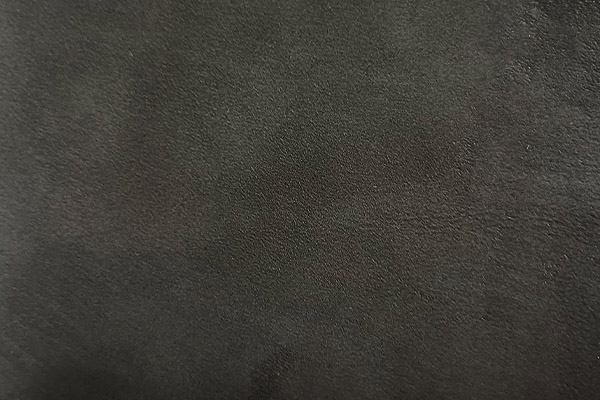 Commonly used for jackets, shirts, shoes, bags and even furniture, suede is made from the underside of the animal skin which is softer and more workable as opposed to the outer layer.
After scraping through to create a unique nap which is a soft and fuzzy surface found in fabrics and leather, it creates a suppleness that is not typically as fine as Nubuck, mainly because it having a much looser fiber structure, suede is made.
Due to it not being taken from the exterior, suede is delicate and has low durability as opposed to any other type of leather. Having a textured nature and open pores, suede is prone to absorbing liquids really quickly, resulting in it being quick to get dirty.
However, there are treatments and sprays available in the market, their application can make the suede water-resistant.
Signing-off
As interesting a subject as leather may be, so too would be its complexity when talking about the different types, finishes and processes that go in to make what will be the material, from which creatively designed products are made.
Being such a wide field that continues to go through change and evolve into something better, certain factors remain constant, most of which have been discussed above.
For instance, there can only be one particular full-grain type of leather though the animal may change the appearance, process and result remain the same or closest to it, as no two animals are identical.