Magents, blush, rose or bubblegum, all shades of pink signify absolute luxury, romance, and innocence. Women love to wear pink whenever they want to give a fashionable statement with a flair of femininity. Whether you are opting for a single pink clothing item or planning to wear pink head to toe, you need to know what colors to build an outfit with pink clothes.
Knowing what colors complement pink is essential if you are inspired to wear this beautiful hue with style. Wrong color combinations bring down the whole look and affect your overall bearing as well. You don't want to make a fashion blunder by pairing two colors that don't go together.
The Jacket Maker will solve this frequently asked query by diving into the pink color combinations in depth. Besides laying down suitable color combinations, we will suggest some trendy outfit inspirations in varying fashion aesthetics so that you can nail any pink outfit.
Shades of Pink Outfits
Before expanding to the other colors from the spectrum, let us state the trending shades of pink. The darker and brighter shades of pink like Fuschia, Magenta, and Hot pink are quite uplifting, bringing attention to your outfit as soon as you make an appearance. These intense colors are mostly used for dresses, jackets, and accessories like scarves, handbags, shoes, jewelry, and even sunglasses frames.
Some more vivid hues of pink are Bubblegum and Coral, which make quite a rich style statement. Opt for sweatshirts, quilted jackets, and shrugs in these colors to make your outfit pop.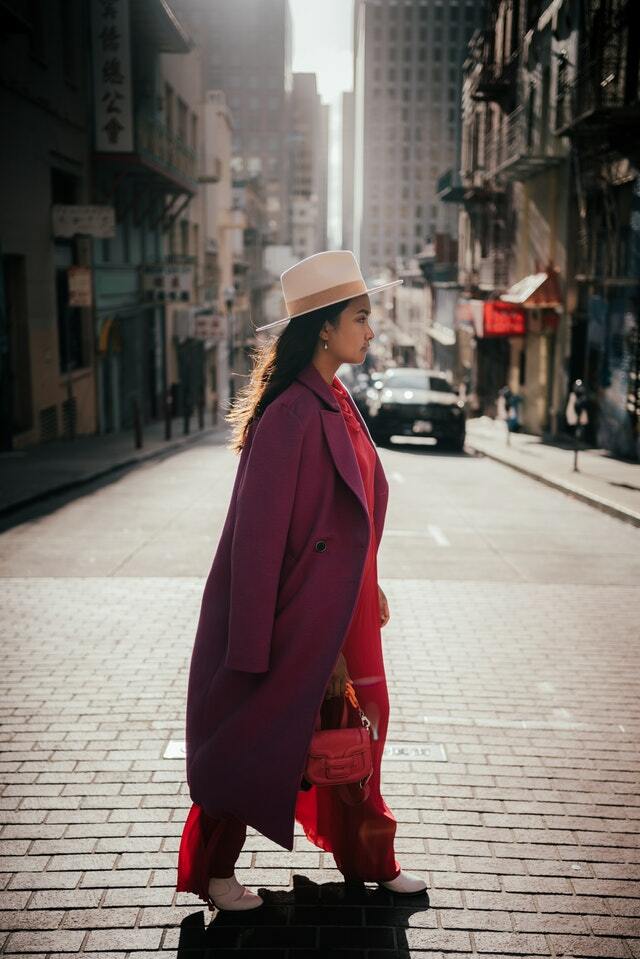 Moving on to the lighter shades of pink, Blush, Salmon, Rose, and pastel pink are very calm comforting. Wearing them denotes optimism. You can incorporate these soft hues in blazers for modern trendy corporate attire, for dresses, sweaters, cardigans, ruffled blouses, and footwear of all kinds.
Depending upon your personal style and the occasion, you can use any of these shades for monochrome and combination outfits, as well as accessories.
Best Colors with Pink
Although pink lends itself to an array of colors, there are certain hues that definitely bring up the look of a pink outfit more than others. Among colors that match pink, the best ones are lime green, white, black, blue, and grey. Other colors like khaki, burgundy, sea green, yellow, teal, and purple also make an eye-pleasing combo with pink, provided you pair the right shades together.
There are many ways to use pink smartly for your outfits. Pastel pink t-shirts and other accessories in pink form the basics of VSCO girls' style, which is a trending aesthetic. You may want to wear a pink shirt and bring another color into the picture in the form of pants and jackets.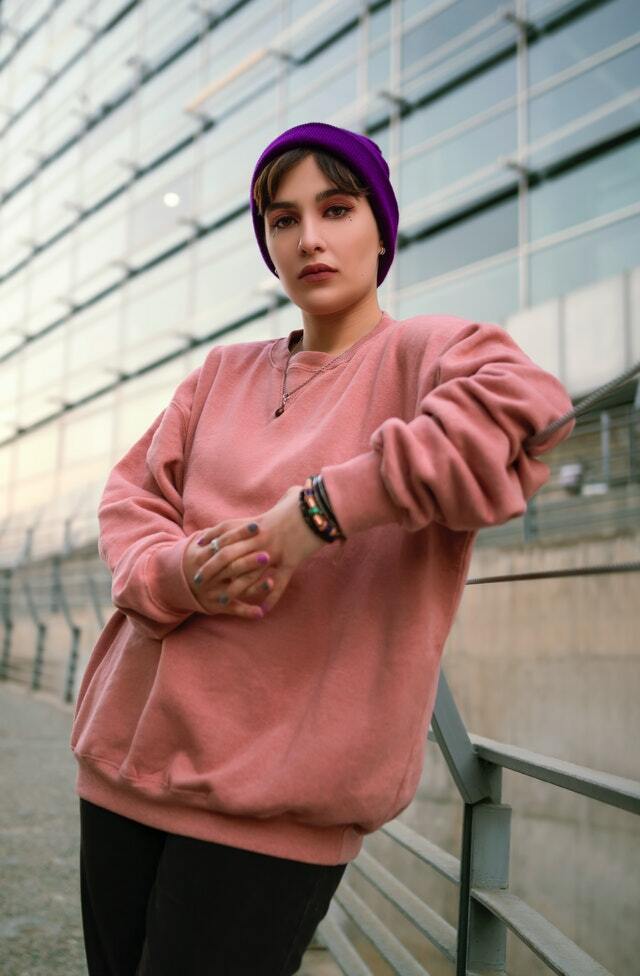 Or, you may want to go for pink pants and look for suitable pieces in other colors to complete the look. A simple way to wear pink is to go for pink sweatpants and pair these with a top and jacket in a milder hue like lemon or khaki for a contemporary look.
What Colors Go with Pink Clothes?
The role of the color pink in women's fashion is massive. But nailing a pink outfit largely depends on what colors are combined and how well it is accessorized. One minor faux pas can ruin the look as the color gives a very strong impression.
Usually, the safest option is to pair a warm pink hue with another warm color or a cool pink shade with a cool color. Neutrals work best with all shades of pink.
What Colors Go with Light Pink Clothes?
Light pink color clothing defines the elegance in your personality. It is a beautiful and eye-pleasing shade that looks dainty and graceful. Pair it with dull gold, pearl white, light blue, and denim blue, and light green for a soft look.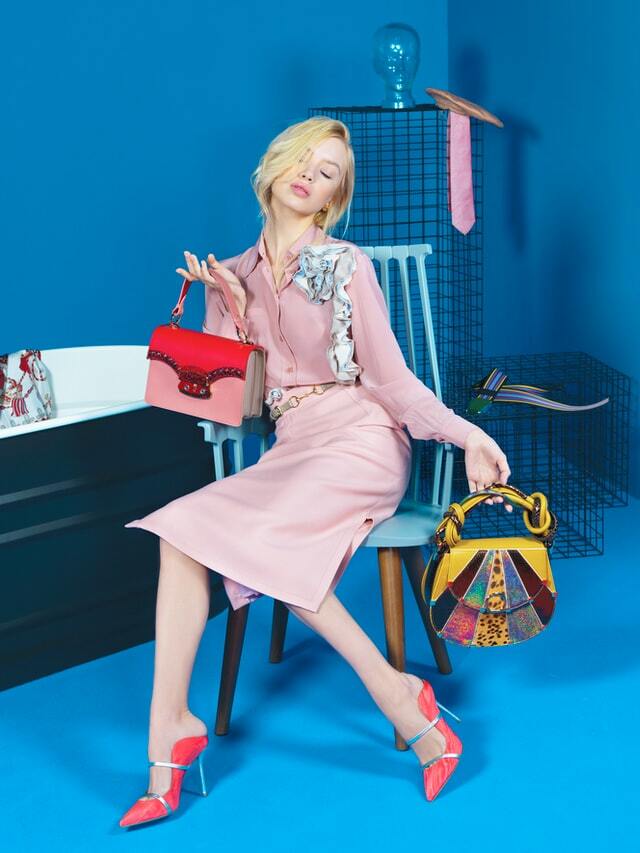 What Colors Go with Blush Pink Clothes?
Blush pink is quite an appealing shade that is in trend for the year 2021. To pull off a blush pin outfit, pair it with grey, tan, olive green, or lighter shades of pink for a chic fashion look.
What Colors Go with Pale Pink Clothes?
Pale pink is the color for women who opt for a subtle and fine style. A nice way to pull off a pale pink dress is to pair deep pink accessories. Light brown shades also work well with the pale pink color, so you can opt for a tan brown leather motorcycle jacket over a pale pink mini dress for a warm look.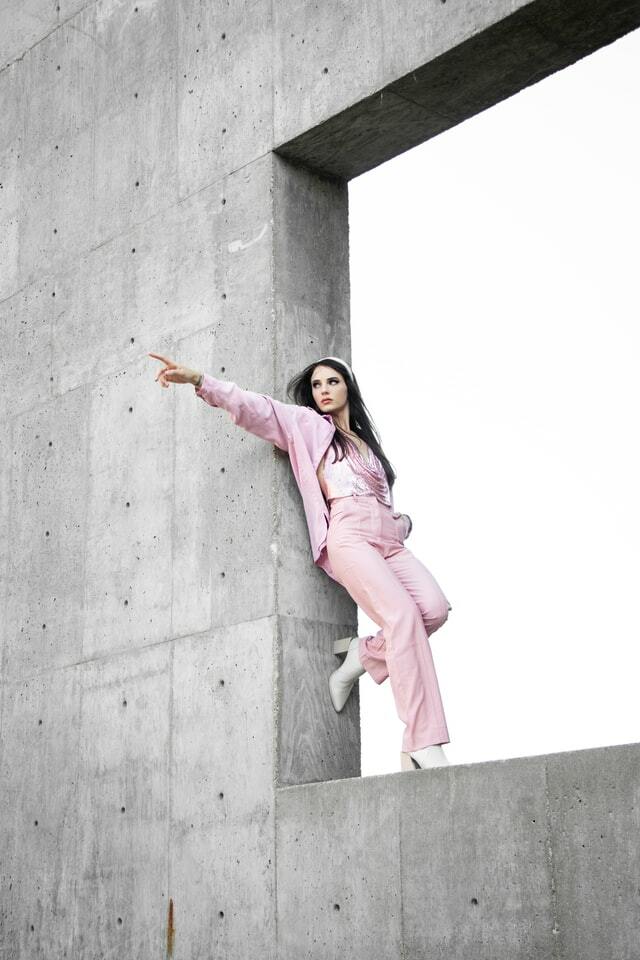 Color Pink Outfits With Complimentary Hues
Here are a few pink looks with different colors that might give you the sartorial inspiration to rock this splendid color with confidence.
Pink and Yellow Outfit
Combine yellow with pink, and you get the most mood-boosting combination that portrays the chic, lively side of yours. Take inspiration from this hot pink suit over a yellow tube top, complete with funky accessories like a fedora, cat-eye shades, and a cute handbag. This outfit will put you in the spotlight, allowing you to shine wherever you want to.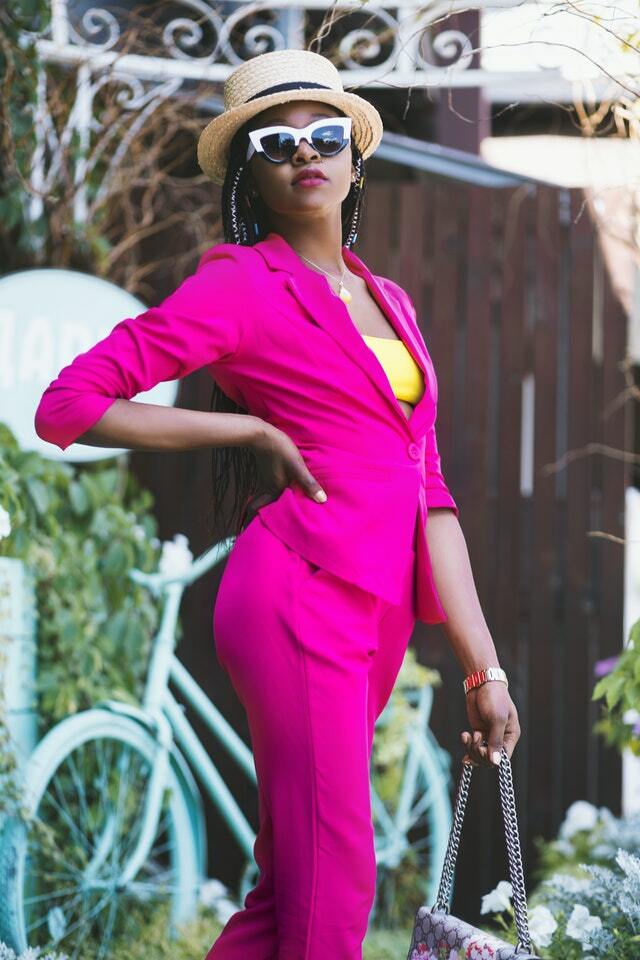 Or, consider a skater girl style with a pastel pink cropped sweatshirt looking cute along with pastel yellow joggers.
Pink and Black Outfit
Almost all shades of pink lend themselves to black. So pulling off a pink and black outfit is a breeze in any season. The subtlety of black makes a great combination with the vividness of pink. Just pair a pink off-shoulder top with black jeans for a quick, stylish look.
You can go for this simple pink turtleneck with a black pleated skirt outfit. White sneakers and some dainty jewelry are enough to add finishing touches to this look.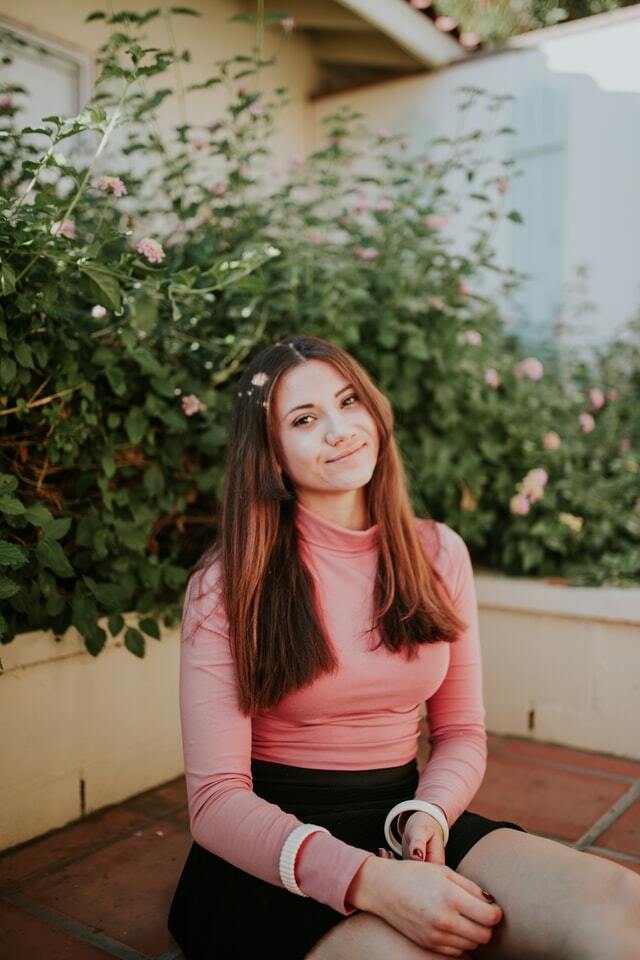 Or, you can opt for a bubblegum pink ruffled blouse with a black floral print long skirt. This outfit is sure to elevate your style. Round off the look with a mink saddlebag and black ballet flats.
Pink and Beige Outfit
The warm beige looks great with fiery shades of pink to make stunning outfits. You can use beige outerwear to layer a pink outfit. For instance, pair a rouge top with black faux leather pants and a beige bolero jacket. Or, you can go with beige trousers with a graphic t-shirt and a pink denim jacket for a modish look.
Pink and Blue Outfit
Pink and blue work together to create ravishing outfits that speak volumes of style and being fashion conscious. Combine a blush pink turtleneck with a blue fur jacket for an en vogue outfit. Enliven the outfit with a funky makeup look and a statement.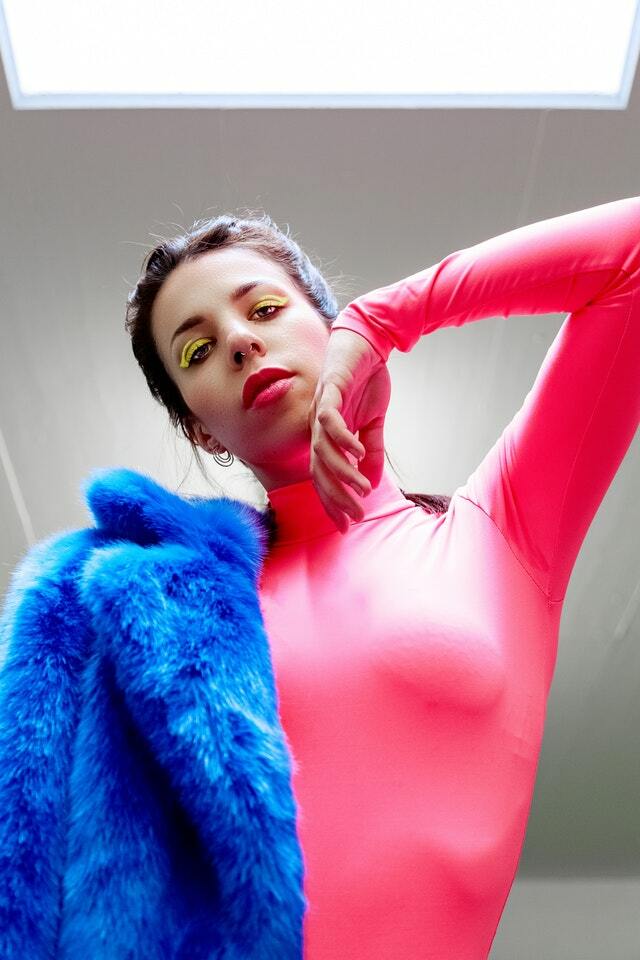 You can also up the glam and chic factor by pairing an off-shoulder coral sweatshirt with blue embroidered ripped jeans.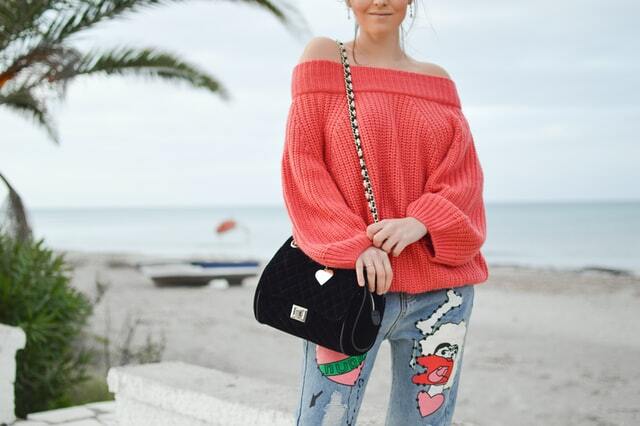 Pink and White Outfit
The fusion of pink and white is not only soothing to the eyes, it is a versatile color combo for every season. It can be a fall look with a white tube top, a pink pencil skirt with a fur bomber jacket, and white thigh-high boots. Or, it can be a white t-shirt, and pink flared jeans combo on a scorching summer day, the contrast looks captivating.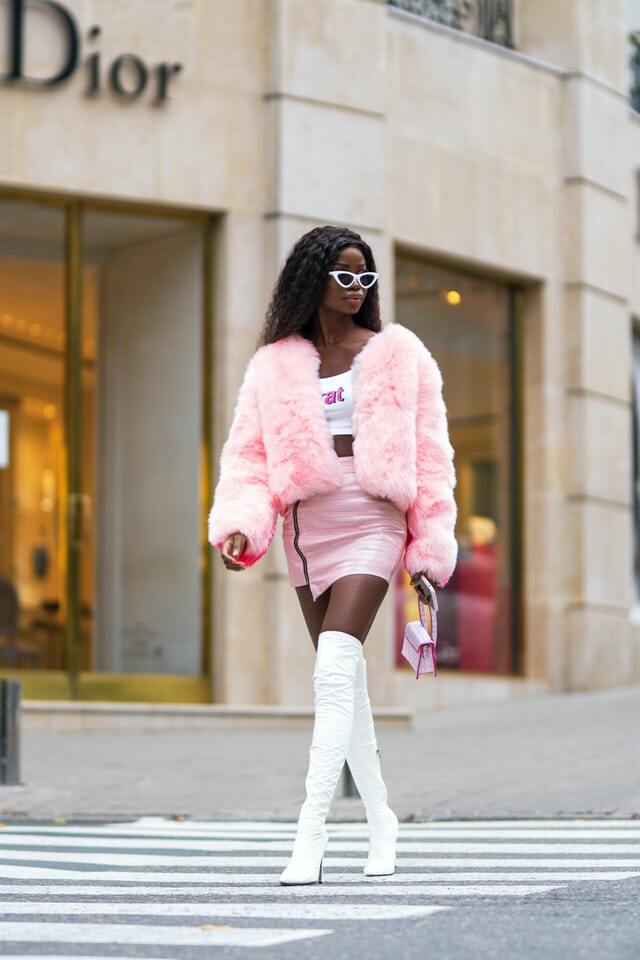 Pink and Grey Outfit
If you doubt wearing pink, pair it with grey for a gorgeous, no fail look. Take a look at this cool grey patterned blazer worn over Fuschia pink ruffled flared pants. The fusion is good enough for an on-point style statement.
You can also swap this look and wear a pink blazer or cardigan over grey trousers. Use a grey woolen scarf to round off the look.
Wear a grey sweater with a pink skirt and grey knee-high boots for a fashionable look.
Pink and Brown Outfit
As both of them are intensive hues, one may think whether pink and brown go together ?
The love and compassion denoted by pink can further be heightened with the trustworthy vibes of brown. Brighter hues of pink like magenta, Fuschia, and hot pink look very attractive when combined with pink. If you are opting for milder hues, we suggest going down the shade of brown as well. With a pale pink blazer, go with light brown pants for a sophisticated look.
Or, you can wear a brown longline coat over a pink dress for a glamorous look.
Pink and Green Outfit
On the color wheel, the color green is the complementary color for different tones and depths of pink. Bottle green, lime green, tortoise green, or pastel green are safe options to be paired along with varying shades of pink.
You can either create a confident look with a black shirt, hot pink leather jacket, and green camo pants. Mix and match accessories in black with this splendid look.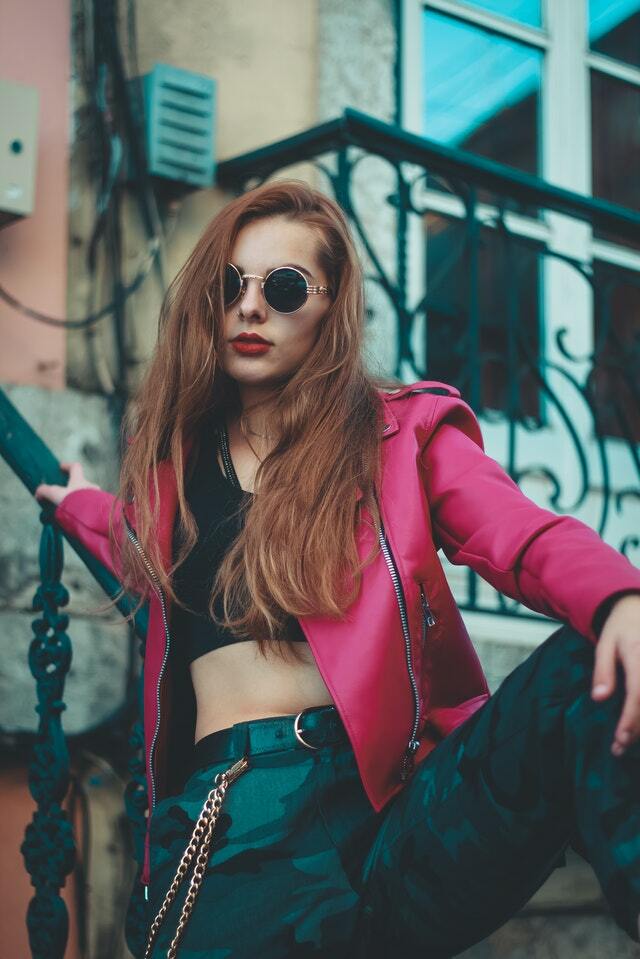 Or, you can pair a lime green top with pink tights and layer this funky look with a dull gold jacket.
Pink and Burgundy Outfit
Be a true fashion-savvy girl by pairing the rich burgundy hue with a lighter shade of pink. The dark burgundy brings a luxe feel to your pink outfit. However, do not pair dark and bright shades of pink with burgundy and stick to the rouge, salmon, carnation, or pale pink colors.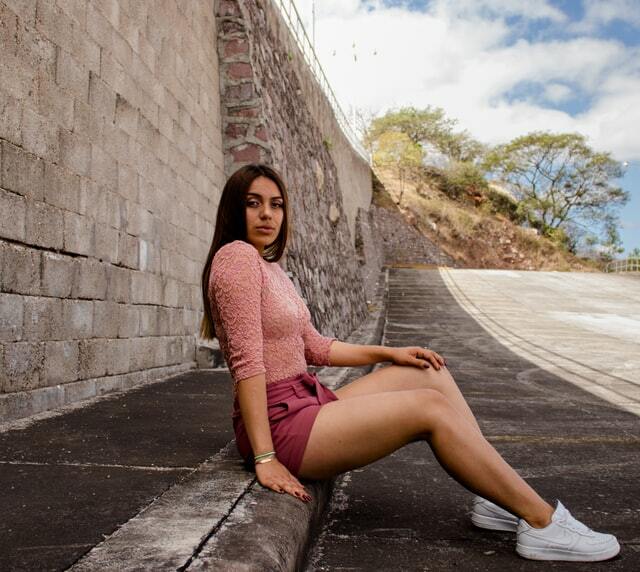 Go with a baddie inspired outfit with a fitted blouse in the rouge shade along with a short burgundy skirt. Finish off the look with sneakers and some light glam makeup.
Pink Winter Outfits
Pink is a color that can be seen in every seasonal wardrobe. However, its warmth, comfort, and simplicity make it a staple hue for winter outfits. Keep a light pink cable knit sweater, a salmon pink cardigan, and a hot pink leather jacket in your winter capsule wardrobe to build several outfits with black jeans, maxi dresses, turtlenecks, and tracksuits for the cold season.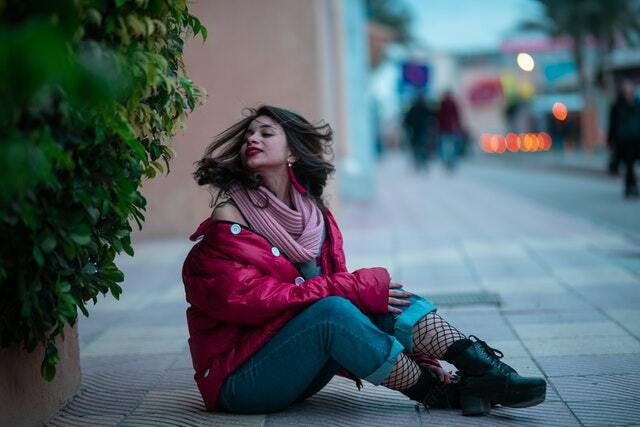 What Color Outerwear to Wear with Pink?
Whenever you don a pink outfit, it is obvious to worry about the right colored sweaters, coats, and jackets to be paired against your clothes. The safest option will be to pair neutral-colored outerwear as black navy, beige, off-white, olive, and grey can complement most shades of pink.
You can also step up the style game by using funky colors like yellow, lime green, golden, and blue outerwear. Bright colored jackets with dresses in a pinkish tone look absolutely fascinating.
Pink Outfit with Leather Jacket
A pink printed dress with a black motorcycle jacket is all you need to give a style statement that is hard to ignore. Match your boots with the jackets to create a harmonious look.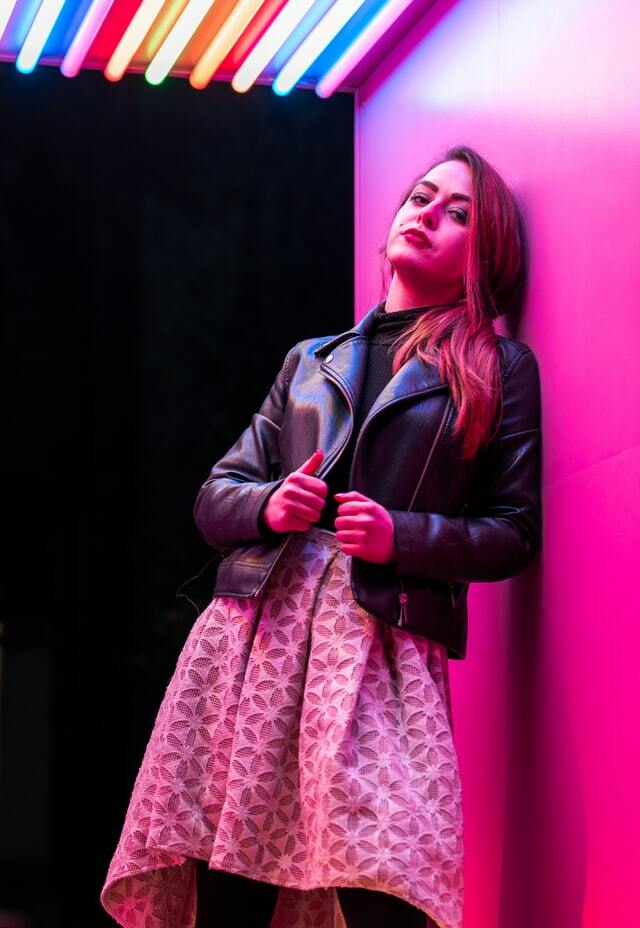 Pink Outfit with Trench Coat
A white sweater and blue slim fit jeans are an everyday look that can be turned into a trendy business casual outfit with a leather trench coat. Maintain the relaxed vibes of the ensemble with white sneakers.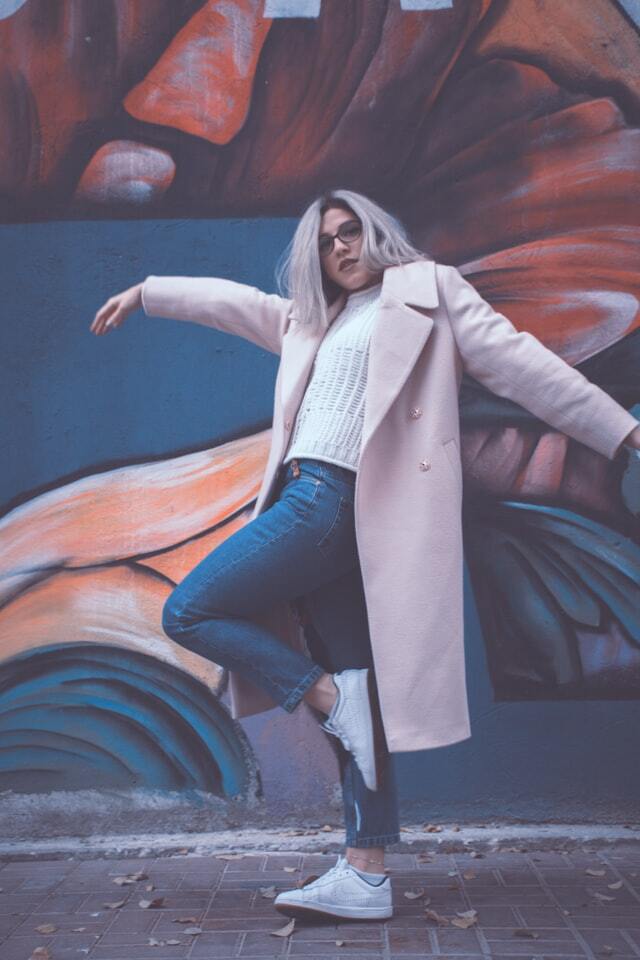 Pink Outfit with Cropped Jacket
How about pairing a voguish cropped jacket? The petite style jacket accentuates your hourglass figure.
Pink Outfit with Denim Jacket
A lot of women go for denim jackets for a contemporary look with their casual and street style looks. A denim jacket can be paired with a pink sleeveless tank top and blue bootcut jeans for a laid back look.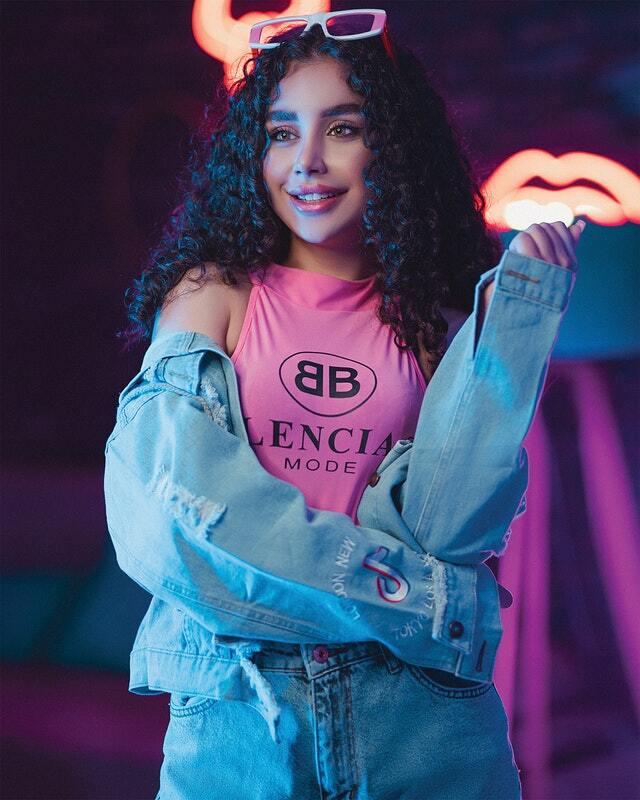 Pink Outfit with Military Jacket
The oversized military jacket lends trendy vibes to a light pink slip dress.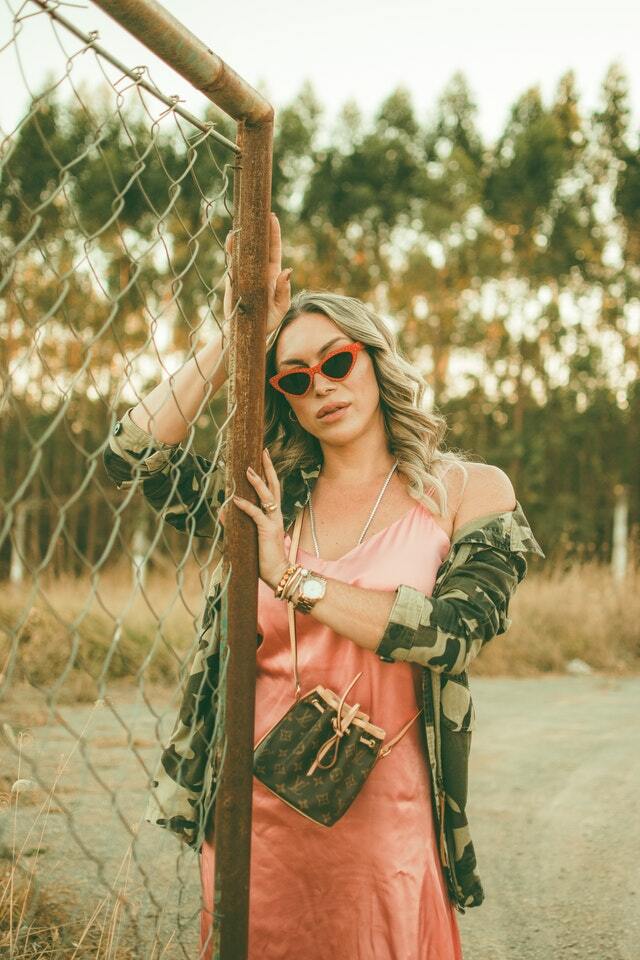 How to Accessorize a Fuchsia Dress?
If you own a fuchsia dress, take a look at some ways to rock it with appropriate accessories.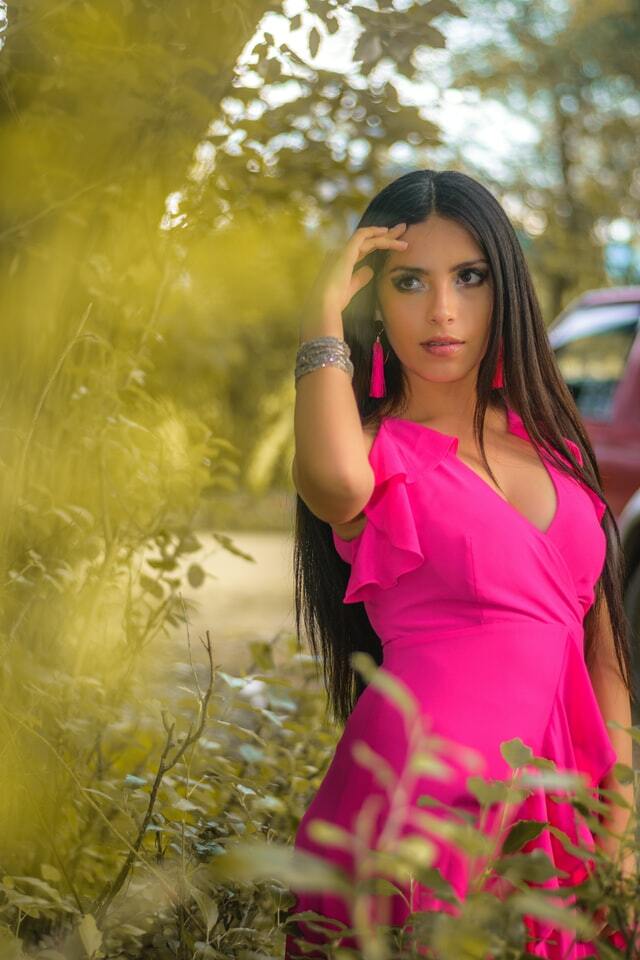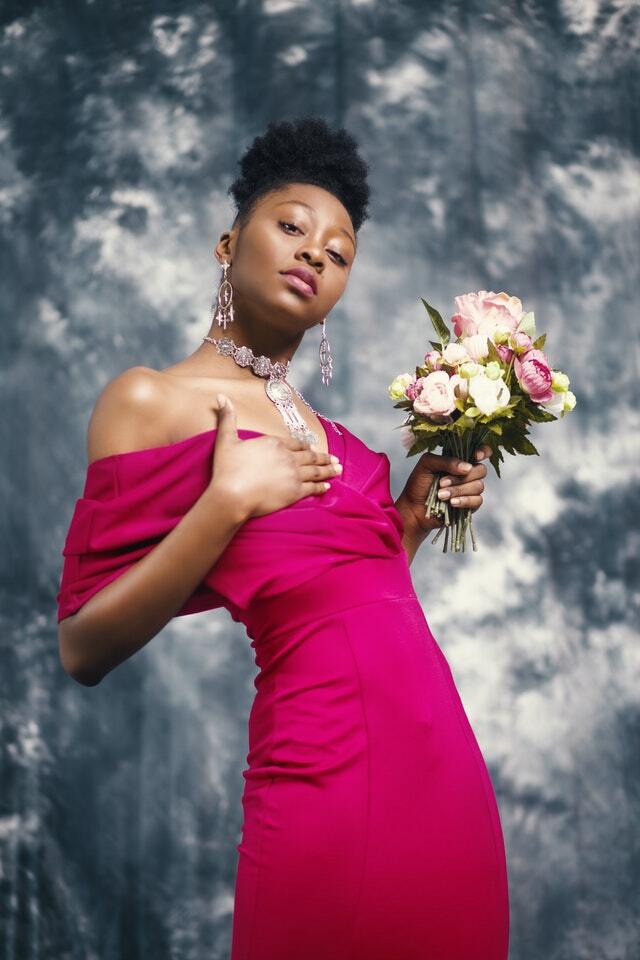 FAQs
Do Pink and Brown Go Together?
Pink and brown make a beautiful combination. We advise going for a lighter shade of brown for soft pink hues, and a rich brown shade with deep pink tones.
Do Pink and Green Go Together?
According to the color wheel, pink and green complement each other. As opposed to brown and pink, you have more flexibility in pairing green with pink as you can use light and dark shades of both hues together in an outfit.
Which Shade of Pink Suits a Light Skin Tone?
Try pairing rouge, salmon, flamingo, or strawberry pink with neutral colors for lighter skin tones.
Which Shade of Pink Suit a Dark Skin Tone?
For women with a dark skin tone, appropriate shades of pink would be fuchsia, magenta, hot pink, coral, and bubblegum. 
Do Shades of Pink Go Well Together?
Shades of pink go very well together, given you pair a lighter shade with a deeper tone to make an eye-pleasing contrast. 
How to Wear Pink Shoes?
Pink shoes are a style statement themselves. Wear them with yellow dresses, beige pantsuits, black outfits, and navy blue outfits for a chic look. 
Concluding Word on Wearing Pink
By following our suggested color combinations, you can build some enticing outfits all year round. As pink is an all rounder, you can bewitch onlookers in casual style, street style, and semi formal style outfits. Drop down your favorite color combination with pink to add to the list.