Pleated Skirts have come a long way. It may be surprising for you that the Greek men used these skirts for military occasions centuries ago. Over the years, the pleated skirt outfits went through an evolution.
However, they still offer you to move around freely while giving that effect of fullness from the waistline and back. And today these skirts are every woman's favorite. The reason behind it is that they are for every season. You can wear pleated skirts in several ways by layering the outfit and mixing it with other clothing items. Luxury brands come up with fun layering ideas that you can definitely try. 
No matter how you choose to style these skirts won't leave you feeling indifferent. To put some light on the versatility of skirts, we have 7 amazing skirt outfit ideas that any woman can recreate without a hassle.
Without further ado, let's get straight into it.
1. Mini Pleated Skirt Outfits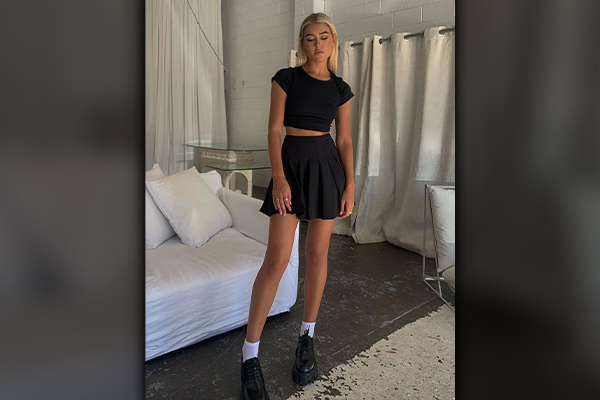 We know that many ladies are scared to wear mini pleated skirts because of the way they looked back in school. Gone are the days when pleats looked bulky and ill-fitted on people. The modern pleated skirts flatter every body type. Our first outfit idea is for avid black and white outfits fans.  
You can wear a black pleated mini skirt with a white T-shirt or a sweatshirt. Depending on what plans you have for the day, you can add white heels or white trainers to your outfit. For the accessories, wear a thin gold chain, and a black crossbody bag. Leave your hair open and feel free to put a few cute clips on your hair. This is actually a perfect look for school. If want to change the top, feel free to wear your sweatshirts, t-shirts, tank tops, and the list goes on. 
2. White Pleated Midi Skirt Outfit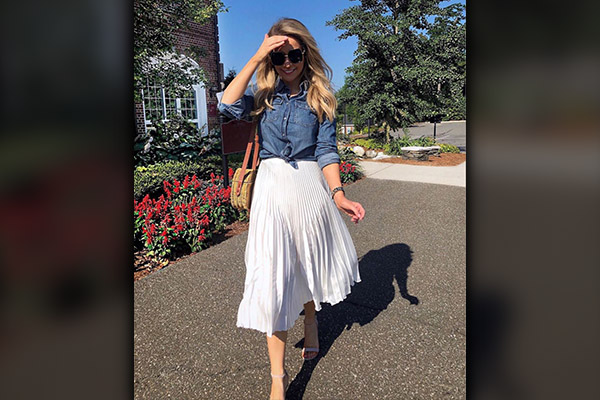 This pleated midi skirt outfit has an easy-breezy feel to it which makes it great for summer. Those who want their outfit to look flirty and comfortable at the same time can give this out a try. You can keep it simple with a mustard tie front crop top and white Converse shoes. 
This outfit looks great even without using too many accessories, so you can wear only a gold chain. Plus, you can carry a white mini bag. To keep it interesting, wear red lipstick. Also, If you want to layer it, you can pick a Fall jacket.
3. Pleated Skirt with White Blazer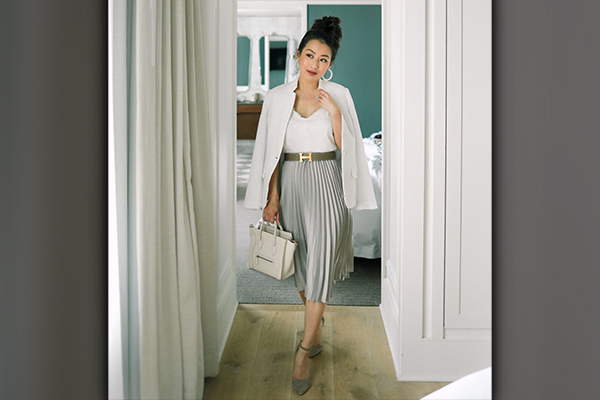 Sometimes, we all want to go that extra mile with our outfits. So, this idea is dedicated to those who want to go for a regal look with a blazer. If you have a white blazer sitting in your closet, we will tell you how to style a pleated skirt with it. 
We will go for a flawless black pleated skirt outfit this time. It looks best when you wear a black skirt with a monochrome shirt. We know that you look amazing already. But it's time to add a belt, black sunglasses, and black loafers. With this outfit, everyone on the street will know who's the boss. Lock this outfit by creating loose beach curls in your hair.
Although there are many ways to look graceful in white blazer outfits, this idea is creating buzz these days.
4. Leather Pleated Skirt with a Cutout Top
When you wear a leather pleated skirt outfit, you get the feeling that it is molded to your body. These types of outfits make you feel more confident about your body. You can wear a brown skirt, black cutout top, and thigh-high boots. Tie your hair in a neat bun, brown makeup, and a brown cloud bag would look wonderful with this outfit. 
We highly recommend this outfit if you have a conservative style and you can't wait to change that. If you are in love with the idea of leather skirt outfits, we have some more ideas waiting for you.
5. Purple Pleated Skirt with White Blouse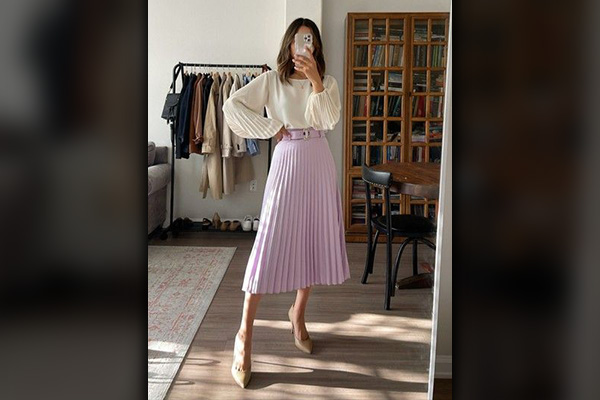 Going on a special date, but can't figure out what to wear with a pleated skirt? We have an excellent idea. This is one of the finest pleated skirt looks as it entails purple in it. You wear a nice white blouse with frills on it and pair it with a purple skirt, and white court shoes. To amp up the look, put on a vibrant lipstick. 
To complete this sophisticated look, wear pearl earrings, a white small handbag, and a slim white belt. In case you want to try a different top with the purple skirt, check out these purple color combination outfits.
Those who have pear-shaped bodies can accentuate their curves with a high waist pleated skirt. In winter, you can wear any of these skirts with turtlenecks and sweaters to take your style up a notch. Plus, this quality qualifies for your winter capsule wardrobe. 
6. Black Leather Jacket with Leather Skirt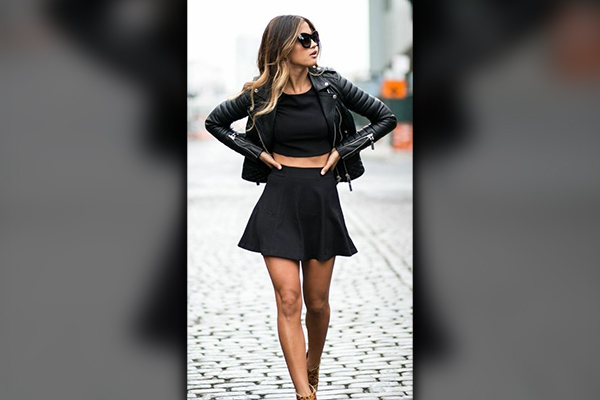 This is another leather pleated skirt outfit that is worth a try. Also, it is different from the previous look as it has a twist. Black outfits are not just sartorially approved, they are for all those women who radiate cool vibes wherever they go. You can wear a white top underneath a black leather jacket and a black pleated skirt. To make this classic combo look even better, wear black heels and chunky earrings.  
7. Blue Top With Silk Pleated Skirt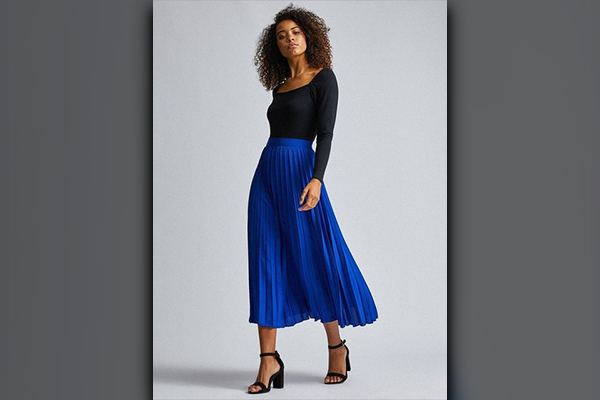 If you are tired of looking too casual and want to shift to semi-formal outfits, we have a fantastic one for you. In this look, wear a navy blue net top with a deep neck. If you are fine with showing a tiny strip of your skin, this outfit is for you. 
The rust color satin pleated skirt is the game-changer in this outfit. Beige heels and a leopard print clutch will add some character to this look. Before leaving home, don't forget to wear small studs, a gold bracelet, and black sunglasses for this outfit. 
FAQs
What Tops Go with Pleated Skirts?
Almost every kind of top looks marvelous with pleated skirts, if you want to come with a chic look, you can opt for a white button-down. For parties, wear a sequin top with a skirt. And, for everyday looks, short pleated skirt outfits are perfect. 
Are Pleated Skirts Formal?
Wearing a pleated skirt with a blouse is a classy and formal combination. A blouse gives you a feminine look that is suitable for the workplace or anywhere. But if you have a big event to attend, go with a statement silk or cotton blouse with subtle detailing like puff sleeves, embellishments, and so on.
Are Pleats Slimming?
Definitely! But only if you know what to wear with a pleated skirt. Usually, wearing a belt around your waist and tucking in the top makes your body look thin. If you want to look thin wear skirts with cascade pleats, knife pleats, and sunburst pleats, among others.
Are Pleats Flattering?
Yes, as mentioned above, pleats look beautiful on almost all body types. To make this easier for you, we will explain. If your body has a fuller middle part, avoid skirts that gather at the waist. Girls with short height can go with monochromatic pleated skirts. 
Do Pleats Make You Look Fatter?
If you choose the wrong type of pleated skirt, you may look more fat than you actually are. If you want to look slimmer, don't buy skirts that have pleats on the waistline. This skirt will add volume to your waist making your tummy look bigger. 
The Bottom Line
We hope that you enjoyed all the pleated skirt looks in this article. We assume that now you must be able to identify which style looks the best on you. So, if you don't have a pleated skirt in your closet, you should definitely browse through the internet and buy the one that fits perfectly.