Whenever you need to add edgy vibes to your outfit, there is nothing better than a leather skirt to do it. Skirts are a wardrobe mainstay mainly for spring and summer, but the leather ones can actually give you some absolutely stylish outfits for fall and winter. In this blog, you will get a plethora of leather skirt outfit ideas that you can rock with style all year round. 
Introduction to Leather Skirts in Women's Fashion
The luster of leather and the stylish look of the skirt is enough to raise your style standard. Leather symbolizes urban culture and is known to bring out the sassy, audacious side of your personality. Combine that with the comfort and charm of a skirt, and you get a garment that will make people fall in love with your style.
All seasons call for different types of outfits, for which you may need a few different types of leather skirts and pair them with weather-appropriate essentials. The seasonal style fused with certain fashion aesthetics also paves the way for trendy outfits. So whether it is a long sophisticated leather skirt with pleats or a high-waisted mini skirt, they can be the perfect puzzle pieces for a variety of looks. 
Types of Leather Skirts
Leather skirts styles can be divided into three main categories depending on the length. 
Short Leather Skirts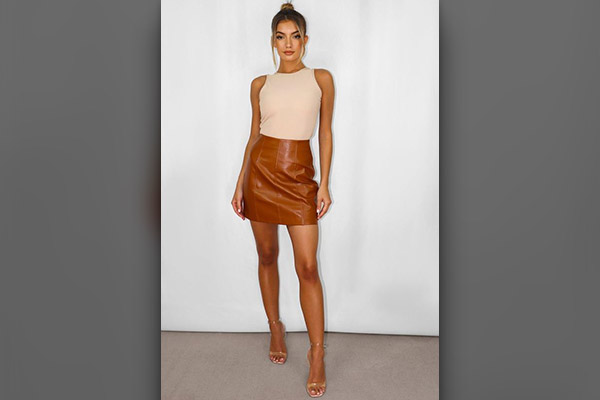 Leather skirts that are short can be anything from the micromini style that ends an inch below your bottom to above knee length, known as the mini skirt. Short leather skirts are for a bold and chic style statement. You can wear short skirts in warm weather without stockings and pair stylish t-strap heels with them. Or, you can wear them over leggings and boots for a casual fall and winter look.
The mini leather skirt is also known as a bondage skirt or a pelmet skirt. The skirt, along with a pastel-colored t-shirt or sweatshirt, is considered a starter pack in the recently trending VSCO girl style.
Midi Leather Skirts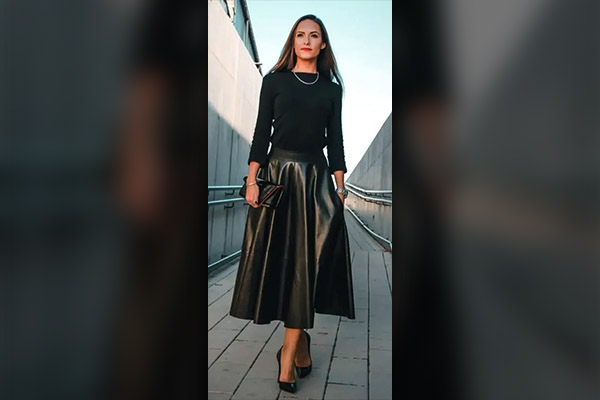 Midi skirts start below the knee and can go up to a few inches to your shin. These classic skirts give an elegant look and are regularly opted for by women who dress smartly for work. These styles of skirts are also called cocktail skirts, hinting that they are a perfect clothing staple for women's cocktail attire.
Long Leather Skirts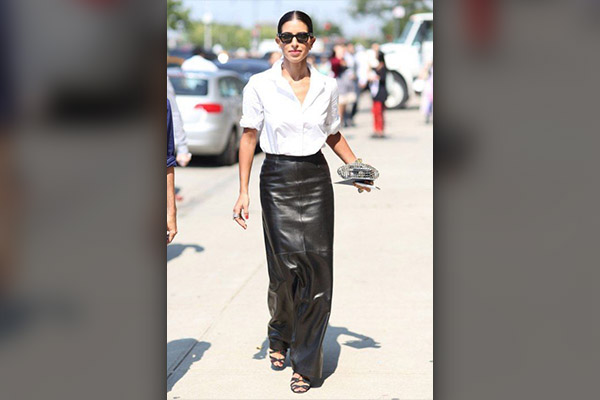 The length of long leather skirts varies from mid-calf to ankles. They are the perfect fusion between decency and glamor. Pair your long leather skirt with a sweatshirt and a denim jacket for a stylish fall look. You can also use ruffled chiffon blouses and floral tops with long leather skirts for spring. 
Let us move on to the seasonal styling of the leather skirt.
Leather Skirts in Spring
When it comes to spring outfits, donning pretty colors is the way to rock them. Although there are different types of leather available in a variety of prints, the most common type of leather skirts are black or brown. You can use different types of shirts, tops, and blouses to create beautiful springy looks. It is the season of florals, neon, pastels, and eye-pleasing patterns.
An all-leather look with a funky and lightweight turtleneck sweater is all you need for an edgy style. If you are looking to wear any of your women's leather jackets or coats interestingly, this outfit is the perfect opportunity to do so. 
Pair a brown mini gore skirt with a white blouse or full-sleeved t-shirt and accessorize the look with a cute cowboy hat, sneakers, and a brown tote bag. You can go for a trendy bolero jacket if you need more coverage in this outfit.
Pair a black tube leather skirt with a sleeveless ruffled blouse for the warmer days of spring. Finish the look with black pumps and cat-eye shades to lift the style up.
Leather Skirts in Summer
Wearing leather in summer may feel inappropriate, only if you don't know the tips and tricks of nailing it. Firstly, we recommend going for flared, pleated, or slit skirts for a cool, relaxed style. Consider going for high-waisted mini skirts.
Other than that, you should go for lightweight leather-like calfskin or sheepskin leather which are absolutely wearable in summer. You could also go for faux leather, which is not as warm as real leather.
Besides choosing the right leather skirt, you should also ensure pairing options that are lightweight, flowy, and breathable. You could use a shrug to add a lightweight layer to your leather skirt outfit if and when needed. 
Pull off an airy ensemble by pairing a black camisole and a mini leather skirt with a thigh slit. Use a lightweight denim jacket to add a chic feel to this outfit.
You can also go for a mini dress silhouette by pairing a tank top with a pleated leather skirt. Add high-heeled pumps and some statement jewelry to add the bling factor. 
If you want a 2000's emo style outfit, pair a black pleated leather skirt with a horizontally striped top, waist chains, fishnet stockings, and black laced high tops. 
You could consider wearing a brightly colored faux leather skirt. Wear a pink high-waisted skater skirt with a basic white t-shirt for a fascinating look. Pair white square toes kitten heels and a cute handbag to complement this outfit. This outfit is perfect for a summer party.
Leather Skirts in Fall
At most places, the fall breeze is cold enough to compel us to cover up. It is the time to show off your ravishing style with knitwear, fall leather jackets, and accessories like shawls and beanies for that extra layering.  A leather skirt can give you fashionable fall outfits, and you can decide how to wear it depending on the weather conditions. 
A leather ensemble is a perfect idea to dress up for fall. Pair a black midi pencil skirt in leather and a white low-neck top and layer the outfit with a classy women's leather biker jacket. This outfit is the best way to slay the baddie style in autumn.
Wear an off-white knitted top along with an A-line leather skirt. You can go for leggings and black knee-high boots for an elegant look. If you need an extra layer, go for a long cardigan with this outfit. 
Leather Skirts in Winter
Winter calls for outfit layering and warm cozy essentials. For this season, leather skirts in longer lengths are more suitable, but you can wear shorter ones along with leg warmers and stockings.
Pair a textured black turtleneck over a black leather skirt. You can use a beanie to add cozy vibes to this outfit and use warm jackets like parka jackets to add another layer.
Wear an oversized blue sweatshirt over a maxi leather skirt. This outfit is a perfect streetwear look if you accessorize it using a glam handbag, statement rings, and a fur scarf.
Scarves are definitely a go-to winter accessory, and you can go for another jacket and scarf look. Go for a leather pleated skirt in black and a white satin blouse. Choose a grey woolen scarf and a silver grey bolero jacket to give the outfit the bling it requires.
Pair a beige cowl neck top with a tan mini leather skirt. Top off the look with a brown trench coat and tan-heeled boots. 
Accessorizing your Leather Skirt Outfit
There are several ways to elevate the look of a leather skirt.
Firstly, try to match the bag and footwear for a graceful, rounded-up look. 
Carry a shoulder strap bag or a crossbody bag that reaches below the waist
Play with contrast and bring some patterns and accents in the form of boots.
Use scarves to pull off any look with an attitude.
Use belts with ornamental details for a dressed-up look.
To elaborate your style, put on subtle makeup, effortlessly styled hair, and statement jewelry
Fabrics that Complement Leather Skirts
To match the beautiful sheen of the leather skirt, you can opt for silk and satin blouses, chiffon tops, cotton-silk blend shirts, and cotton t-shirts for summer.
Pair the leather skirt with woolen garments, fleece jackets, or leather jackets for the colder season.
Leather Skirt Styles that are Timeless
Skirts made in leather can vary based on their colors, patterns, lengths, and styles. We will talk about the lengths separately, but here are a few basic designs of leather skirts trending, that you can go for.
Straight Skirt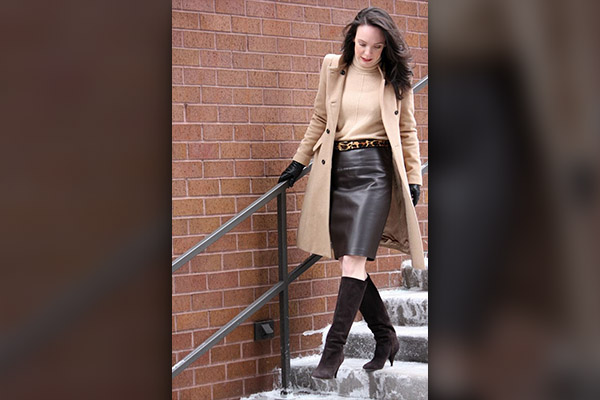 The straight leather skirt is a sophisticated type of skirt where the hem is neither flared out nor body hugging. The cut of the skirt is straight from the waist to whatever length you opt for. Works well with fitted tops and blazers.
Pencil Skirt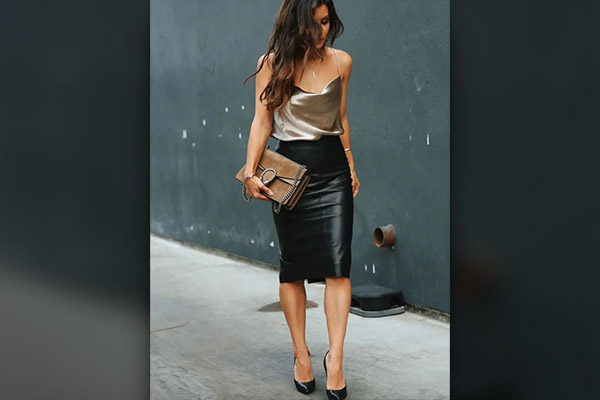 The pencil skirt is a fitted skirt where the fabric hugs the body from the waist to the hem. Pencil skirts are ideal for highlighting your curves, making them the best choice for slim women. The figure-flattering skirt is made with stretchy leather so that it is comfortable to wear. For a drop-dead gorgeous look, wear a midi pencil skirt with a turtleneck and heeled ankle boots.
Flared Skirt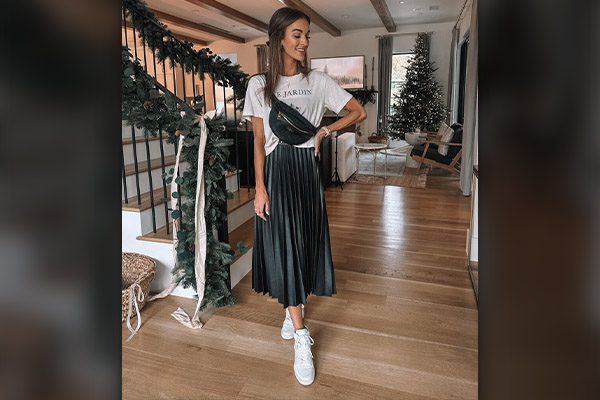 The name of flared skirt tells us that it has a flare. A usual style of flared skirt in leather is fitted at the waist and hipline but flares at the hem for a stylish feminine look. The flare can be pleated or ruffled.
Pleated Skirt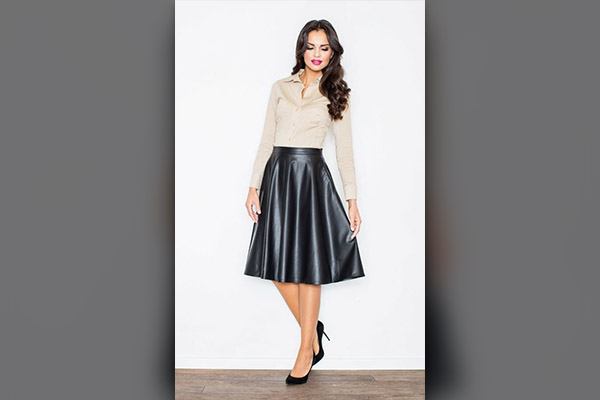 The pleated leather skirt can be short like a tennis skirt, or long, like those trending in Korean street style. It has pleats sewn in the waistline, which gives a highly voguish look. Short pleated skirts make a flattering pair with oversized sweatshirts. Tuck some of the front hems of the sweatshirt in the skirt for a trendy look. 
Slit Skirt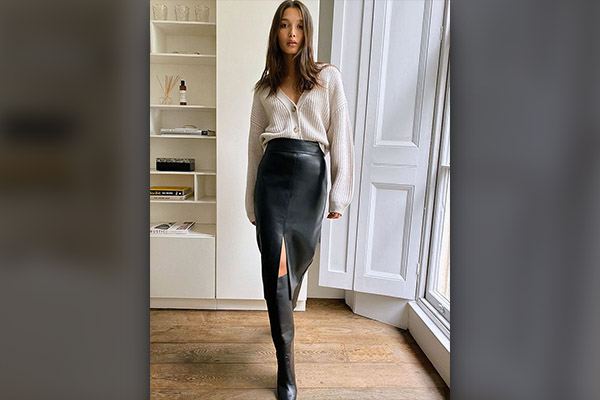 Leather skirts with a thigh slit give a very sassy look. The slit can be with or without zips, but the ones with a zip give you the flexibility to transform a chic outfit into a sophisticated one as required. Pencil skirts, tube skirts, and straight skirts usually come with a thigh slit.
Wrap Skirt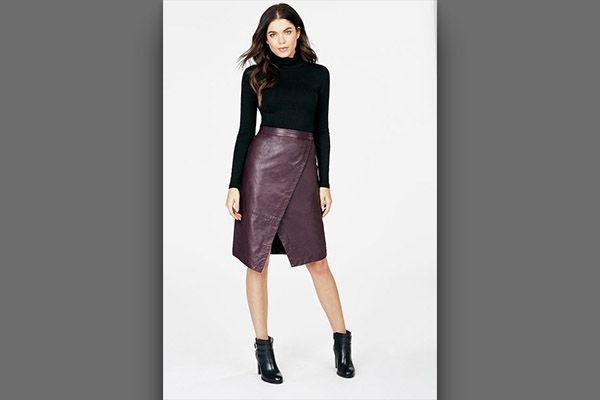 The wrap-style skirt is fastened by overlapping the front panel with the help of buttons or ties. The wrap leather skirt elongates the appearance of the legs, so it is a great option for petite women.
Conclusion
Celebrities and fashion influencers often use the leather skirt for a bold style statement. You, too, can channel your inner fashionista by wearing this fashionable staple in any season. Leather skirts suit all body types. But the key to rocking the leather skirt is to choose an appropriate length and get the pairing right.