Among the countless varieties of outerwear for females, the denim jacket is the preferred choice of fashionistas for an effortless casual look. Due to its adaptability with a variety of seasonal outfits, the denim jacket is the perfect go-to outerwear for females. A classic denim jacket is a woman's best friend for all the right reasons. This in-depth style guide will give you several chic outfit inspirations if you are looking for what to wear with a denim jacket for women.
What To Expect In This Article?
Significance of the Denim Jacket in Women's Casual Fashion
Nothing can beat the charm and versatility of the denim jacket, aka the jean jacket, when it comes to casual feminine style. What to wear with denim jacket is not at all a thing to worry as the garment is incredibly versatile. You can grab the jean jacket from the closet every time you are unsure about what to pair with an outfit, and we bet it won't fail you. The possibilities are endless when it comes to creating outfits with a jean jacket
Although leather jackets provide optimum versatility and panache, comparing leather vs denim shows that denim jackets can be paired more effortlessly with any kind of clothing.
This stylish wardrobe staple is not something that has started trending recently. It has been a part of the casual style not for both genders since Levi Strauss invented it in 1880. Many decades later, it is still a favorite of the fashion-conscious lot.
The captivating feel of the denim jacket is enough to make heads turn. Therefore, every stylish girl wants alluring outfit ideas with the denim jacket to nail the casual and street style looks.
Pull Off the Female Denim Jacket Casual Looks with Style
Depending upon the type of denim jacket you own, we have laid down several clothing combinations to suit a classic feminine style. Also, like the denim jacket is available in many other colors besides blue, you can experiment with a jean jacket in black, white, or any different color that appeals to you.
A denim outfit for women, if done right, can never have a dull moment. Explore your wardrobe and make sure you have the clothing essentials mentioned in the denim jacket outfit ideas below. If you get inspired by a suggestion that doesn't include the essentials you already have, get your hands on them or use the one you already own and let the mirror be the judge whether the look is right or not.
Denim Jacket with Dresses: The Figure Flattering Combo
Nothing feels more feminine than a dress. Every woman has a variety of dresses in her wardrobe, be it the long ruffled maxi dress, the mid-length pencil dress, or the attractive short dress. The good news is that your denim jacket pairs well with every kind of dress! You can create figure-flattering outfits with a jean jacket and different styles of dresses.
Pairing Denim Jacket with a Maxi Dress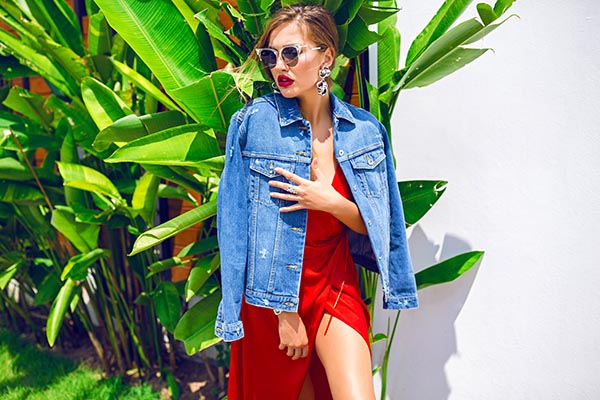 Maxi dresses come in alluring prints and colors, and any type looks great when you don a denim jacket over it. Take inspiration from this stunning red maxi dress. The faded jean jacket takes this outfit up a notch, and the puffed sleeves add elegance to the look. You can wear a hat to finish off this perfect holiday look.
Pairing Denim Jacket with a Flared Short Dress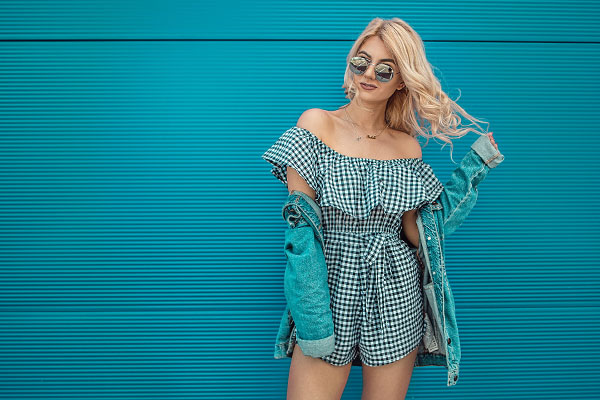 Take out your short flared dresses and pair them with the denim jacket to build some eye-pleasing feminine outfits. This kind of look is perfect when you want to give off the pretty girl next door vibes like the one shown below with a short ruffled dress. Try a light-shaded jacket with floral or pastel-colored dresses or a dark-colored one along with a striped dress.
Pairing Denim Jacket with a Pencil Dress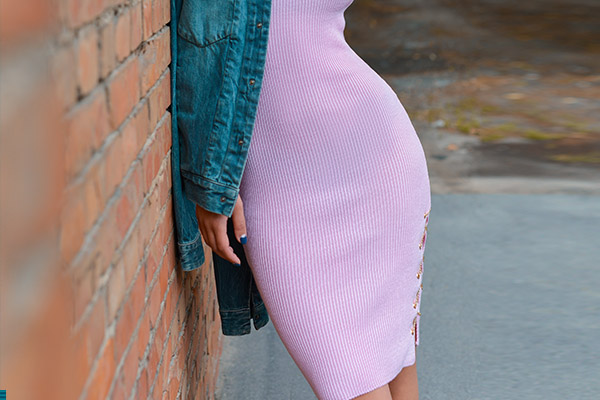 A pencil dress looks ravishing, and a denim jacket would add to its appeal. You can create an incredibly bold outfit perfect for a lunch date by opting for a peach pencil dress and a faded jean jacket.
You can also opt for a black denim jacket over a red dress to pull off a glamorous evening look.
Denim Jacket with a Variety of Pants
If you are confused about what pants to wear with a denim jacket for females, many from your existing wardrobe would go well with it. Pants in flared or fitted styles in varying materials are a good choice for chic casual looks.
Denim Jacket with Joggers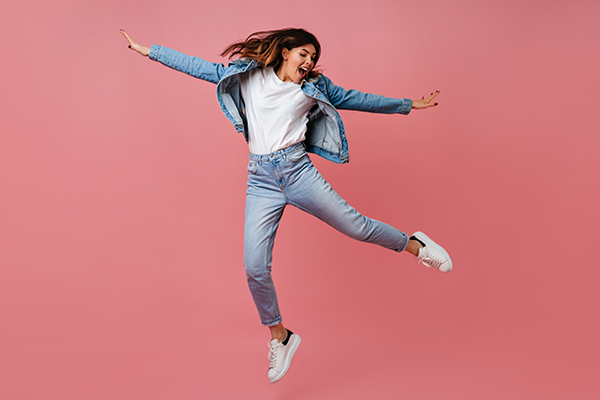 For a simple casual street look, opt for a white t-shirt along with grey joggers. Don your dark blue denim jacket over it and finish off the look with hooped earrings, shades, and a nice clutch bag.
Denim Jacket with White Jeans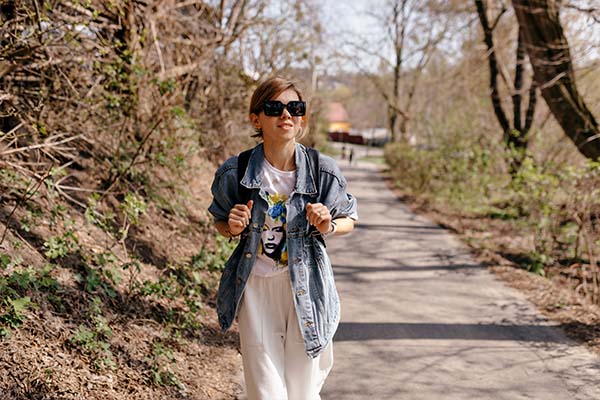 A blue denim jacket looks great when you pair it with white jeans. A wide variety of tops can gel well with this look, oversized depending upon where and when you are wearing this combo. If it is a simple spring look, you can opt for a floral silk top. Otherwise, crop tops and blouses can be worn to create attractive summer looks.
Oversized Black Jean Jacket with Ripped Jeans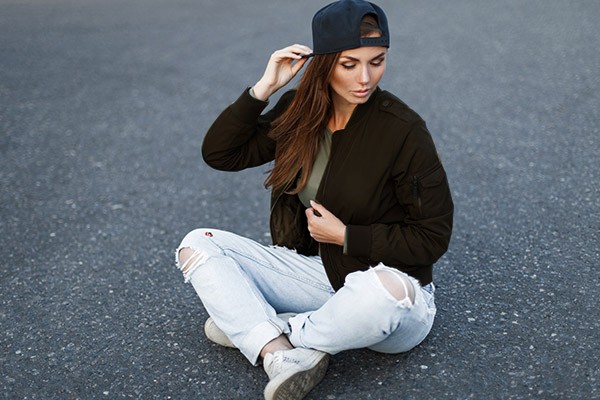 Oversized jean jackets, as well as denim shirt jackets, are all the rage. They provide the perfect layering option in mildly cold weather such as early spring or fall. Plus, they look extremely stylish if carried well. A casual and chic black jean jacket outfit would be to pair the oversized black jean jacket with a white top and ripped blue jeans. Opt for shades, tennis shoes, and a leather handbag to finish this quirky denim outfit for women.
Denim Jacket with Bell Bottom Pants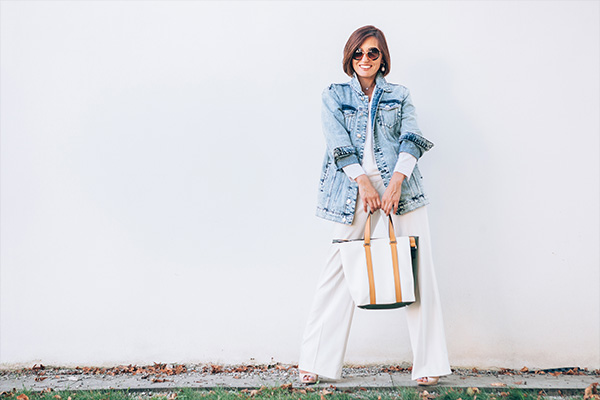 Bell bottom pants go in and out of fashion, but teaming it up with a white denim jacket will create a very trendy casual look for any season. This look with a grey knitted top and chunky jewelry is perfect for casual outings like a weekend brunch.
Short Denim Jacket with High Waisted Pants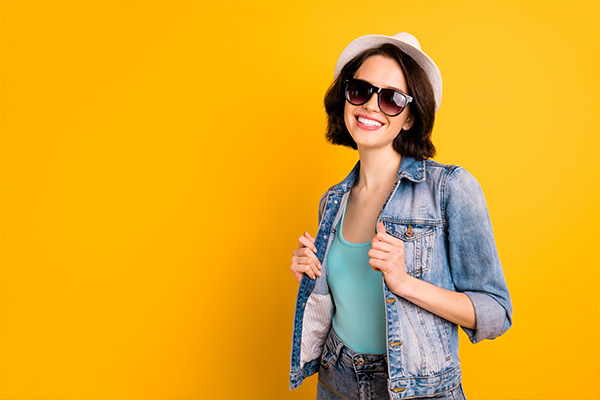 High-waisted pants are a favorite clothing item among fashionistas as they make the waist appear smaller, making you look slim. Outfits created along with the high waist pants lose their appeal when you layer them. But if you opt for a short denim jacket, the problem is instantly solved as the hourglass look isn't obscured due to the large silhouette of the jacket.
To build a gorgeous outfit, go for a matching crop top and pants and choose a jacket in darker shades.
Denim Jacket With Leather Pants
The combination of the denim jacket and leather pants work well together. The casual feel of denim along with the lustrous, chic appeal of leather makes a wonderful outfit fit for a night out with friends.
Using a Denim Jacket as a Layer in Winters
There is no hard and fast rule to using your denim jacket as an outermost layer. In fact, it can be layered upon winter tops and coats for added warmth and style. Below are a few options on how the denim jacket can be paired in the winter season.
Denim Jacket Over a Hoodie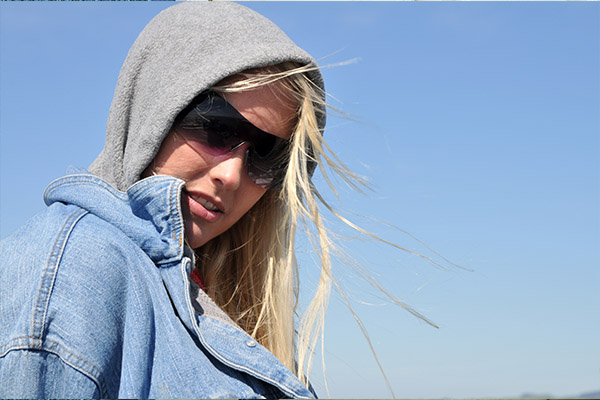 To protect yourself from the chilly winds, build an oversized denim jacket outfit by wearing it over your warm and snug hoodie. You can wear leggings or joggers with this comfy look and accessorize it with a beanie and a crossbody bag.
Denim Jacket Under the Winter Coat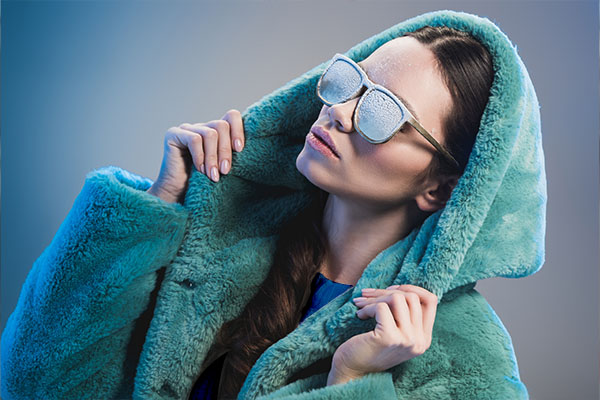 Put on your stylish winter pants and a t-shirt. Layer the outfit with a denim jacket and double it up with a winter coat to create a stellar winter street style look. The idea of using a denim jacket as an inner layer serves the purpose of protection from cold and provides a classy appeal to the wearer.
Trench Coat Over Denim Jacket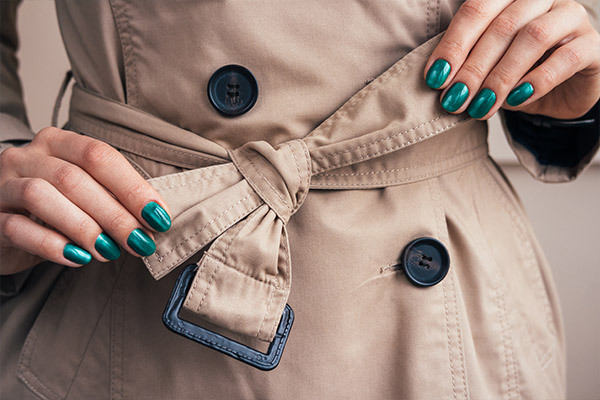 Wearing a stylish trench coat over the denim jacket is a highly trending option. You can try it to create classy semi-formal looks and pair it with accessories such as wayfarer shades, tote bags, and ankle boots.
Jean Jacket Outfits for Women to Stylishly Reveal Your Abs
Occasionally, you can make a bold statement with a denim jacket over an ab-baring top. Go for a tube top, or a bralette in white or any vibrant color, and pair it with your slim fit capri pants and a navy denim jacket.
Wearing Denim Jacket as a Top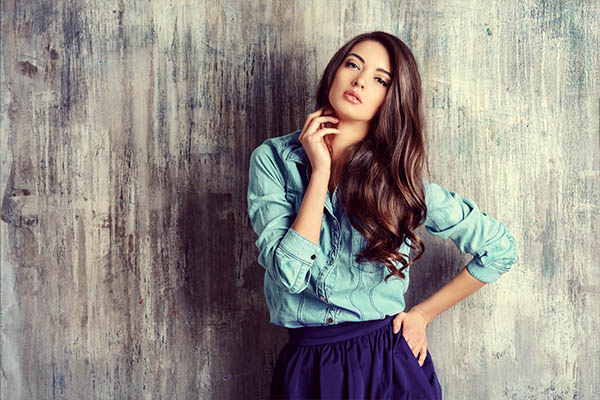 Why worry about tops when your jacket can be buttoned up to form a gorgeous top? When asking yourself what to wear with a denim jacket styled top, look for midi and maxi skirts, flared jeans, or stunning printed palazzo pants.
Learn what to wear with a dark blue denim jacket for females who are serious about their style. Pair a dark blue denim jacket with a sequined skirt. The look is accessorized with hooped earrings, big shades, and a tote handbag.
The dark blue denim jacket as a top also goes well with floral skirts, striped pants, and white ankle jeans.
How to Wear a Jean Jacket for Women with Skirt?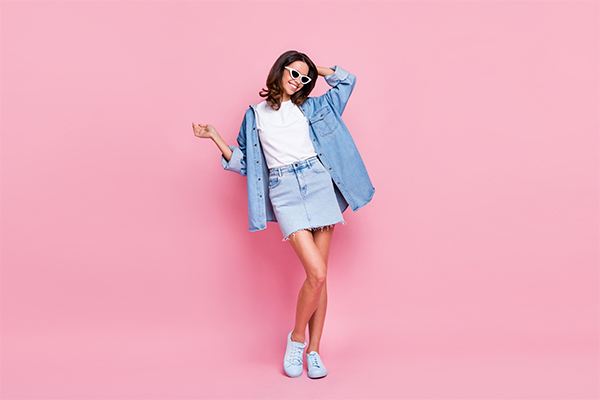 Keep your skirts on rotation when creating stylish looks all year round. They are a great piece of clothing for an absolute feminine appeal. Jean jacket outfits for women can be assembled with all sorts of skirts.
Whether you are looking for an interesting way to style a maxi skirt, or wish to show off your legs in a mini denim skirt, don't hesitate to pick the jean jacket with them.
A splendid way to create such a look is to go for a pencil leather skirt and white top. All you need to do is to layer your outfit with a cool beige denim jacket.
How to Wear a Denim Jacket for Women with Mesh Clothing?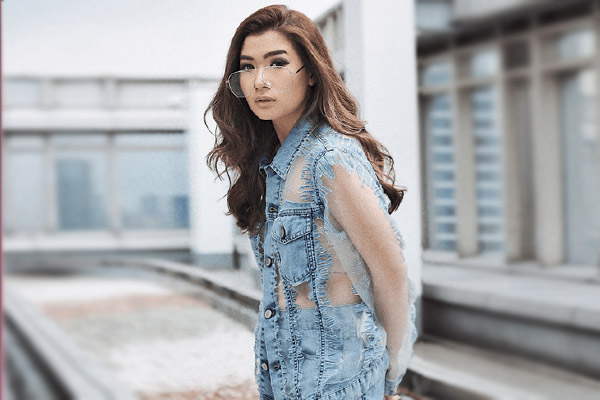 Mesh clothing like tops and bodysuits is a throwback trend for the edgy girls that is all the rage in 2022. Combine it in unique ways with jean jacket outfits for women to exhibit a trendsetting combination. We recommend wearing a white mesh top over a tube top. Pair it with the Canadian Tuxedo, that is jeans with the denim jacket.
What to Style with a Black Denim Jacket?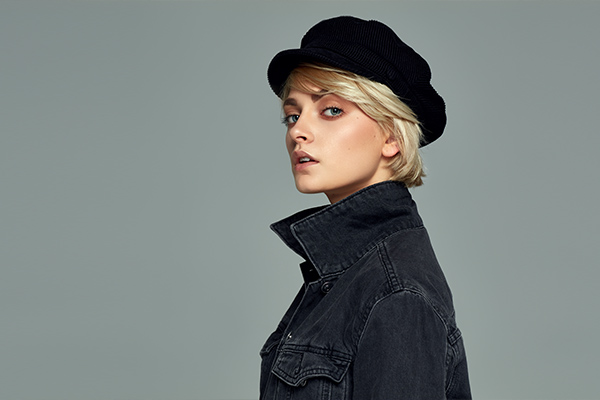 If you own a black denim jacket, grab this top with a plunging neckline and high-waisted bottoms to create a cool casual outfit. Simple flip-flops accessorize this black jean jacket outfit perfectly.
What to Go with a White Denim Jacket?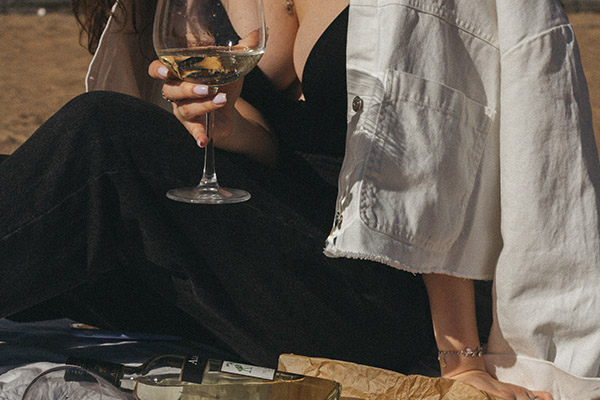 We have jotted down a few outfit ideas with a white denim jacket. However, you can also try wearing it with a black dress to create a simple yet crowd-pleasing look.
What to Wear with a Dark Blue Denim Jacket for Female?
The light wash denim usually stays in constant rotation be it a pair of jeans, or your denim jacket. Experiment with darker washes and see how they give a spectacular look that is unparalleled. Style a dark blue denim jacket by wearing it over a yellow sundress, or just don it over your floral printed jumpsuit to create an incredible outfit.
What to Wear with a Denim Vest Jacket?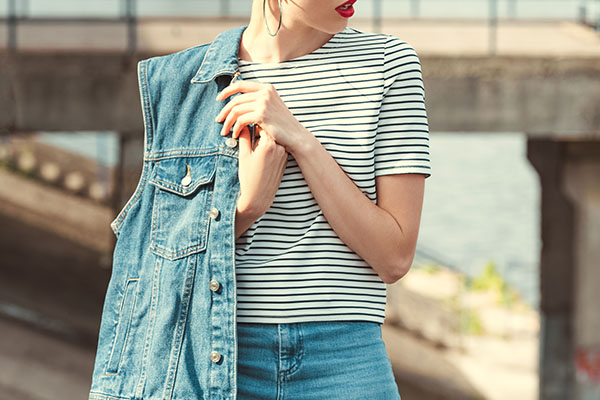 A sleeveless denim jacket, also known as a vest jacket, is also a chic staple to style dresses when you wish to add a little more uniqueness to your look. Take some style inspiration from this diva who looks fabulous in a red maxi dress and a stylish denim vest. The lovely necklace and bracelets add to the feminine appeal of the outfit.
How to Style a Jean Jacket with a Belt?
Cinching that waistline never fails to give you a flattering look, and so is the case with a denim jacket. If you have got your hands on a splendid jean jacket with a belt, just wear it over a light camisole top and team it with white capri pants.
Another voguish outfit suggestion is to wear an acid wash denim jacket with a black belt over a black bodycon dress.
Patchwork Jean Jacket Outfits for Women
Jean jacket with a design consisting of patches of denim in different shades is one of those trends that deserves a try. If you want to try the artful style with a touch of neatness, you can opt for a patchwork jacket made with selvedge denim which gives a crisp look. Or, go for a patchwork jacket with frayed denim to lean towards an urbane look.
Denim outfits for women with patchwork jackets are quite attention grabbing. Go for a white tank top and slim fit jeans matching the darkest patch of your jacket to create a chic ensemble.
How to Style a Jean Jacket with Structured Shoulders?
Shoulder padding and a retro look of structured jackets are huge this year. The tide swept in the denim jackets too and made the structured ones a popular choice among fashion savvy women of today. To create jean jacket outfits with a structured jacket, try teaming up gray high waisted joggers with a dark blue crop top and wear your unbuttoned structured jacket over it.
FAQs – Jean Jacket Outfits Women
How to tell if the denim jacket is male or female?
The women's jean jacket buttons are on the left-hand side whereas, in the men's jacket, they are on the right-hand side. Female denim jackets usually come in shorter lengths and leaner silhouettes.
What to wear with a women's denim jacket in blue and black jeans?
Tops in light colors, the silk camisoles, and t-shirts are ideal for wearing under a blue jean jacket and black jeans.
How to layer a denim jacket with shorts?
If you want to build an edgy outfit, wear a tank top and a sleeveless denim jacket over shorts. Or, you can pair an oversized denim jacket with shorts in the same color as the jacket to create a chic look.
What kind of jean jacket looks better with a black dress?
A white jean jacket looks best on a black dress. Choose a jacket shorter in length to add to the captivating look of the dress.
Can you carry a scarf along with the denim jacket?
Yes, why not? A denim jacket with a scarf makes a very trendy combination, perfect for those daytime outings. Opt for silk scarves with intricate floral prints, or go for plain ones in chiffon to add a breezy feel to your looks. There is no need for any other accessories if you manage to get your hands on the perfectly complementing scarf with your jacket.
Summing Up
It is true that the denim jacket stands the test of time and never goes out of style. Hence, it should be a must in every diva's closet to layer several types of outfits in all seasons.
By now, you must have learned several ways on how to style a jean jacket with a variety of fashion staples. Don't be afraid to experiment with various colors and combinations with the jean jacket to create a personal style. As it complements most clothing essentials, the denim jacket will be the go-to outerwear for every kind of casual look.