Denim is an essential garment for every man's wardrobe – It's reminiscent of the timeless era when the rebels ruled and the cowboys enjoyed supremacy.
Are you looking for the perfect garment to make a simple yet stylish debut to your wardrobe right away? Are you looking for a garment that is apt for casual gatherings and can be worn with a wide array of looks? Do you wish to look effortlessly cool? All you need is a denim jacket to create an impressive appearance that evokes old-school Hollywood vibes!
Fun Fact: Levi Strauss, the master of denim, realized the importance of denim jackets after almost a decade of working with the material. It took him incredibly long to understand that a fabric that works brilliantly to clothe a person's lower half could also work great on his upper half of the body.
Denim is perfect not only for easy-wearing bottoms but also for striking and rugged jackets. It is functional, durable and an exceptionally low-maintenance garment. A good quality denim jacket lasts for a long haul and provides a satisfactory protection as well. It can take a good beating without wrinkling even a little bit. This lightweight jacket keeps you warm on the chilly days; making them perfect for spring and sometimes even fall.
Should Men Wear Denim Jackets?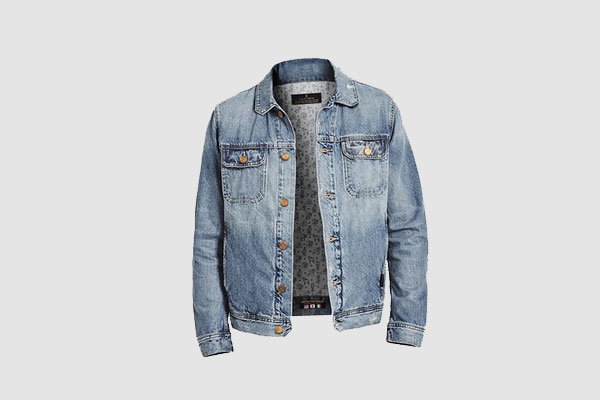 Men who want to dress rugged instead of preppy always get scared at the thought of wearing denim jackets. Denim jackets are undeniably masculine – the real magic is in the layering; you can throw it over a casual graphic t-shirt or a warm turtle-neck if you're creating an evening look. This garment can easily give you an energetic and sporty vibe whilst maintaining its casual rebelliousness.
Denim suits people of all professions and backgrounds. You can maintain your cool legacy without having to sacrifice your comfort in any way. This look witnessed an instant boom in the 80s, isn't costumey at all, and is exactly what you need to make a memorable impression.
It is still strange to find men feeling hesitant to make it their staple look. But you can use our style guide to make denim part of your daily wardrobe to appear effortlessly cool all the time. We'll tell you what to wear with a denim jacket and how to select the right denim jacket for yourself.
Things to Look for When Buying a Denim Jacket
We often hear questions like 'how to wear a denim jacket?' but a question we often neglect, and an important one, is this: How do you choose the right denim jacket? We're here to help you understand that. The two main qualities that you must see when buying a denim jacket are the color and the fit.
You could wear the most expensive denim jacket and still find yourself not looking good in it. The secret is in its fit – if you're going for a jean jacket, always give it a trial and check if the fitting is right; it should compliment your body shape. You don't want it to be unnecessarily baggy or too tight for your shape.
How do you know if it's the right fit for you? Try the following checklist.
It must button up without feeling too tight or pulled up when you wear it over a t-shirt.
The fabric shouldn't feel too uptight.
The length of the jacket shouldn't extend past your beltline – denim jackets are supposed to be short. But make sure that the length isn't too short either. You need to find the right balance between the waist and the beltline.
Never forget to check the sleeves because they need to extend a little over the wrists.
And finally, you need to be able to cross your arms comfortably after wearing the denim jacket. The fabric, as we discussed above, shouldn't feel too constricted. The material must be a little stretchable.
How to Choose the Right Color?
Contrary to popular belief, denims are found in numerous colors these days, with blue being the classiest color of them all, of course. But you don't always have to go for blue. People looking to experiment but keep it safe should go for a black denim jacket. You can never go wrong with black, right?
But coming back to the blue color, there's a wide array of options. You can get distressed, washed out, printed, embroidered, plain, and so many other types of blue denim jackets. The range goes from casual to formal leaving room for versatility and change.
How to Style Different Colors of Denim Jackets?
There are many ways to dress in denim; black, blue, grey and white, you name it!
Blue Denim Jacket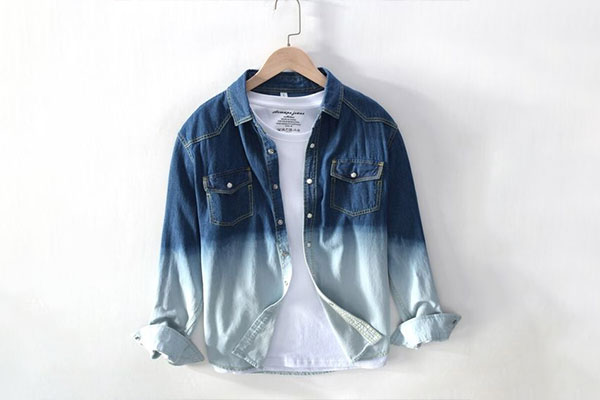 We briefly discussed that there are a variety of blue-colored leather jackets. Choose a lighter shade if you're dressing for a vibrant morning of spring. Dark colored blue shades are appropriate for colder months so keep those aesthetics in mind. Don't be afraid to pair it with blue colored jeans! You can accessorize it further by wearing white sneakers to complete the look.
Black Denim Jacket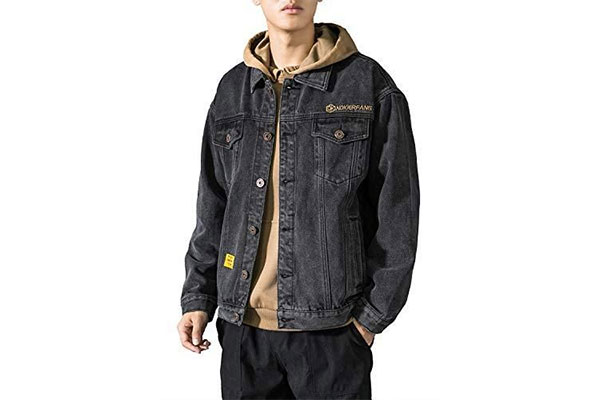 Men look great in black denims as it's a much more stylish option for them. Don't forget that it's a brilliant alternative for men who don't like wearing blazers or black leather jackets. You can, of course, dress in black denims for both casual and smart outings.
And the best thing about this color is that it can be worn with literally anything in your wardrobe. We suggest you go for an all-black outfit! You can always wear it with a black trouser to keep it casual. Black boots are a must to complete this edgy look.
Grey Denim Jacket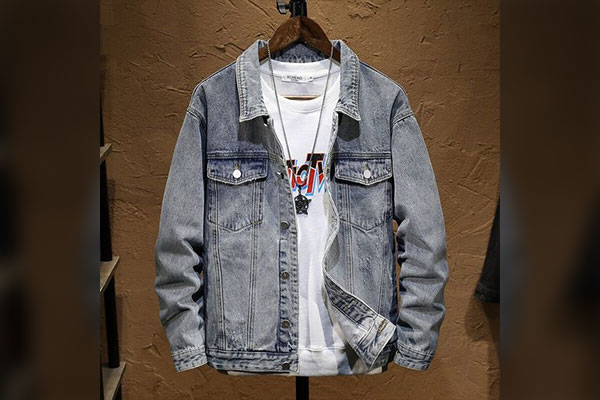 Grey is a slightly risky color if you don't know what to pair it with, nonetheless, a great investment and addition to your wardrobe. Here's what we suggest: pair your grey denim jacket with a white t-shirt and jeans. It would give off a sophisticated and contemporary look.
Of course, graphic t-shirts will go fantastically with a grey denim jacket; it adds the color that's missing otherwise. Wear loafers or derby shoes along with sunglasses or scarves to give this look a completeness.
FAQS
Can I pull off a denim jacket?
People of all shapes, colors and sizes can pull off denim jackets if they know how to style it properly. Just look for the right fit – and when in doubt – go for a blue denim jacket! 
Do denim jackets go with everything?
Yes, denim jackets can be worn for outdoor setting to a casual indoor evening. You wear it with different clothing items, accessorize it with almost anything (even hats!) and pair it with any pair of shoes. 
Is it OK to wear a denim jacket with jeans?
Denim jackets look the best when you wear them with jeans. Rule of thumb: If you're wearing a black denim jacket, wear a black jeans as it looks fantastic!
What pants do I wear with a denim jacket?
You can wear trousers, jeans, dress pants, and even skirts with a denim jacket.
Can you wear a denim jacket with GREY jeans?
Yes, you can pair your grey denim jacket with grey jeans. 
What is a denim on denim outfit called?
In Canada, a denim on denim jacket is colloquially known as a Canadian tuxedo. 
Should you be able to button up a denim jacket?
Yes, the right fitted denim jacket should always be able to button up otherwise it's too tight for you. 
What is a full denim outfit called?
A full denim outfit is known as Canadian Tuxedo. 
Should I get a light or dark denim jacket?
You can go for any color; it's better to go for a lighter shade if you're planning to wear it in the morning hours. Leave the darker shades for evening looks.
Do denim jackets suit everyone?
Yes, denim jackets suit people of all shapes and sizes. You just have to find the right fit and color and pair it with the right items in your wardrobe. 
In Conclusion
Denim jackets are great additions to a man's capsule wardrobe. You just need to wear it once to get the hang of it; you'll feel so much more confident and at ease that it will instantly become your everyday favorite. Your clothes should indicate how you feel that day, they should reflect your personality and mood, and what better way to do that than to wear an authentic denim jacket?