Legwear fashion has stayed the same for decades. However, thanks to the re-emergence of leather pants outfits, a crack is starting to form in the legwear hierarchy. The change is happening, and it is happening fast. The core idea of jeans being the only fashionable legwear is being questioned right now. Their impeccable style, combined with the durability of leather, creates a pair of pants so unique and trendy; everyone wants to own one.
What To Expect In This Article?
What are Leather Pants?
Leather pants, as the name suggests, are pants/trousers made from leather. The type of leather used can vary from one pair to another, and there are even faux leather pants available on the market. The fundamental design of these pants is also something that changes form from one to the other. The adaptability of leather allows designers all over the world to create unique and interesting pairs of leather pants.
Are Leather Pants in Style in 2023?
Yes, the trend of outfitting with leather pants is becoming more and more significant daily, and it's very close to mainstream recognition. That's not to say that leather pants are a new concept, not by a long shot. But their appeal faded out of the mainstream due to their race toward minimalism and simplicity. Luckily, the trend of quirky flashy fashion is back, and it's here to stay for a long time. You can get in on the drift early and become the fashion lord in your friend circle. 
What looks good with Leather Pants?
When leather pants are mentioned, many people think of the tacky outfits of 20th-century rock and roll artists. However, that image of a leather pants-based outfit is as far from modern reality as it could be. Surprisingly enough, leather is not far behind jeans when it comes to compatibility and versatility. Almost anything that you can wear with jeans, you can rock with some shiny leather pants. Let's take a look at some artistic outfits that you can craft with them.
For women:
Women's leather pants are, without a doubt, more popular than men's. This fame is undoubtedly due to the sheer number of unique outfits women can enjoy.
All black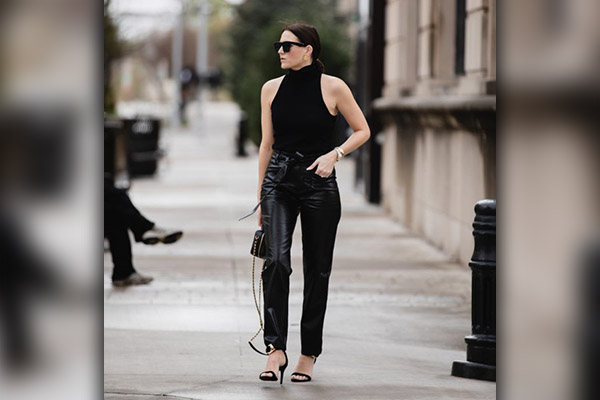 Pairing your leather pants with a simple black T-shirt is all you need for a gorgeous outfit that is suitable for all situations. You might think that an outfit so simple will look dull and uninspired, but that's not the case at all. If you do want to add a bit of personality to an all-black outfit, you can do so by utilizing the power of accessories and jewelry.
Winter fluff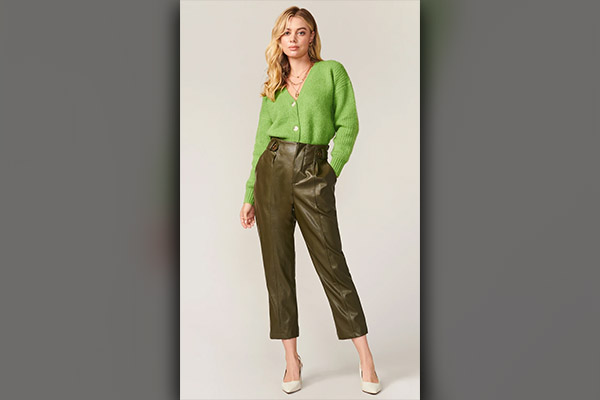 Leather pants are excellent insulators, thus making a great addition to your winter attire. A black pair of high-waisted leather pants with a cream-colored woolen sweater is all you need for a stunning look. Top the outfit with a fancy scarf for additional style points. Alternatively, you can forgo the woolen sweater and opt for a full-sleeved white t-shirt and a grey furry vest. This outfit works flawlessly with furry winter boots as well.
Summer sassy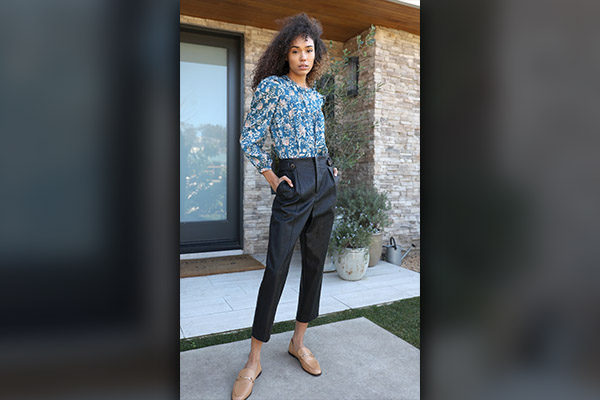 While leather pants might not be the correct choice for the hottest days of the year, every other day is fit for a leather pants outfit. A notable summer ensemble is a combination of leather pants with a sleeveless white top and a bright blue denim vest. If you want to dress a bit more simpler, then a red or maroon long T-shirt is all you need.
Urban perfection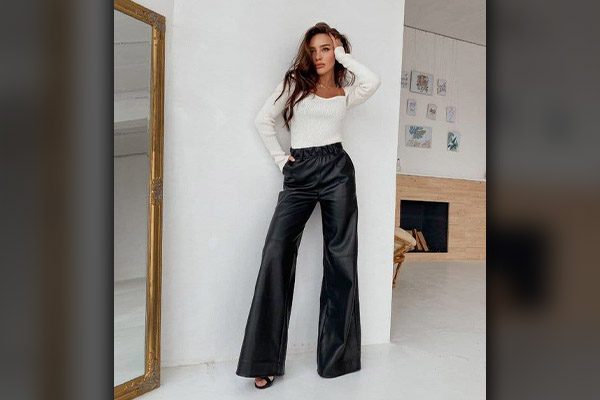 Leather pants can be easily utilized to create a look so glamorous that you'd want to save it for special occasions only. A great example of this would be a combination of leather pants with a white t-shirt and a fancy women's biker jacket. Tie a maroon shirt to your waist to complete the fabulous outfit and achieve a look that screams luxury and elegance.
For men:
Although men's leather pants are not as popular as women's, this doesn't mean that there are no styling options for men. The best way to discuss men's leather pants fashion is to categorize them based on what's on top.
T-Shirts and sweatshirts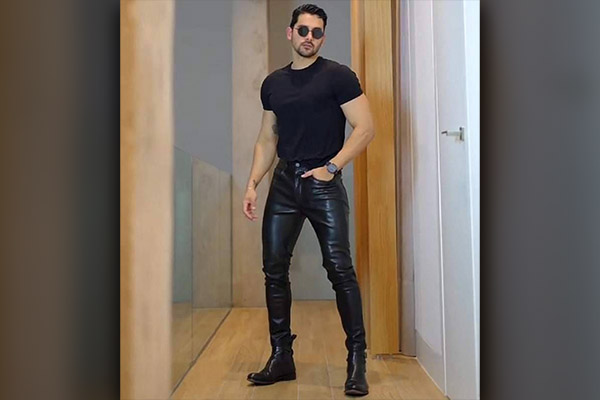 Some of the most captivating outfits that you can craft with leather pants only require you to pair a decent sweatshirt with them. It may sound too good to be true, but it is. The flair of leather pants alone is good enough to turn a simple t-shirt/pants combo into a party-worthy outfit. Additionally, this modest outfit gives you plenty of options in color and type of t-shirt, so you can express your unique sense of style.
Jackets and blazers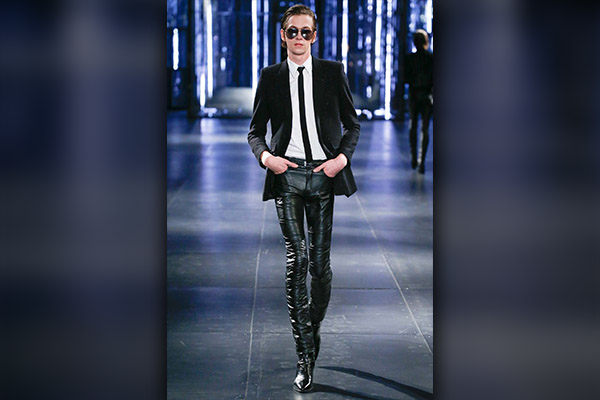 While t-shirts make for a tremendous minimal outfit, they are not fit for cold weather. This is where leather jackets and coats come into play. A combination of black leather pants with a brown suede jacket and some leather boots makes for a well-polished and refined look. Blazers, on the other hand, are perfect for wearing your leather pants to the office.
Turtlenecks and sweaters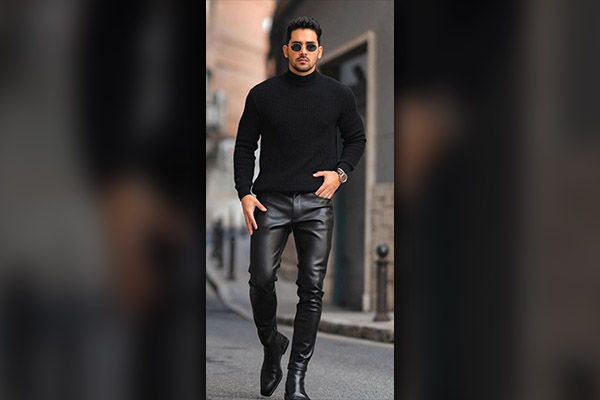 T-shirts are for the summer, leather jackets are for the winter, and turtlenecks and woolen sweaters are the correct options for fall and spring. The beauty of this styling option is its flexibility. You can wear a simple grey sweater for a comfy weekend look or go all-in with a fancy and colorful turtleneck for a flashy and attention-grabbing appearance.
Can you wear a Leather Shirt with your Leather Pants?
Yes, you can. A leather pants outfit with a matching leather shirt is one of the most underrated combinations. No matter the type of shirt, or the color combination that you choose, one thing is certain; a leather-on-leather combo demands attention. It tells everyone around you that you have faith in your sense of fashion. It shows that you are not just chasing after the latest hot trend; you know what looks good on you, and you're not afraid to wear it with confidence.
Which weather is the best to wear Leather Pants?
Leather is not a remarkably breathable material. This is why most people avoid leather pants in any season other than winter. But it doesn't have to be like this. While hot summer is entirely out of the question in most places, the middle seasons like fall and spring are perfectly viable for showing off your leather pants fashion.
Things to consider before buying Leather Pants:
Leather pants are not a cheap purchase. With the high prices of real leather garments, these leather pants are an investment that you should think carefully about. After all, no one wants to end up with an expensive pair of pants that they can't wear for one reason or another. To avoid such a scenario, you should consider every aspect of purchasing leather pants. Here are some of the things that you should think about before making the final decision.
Do you really want to wear them?
This seems like a no-brainer. Yet, the number of people that make a purchase, only to realize that they don't want to wear that garment is higher than it should be. Therefore, think about when you would wear them and what sort of outfits you would like to craft before finalizing a decision.
Which type of leather do you want?
There are a lot of different types of leather, and each has something that others don't. Some are good for hotter climates, while others are fit for colder areas. The type can also be dependent on the design you want. Narrowing your choices to one specific type of leather will help you immensely when you go out looking for leather pants to purchase and will make the process of finalizing one particular pair of pants considerably easier.
What form factor will work best for you?
Leather pants come in all sorts of different form factors. Some are high-waisted, and some are low. Some are tight, and others are a bit baggy and loose. To make the choosing process more manageable, look at the types of outfits you would want to wear and purchase the ones that fit your desired outfits.
How do you buy Leather Pants?
Looking for a pair of leather pants that fit your requirements can be and will be a daunting process. The sheer amount of variation in style, design, type of leather, and color, makes finding that one perfect pair of leather pants, almost impossible. If you don't have a lot of time to spend looking, you will most likely have to make sacrifices.
Luckily, there is a clear and effective solution to this problem, and that is to go for custom leather pants. By going the tailored route, you will have complete control over what you buy. Everything from the core design to the color of the stitching thread can be easily customized to precisely what you want. The process of getting custom leather pants is also extremely time-efficient and saves you the hassle of endlessly surfing the web.
Conclusion:
Leather pants are some of the most overlooked garments in the modern fashion climate. But as we conversed, the sense of fashion and outfitting options provided by them is unmatched by anything else. Fortunately, their popularity curve is moving upwards, and you too can become a part of this journey towards mainstream admiration.