What To Expect In This Article?
Introduction
As the season to meet and enjoy with our loved ones finally arrives, style-conscious women are all set to embrace the trending holiday fashion. Looking your best during the festive season will say a lot about your personal style and fashion sense. Are you looking for some stunning outfits to try during the holidays? In this blog, we will fill your desire for fashion inspiration with some cute outfit ideas that will make your holidays even better. 
The Festive Season and Women's Fashion
There are lots of celebrations during the holidays, starting from Thanksgiving to New Year's Day. The festive Christmas parties, family meetups, and several holiday-specific traditions give women ample opportunities to dress up. Some of us even plan vacations to serene winter wonderlands.
Navigating the Wardrobe for Holiday Outfits: Fun or Frustrating?
To dress up for all the soirees and events, the need to reinvent your wardrobes is natural. Women need enough variety of staples to try various holiday outfit ideas. We all want the question "What to Wear?" to be fun and not frustrating. You can add new staples into your winter capsule wardrobe and build pretty festive outfits along with the clothes you already own.
Nailing the festive season styling means blending the usual holiday-themed classics with new trends. Fur, sequins, sparkle, plaid, and knitted are the norm in women's wear, and incorporating them into the 2021 trends will give you awe-inspiring day and night outfits.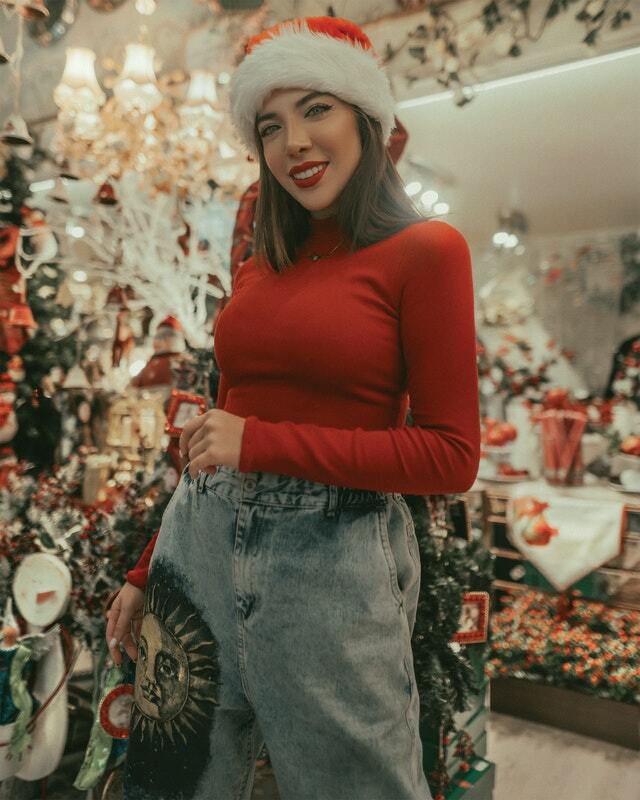 Currently, we can see a lot of statement jackets, flared pants, cute mini dresses, skirts, and off-shoulder tops in vogue.
Cute Outfit Ideas for Holidays
From late November to early January, our calendar is filled to the brim with celebrations. During the day, we attend barbecues, concerts, luncheons and enjoy fun road trips and picnics. While at night, the festive parties, family dinners, and fun movie nights keep us occupied.
Deciding the perfect outfit for every occasion may be a bit overwhelming. The cute outfit ideas mentioned below will ensure your style is on point each day.
Women's Holiday Outfits for Day
Dress up in these adorable outfits during the day to raise the fashion bar high.
Black Turtleneck and Jeans with a Plaid Shawl
A black turtleneck is a highly versatile piece of clothing that you must keep in your fall/winter wardrobe. A simple and stunning day festivity look can be achieved by pairing the black turtleneck with light blue jeans and black knee-high boots. If you want a trendy look with distressed or ripped jeans, try ones with filled holes to make them appropriate for the chilled weather. 
The highlight of this outfit is a classy plaid shawl. Comfortable, warm, and eye-pleasing, the plaid shawl adds elegance and a true holiday feel to the simple jeans and top.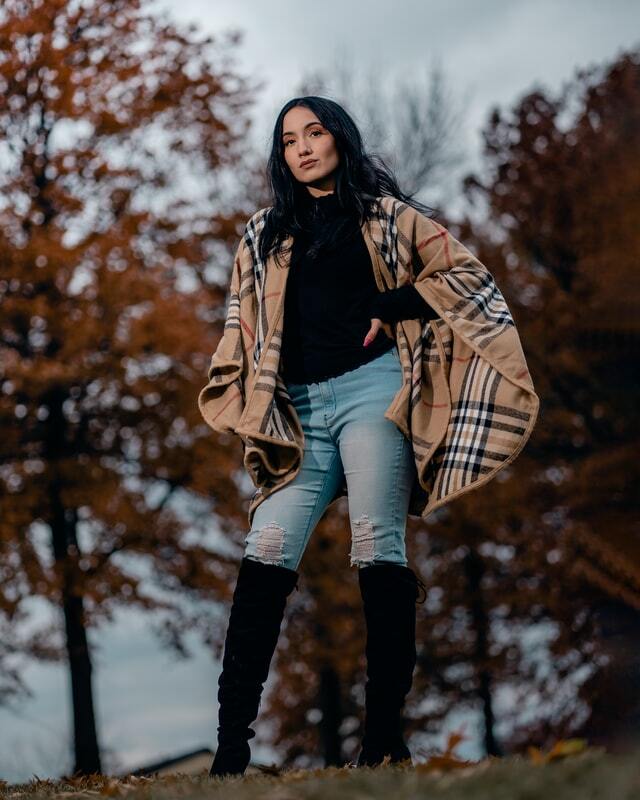 The Splendid Red Sweater Outfit
Red is the quintessential hue for the festive season. Wear a pretty red sweater over black slim-fit jeans for a simple yet splendid look that can be sported at casual outdoor parties. You can choose brown suede boots to pair with this outfit. Elevate this look with a twisted braids hairstyle, glam makeup, and delicate jewelry for a truly festive feel.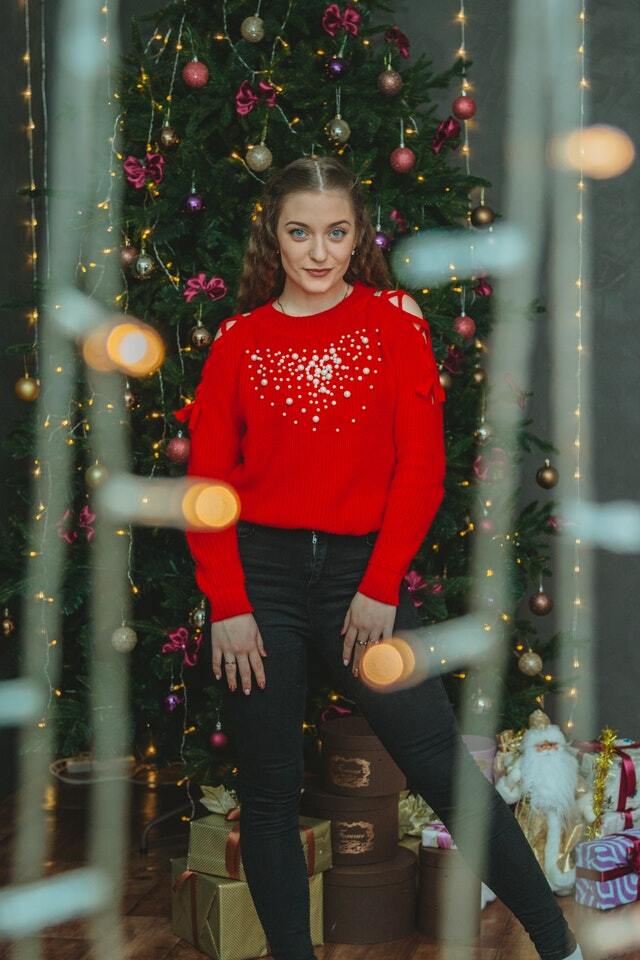 Trench Coat with Plaid Skirt
The go-to holiday outfit would be a chic plaid skirt paired with a ribbed black sweater and a classy brown trench coat. Skirts are the most befitting garment to make you feel glamorous. And trench coats for women add grace to your look. Blending both results in a fabulous outfit that looks great on a fun day out with loved ones.
This can also be a cute New Year's outfit that will make you look stylish at the countdown gala.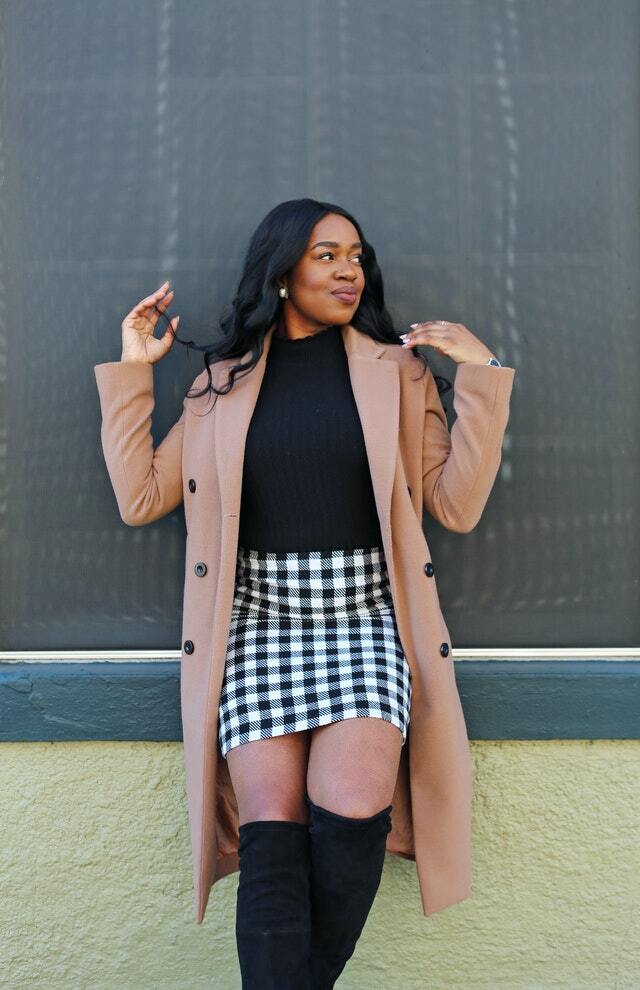 Plaid Pants with White Trench Coat
As holidays are the perfect time to wear anything plaid, here is another cute outfit idea with plaid pants. Create your own elegant holiday look with grey straight-fitting plaid pants, a white button-down shirt, and a carnation pink cable knit sweater. Add some more warmth and style with a white trench coat, put on your nude pumps, and you are good to go.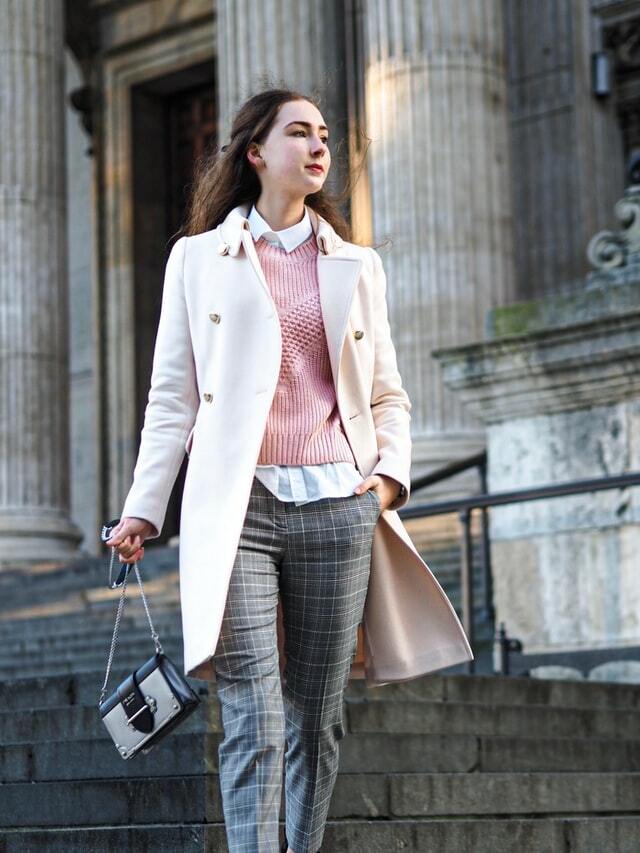 Black Dress with Bomber Jacket
Wearing all black is the trend this season, and there is nothing better than a black blouson dress with lace details to do so. Team up a pretty black dress adorned with lace and ruffles and pair it with an edgy black bomber jacket for women. An outfit featuring a jacket with a dress combines both the chic and edgy elements, which looks quite attractive. 
You can add the festive and glam feel with accessories like blingy ear studs, a statement necklace, or a luxe shoulder bag. Choose black ankle boots with fur trimmings with this outfit. If you want a pop of color, try swapping the black jacket with a stylish burgundy leather jacket.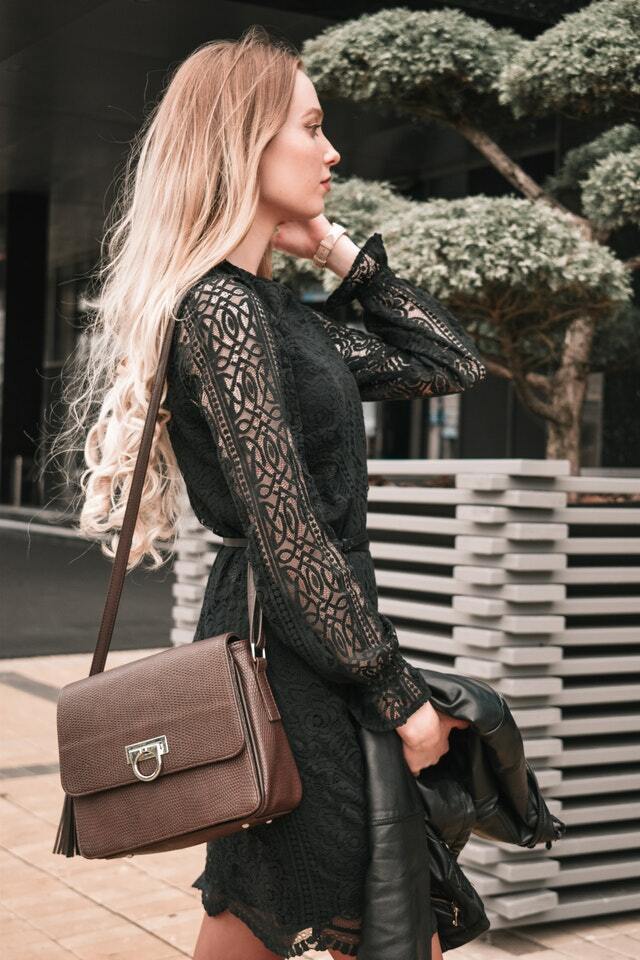 Festive Evening Outfits for Women
Evenings and nights during the holiday are the perfect time to let loose your fun side and enjoy the parties and get-togethers to the fullest. And when you do this in style by wearing alluring outfits, it's even better!.
With your cute holiday and Christmas outfits, you should strike a balance between glamor and comfort to make sure you enjoy the festivities while looking stunning.
The Sparkling Jacket Look
Holidays are definitely the time to sparkle. If you own a blingy sequined jacket, don it over your jumpsuits and casual black jeans outfits for peppy vibes. If you are wearing a dress in a solid color, a silver sparkling bolero jacket is a perfect addition to give it the holiday fashion treatment.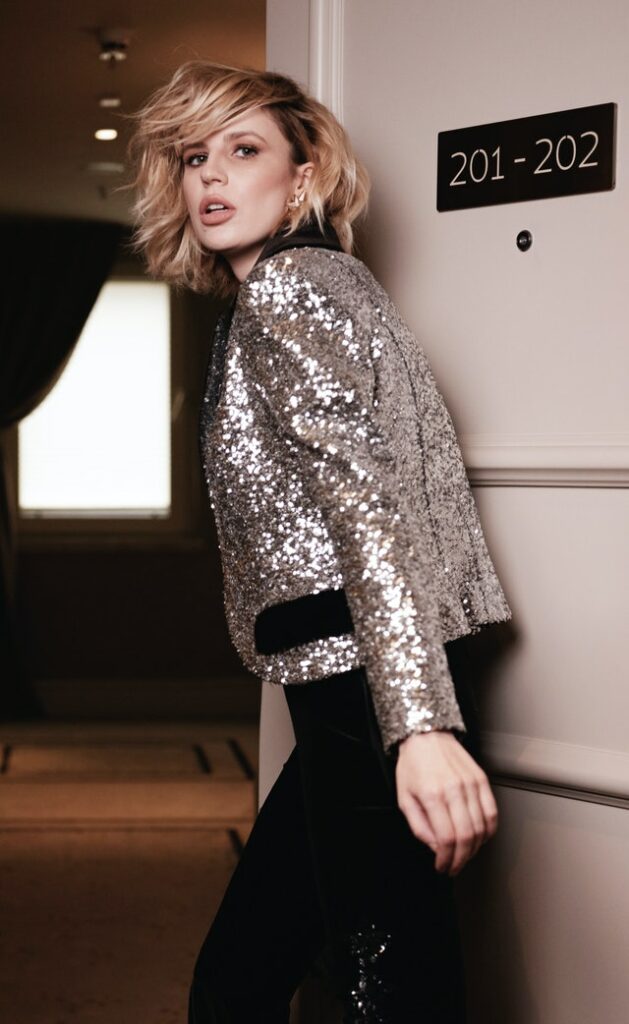 Plaid Shacket Over Beige Turtleneck
Oh, did we just mention plaid again? Definitely yes, during the holidays, we can't get enough of the cute plaid clothing essentials. In this outfit, we are suggesting a pretty green, and brown plaid shacket along with a cozy beige turtleneck and brown flared pants. While plaid will help you get in the Christmas spirit, the earthy hues of turtleneck and pants will keep you warm. But if you feel like adding another layer, do so with a plus-size leather jacket for a trendy touch.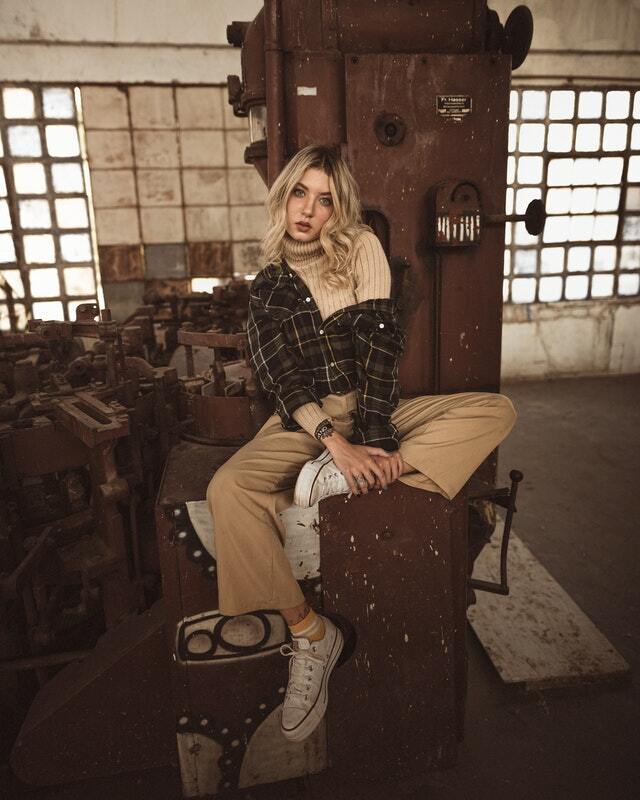 Sparkling Dress With a Fur Jacket
Want a bedazzling party attire inspiration? What could be better than a gleaming silver grey dress with a grey fur bomber jacket? Wrap up 2021 with a shimmery wrap dress and add luxurious vibes to it with a grey fur jacket. A pair of stunning silver stilettos and a silver beaded clutch will take a look up a notch and make heads turn towards you at the party.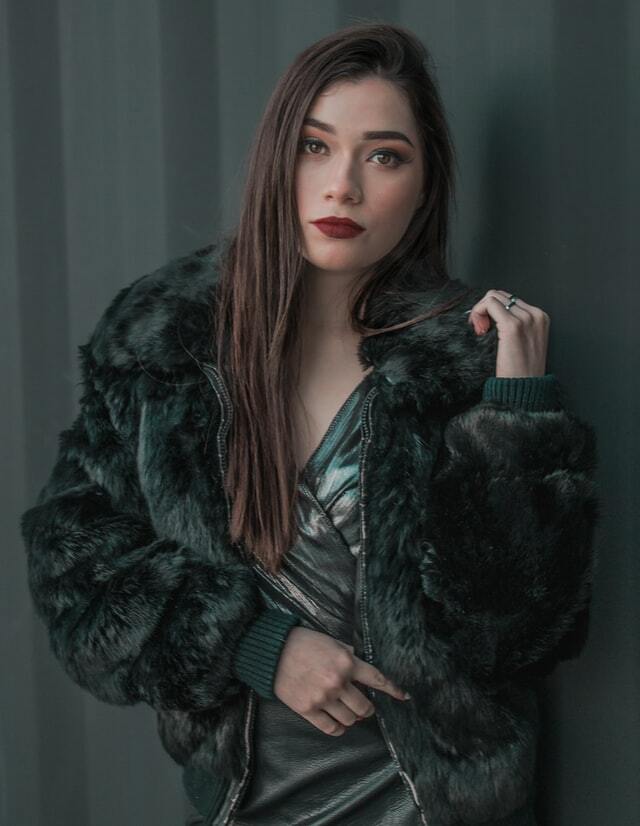 Off Shoulder Plum Dress
One of the highest trending colors as the year comes to an end is plum. It is romantic, uplifting, and definitely festive. Go for an off-shoulder plum maxi dress with black t-strap sandals for a chic holiday party. If the party is held in the open air, you can look even more fabulous if you pair a black cropped leather jacket with this dress. The jacket would keep you warm besides giving an edge to your outfit.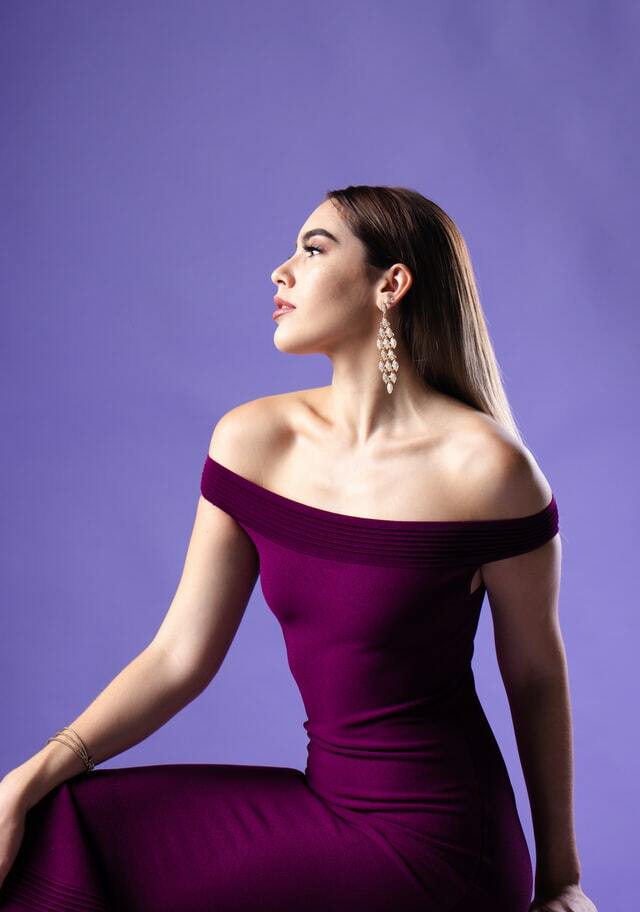 Green Christmas Party Outfit
Green is among the standard colors for holidays, and you can choose captivating shades, prints, and patterns in green to look refined. There are still a few more days to Christmas so that you can get your hands on green clothing staples like a sequined dress or different types of shirts in green for your holiday outfits.
To layer your plain dresses, you can get a stylish green shimmer cardigan for layering or a green bomber jacket for a festive upgrade.
A cute Christmas outfit idea for women is to wear a green plaid shirt over green faux leather pants. Finish off the look with green pumps for a coherent look.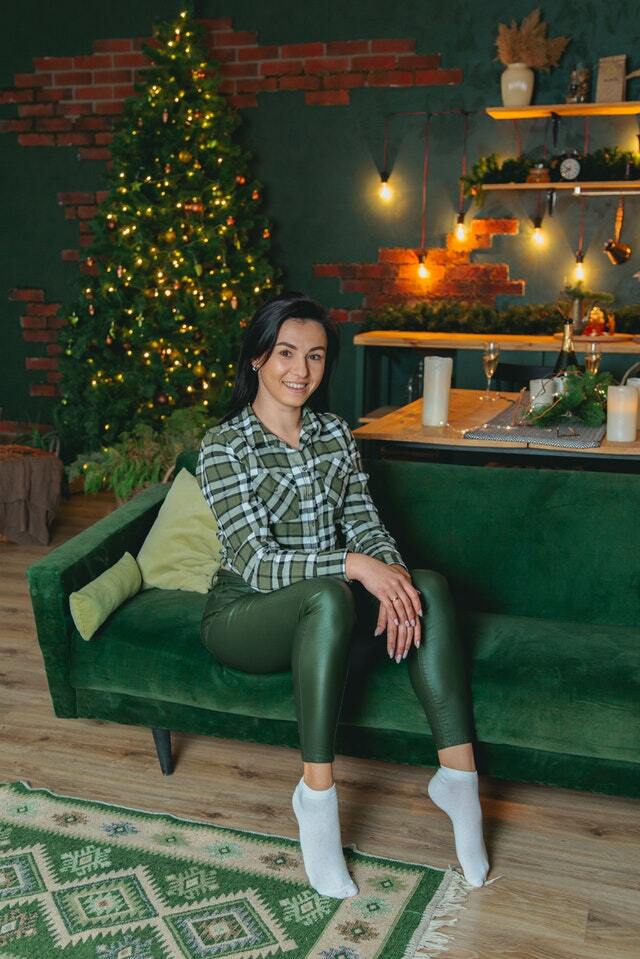 Cute Outfit for a Dance
When so many parties are happening around, fashionable women want to look their best with gorgeous outfits on the dance floor. If you want a cute dancing outfit idea, wear a green sequined mini dress with a pair of golden heels and a sleek bun.
Or, go for a baddie concert outfit by wearing sparkling flared pants with a black tube top and a white satin shrug. You can wear white platform heels with this outfit for an added flair.
Winter Wonderland Outfit Ideas
The holiday season isn't complete without a fun vacation to a dreamy winter wonderland for most of us. Besides these voyages being incredibly fun, women enjoy dressing up in style.
Dress up in this adorable outfit by wearing a pastel pink crewneck sweater and a white fur jacket. Opt for grey washed jeans and off white boots for the legwear and layer the outfit with a cute fur jacket. Add a white beanie to the equation to complete the winter look with style.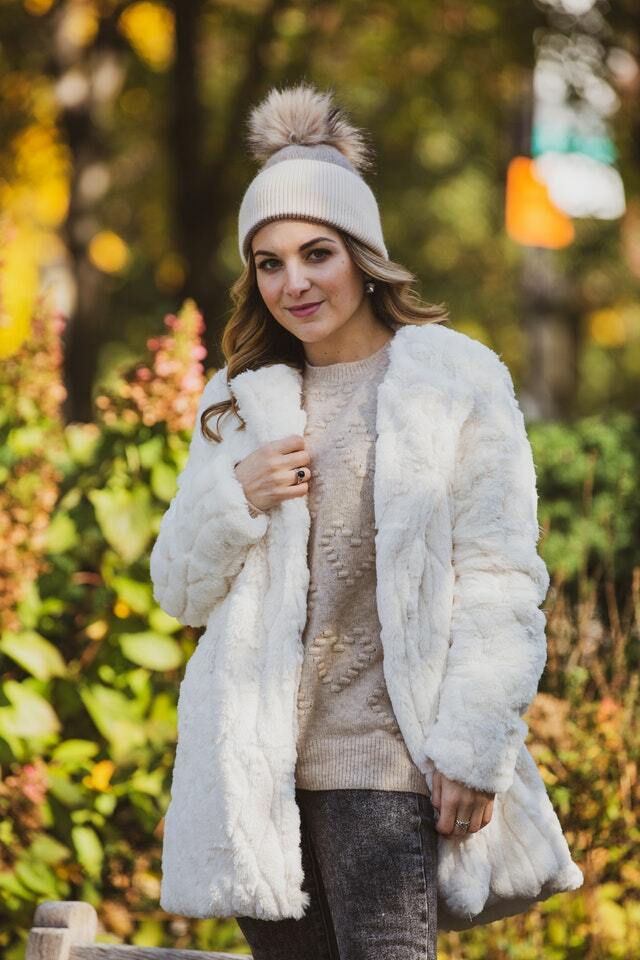 Another way to slay the winter wonderland theme is to wear a silver grey ribbed sweater with a black leather trench coat and black faux leather pants. Accessorize this vacation look with a pretty grey wool scarf and a cute double pom pom beanie.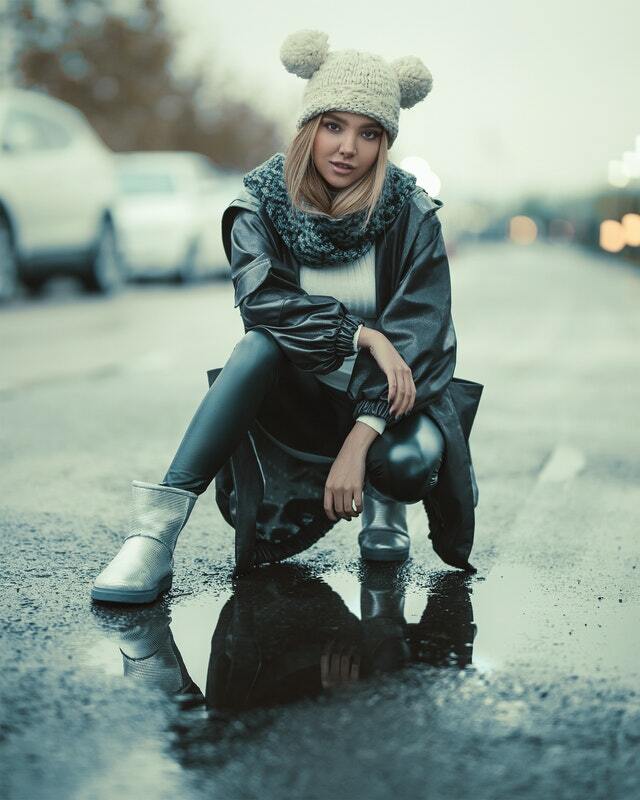 Unique Holiday Themed Accessories
Just like the final puzzle pieces are the most vital in a jigsaw, accessories, too, play the same role. Footwear, scarves, jewelry, hats, and different types of bags, get the holiday-themed ones to enliven the festive spirit.
Here is a quick list to choose from:
Beaded handbags (rhinestones, pearls, or sequins)
Jeweled heels
Embellished headpieces
Pearl earrings
Layered pearl necklaces
Chunky gold jewelry
Feather trimmed boots
Feather trimmed handbags
Pumps with bows
Fancy, embellished socks
Fur stoles
Embellished belts
Lace gloves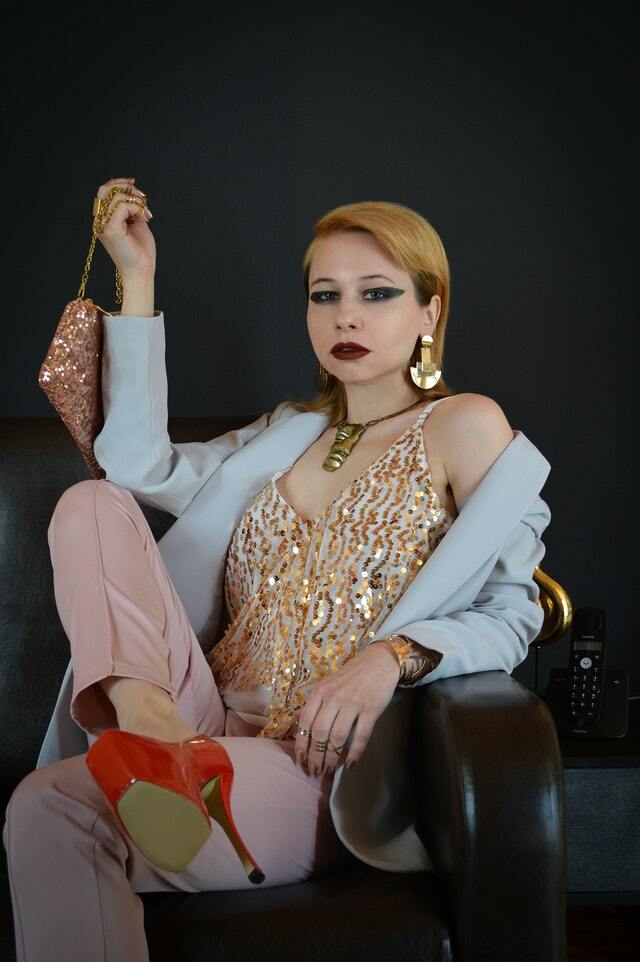 FAQs
What are the Trending Colors for Christmas 2021?
Red, green, and white are the classic favorites. But blue, magenta, yellow, and muted colors are trending this year for holiday fashion, especially Christmas. For the festive touch, go with golden and silver to enchant everyone with your style.
How to Look Stylish on Holiday?
Slay your way through the holiday by pairing cute ruffled tops, turtlenecks, and collared shirts with plaid skirts, faux leather pants, or slim-fit jeans. For elegant party looks, opt for gleaming dresses, jumpsuits, and classy women's leather jackets to get everyone's attention. 
Besides getting the clothes pairing right, you must ensure perfect accessorizing. Choose blingy heels and sandals with your outfits. Boots are also a winter holiday favorite and make a nice pairing with casual and street-style holiday looks.
Experiment with soft glam makeup, smokey looks with different hues, and even a no-makeup look for indoor fun scenes. 
What is the Most Popular Christmas Theme for 2021?
Winter wonderland theme, with beautiful shades of grey, pink, white, and beige, is a highly popular trend this year. Try teaming up different winter wonderland colors to build cute outfits this season.
Can I Wear Black on Christmas?
Nothing makes you look more stunning than a black shimmer dress. Black definitely has the nods of style gurus this year. Get pretty dresses, tops, jackets, coats, and accessories in black to slay at indoor and outdoor gatherings.
Can I Wear Pink on Christmas?
The holiday season, specifically Christmas, is all about wearing eye-pleasing hues. Pink can be one of them, and it's perfectly appropriate to wear it. Choose amazing shades of pink like blush, fuchsia, hot pink, pastel pink, and berry pink for your celebratory outfits.
Is White an Appropriate Color for Christmas?
If you want to go for a cute white outfit for Christmas, no one will stop you. White can be a good choice for the holiday season as it gives a very attractive, sleek look if done right.
How to Dress for a Party?
Here is a quick and fabulous party outfit idea. Don a deep red off shoulder dress and pair golden heels with it. Add a golden rhinestone necklace and studs with the look, do a soft glam red and gold makeup look. Style your hair in a bun with some loose curls and grab a sequined clutch, and you are all set to hit the party.
Conclusion
With these cute holiday outfits, not only will you prove your fashion sense at the festivities, but you will also get beautiful holiday photos of yours to cherish later on. We have given several outfit ideas for events, parties, casual, traveling, or just lounging around with family. They are the easiest outfits to put together, but not at all lesser in terms of style and trend.