When you go to buy a dress, choosing one among a vast variety of styles and designs is difficult. In this blog, we will guide you about the elegant and voguish blouson dress, which looks good on any type of body shape. Blouson dress style is very feminine and graceful that fits at the waist with the help of a belt, elastic, or drawstring.
The blouson (pronounced bloo-sawn) dress is a must-have in every woman's wardrobe. The fact that you can wear it almost anywhere proves the versatility of this garment. Let's dive into the basics of what is a blouson dress and multiple ways to style it with finesse. 
What To Expect In This Article?
What is a Blouson Dress?
If we define the blouson dress precisely, it is a dress with a cinched waist and slightly pulled-out blousing material. The bodice of the blouson dress is a bit puffed up, making it appropriate for all body types.
The blouson waist dress doesn't have an exact length and style. You can find a short blouson dress with a slim fitted hem, just like a pencil skirt, or a long blouson maxi dress. There are casual blouson dresses available, and there are highly formal ones fit for a wedding.
To sum up, blouson style dresses have a lot of variations, differing in lengths, types of necklines, fabrics, silhouettes, and level of formality. There can be plain, short blouson dresses, or blouson gowns that you can style with finesse.
However, it is a level up from other types of dresses due to its figure-flattering style. For skinny women, the blouson top dress gives an appearance of a fuller figure. On the other hand, it enhances the curves of plus-size women as well. It is the perfect attire to divert attention from a plump midsection.
How the Blouson Dress Originated?
The style of a fitted waist with a billowed blouse material started back in 1900. Blouses were designed with a drawstring in the hem so that they could be fitted. After that, the blouson style was adopted for jackets, as seen with the first women's bomber jacket made for the US fighter pilots that had a cinched waistline.
For women, the style became popular in dresses, with celebrities like Audrey Hepburn wearing blouson dresses in their movies.
Fast forward to this era, the blouson top dress is immensely popular among fashion-conscious women. They know how this fashionable dress increases their feminine appeal and is a sophisticated garment.
How to Style the Blouson Dress
Wearing a blouson dress makes a woman look charming and attractive. It can be styled in multiple ways. You can simply wear it without pairing it with any other essentials. Or, you can style blouson dresses with shrugs, jackets made with leather, polyester, fleece, or denim.
Depending upon the level of formality, you can team up the blouson dress with trendy accessories such as scarves, and belts. The blouson waist dress is versatile enough to be paired with any kind of footwear such as boots, stilettos, pumps, or moccasins. 
Here are the suggestions of styling multiple types of blouson dresses that you can try.
Pairing Blouson Cocktail Dresses With Long Boots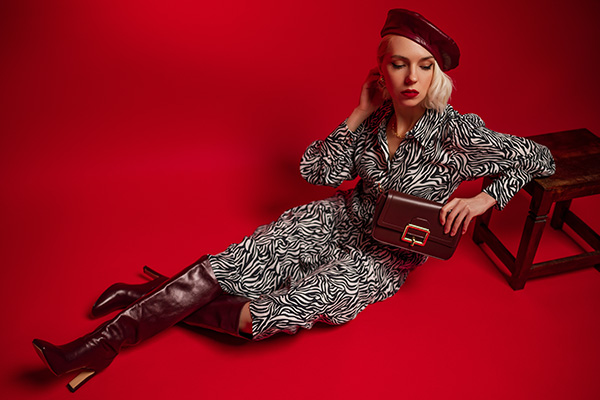 One of the most effortless ways to rock an outfit that mimics the mod fashion is to wear a red or pink blouson cocktail dress with black knee-high boots. Or, nothing can beat the black blouson dress in a bodycon style with black long boots  for a simple but absolutely classy look. 
If the fabric of your cocktail dress is silk, velvet, or satin, you can wear it to formal parties and even to a wedding. You can add a pair of flashy stud earrings to add some bling to this look and a chained black shoulder bag.
If long boots are not your thing, you can also pair the cocktail blouson with black ankle straps and finish off the look with a blingy clutch.
Casual Blouson Dress With a Trench Coat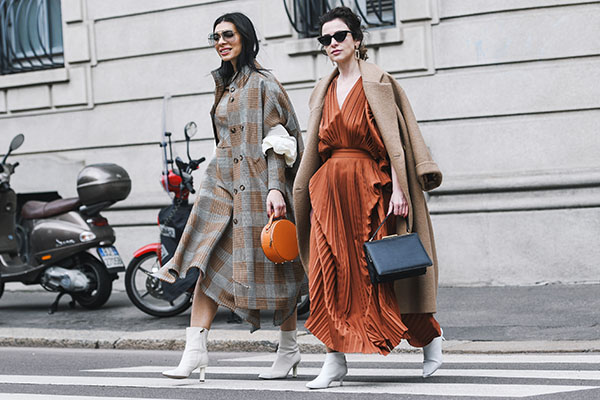 Try dressing up in the Parisian style by teaming up a casual blouson dress with a dressy essential, like a woman's leather coat or a dark denim jacket.  
A casual blouson dress, maybe a striped one in a jersey, or a printed linen dress. Get one of those best trench coats in a bold color to pair with the dress. A wool beret, ankle boots, and a baguette bag are all you need to finish off the Parisian look.
You can also go for a plain casual blouson style dress in a bold color with a flared bottom and layer it with a cropped denim jacket for that pretty girl-next-door look.
Red Blouson Dress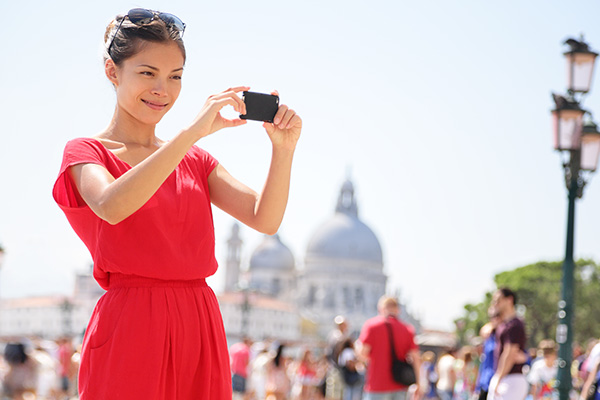 Nothing makes you look more attractive than a red dress, and if it is a red blouson dress, it's even better. Opt for a darker shade of red with tiny white polka dots and a plunging neckline to create a look that is highly captivating.
A messy hairdo and minimal makeup will go well with this look. Choose black kitten heels for footwear. Complete the look with a delicate necklace and a black mini bag, and you are good to go for a dinner date.
White Blouson Dress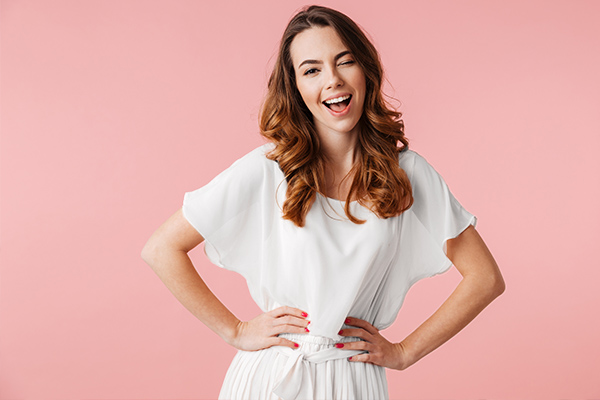 If you want a simple look with a blouson dress, the best option will be to choose a white one with a surplice neckline. This dress will signify absolute elegance, even if you pull it off without much styling and accessorizing.
Also, white blouson dresses are highly versatile, lending themselves to various types of jackets, cardigans, shrugs, and scarves. They are like a blank canvas which you can fill with eye pleasing layers and accessories.
To keep the white blouson dress look uncomplicated, opt for minimal accessories like a silver neck chain and ear studs. Focus on the hairstyle and makeup instead and go for a dewy look.
If you have got white gladiator sandals, they will go perfectly with this blouson waist dress. Otherwise, go for beige peep-toes. This may be one of your best summer looks that is effortless yet perfect.
One-Sided Shoulder Green Blouson Dress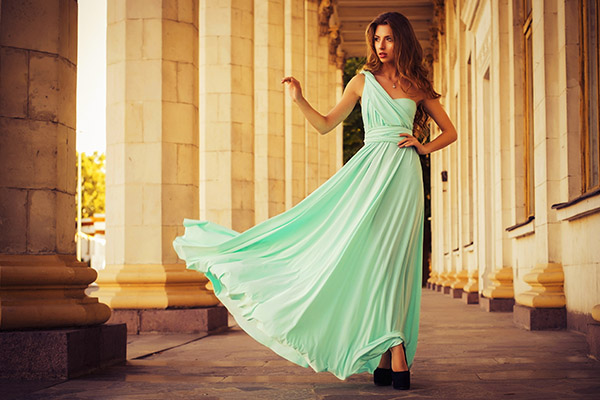 Want a blouson dress style that leans towards a bold look? Try a one-shoulder short blouson dress in green color for an irresistible and refreshing look. The chiffon dress can be worn both formally and casually.
For a formal look, choose a loose curls hairstyle, shimmery eyes, and dull gold t-strap sandals. If you want to wear this dress down, pair it with cream ballerina flats and a matching cross-body bag for a casual lunch date look.  
Pink Blouson Dress With a Jacket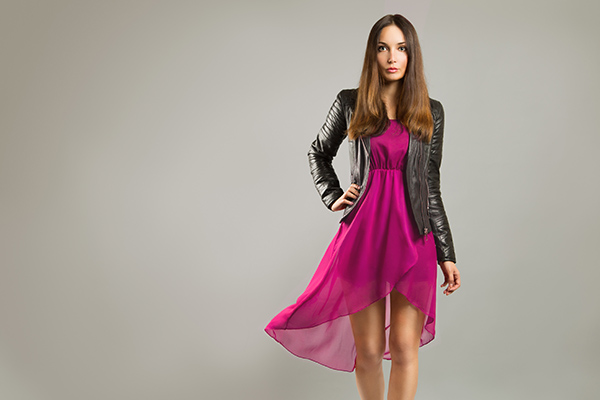 Jackets look quite chic along with the blouson style dresses. To create fascinating fall and winter looks, you can go for heavier jackets like women's leather jacket, fleece, wool, or sherpa jackets. For some quirky spring and summer looks, you can go with denim or polyester jackets. 
A black polyester jacket over a pink lace blouson top dress will make a fabulous outfit. The pink color of the dress gives a feminine touch, while the jacket adds a chic, stylish element to instantly uplift the look.
Pair this outfit with black chunky boots and a stylish black crossbody bag.
Yellow Blouson Dress With a Slit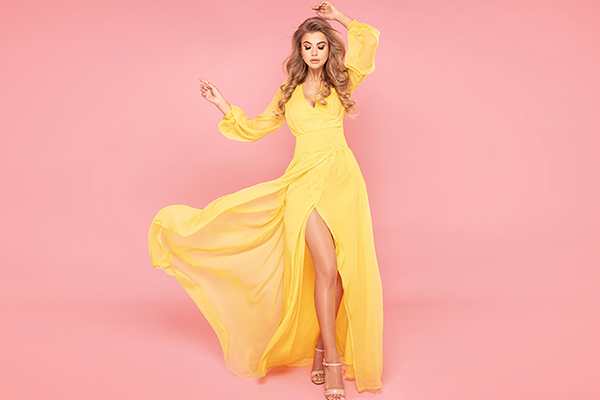 Feel like dressing up in a tempting way? Get yourself a yellow blouson dress with a voguish belt and thigh-high slit. The dress is enticing enough to look great on its own, but you can go for a black shrug or a silk scarf to add a graceful touch to this dress. The footwear options for this dress are a pair of black platform heels or cone heel sandals.
Long Blouson Dress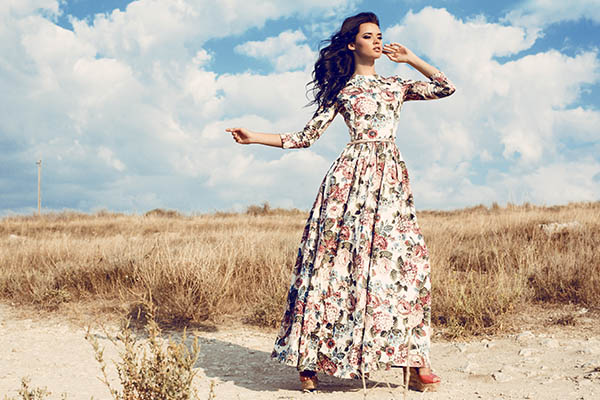 The length of the blouson style dress can be anywhere from your upper thighs to your ankles, and even longer. Blouson dresses with a longer length look quite elegant. Women often opt for a blosuon dress long enough to cover their legs completely for formal occassions.
You can opt for a long blouson style dress in a deep red color and elevate it with leopard print heels and a shoulder bag. The look is fit for a night event. 
Or, go for a polka dot blouson maxi dress in a light color, such as blue or pink, and wear it with a contrasting bolero jacket. The long maxi dress will give a very graceful tone to your look.
Long Sleeve Blouson Dress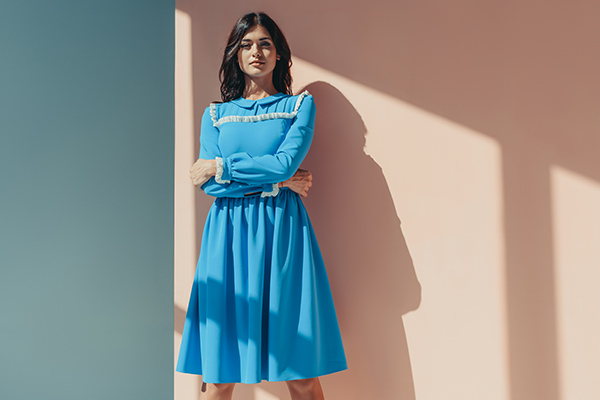 Getting inspired by vintage fashion, you can go for a modest blouson dress style with long sleeves and a turtleneck. It is up to you what color and fit you choose for this type of dress as any color that you select will give you an elegant look. The sleeves are cinched in the waistline and the neckline may be ruffled for an added retro feel.
When wearing a long sleeve blouson, choose small hooped earrings, straight hair, and subtle makeup to increase the appeal of your dress.
Blouson Maxi Dress With a Fur Bomber Jacket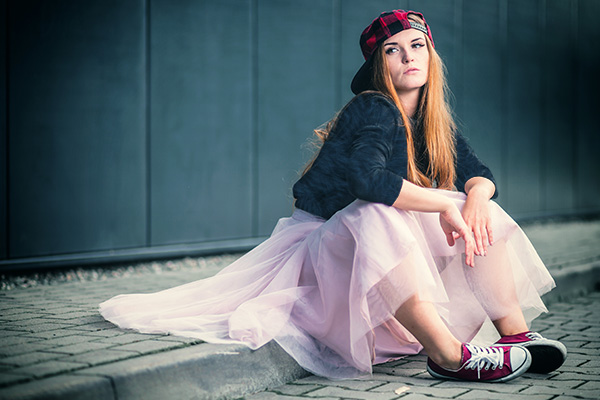 Build a comforting yet stylish winter outfit with a blouson maxi dress and a fur bomber jacket.
A bomber jacket with fur elements looks fabulous and adds luxe to the outfit that you pair it with. When teamed up with a blouson maxi dress, it will give a ravishing look that is hard to ignore.
You can select a blouson style dress in a darker shade like blue, black or maroon and the fur jacket in a neutral shade like beige or brown to create an eye-pleasing look. For instance, a floral print black blouson dress with a cream fur jacket would be a no-fail combo.
Add a quilted purse and suede ankle boots to the mix, and you are ready to grab everyone's attention. Make sure to match the accessories with the jacket's color for a consistent look.
Styling a Blouson Formal Dress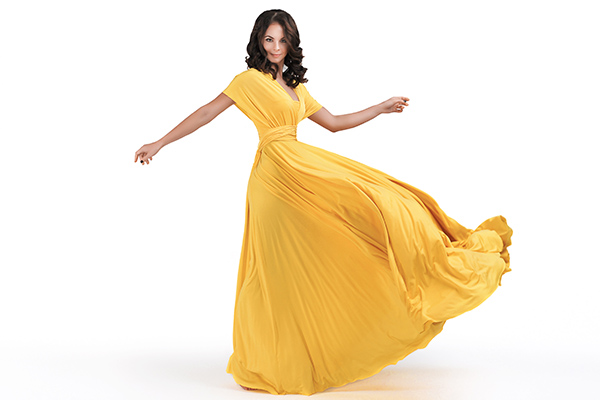 As explained above, you can get the blouson dress in a formal style as well. You may have bought a beaded blouson dress or fully embellished blouson gowns for an upcoming party or a wedding. Remember that less is more when styling a formal blouson dress. There is a chance of making a faux pas if you try to dress up too much.
If your formal blouson dress has already got blingy detailing on the sleeves waistline or hemline, there is no need to go for lots of heavy jewelry. Keep the look graceful by wearing intricate jewelry. Choose teardrop earrings and a delicate wrist watch to accessorize the blouson gown. Make a nice hairstyle that compliments your dress and keep the makeup subtle.
Opt for a pair of stylish stilettos and a matching envelope clutch to complete the stunning diva look.
Styling a Patterned Blouson Dress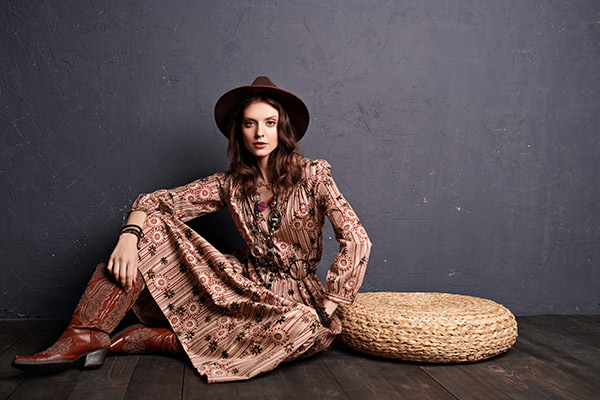 Blouson dresses with appealing patterns can give you a beautiful and enticing look. You can buy a dress in short or long length with varying patterns such as chevron, paisley, floral, or even a plaid pattern.
To style the blouson dress with a pattern, try to go with footwear and handbags in plain, neutral colors to bring out the dress's appeal even more. You can pair a denim jacket with these dresses as well.
Wearing a Blouson Dress Over 40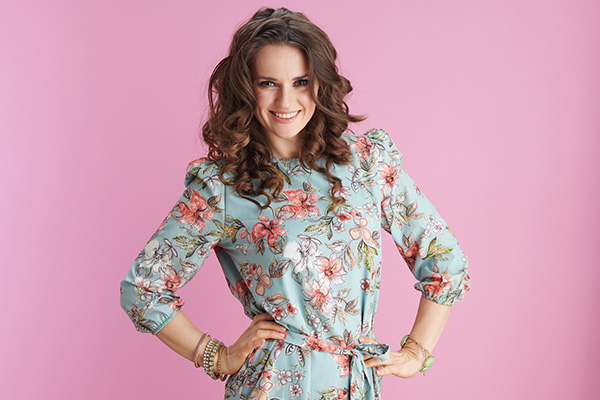 Who says that the following fashion and dressing up in style is limited to a certain age bracket? For mature women, the blouson style dress will add even more elegance to their look. Pair your dress with other graceful essentials to create looks that will get you many compliments.
A great idea would be to build a classy outfit with a pink blouson maxi dress and a black leather jacket for mature women over 40. Use accessories such as a splendid wristwatch, pearl earrings, statement rings, and long necklaces to add finishing touches to this look. 
The Blouson Jacket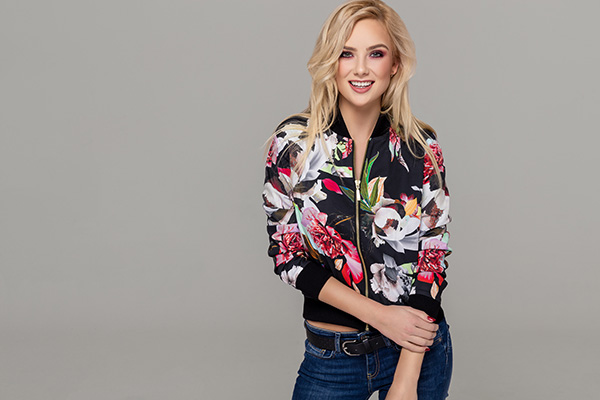 It would feel incomplete to only talk about what a blouson dress is and not discuss a bit about the highly popular blouson jacket. To give a brief intro, blouson jackets have a typical bomber jacket design that has a secured waist. A buckle, ribbed knitted material, drawstrings, or elastic can be used to cinch in the waistline of the jacket.
Blouson jackets are available in a wide variety of materials such as leather, polyester, fleece or linen, and are popular in men and women alike.
Are Blouson Dresses Flattering?
Blouson dresses create a flawless silhouette due to the fact that the area just above the natural waistline is fitted. The blousing material that hangs, as a result, camouflages the problem areas while drawing attention to the neckline, and hem of the dress instead. 
No matter what your body type is, you will always look gorgeous and class apart while wearing a blouson dress. 
What Do You Wear Over a Spring Dress?
You can enhance the appeal of your pretty spring dress even more by layering a classy leather jacket over it. Or, you can also choose a denim jacket. Make sure the jacket you choose fits you well and complements the color and style of your dress.
What Qualifies as a Blouse?
Blouses particularly have a very feminine appeal to them. They are tops that are loose-fitting and with or without a button closure. Also, they are either in a pullover style or have a zip at the back.

Blouses for women have a variety of necklines. The blouses are of the same length as the shirts. You can wear blouses over jeans, skirts, shorts, and various types of pants for flattering looks.
What is the Difference Between a Blouse and a Tunic?
The basic difference between the blouse and the tunic is length. The tunic is longer, while the blouses are shorter, ending at the lower waist. You can wear any type of pants, skirts and shorts with a blouse, whereas the tunic is best suited with jeans or fitted pants.
Can a Man Wear a Blouse?
In contemporary fashion, blouses are typical for women's wear. Although, in some cultures, blouses refer to shirts for men. Furthermore, if we refer to the term blouson in menswear, you will also know that it is another name for a leather jacket.
Wrapping Up the Blouson Dress
Summing up the query what is a blouson dress, we have touched on different styles of blouson dresses that you can try. Wearing a blouson dress is definitely the best way to look glamorous, so you must know how to style it with finesse.
We have laid down several outfit ideas, complete with the accessorizing, for your inspiration. You can choose any of them that is appropriate according to the occasion.