The world of women's footwear is just as diverse as men's, yet most of the attention is still focused on heels and sneakers. Footwear, other than the two most popular choices, is just as gorgeous, chic, and comfortable, and nothing personifies that better than combat boots.
At first, these boots might seem larger than life and a massive headache to style with any outfit. Luckily this is only partially true. Combat boots are surprisingly compatible and stand among the shoes that go with everything. While they are a bit more difficult to style than something like a pair of plain sneakers, this guide will show you how to style combat boots to perfection.
Let's get started.
What To Expect In This Article?
How to Wear Combat Boots?
Before you learn how to style combat boots, you need to understand how to wear these shoes in the first place. They are quite unique compared to most footwear items in women's fashion, and the only comparable options are other long boots.
However, comparing these to stuff like knee-high boots isn't fair either, as combat boots have a more militaristic and tough vibe to them. Even the cuter designs exude a level of confidence not found in other shoes with similar proportions.
Keeping this in mind, the right way to wear combat boots is with confidence. Do not try to hide them under your pants or blend them perfectly with the rest of the outfit. If the boots stand out a bit, that's completely okay and a large part of their charm.
What to wear with combat boots?
As mentioned earlier, combat boots are surprisingly compatible with most clothing items you already own. They can work well with the more common items, and outfits featuring jeans with combat boots look especially spectacular. You can also pair them with the more unconventional stuff. A great example of this is using combat boots as shoes to wear with leather pants.
Not Just the Pants
Picking compatible pants is the first step toward learning how to style combat boots. However, it is just that, the first step. Combat boots have quite the presence; thus, their influence goes beyond the pants and influences your choices for tops, outerwear, and even accessories.
It's Still Easy
Do not complicate the process of deciding what to wear combat boots with. They are still super versatile. You can try them out with outfits you already know about with some other pair of shoes. Or, you can take out everything in your closet and see how they look next to your pair of combat boots. This should give you a clear hierarchy of what works, what doesn't, and what needs more refinement to be successful.
Ideal Matchups
While you can wear combat boots under anything you want, not all of those matches would look equally as good. Conversely, pairing a few items with matching combat boots will guarantee max style points with relative ease.
These items include the obvious stuff like jeans, leather jackets, and crop tops. Then there is the uncommon side of women's fashion, including leather pants and oversized knit sweaters. Combat boots can also be comfortable shoes for work if you pair them with the right pants, button-ups, and a blazer to complete the look.
Combat Boots Outfit Ideas
One thing that the versatile compatibility of combat boots shows is that they can work well in a large number of outfits. The only issue is finding which of these thousands of unique outfits are worth your time and effort.
While you can go the brute force route and try everything you can think of, you'll waste a lot of time and can still be left empty-handed. The smarter way to approach this problem is to rely on what's already out there. Combat boots have been popular for quite a long time, and a handful of top-tier outfits have emerged from years of experimentation.
These outfits represent some of the best you can achieve with combat boots which makes them all valuable examples. You don't have to copy them one to one either. Learning about these will further your own understanding of how combat boots work so you can craft chic outfits with a personal touch.
In addition to "how" to style combat boots, you should also consider when. The versatility of these boots goes beyond just a large number of outfits. In other words, you can rock these shoes for a number of situations, seasons, and styles. This is also the best way to categorize the example outfits. Take a look.
Time of The Year
The first categorization of how to style combat boots is based on the season. More specifically, it is about the temperature during the day.
Winter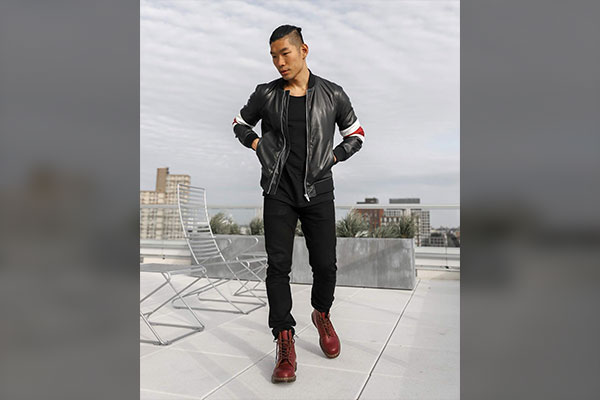 Winter and combat boots seem like a perfect match, and they are. However, just rocking these shoes under any winter outfit won't do. You need to balance the size and attention draw of these boots with an impressive ensemble. The key here is layering, and lots of it.
A winter combat boots outfit that follows this to the T features a majestic light khaki trench coat as the topmost layer with a pair of shiny black combat boots at the bottom. Above the boots is a pair of skinny black jeans with a white button-up tucked into them. A beige cardigan acts as the middle layer between the shirt and coat, completing the look to an acceptable degree.
If you want to get into the details, hang a matching black bag on your shoulder and wrap your neck in a brown knit scarf. Now sip some hot coffee and walk with confidence as you look majestic.
As a side note, the color combination of this outfit is a great method of how to style black combat boots in general.
Summer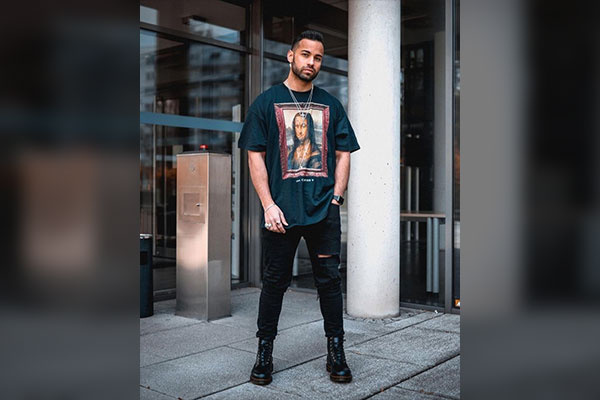 Summertime and combat boots are not a match that's viable on paper. Reality is completely different, however. Not only does this combo work, it fits perfectly with the carefree and lively vibe of bright summer sun.
The star of the show here is a pair of dark green combat boots. It looks black in shadow but gives off a green sheen when under the sun. Atop that comes a choice. You can go with a denim short skirt or denim shorts with combat boots. Both options are equally fire, and the decision is just up to your personal preference.
The final piece of the puzzle is a white, or light pink flared button-up top. Loose fitting is the way to go with this top, as it somewhat balances out the boots. You can choose a crop top or even a tube top, but that will make the outfit too bottom-heavy. You can also rock a large summer straw hat to gain more style points.
Situation
Here's how to adapt combat boots to different situations you might find yourself in.
Casual Weekend Shopping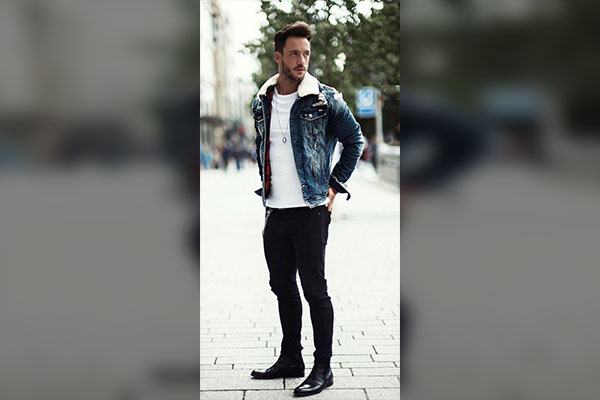 Say you're going grocery shopping on the weekend. You don't want to spend too much time dressing up, but you also don't want to look like a sloth who just got out of bed. Then there is the matter of comfort as well. A pair of cream combat boots can resolve this issue instantly.
Your outfit includes a pair of brown joggers accompanied by a light brown hooded sweatshirt. This ensemble is fairly decent on its own, but picking cream combat boots as the shoes to wear with joggers is what makes this truly chic. If it's a little cold outside, layering up with a black leather bomber jacket will keep you warm.
Cream combat boots are also stylish neutral color shoes that go with almost everything.
A Date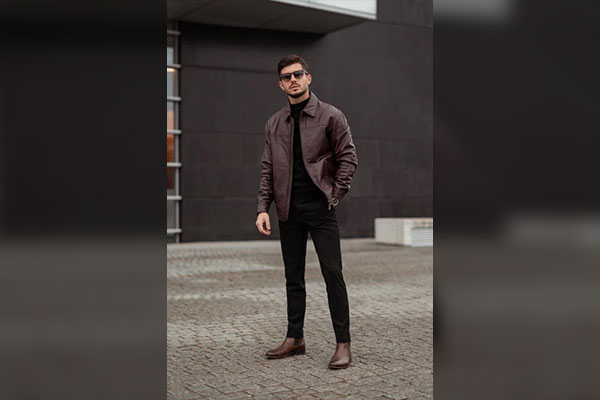 Wearing combat boots on a date is a bold choice but one that you will not regret. That is if you wear them with the right outfit. The attribute that makes a combo work for this date situation is the cohesion of your outfit. It should all feel connected and meant for each other. With that in mind, this is the outfit you should wear.
A pair of shiny black leather combat boots will be the center of attention. The rest of the outfit features a white mini dress in bodycon or shift stiletto and a button-up closure up front. The item that ties everything together here is a black cropped leather jacket that's just as shiny as the shoes. Finally, accessorize with a black suede bag to complete your date look.
To Work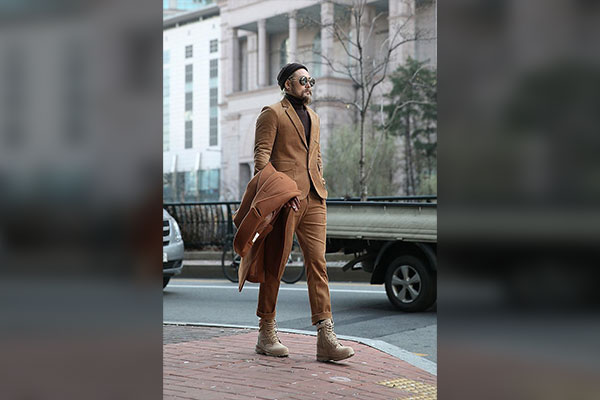 Combat boots in a professional work environment? They are possible, and when done correctly, they're also magnificent. Rocking combat boots to work signifies your confidence in your own sense of fashion and style. The following outfit will help you further solidify that impression.
Its key component is a pair of black combat boots with a rough texture and minimal sheen. Tightly lace these boots up to the top and match them with skinny black trousers. Plain black jeans can work here as well if they're allowed in the dress code at your workplace.
The top layer consists of a white turtleneck and a piece of outerwear. What outerwear should go atop the turtleneck depends on your mood. A gray blazer will give off a lively feel despite the lack of color, while a black leather jacket will make you look like a supermodel. You can even try black velvet jackets for a fluffy winter vibe that leaves a lasting impression.
Whatever you choose, make sure to match your leather bag and scarf (in winter) with the jacket/coat. If nothing else, a thin brown cardigan should work just as well.
Style
The final categorization of combat boots outfits asks you what you want to look like and recommends outfits accordingly. It includes everything from vibrant street style to casual weekend stroll outfits and everything in between. Here are a few of the most important ones.
Casual Everyday Look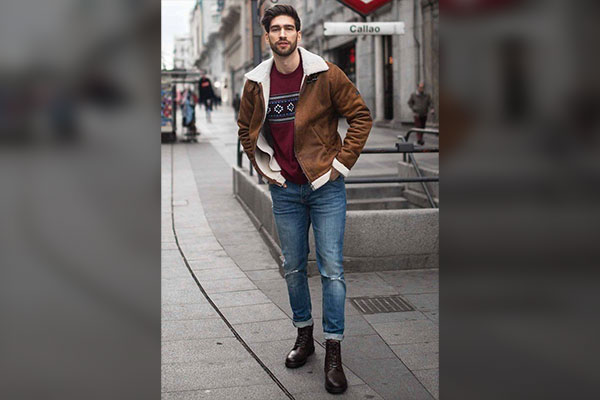 Despite their large and hefty looks, combat boots are surprisingly comfortable. You can walk in them for hours without feeling any discomfort – making them one of the ultimate shoes for day-to-day use. This casual combat boots outfit is all about succeeding at that goal.
The shining star of these would be your collection of jeans. Blue jeans work the best, but any color is welcome as long as you pick brown combat boots. The final step in completing these casual brown combat boot outfits is topping them with sweatshirts, loose turtlenecks, and knit tops.
Experiment with different color combos of tops and jeans, and you have a near limitless supply of near-perfect everyday casual combat boot outfits.
Stylish Street Look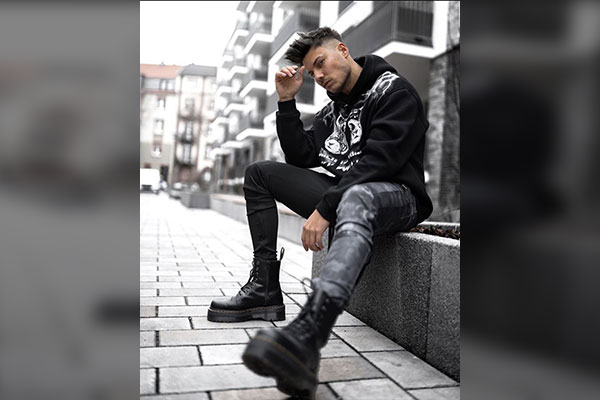 For all intents and purposes, combat boots are fairly unconventional and uncommon compared to heels and sneakers. This gives you a great opportunity to get a bit experimental and try on outfits that you won't otherwise.
A fine example of this style starts with a fancy wrap dress with black color and thin white stripes in a diagonal and crossed pattern. This dress on its own will draw some eyes toward you, but it is a bit bland on its own. Spicing it up requires you to make it a part of white combat boot outfits in either leather or velvet material.
You can leave it here and enjoy your newfound street style fashion. If it's getting a bit chilly outside, nothing will fit the situation better than a dark gray leather bomber jacket with a shiny semi-aniline finish.
Semi-formal Look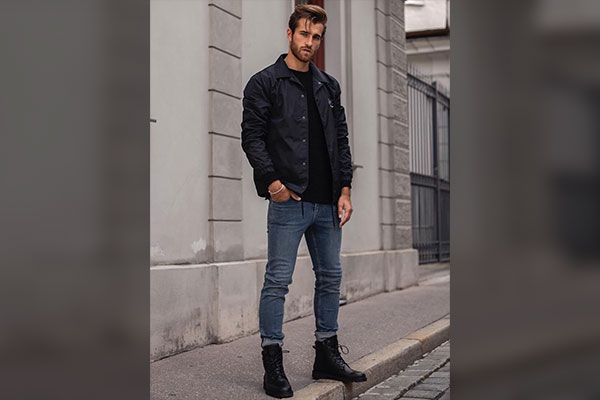 Most women see combat boots as only viable for casual wear, which is true to some extent. But, as we saw in the case of work attire, combat boots can adapt to these situations if paired with the right outfits. So, what can you do to make them work in a semi-formal environment? Well, we make them the center of attention.
To be more precise, they'll not be the center of attention but the item that will contrast the rest of the outfit. A fine example of such an ensemble features a bright red A-line dress that goes down to your knees. Cover your legs in black fishnet and your feet with shiny black combat boots to establish the red and black contrast.
You can honestly leave this outfit as is, and it will be stylish enough for any evening party without a defined dress code. The only improvements you can make to it are grabbing a matching black handbag or displaying a dark black scarf around your neck if it's winter.
How do you style combat boots casually?
The easiest way to style combat boots casually is to swap them in with outfits that work well with hi-top sneakers. Most of those outfits will accept combat boots immediately with zero additional work. Also, remember that these boots work best with outfits that have a loose and baggy top. Fitted tops make the ensemble feel too bottom-heavy and a bit off.
Are combat boots in for 2022?
Yes, they are. The popularity of combat boots is higher than ever, and they're spreading across the entirety of women's fashion. You'll see them under sweatsuits, work attires, and fancy dresses out on the street. Not to mention their involvement in summer outfits with shorts and short skirts.
How do you wear boots with jeans?
There are three ways to go about wearing boots with jeans. You can tuck the jeans inside the boots or cuff them up to show off the boots in their entirety. Or you can hide them under your oversized or straight-cut jeans.
What boots are in style for winter 2023?
Winter 2022 is filled with large boots that provide exceptional cold protection and just as magnificent styling opportunities. Midi boots, classic knee-high boots, and ugg boots are all quite common. Combat boots are among these top-tier choices as well, with their ideal balance of style and comfort.
How to wear combat boots when you're over 40?
Don't let your age define your fashion choices, and rock combat boots with everything they work well with. These include jeans, tight-fit leggings, maxi dresses, and trench coats.
How to style combat boots for men?
Combat boots are a military concoction meant to be the shoe choice for soldiers. Carry on this badass soldier vibe and rock your combat boots under outfits featuring leather jackets, trench coats, peacoats, cargo pants, and biker leather jackets.
Final Words
The prospect of integrating combat boots into your active day-to-day wardrobe might seem a bit extreme at first glance. But, give these a little thought, and you'll find them surprisingly cooperative. Plus, the little effort you put into making them work will all be worth it in the end.
Combat boot outfits exude confidence, and that confidence will make your fashion choices as a whole more personalized. You might even stop caring about what others might think and start wearing what you want to.
In any case, hopefully, this guide with plenty of examples was enough to help you understand the potential of these boots as well as how to unlock it on your own.