If there's any outerwear piece that deserves to be in your closet year-long, it is the leather jacket. They are timeless, durable, and often of good quality. A fashion staple that has been ruling the outerwear fashion industry for decades. Speaking of which, dozens of designs and styles characterize the leather jacket market but one such variant is quite becoming the "hip" trend nowadays, that is cropped leather jackets.
Possessing an enticing style of cut, given to the classic leather jacket that stops short on your torso. An interesting blend of classic and contemporary style, the cropped jacket is a must-have in your wardrobe.
What Makes Cropped Leather Jackets Different?
The fact that it is cropped – of course! A cropped leather jacket in female outerwear means you get a look that is sophisticated as well as strikingly unique. A welcoming feature that is otherwise not found in the practical leather jacket varieties. Chopped off just at the waist, it is meant to highlight your figure, or accentuate your height, while bringing an entirely new dimension to your styling.
Many styling options can go perfectly with a cropped jacket. From a skirt to something off-the-shoulder or over a dress, find out interesting ways to come up with spot-styling by using your cropped leather jacket to enhance, complement or elevate your look.
How to Style a Cropped Leather Jacket?
The best-cropped leather jacket is the one that can spice up any of your outfits for the day, keeping a balance of layers and bling. Since it is a new consideration to the leather jacket inventory, it needs separate attention in terms of pairing it with bottoms and tops underneath.
1. Maxi Tulle Skirts or Mid-Button-Down Skirts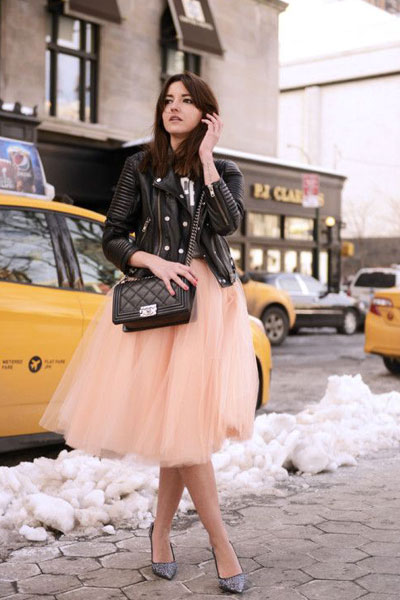 Pair your black cropped leather jacket with a maxi tulle skirt to tease with your legs or a mid-skirt for an interesting visual effect. Short summer dresses or mini-dresses with high boots and a jacket, also make for a stylish combination. In essence, the major joy of cropped jackets is how voguish it looks with the skirts. Trimmed to the waist, it can create awesome cool vibes when paired with a classy skirt and high pencil heels like a scene out of the movies.
2. High Waisted Jeans and Crop Top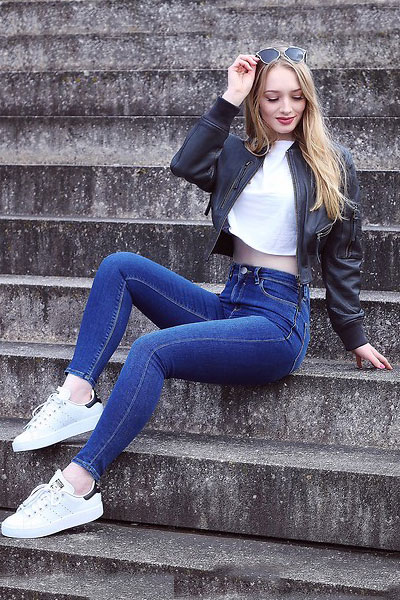 The go-to outfit for any outdoor meet-up, be it gathering with friends, the office or a lunch date, a cropped leather jacket with high waisted jeans and a crop top is as comfy and stylish an option as it can get. It takes less than 10 minutes to put together this outfit, and it is a bang-on look to make a good impression. When you decide on dressing to kill, we recommend this combination with black boots.
3. Grey Turtleneck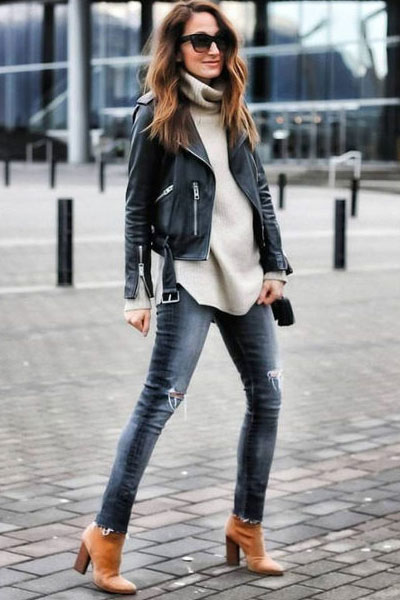 Grey is the color to house all the other contrasting tones – black, white, maroon, tan; you name it. Wearing a turtleneck underneath the cropped leather jacket evokes class and elegance. You can leave the jacket open from the front, pull over bell-cut pants, or just drape the jacket on the shoulders for a more relaxed, out-of-work style statement.
A casual knitted turtleneck, easy pants, and fitting cropped jacket make a tasteful recipe for a motorcycle ride to style heaven. Therefore, this pairing serves great for women's biker leather jackets that you can turn up wearing anywhere.
4. With a Dress
Talk about details, style, and intelligence, a cropped leather jacket with a flowing dress is every woman's dream. For fashion-conscious women who like keeping it minimal, this outfit is in-line with your personality traits. A black midi-skirt, a short, spikey one, or a pencil flowery dress; you can dazzle your look effortlessly with cropped leather jackets. Leave your hair open, step into high heels, and put on some accessories, and you're all set.
5 Block Straight, Colorful Pants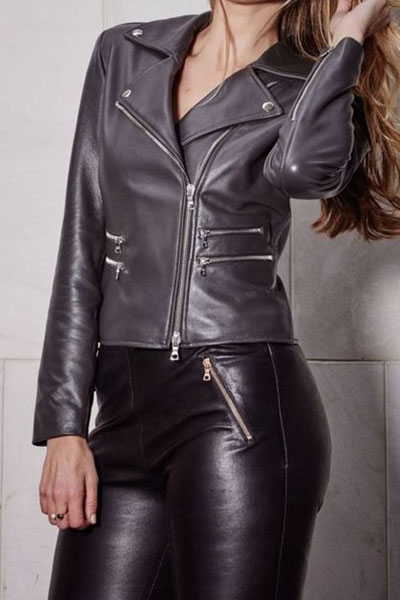 Straight colorful pants with contrastingly colored cropped leather jackets are another heart-melting combination for die-hard fans. This outfit is designed for a fancier outing, where you can flaunt your talent for style and bring bright colors to the stage. It evokes high-spirit and softness. Put on a black belt, turn up the sleeves of the jacket, grab a handbag, and there you go!
6. White, or Striped T-shirt and Jeans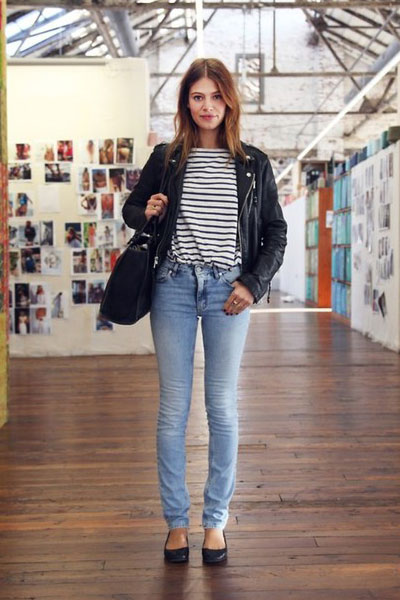 For a spontaneous yet fashionable look, don your cropped jacket with a white tee or striped T-shirt and jeans. Consider choosing a different color than black for this outfit to celebrate comfort. This combination can pass for a variety of purposes and easily amps up your look.
7. Ripped Skinnies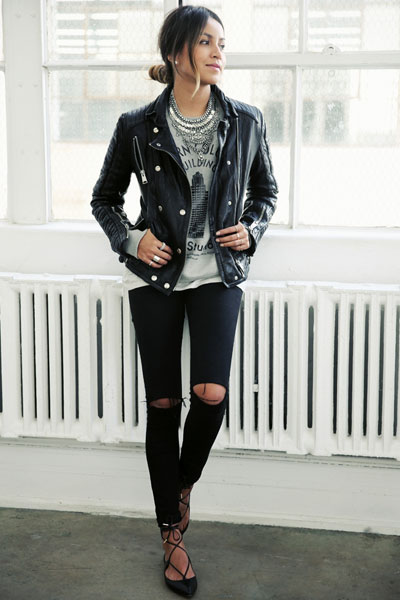 If black is your favorite color, pairing ripped, black skinnies with a front-closed, black, cropped leather jacket and black boots is a nice way to create a unique look. Clean, minimal, yet aggressive to look at, this styling option can leave an impression that lasts forever. Put on the sunglasses and you can easily pass for a crime-thriller movie starlet!
Where can I get a Custom Cropped Leather Jacket?
The true spirit of cropped jackets is getting them custom-made for your shape and size. At The Jacket Maker, you can get custom leather jacket by choosing from tons of colors and size variations to get the best fit for yourself.
We work on your sizes separately to create the best-cropped leather jacket based on finishing, fit, style, and details for you to look absolutely fabulous in. Choose your add-ons, design, prints, embroidery, and get your cropped leather jacket by going through a fast and seamless creative process.
F.A.Qs
Can I crop a leather jacket?
Yes! you definitely can. the beauty of a customized leather jacket comes from your unique taste and artwork.
Are cropped leather jacket still in style in 2021?
Yes! leather is a timeless classic that also supports its styles. The cropped leather jackets are still in style.
Which is the best leather for cropped jackets?
Full-grain is the highest quality leather. For a durable and long-lasting staple in your wardrobe, we suggest going for the full-grain leather for a cropped leather jacket.
Ending Note
Cropped leather jackets can be worn every day, with jeans and T-shirts to pull the casual look, or with flowing dresses or block pants to turn up at semi-formal or smart casual occasions. Which styling idea do you plan to try out next?