Everyone has surely fallen into a dilemma of what to wear to a party or a formal gathering. We are inclined to buy those exquisite pieces that mirror our inner mood. The safest option to invest some bucks is a skirt. There are numerous types of skirts available in the market to choose from. What's more interesting is that skirt outfits contain so much potential to adjust to your casual or formal needs.
There is a compelling reason for you to get skirt outfits. Skirts' outfits exhibit class and elegance. They go with a wide range of outfits, designs, and colors. You can dress these outfits up or down depending on your personal choice. Jackets and Blazers are a match made in heaven of skirts. You can color coordinate your skirt with a jacket/blazer to seize the day.
We have gathered some inspiration for skirt outfits with Jackets and Blazers. It features everything to accessorize your skirt outfits with fashionable jewelry and trendy Jackets.
What To Expect In This Article?
Tennis Skirt with Cool Short Blazer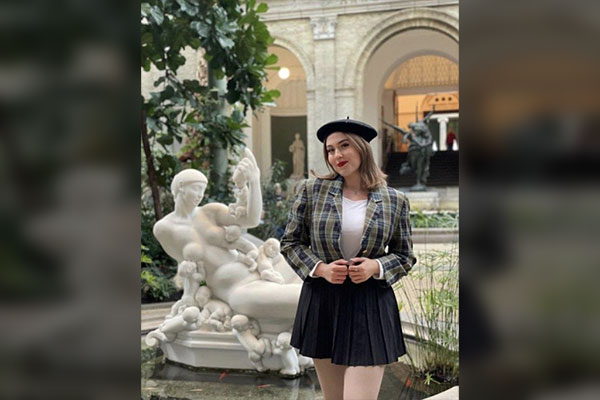 Tennis skirts also called "Pleated skirts" and are considered to be a staple for the fashion world for decades. They are not exclusive to playing tennis anymore. Pairing a white pleated skirt with a beige short blazer creates a basic yet stylish outfit. Wear black sunglasses and a black clutch to accentuate the overall look.
Black Pencil Skirt with Light-colored Jacket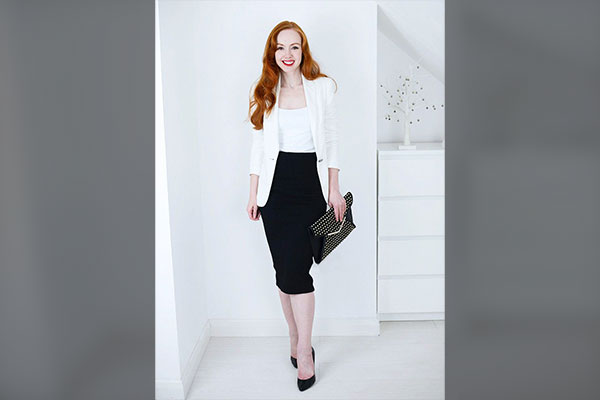 Pencil skirts have proven to be key pieces in a feminine and playful outfit. You can add a nice light-colored jacket with a black pencil skirt to support a classy look. A nice leather bag, stylish necklace, and loose curls will give your look more substance. This outfit is perfect for any daytime event.
Black Pencil skirt with Black Jacket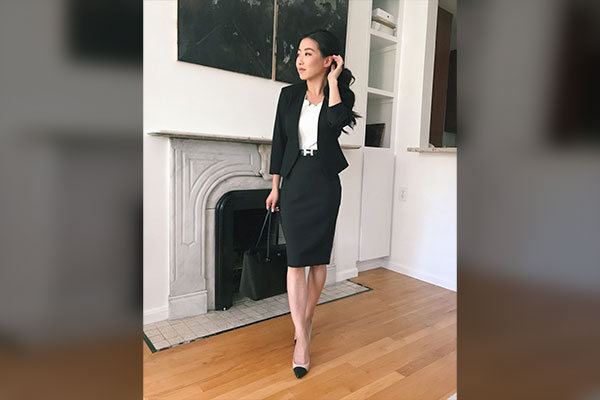 To give your black pencil skirt a wow factor, you may include a black jacket to make your black short pencil skirt outfit stand out. Compliment the overall look by adding a black bag and beige color heels. This professional look is ideal for any business meeting or a formal event.
Pencil Skirt with Green Blazer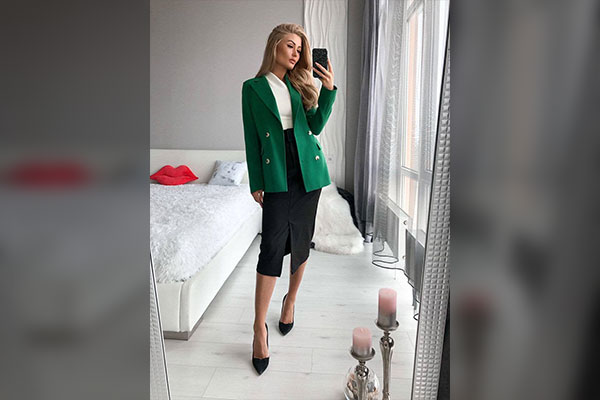 If you don't know what to wear with your old black pencil skirt and are tired of the monotonous styles. Then, here is the solution. Throw in a green long blazer over your pencil skirt to reinvent your overall look. Make a leather belt a part of your wardrobe to show off your waist.
Black Pencil Skirt with Leather Jacket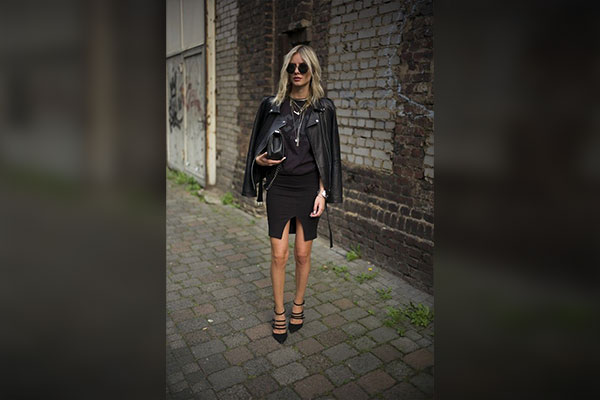 Spice up your outfit game by adding a polka dot inner shirt and black leather jacket with your pencil skirt. A nice pair of accessories like studs, sunglasses, and black heels will add life to your street style. You can opt for bold lips to make a statement in this look.
Black Pencil Skirt with Black long Blazer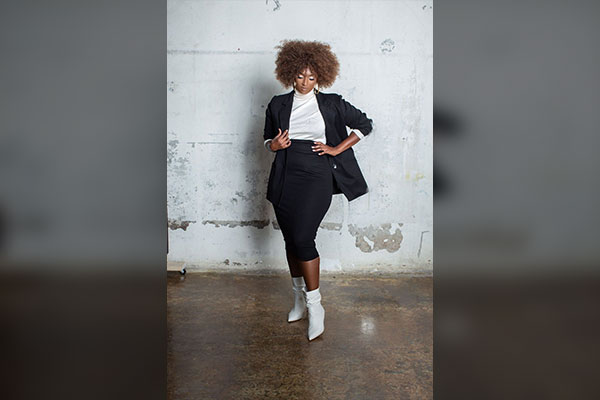 An all-black outfit is always a safe bet. The jewelry possibilities are endless with an all-black outfit. You can channel your inner diva in this long black Blazer with a black pencil skirt. Adorn it with the statement pieces of your choice and get ready to outshine everyone in the room.
Black Pencil Skirt with a Funky Jacket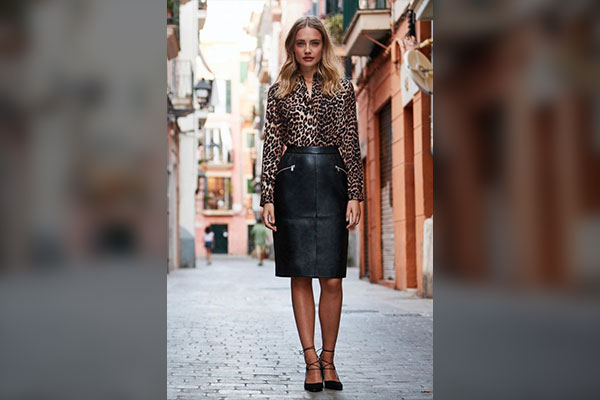 If you are in a mood to have fun and want your outfit to be a little funky then here is the key. To make the most of the day, pair your regular black skirt with a unique bright-colored jacket. You may complete the look with funky earrings and headbands.
Stylish Skirt with Printed Jacket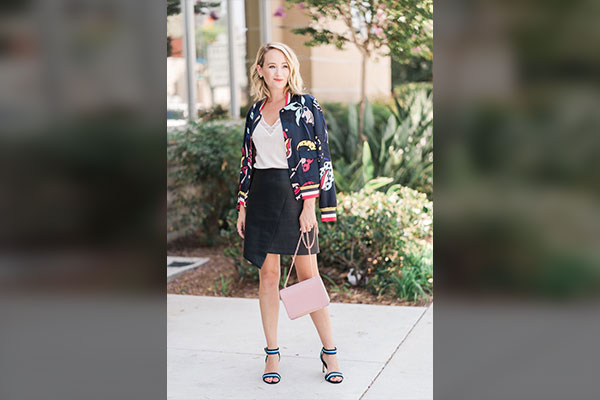 Looking for ways to stand out among the crowd? This look is an ideal way to make a statement and dazzle everyone. An all-in-one printed skirt and jacket will never let you down. Pair this outfit with black long boots, a nice chain bag, and subtle makeup to boost your appearance.
Pleated Skirt with Furry Jacket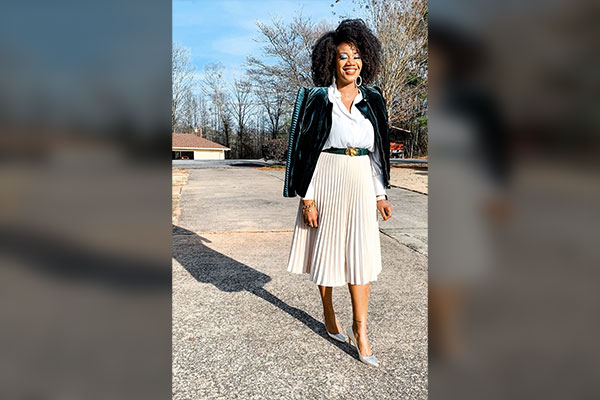 On a windy day, why not wear a pleated skirt? If you want to incorporate comfort and style simultaneously then this outfit is an ideal option. Your furry Jacket will keep you warm and long boots will save you from the harshness of the weather. You can further amplify your confidence by adding statement sunglasses, a stylish cap, and bold lips to your overall look.
Tennis Skirt with a stylish Blazer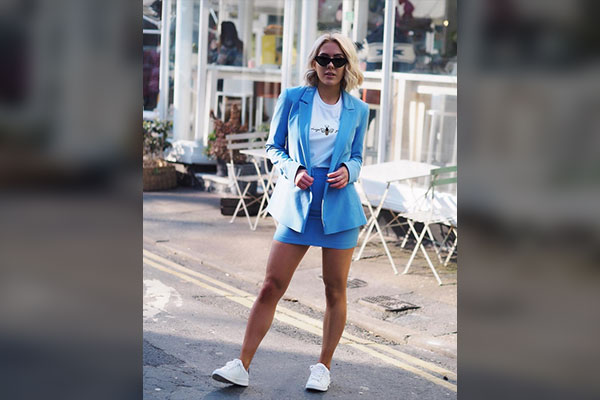 You can carry your tennis skirt to your work if you follow this guide. With a few amendments, your tennis skirt can accompany you to your work. Layer your regular tennis skirt with a stylish blazer, ankle boots, and knee-high socks to rock your day at work.
Pleated skirt with Chic Jacket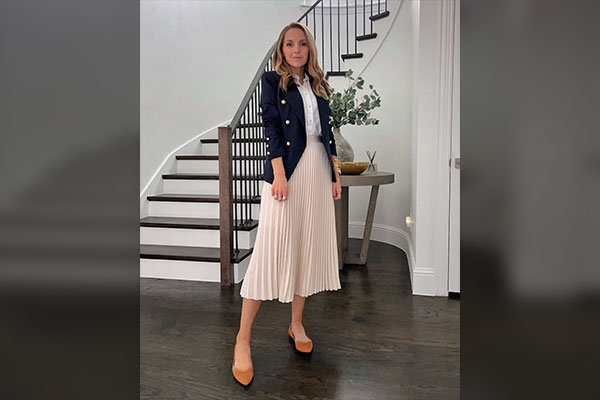 If you are skeptical of wearing a pleated skirt to your date night. Then look no further as we have got you covered. Style your bold-colored pleated skirt with a chick yet elegant striped jacket to radiate confidence. A bold lip color with some voguish jewelry goes perfectly with this outfit.
Plaid Skirt with long Leather Jacket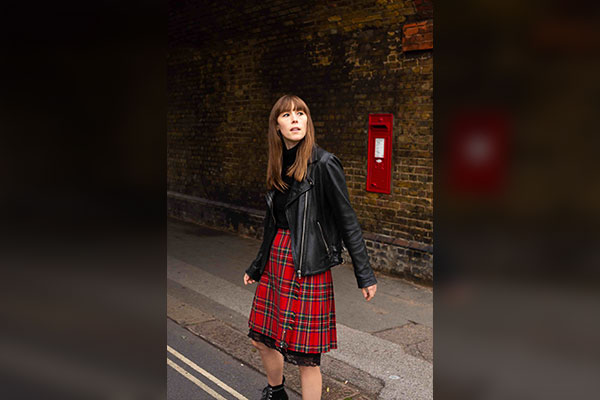 The anxiety of what to wear for a girl's day out is real. To counter this worry, you can style your plaid skirt for a day out. Plaid skirts with checked print are trending these days. Wear any basic color turtleneck and throw in a long black leather jacket and you are good to go. Spice up the outfit with a nice necklace and elegant studs.
Yellow Plaid Skirt with Black Jacket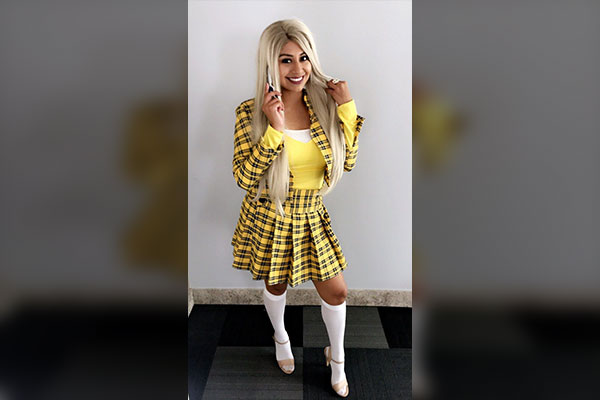 Not much effort goes into styling a bright-colored outfit. If you are going for a brunch with friends, or just want to roam around, this outfit is just for you. Radiate happy vibes with this yellow-colored plaid skirt with Black leather Jacket. Go for a sleek ponytail with this outfit and make your surroundings brighter with your aura.
Long Skirt with Modern Blazer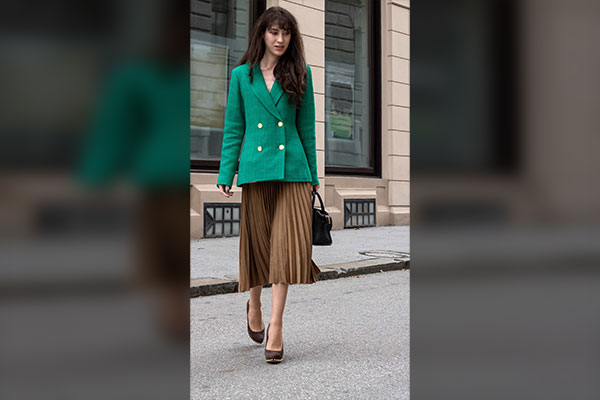 Have you ever wanted to turn heads on the occasion of Thanksgiving? If that's the case, you'll love this outfit. A long black skirt supported with black tights and a black jacket will make you the most fashionable person in the gathering. This outfit exudes pure elegance. A beautiful silver necklace and a silver clutch will add to the outfit's festive feel.
Long animal printed Fall skirt with White Blazer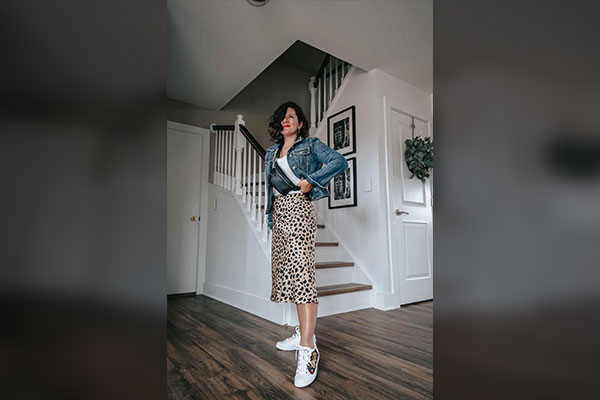 We are almost stepping into the weather that is not too cold or not too Humid. It's a great time to take out your fall skirt and a white blazer and put together a perfect fall outfit.
Long skirts with animal print never go out of fashion. White Blazer with golden buttons detailing is the perfect choice to go with this skirt.
Long Faux Leather Skirt with Blazer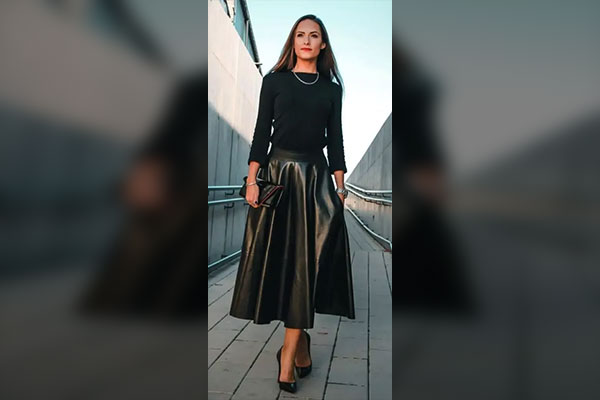 Long faux leather skirts hold so much potential to go with every kind of a look. If you are heading out for dinner and looking for ways to ramp up your conventional skirt, then this is the piece for you. This faux leather long skirt styled with a striped tee and white blazer will add so much warmth to your personality.
Mix and Match Long Skirt Outfit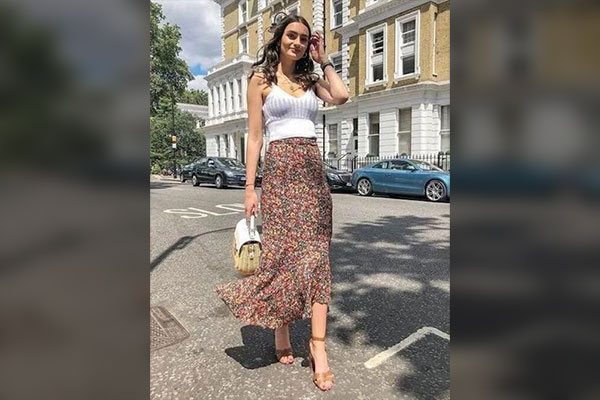 This is the period of fashion that focuses on individuality. There is no fashion faux in mixing and matching the pieces of your wardrobe to put together an outfit now. This outfit is the perfect example of how you can add diversity to your look. This, grey blazer along with the black shirt and a black clutch give substance to the solid brown skirt.
Classy Denim Skirt and Blazer Outfit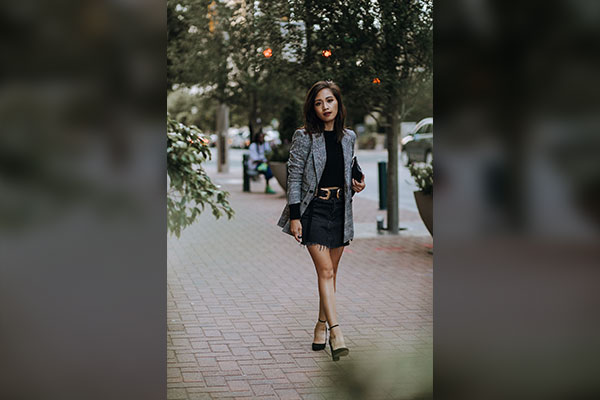 The all-denim outfit is still a fashion staple. There are days when you don't want to put much effort into your outfit. For these days an all denim short skirt with a matching blazer is a lifesaver. To finish the look, just add trendy hoops and long boots to this classy denim skirt outfit.
Solid Colored Formal Skirt Outfit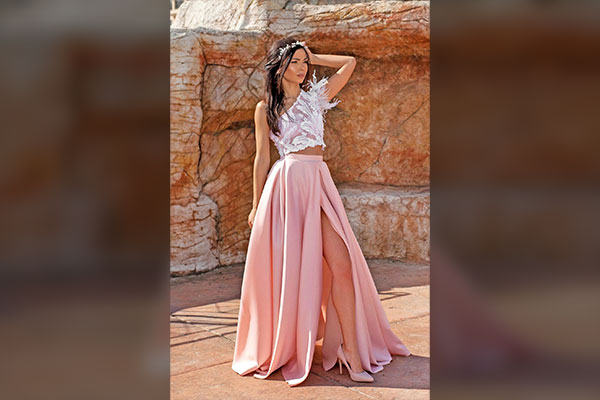 Solid-colored outfits are popular these days. This sophisticated orange pencil skirt suit with a matching blazer could be your next purchase. This outfit is suitable for formal events as it radiates elegance at every level. Wear nude color heels and elegant studs to match this outfit.
Formal Pencil Skirt with Short Jacket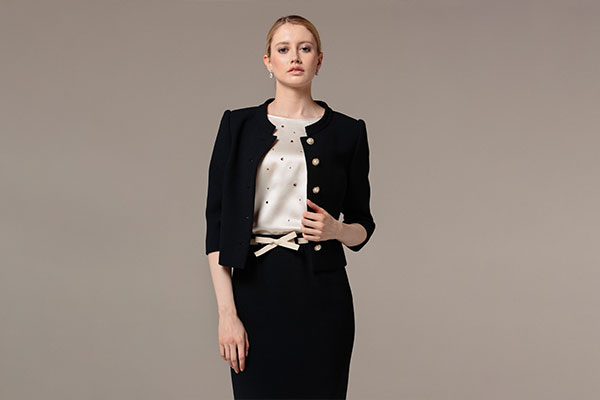 Pencil skirts are easy to style and accessorize. If you want to create a formal look using a pencil skirt then style it with an inner crepe shirt and short jacket. Smoky eyes with subtle lips go well with this formal look. To elevate your look, wear statement jewelry and become a head-turner.
High Waist Denim Skirt with Leather Jacket Outfit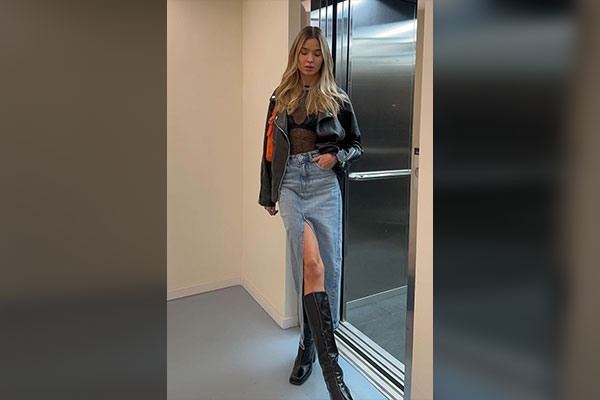 There is something for everyone when it comes to stylish fashion. It is entirely up to you to decide what you wish to wear. High waisted denim skirt with a Black Leather jacket perfectly fits in this situation. This is perfect for the party look and gives you funky vibes. Adorn this outfit with your favorite clutch as this is all about personal style.
Denim Short Skirt with Khaki Jacket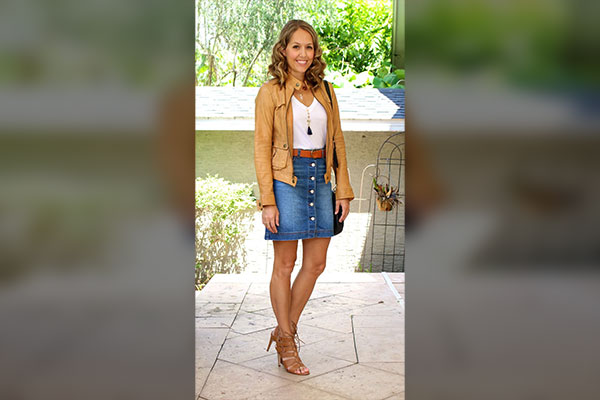 The swirly elegance of this sumptuous Khaki Jacket has us swooning. Paired with a short denim skirt, this outfit is ideal for a daytime look or nighttime. You can dress up or down this denim skirt outfit with the addition of jewelry and high heels.
Long Fall Skirt with Black Blazer Outfit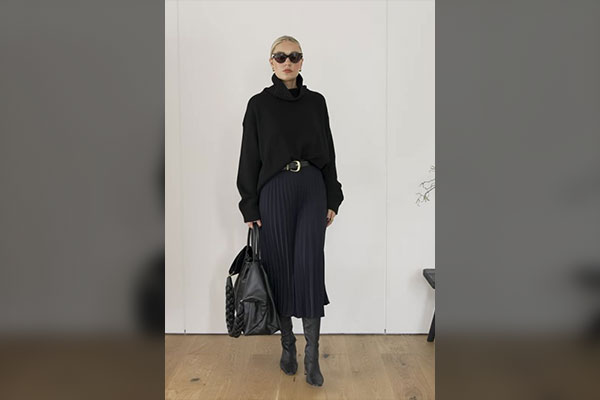 Long fall skirts are everyone's favorite. A black blazer along with a long fall skirt is a cherry on top. This look is chick yet classy and suitable for everyday wear. Pair it with funky sunglasses to don a street-style look. Or you can opt for a sleek bun with bold lips for a more formal look.
Furry Jacket with Bold colored pleaded Skirt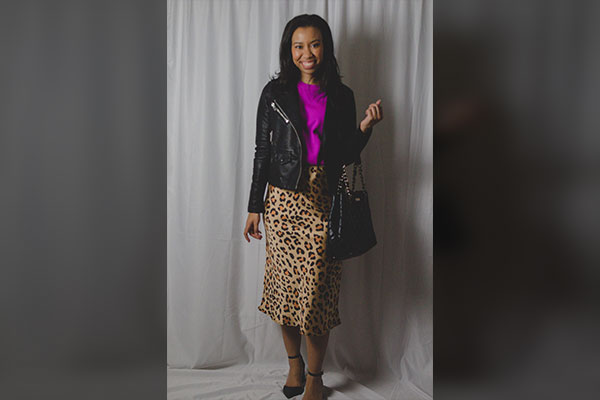 Sometimes you just want to channel your inner diva by dressing up. This look is a perfect choice for those days when you do not shy away from wearing bold colors. Pink vinyl pleated skirt along with white furry jacket will serve you right. Add a pop of color by adding studs or pink lip color to seize your day
Stripped pencil skirt with Blazer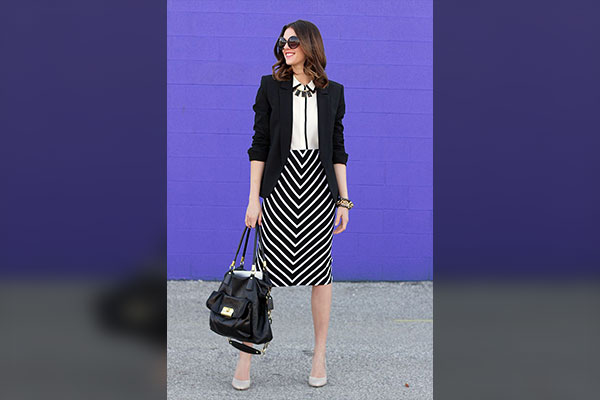 If you are wondering what to pair along with a striped pencil long skirt then here is your answer. Just put on a white blazer and golden heels to elevate the overall look of a rather conventional skirt. This outfit will ensure that you will get praise throughout the day.
FAQs
What tops look best with skirts?
Every top can look good with skirts if styled well. Blazers and jackets are ideal for pencil skirts whereas chiffon tops can go with formal skirts.
What kind of skirts are in style now?
These days pencil skirts and long pleated skirts are common because they offer so much versatility.
How do you style a skirt in winter?
You can easily style any kind of skirt in winter by layering it up. You can incorporate long coats and furry jackets with skirts to survive winter.
Should I wear a skirt in winter?
Yes, absolutely you can wear a skirt in winter after layering it with winter-friendly pieces.
How do you wear leggings under a skirt?
You can pair black leggings under your skirt, you have to first wear your leggings and put on your skirt over it.
Conclusion
The aforementioned guide of skirts paired with jackets and blazers will keep you sorted for a long time. It includes everything from casual outfits of daytime to night-out formal looks. By following these inspirations, you can easily make a statement and become the most talked-about fashion diva in town.