Fur bomber jackets have a luxurious feel and an unmatched splendor. Who doesn't love the soft, plush feel of fur? Not only are these jackets the most comfortable and cozy, but they are also a stylish staple that is a must-have in every fashionista's winter capsule wardrobe.
A true fashionista knows how a bomber jacket is a smart layering option for a variety of outfits, including dresses, jumpsuits, and even jeans and t-shirts. And if the jacket is made with fur, there is an additional luxurious feel that makes you look like a million bucks.
Read on to know some contemporary outfit suggestions for a fur bomber jacket in our in-depth style guide. 
Fur Bomber Jacket: One of the Most Popular Winter Jackets
When it comes to women's outerwear, the options are unlimited. Various styles and materials are there which provide both functionality and fashion-forward looks. When we talk about bomber jackets, those completely made with fur or having elements like a fur collar or fur hood are all the rage. 
There are several types of fur coats that you can choose according to your style needs. Firstly, the fur used in the jackets can be real or faux. As for the styles, a full fur jacket gives an opulent look, while others combining a material like leather, satin, or denim with fur are no less in terms of style. 
Real Fur
Real fur is sourced from various animals like beaver, squirrel, fox, chinchilla, or lamb. Although it is important to note that The Jacket Maker working in line with the food industry is only able to offer Sheep or Lamb as well as Buffalo for fur and wool.
There is a wide variety of real fur, varying in softness and durability. Consequently, the price of a real fur garment also varies depending upon the quality of fur. For instance, mink, beaver, and fox fur are way more expensive than rabbit or nutria fur.
The price of a fur bomber jacket also depends upon the amount of real fur used in it. Moreover, the fabric, lining material, and quality of stitching also impact the cost. For instance, leather and fur are a popular combination, so look for genuineness and quality before buying your first leather jacket with a fur hood or collar.
Faux Fur
Faux fur is artificial fur, mostly made with a blend of acrylic and polyester fibers. Although it isn't the real deal, faux fur provides the same softness, warmth, and a deluxe feel as that real fur. It is cheaper than real fur, but that definitely doesn't mean it is inferior in quality. Over the years, the techniques involved in manufacturing imitation fur have vastly improved, resulting in a durable material that is used to make fur jackets
Who Invented Bomber Jackets with Fur Collars?
Going back in time, we come to know that the first bomber jackets, specifically designed for the US fighter pilots, were made with Horse leather and a fur lining. The credit for this spectacular design and the choice of material goes to the US Army Aviation Clothing Board.
Hence, what started back in the 1920s as a men's bomber jacket with a fur collar has now evolved as a fashion essential for both men and women. The journey of the fur bomber jacket that went on for such a long span of time proves that it was popular back in the day and is still ruling the contemporary fashion scene.
Let's move on to the outfit suggestions to guide the fashion-loving women on how to wear a bomber jacket that is made with fur in various ways.
The Fashion Forward Ways to Style Different Types of Fur Bomber Jackets
You can opt for a fur bomber jacket that suits your needs. For instance, go for a full fur jacket with an insulated jacket lining if you live or plan to visit a cold destination. Or, choose a lightweight fur jacket for fall outfits. You can also choose a suitable color for your complexion and something that will go with a variety of essentials in your fall and winter wardrobe. 
1. Pink Fur Jacket
Nothing portrays absolute feminine style more than a pink fur jacket. There are a variety of clothing staples that can go well with a pink jacket. For example, put on a blue pair of jeans and a warm t-shirt with your jacket. Complete the look by wearing a beanie and a woolen scarf in a contrasting color such as blue or grey.
2. White Bomber Jacket in Fur
A white fur jacket in bomber-style looks ethereal. You can pair this lovely jacket with a dark-colored knitted sweater and dark blue denim. Elevate the look by adding some accessories such as a golden chained belt and brown Chelsea boots.
A white fur jacket in a longer silhouette will be perfect for women with petite frames.
3. Women's Navy Blue Bomber Jacket
A navy blue fur bomber jacket is a valuable staple in a woman's wardrobe. The color blue gives a regal feel to the jacket, which reflects in your outfits quite well. Go with black leather pants and a basic silk top, as the sheen of the leather pants will look amazing along with the calming blue color of the jacket.
4. Women's Yellow Bomber Jacket
Consider getting your hands on a yellow women bomber jacket, as it can pair with a variety of outfits effortlessly. Go for a jacket that has a plush fur collar so that you can flaunt it with your fall outfits like black slim fit jeans and a grey turtleneck. 
The yellow fur bomber jacket also looks good with a black jumpsuit.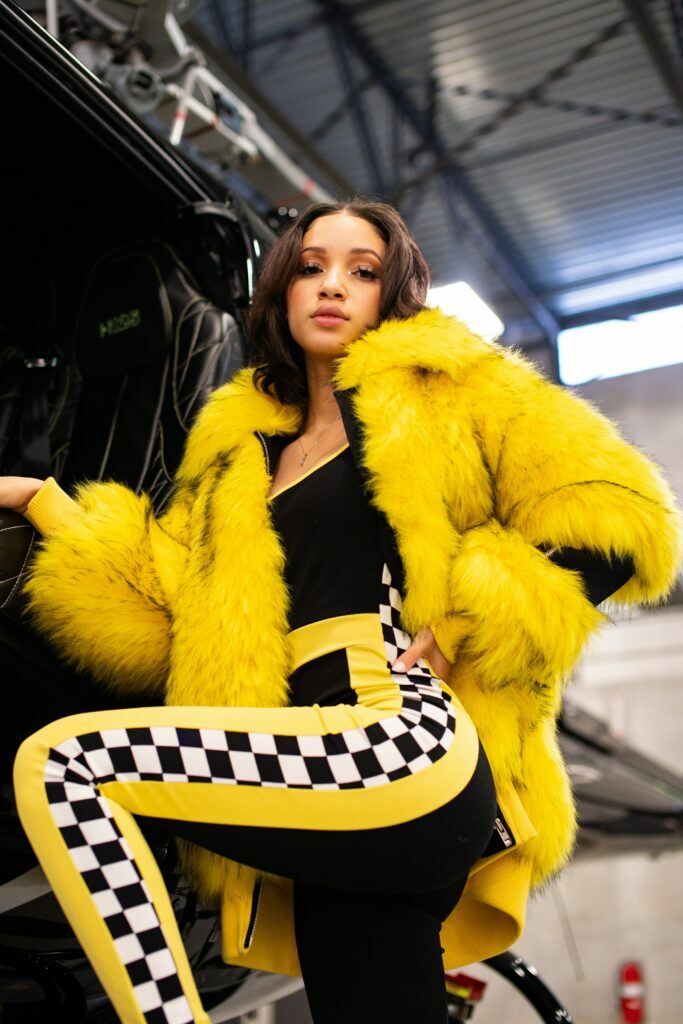 5. Satin Bomber Jacket with Fur Collar
Mostly, jackets with fur detailing come in various materials like leather, polyester, or satin. A satin bomber jacket is highly popular these days due to the soft feel of the satin and the comfortable feel of the fur. It is a highly luxurious staple that you will be proud to wear.
Team up a satin fur bomber jacket with a floral maxi dress. Opt for strappy heels or ankle boots that will look great with this modest look.
6. Fox Fur Bomber Jacket
The fur obtained from foxes is quite valuable. Jackets made with it give a charismatic look to the wearer both due to its smart look and silky soft feel.
Build a stunning outfit with a grey or blue fox fur bomber jacket by pairing it with a leather skirt and grey blouse. Carry a chained shoulder bag with you to accessorize this classy leather skirt outfit.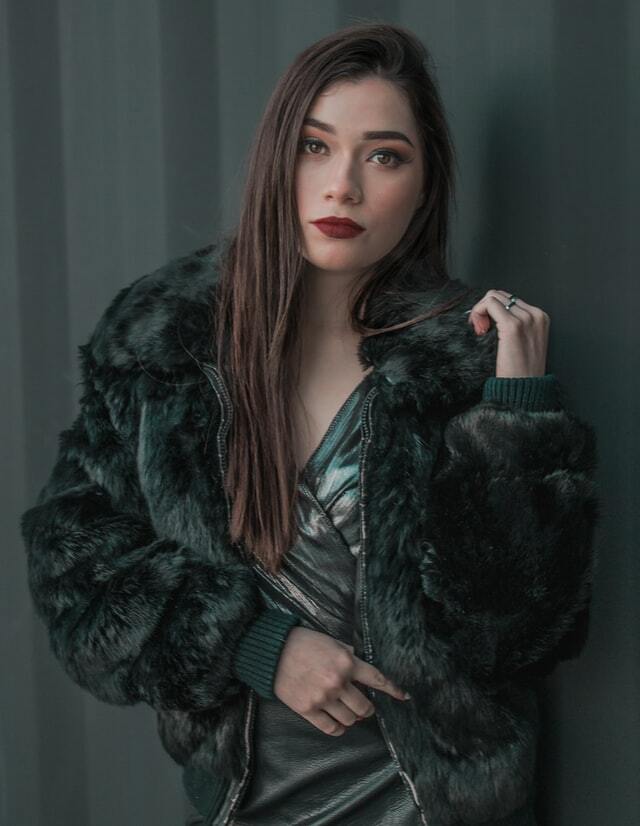 7. Women's Bomber Jacket with Fur Hood
A hooded jacket is all you need to give off a chic style statement. The fur lined hood will add a much sought after charm to your look. Choose the right pants with the fur lined hooded jacket to nail the look. A hooded bomber jacket goes perfectly with jeans and capris. The choice of the top also varies depending upon the weather and occasion. 
Sprinkle some more style to the look by wearing knee high boots in black and carrying a stylish cross-body bag.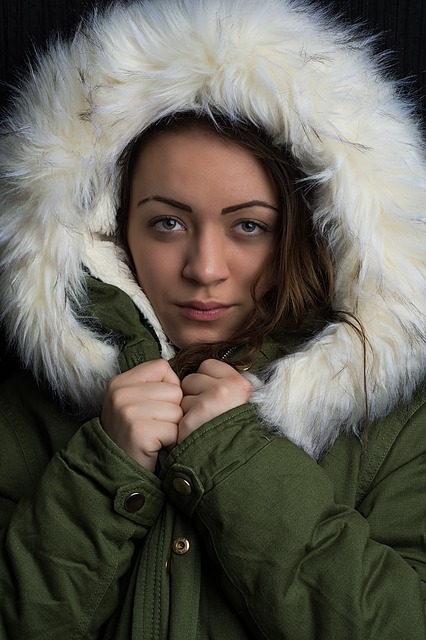 7. Black Fur Bomber Jacket
How to wear a black fur bomber jacket so that you can look ultra stylish on a cold winter day?
Wear a white turtleneck and blue jeans and layer them with a black fur jacket to build a voguish outfit.
You can also wear this fur jacket with a maxi dress in a neutral shade. You can carry a black tote bag and sunglasses to wrap up the street style look.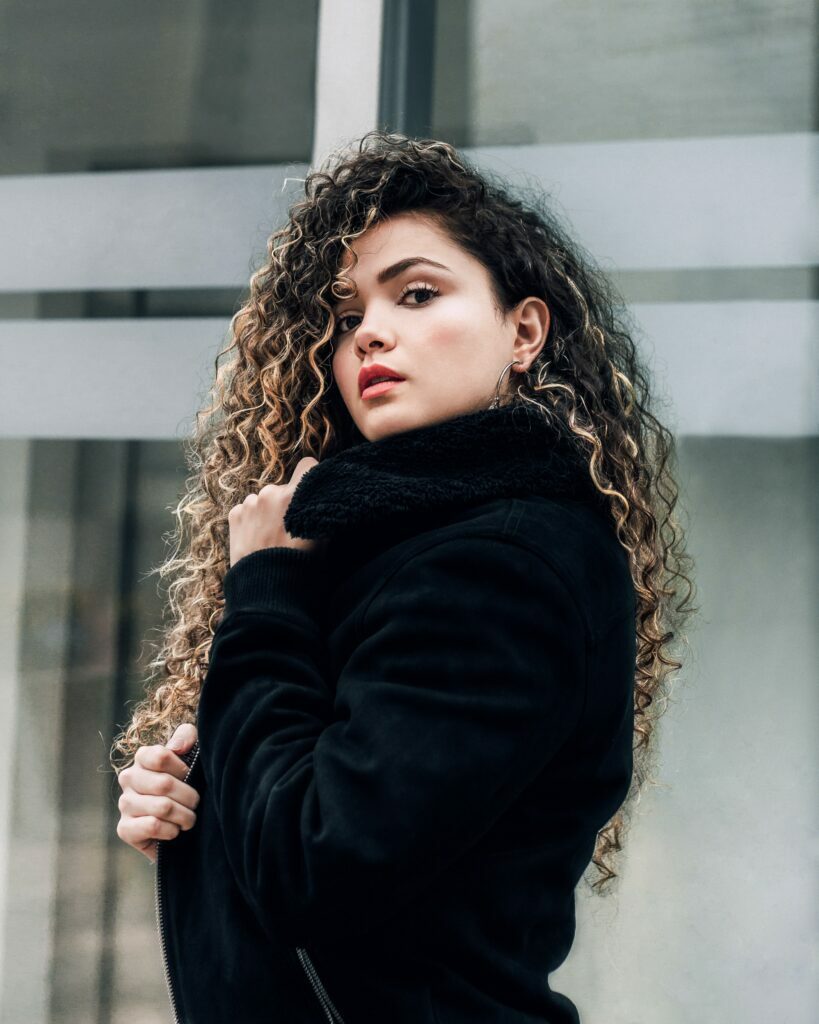 9. Denim Bomber Jacket With Fur Collar
Perfect for creating a baggy look, this jacket is something that can last all the season very easily. It will also provide adequate warmth, especially if the inner lining is insulated. Use this oversized denim jacket to create a fashionable look like a white jeans and t-shirt. 
The choice of accessories with this denim fur jacket is diverse. You can carry a satchel bag with it and put on hooped earrings to add some style.
10. Women's Lightweight Bomber Jacket
Why keep jackets for winter only when there are styles that you can wear in fall and spring. The lightweight fur bomber jacket is made with soft artificial fur. You can wear it over a beige pleated skirt and chiffon top to make a sophisticated outfit. Go for matching pumps and a brown shoulder bag to complete this girl next door look.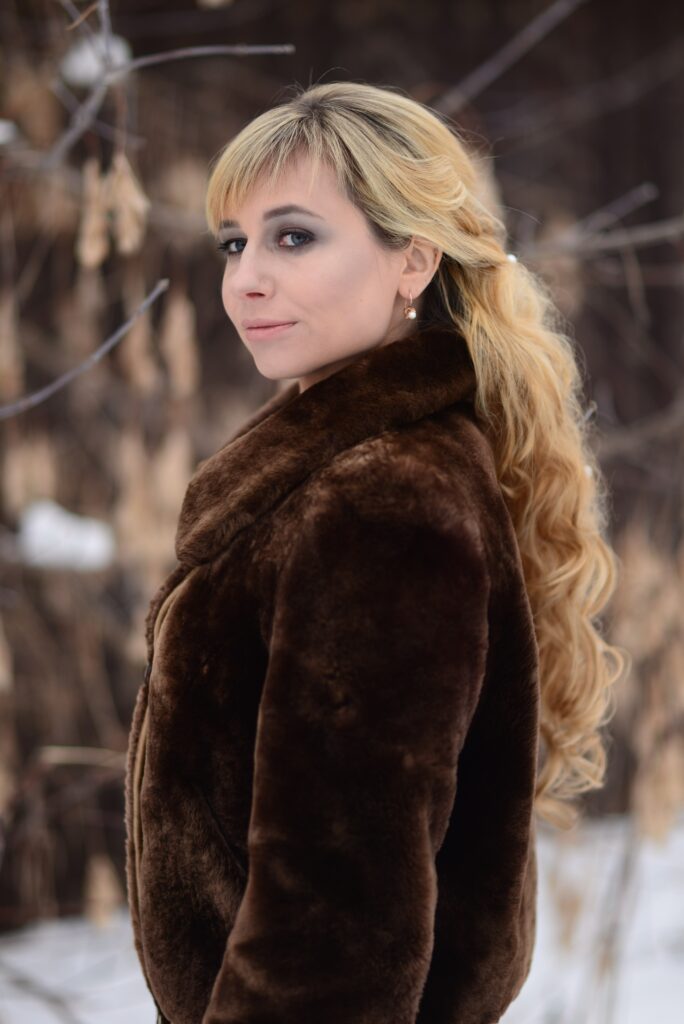 FAQS
What Months Can You Wear Fur?
Fur, be it real or imitation, is known for its warmth and coziness. Pertaining to its thickness and ability to shield the wearer from cold, you can wear fur in the colder months, starting from fall to spring.
When Is It Appropriate to Wear a Fur Coat?
Fur coats are a perfect staple for streetwear and casual outfits in fall and winter. Put it on when you are out with friends for brunch, or you can wear it while traveling as well.
How to Wear a Fur Coat With a Dress?
A dress can be a very simple outfit when you wear it without any other essentials. But once you put on a fur coat over the dress, there is a complete game changer. The dress now looks chic, and you can easily flaunt it at formal events during the daytime.
Is Fur Bomber Jacket With Hood In Fashion These Days?
The fur bomber jacket with a hood is getting very popular these days, and we hope to see it being showcased on runways. This fashion is here to stay as the fur bomber looks uber stylish even with a simple outfit and minimal accessories.
Which Fox Fur Is Most Expensive?
The fox's long haired, opulent fur is one of the most common types of fur used in making garments. But it too has its types that are priced differently. The fur from silver fox is the most expensive, as it is not commonly found.
How To Take Care of Fur Bomber Jackets?
If you own a real fur bomber jacket, keep it in a muslin cover and hang it on a cloth hanger. The muslin cover is breathable, which prevents the real fur from drying out. If you need to clean the jacket, it is better to give it to a dry cleaner.
Maintenance of faux leather and faux fur is also necessary, although they are resistant to insect damage, humidity, and temperature changes. Some people find handwashing the fur jacket with a mild detergent useful, although we would suggest using this tip with discretion. Hang them on a cloth hanger to dry in the shade. 
Another tip found online for maintaining a women's leather jacket lined with fur is to get a good quality leather conditioner and apply it regularly. However, we suggest you to use your better judgement when trying out this tip. Professional care for leather jackets is highly recommended.
Takeaway
Trends come and go, but the fur bomber jacket is here to stay. Unleash the diva in you by styling your spectacular fur jacket in any of the ways mentioned above. The jacket will give you the elegant and chic look that you desire. And if you abide by the tips to maintain the fur, it will last a long time in your closet, giving you multiple options for building classy winter outfits.