Beanie, the brimless, knitted hat, is one of those accessories that allow you to stay fashionable while keeping you warm. Inspired by the contemporary fashionistas who rock the beanie in various styles, we can say that it is definitely not just for concealing your hair on a bad hair day. In this guide, we will lay down some fantastic ideas on how to wear a beanie for women.
The beanie trends are high among the variety of headgear that women use to add style to their looks. One of the best things about it is that you can wear it all year round besides the cold winter days. You can style this headgear differently for different hairstyles, seasons, and the type of beanie that you have chosen.
If you are apprehensive about wearing a beanie, you must swap your usual style and try this distinctive look. If you think you will look weird, here is our comprehensive style guide to help you nail the beanie look.
Wearing Different Types of Beanies for Girls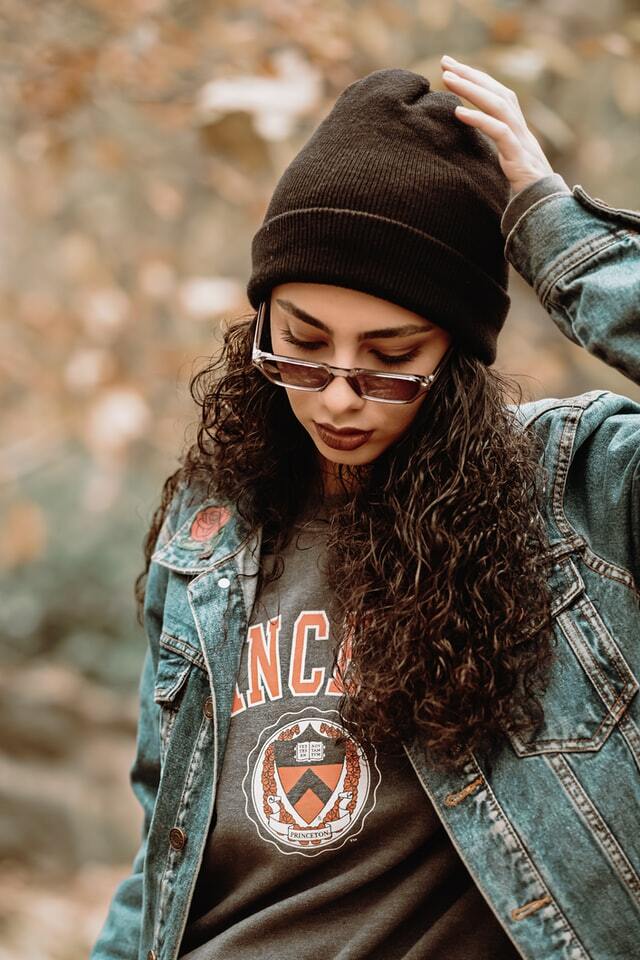 Beanies are the quintessential winter hats. They are available in many materials and designs, giving you abundant options for all of your outfits. The woven ones for winters are available in the cable knit, ribbed knit, and open-knit. You can find lightweight crochet beanies fit for warmer days.
In terms of sizing and style, the beanie is available in long, short, loose, and fitted forms. There are beret style, fisherman style beanies available in a variety of colors and patterns.
How to Wear a Long Beanie?
A long beanie is usually worn away from the back of the head. This creates a slouch on the top backside of the head. You need to wear the long beanie slightly away from the head to create the famous slouch for a trendy look.
How to Wear a Baggy Beanie?
When you don't want to define the shape of your head with the beanie, go for a baggy one. It will give you a hipster-style look. The hem of the beanie should be above your brows.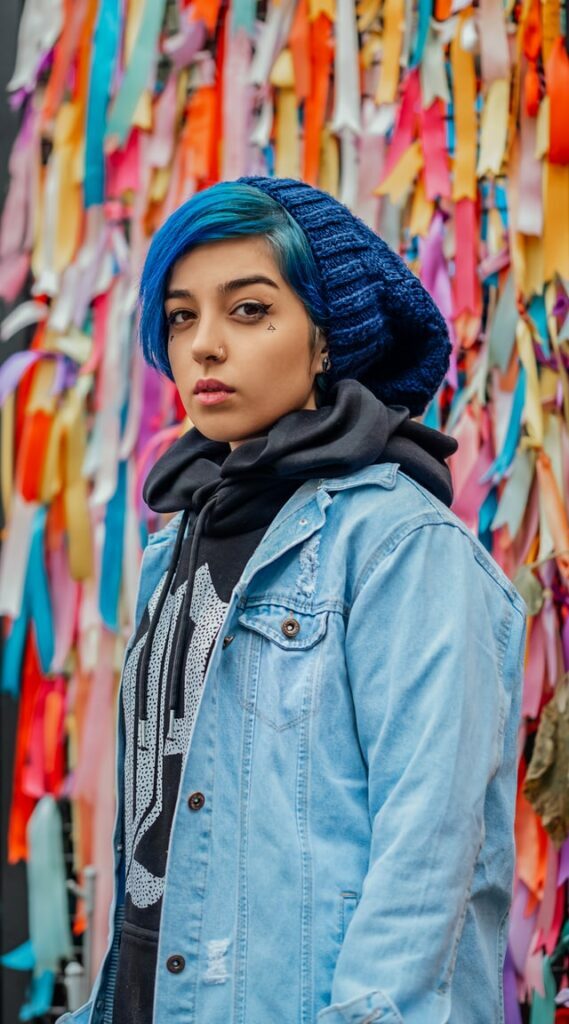 How to Wear a Beanie with Different Outfits and Hair Styles
Elegantly styled hair with appropriate head accessories takes your whole look up a notch, only if you know the proper way to use these accessories. The same is the case with beanies.
There are many ways to wear a beanie, and you must know which way will suit you best.
Different outfits require different hairstyles and specific ways to wear the beanie. You can even go a bit playful and quirky depending on the look you wish to achieve.
Playing around with your beanie is fun. You can dress up or down with it, plus wear it in unique ways to look charming. Here are a few clothing combinations that work with the beanie.
How to Wear a Beanie in Spring?
Enhance your spring season looks with stylish beanies. Here are a few outfit inspirations.
Vintage Print T-shirt and Flared Ripped Jeans with a Classic Black Beanie
Glam up the warmer days of spring with this stylish combination of a white vintage-style t-shirt and flared ripped jeans. If the weather seems chilly, you can use a lightweight fleece jacket to layer this outfit. Wear some chunky metal bangles and a basic black beanie to accessorize the look.
Styling the Beanie:
To match the vintage t-shirt, you can go for grunge-style hair. Simply use a wide curling iron to add some soft waves to your hair. Use a salt spray for a true grunge look. Put on a classic fitted black beanie to finish off the look.
Plaid Skirt and a Black T-shirt with a Yellow Beanie
Another spring-worthy outfit is a black t-shirt, a black and white plaid skirt, layered with a stylish shrug, or a petite leather jacket. Incorporate a yellow chunky knit beanie into this outfit to finish it off in a fabulous style.
Styling the Beanie:
To match the spring-appropriate look, part your hair in the middle and make two fishtails. Let the bangs conceal the sides of your face. Wear the beanie loosely on your head for an interesting casual look.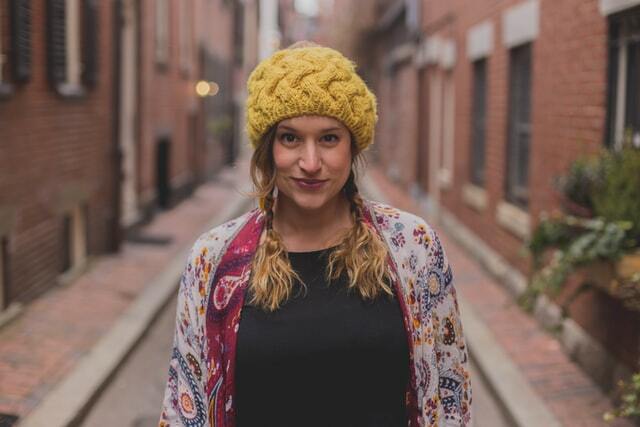 Polka Dot Maxi Dress, Leather Jacket, and a Burgundy Pompom Beanie
Make use of the colors this spring and incorporate a fitted burgundy leather jacket into your outfit. Choose a polka dot maxi dress for a feminine look. Bring up the flair of this outfit with a matching burgundy beanie and black t-strap heels.
Styling the Beanie:
Wearing a beanie with a bun is a good idea with this feminine spring look. The low bun and a beanie are one of the most popular hairstyles.
You simply need to gather your hair and tie them up in a low bun. Secure it with a few bobby pins, and put on your beanie in a way that reveals your messy bun and a few attractive bangs.
How to Wear a Beanie in Summer?
Go for lightweight crochet beanies to add some style to your summer clothing.
VSCO Girl Style with Straight Hair and Grey Beanie
Get a pastel oversized off-shoulder t-shirt and pair it with distressed denim shorts to build a highly trending VSCO girl look for summer. Wear a white open-knit beanie, grab your Kanken backpack and vintage style shades, and you are good to go.
Styling the Beanie:
Style your hair by straightening them for a sleek look. When wearing a beanie with long hair, it is best to wear it close to your head. If needed, pull out a few straightened locks to frame your face.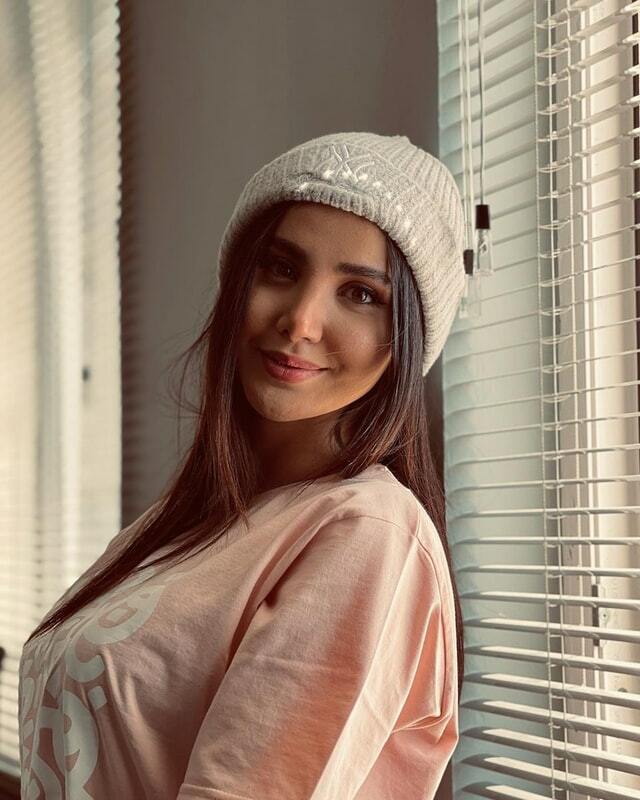 Frilled Dress with Ribbed Beanie and Low Double Buns
Team up a white frilled midi dress with brown knee-high boots and a nice crossbody bag in brown. Wear a beige ribbed knit beanie to complement the light color of this outfit.
Styling the Beanie:
Try the quirky double buns with this look if you have hair longer than your shoulders. Making this hairstyle is very easy as it is just a modification of the pigtails. All you need to do is tie your pigtails in buns and add a cute crochet beanie to complete the look.
The Short Blouson Dress with a White Beanie and Corkscrew Curls
A light summery outfit with a hint of glamor is to wear a sea-green blouson dress along with skinny white jeans. Add a pair of white kitten heels and a long white beanie to the look. A tan belted bag will accessorize this look perfectly.
Styling the Beanie:
Whether you have shoulder-length hair or longer, the corkscrew curls hairstyle looks very attractive. You can make this hairstyle with the help of a thin curling rod. Wear a long beanie and pull it away from your head until your front curls are revealed and a little slouch will be formed at the back.
Lightweight Denim Jacket Outfit with a Side Braid and Red Beanie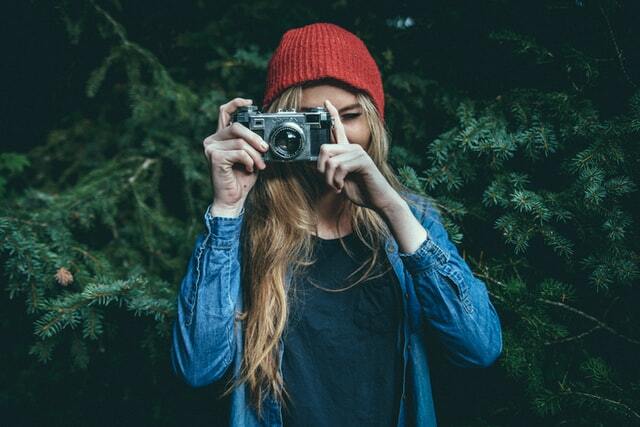 Wear a lightweight denim jacket over a navy blue tank top and grey ankle-length trousers. With this clothing combination, a blue leather tote bag and nude pumps will go well.
Styling the Beanie:
Enhance the look with a side braid. Bring all your hair to the front, and start braiding them from the top till an inch above the ends. Tease the braid to make it appear thicker and pull out a few hair strands for a messy look.
Wear a red fisherman beanie to make sure you put your best foot forward in the warm weather.
How to Wear a Beanie in Fall?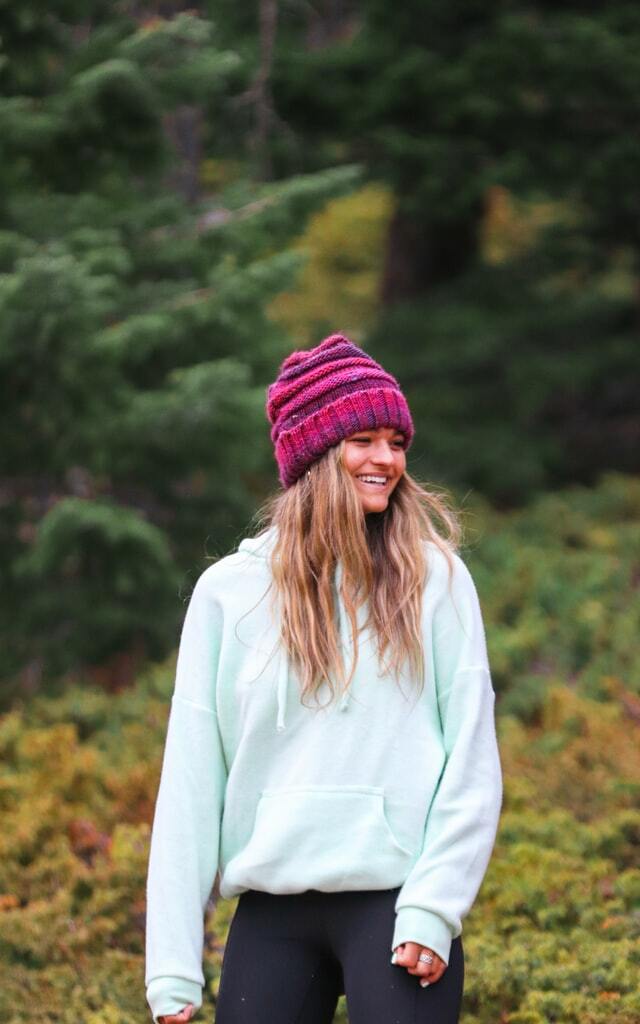 Here are a few outfits to help you decide what to wear in autumn.
The Voguish All Black Outfit with a Red Beanie
Put together a glam all-black look with a black off-shoulder top, a bomber jacket, and a leather skirt in the same color. Enhance the style with a red pompom beanie and black combat boots.
Styling the Beanie:
Bangs are never out of fashion. You can add some dainty vibes to this look by showing your freshly cut bangs. Bangs add a fascinating appeal to your face, and wearing the beanie will further style them.
Pull your big-sized beanie behind the scalp line and let your bangs get revealed towards one side by teasing them slightly. If you side part the hair before putting on your beanie, your front bangs will fall even more attractively towards one side of your face.
Grey Sweatshirt with Pleated Skirt and a Fisherman Style Beanie
Another fall outfit suggestion with a beanie is to throw together a grey sweatshirt and pleated skirt. Wear black thigh-high boots and a grey beanie to rock the contemporary street style. Also, as fall is the perfect time to wear the best leather jackets for women, you can opt for a nice women's bomber jacket or a cafe racer jacket with this look. 
Styling the Beanie:
You can try the fisherman-style beanie look with the rope braid. Rope braid is the easiest and the quickest way to braid your hair. Plus, it looks absolutely chic with the beanie. Simply part your hair in two. Twist both sections in opposite directions and loop over one another until you reach the end. Tie them with a cute grey bow to match the outfit.
Now just put on the beanie over your head. Double fold the beanie's hem to let lose the front bangs.
A T-shirt Dress with Faux leather pants and Beret Beanie
Wear a belted white t-shirt dress and brown faux leather pants. Level up your look with a cropped leather jacket in black. A pair of black ankle boots will add more style to this look, and you can round it off with a black and white beret style beanie.
Styling the Beanie:
Box braid looks absolutely chic and stylish. If you are looking for an out-of-the-box look, you should definitely try this style.
Beanies work very well with the box braids. In fact, it is a great way to keep your braids intact under a cap. Use a beret-style beanie and wear it a little behind the forehead to flaunt your box braids.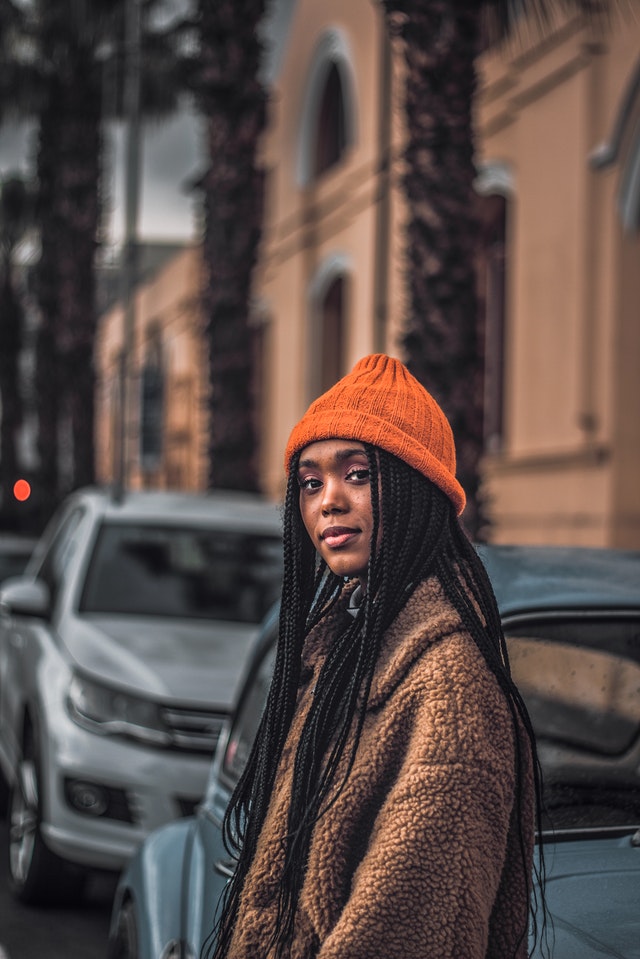 How to Wear a Beanie in Winter?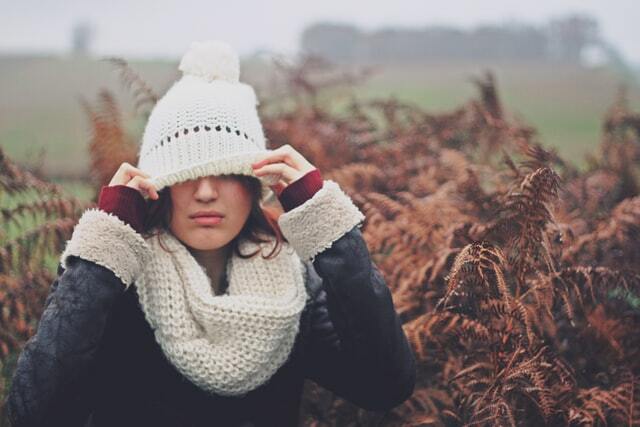 The chilly winter wind gives us the official nod to wear warm beanies. Though it is a very versatile and practical accessory that can be worn with several outfits, here are our favorite picks for an effortless winter style.
Winter Casual Style with the Sweatshirt and Sweatpants Combo
Grey sweatpants and a white sweatshirt are the foundation of a chic casual winter look. Layer it with a charcoal grey oversized wool jacket and a beanie in the same color. It will bring a classy touch and a super warm feel to this baggy style outfit. Choose a classic ribbed white beanie for this look.
Styling the Beanie:
The sweatshirt outfit is laid back, so you can go with a simple low ponytail with the look and wear the white beanie over it. Fold the beanie's hem once and pull it down from the sides to cover your ears properly.
Knit Top with High Waisted Jeans and a Brown Beanie
Grab a stylish brown knitted top and pair it with black high-waisted jeans. Tuck the front part of the top in the jeans and layer the outfit with a brown bomber jacket. Complete this brown outfit look with a matching slouchy beanie.
Styling the Beanie:
Spiral curls (no matter if they are natural or styled) is a hairstyle that makes your hair look voluminous while portraying a distinctive style. Girls with curly hair find it arduous to style their hair with accessories. Thankfully, the beanie is an excellent choice for them when they want to add a style element to their looks.
Choose a beanie with a slouch and wear it a little away from your head. Bring a portion of your hair to the front from one side to divide the volume of your hair and make them manageable if they are long.
If your hair is short and curly, bring out a few curls from the front on your forehead and let the rest of them frame your face for a charming look.
Black Turtleneck and Jeans with a Fur Bomber Jacket and a Yellow Beanie
Here is a luxurious winter look for the contemporary fashionista. Team up a black turtleneck and grey distressed jeans, and a long fur bomber jacket in vivid colors, such as yellow. Style your hair in loose curls and wear a yellow pompom beanie on top of it for an elegant yet ritzy look.
Styling the Beanie:
When you have short hair, you should position a beanie in such a way that it reveals all of your foreheads. You can also push your beanie all the way to the nape of your neck so that it's slouch covers the back of your head.
Bring the hair forward from both sides for a chic look. Make sure you fluff out some of the hair on the front.
Leather Jacket and Scarf Outfit with a Beanie
A very trendy and practical winter look combines a women's leather jacket and scarf look with a beanie. Choose winter-appropriate shades like maroon, dark brown, tan, blue, or purple for this outfit, and wear the beanie in the end for an instantly uplifting style. 
Styling the Beanie:
Part your hair in the middle and braid both sections till a little above the ends. Make sure to leave a few bangs or strands of hair as it is from the front. Tease the braids a bit for a messy, chunky look.
Now wear your crocheted, baggy beanie, and push it a bit back to cover half of your ears. Adjust your front bangs to finish off the look elegantly.
Wrapping Up the Beanie Guide
There is no doubt in the fact that a beanie keeps your hair and ears protected from the harsh winter winds. However, we cannot brush off its importance as a stylish accessory. Choose a few stylish beanies for your wardrobe and use them to style your glamorous outfits, as suggested in this blog.