The word 'sweatshirt' has been ringing in our ears since the last century. The first sweatshirts were practical clothing items designed for athletes to wear during sports training. They provided the athletes with warmth by absorbing body heat during the exercises.
In simple words, it is a collarless oversized pullover shirt with long sleeves made of thick fleecy cotton. Cotton is the rightly chosen fabric for sweatshirts because it is soft, comfortable, and offers a luxurious look. As time passes, it gets softer and is well-suited for all the seasons.
Sweatshirts are a part of loungewear, that is, clothing in which you can relax. The peaks of comfort are achieved because the outer side of the sweatshirt is soft while the inner side has a fluffy nap. The purpose of the inner nap is to trap air and preserve the wearer's body heat, thus keeping you warm.
With a sweatshirt, you can be cozy and fashionable without letting the weather limit your style. You would be amazed to see how lovely a sweatshirt looks with most of your casual to trendy attire. You can even style it with any type of skirt you already have.
Honestly, without much hassle and hauling of your wardrobe, you can create remarkable outfits with a sweatshirt. Here are some of the tried and tested dressing combinations.
The crude combo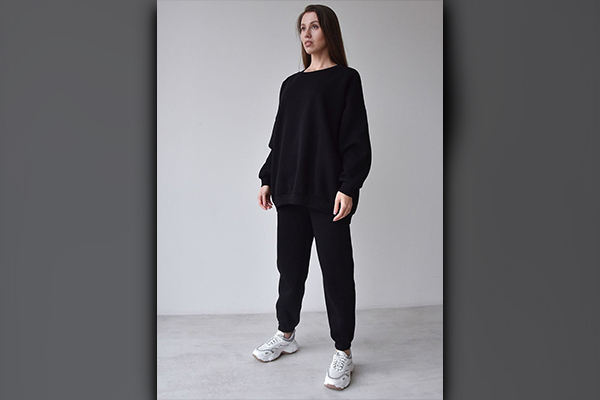 Leggings are undeniably the most comfortable athleisure attire. The crudest way of wearing a sweatshirt is to wear it over leggings. As effortless as it sounds, this combination gives a classic cozy look. You may try variations in this category.
Wear an oversized graphic sweatshirt over plain black leggings for the most casual look. This can be your go-to look for running daily errands.
Try wearing a crewneck sweatshirt over a button-down shirt with your leggings. Drape up a duster coat for the ultimate 'hawt' look.
If you are feeling inventive, then experiment with a combination of a black baggy sweatshirt and black leather leggings. Wear your black and white sneakers and you're all set.
Skirts do matter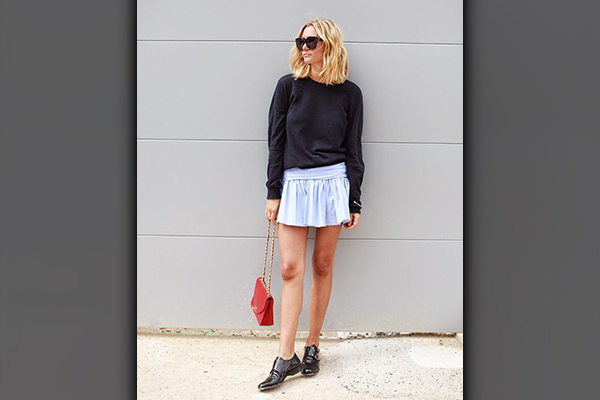 Skirts are the most feminine and elegant apparel. In this modern era, styling skirts is no longer a hectic task. You just have to push yourself a bit out of your comfort zone, and then see the wonders of it.
If you are a comfort lover, then you should go for a sweatshirt and a flowing midi-skirt. Pair it with tennis shoes and you can look chic at the disposal of your comfort.
Out for a friend's gathering? Dress up your sweatshirt with a mini skirt and heels for a stylish take. Try not to overdo it with too many patterns and loud colors. A monochromatic look would be ideal. If you are a trendy dresser, then you may even try a blue denim skirt with an oversized grey sweatshirt. Wear brown shoes keeping your trend alive.
For dressier events, you can tuck your sweatshirt into a pleated skirt. Wear your favorite fancy heels to upgrade the whole look.
Lastly, grab your pencil skirt and wear it with a sweatshirt. You might want to fold the hem of the shirt so that it matches the waistline of the skirt. This gives your outfit an ultra-trendy look. Try a black leather pencil skirt with black embellished sweatshirt and pencil heels. You are a party-ready girl!
A jean in need is a jean indeed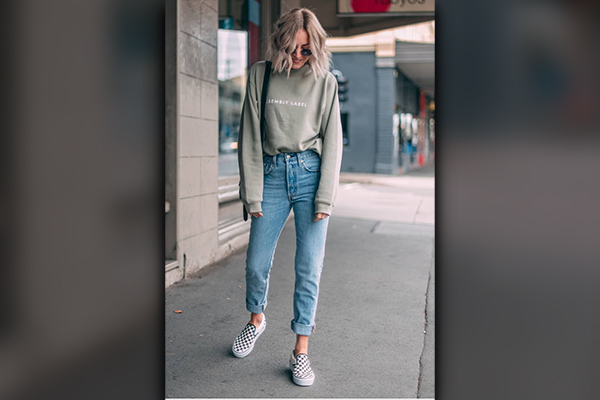 The essentials of any woman's winter wardrobe include sweatshirts and the lifesaver –jeans. With this combination, you can create many stylish outfits without compromising your comfort.
For a sexy start, pair a pastel-hued sweatshirt with blue skinny jeans. Slip in black heeled slingbacks and hearts are already melting.
If you love neutrals, then go for white denim and matte black heels. Top it with a light-colored crew neck sweatshirt to keep it natural and elegant.
For trendy moms, wear your favorite dark denim with a baggy sweatshirt in any color. Slip in your most relaxing loafers.
As a bonus dressing tip, try a sweatshirt in any statement color such as red, pink, green, or mustard with your jeans. Match them with bright heels to up your game.
Layer with style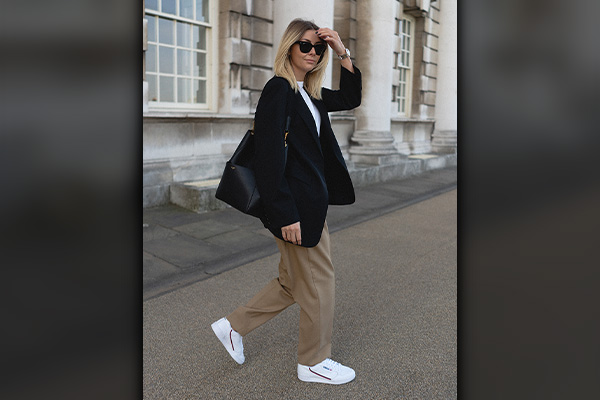 Love to work out? For your casual trips to the gym, only wearing a sweatshirt might not be enough. Try adding a denim jacket, a blazer, or a leather jacket on top. You may even try this idea when traveling or when on vacation.
These jackets bring texture to your outfit without much layering. If you want to show off some sporty vibes, then go for a bomber leather jacket over your sweatshirt.
For a business casual style, you can top your black sweatshirt with a white blazer. Match it with black jeans and black pumps.
Sweat it out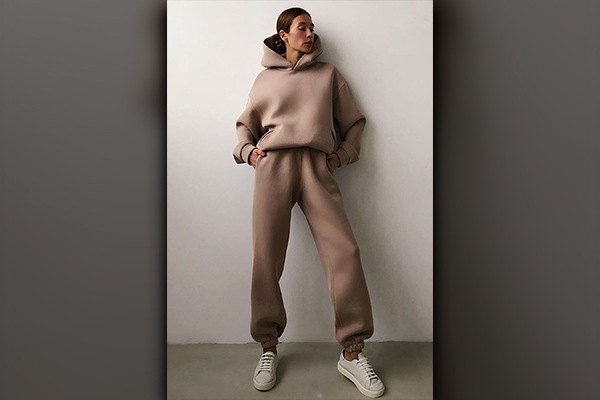 When sweatshirts are worn together with sweatpants, they are called tracksuits or sweatsuits. These sweat suits work best for women who spend their mornings on the jogging track. If both items are in the same hue, you have no fear of the fashion police.
To hood or not to hood?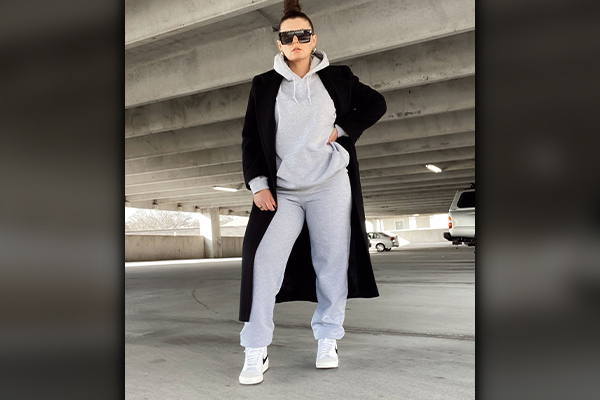 A sweatshirt with a hood is called a hoodie. It is an essential modern-day staple for women's winter capsule wardrobe. The hoodie is versatile and is worn in many smart ways.
Style your black hoodie with a funky skirt and accentuate your waist with a statement belt. Add combat boots to complete the look.
For morning jogs, wear an oversized hoodie with your casual sweatpants. This oversized outfit has an over-the-top look!
For a laid-back combo, wear your hoodie with your daily jeans. Add some sparks by adding heeled boots and a blazer to the whole look.
On those chilly days, when it's all about layering, your hoodie can save you. Start with a turtle neck shirt with a cool graphic hoodie on top. Then layer it with a black leather puffer jacket and matching leather pants. This layered ensemble will keep you stylish and warm.
Fancy a statement color?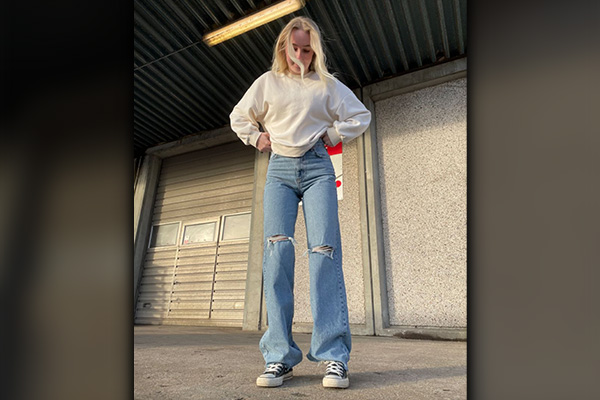 Wearing a sweatshirt in a statement color will surely be the talk of the town! Wear it with ripped jeans or skinny jeans, it doesn't matter. Because the highlight of the outfit is the color you choose for the sweatshirt. If you wish to go loud and bold, red should be your preference. However, you may also choose from bright green, hot pink, or deep mustard. If you like to keep it gentle then go for baby blue, lavender, or any other pastel shades.
FAQs
How to make a sweatshirt look cute?
You can make a sweatshirt look adorable by adding some embellishments around the neck. You may use any pretty beads, pearls, or stones.
How to wear necklaces with hoodies?
If you are wearing a pullover hoodie, you should wear a necklace on top of it. If you are wearing a zippered hoodie and wish to keep it unzipped you should wear a necklace inside, that is, on top of the undershirt. You may wear one long-chained necklace with a pendant or 2 to 3 necklaces of varying lengths –whichever is your style.
How to style an oversized zip-up hoodie?
An oversized hoodie will look most appealing when styled with contrast. Therefore, wear it with something tight and fitted, such as skinny-fit jeans or leggings.
What to wear under a cropped hoodie?
A cropped hoodie gives the ultimate athleisure look. We recommend you wear a fitted top underneath for creating a flattering profile.    
How to wear a hoodie and look cute?
For a cute look, opt for a slim-fit hoodie and pair it with leggings or skinny jeans. Adding cool sneakers to the look raises the cute level.
Conclusion
Sweatshirts are not just sportswear but they have entered the fashion market as trendy attire. It can be worn for date nights, work, and casual occasions. So, take out your favorite sweatshirt and select a style from above that will outshine you!