Trends change on a day-to-day basis, some outerwears are very trendy while others are just kept in your wardrobe, and some like the leather bomber jacket never go out of style. A lot of times vintage clothing makes its way into our fashion-forward industry. However, some trends are born due to the surrounding evolution.
When we talk about the evolution of people, fashion also evolves. With evolution, we have had another trend in view, which is the baddie aesthetic fashion trend. Know that the baddie aesthetic fashion trend is an extremely popular trend amongst everyone these days. Women have been seen wearing aesthetic baddie outfits all around. But, what do you actually mean by baddie aesthetic? 
This fashion trend has skidded in from Instagram. Chunky shoes, oversized fall jackets, and pastel shades are a part of baddie aesthetic fashion. That is not it, sporty addition and strong makeup add a sheen to your overall look. You can dress this way any time you want and might look like the chicest person on Instagram.
On the contrary, most women are not aware of how to dress up in a baddie aesthetic way by using different outerwear. So, in this blog, we are going to talk about how to dress like a baddie by utilizing your jean skirts.
What To Expect In This Article?
Is Jean Skirts Part of The Baddie Aesthetic?
Before we hop on to styling and talking about the baddie aesthetic, let us first tell you if jeans and skirts are a part of the baddie aesthetic or not. What do you think about cute outfits with a jean skirt? Yeap, you can wear an oversized shacket, slide on chunky boots, get your hair in a sleek ponytail and add neon clips to your hair. Feel like a baddie already? You already have your answer, yes, denim skirts are a part of the baddie aesthetic.   
What To Wear With A Jean Skirt?
There is a lot you can do with jeans and skirts, like pairing them with any type of shirt, a simple tee, crop tops, baggy shirts, turtlenecks, or even tank tops; there surely are endless options. With your jean skirt outfits, you can always slide over a long coat or different sorts of leather jackets.
For footwear, chunky jogger shoes, white sneakers, and trainers work very well. However, if you want to make yourself look more girly, kitty heels or stilettos are going to look amazing. It just all depends on how well you know fashion and how you can carry yourself. In short, the diversity of denim skirt fashion is endless. 
Every Day Baddie Outfits with A Jean Skirt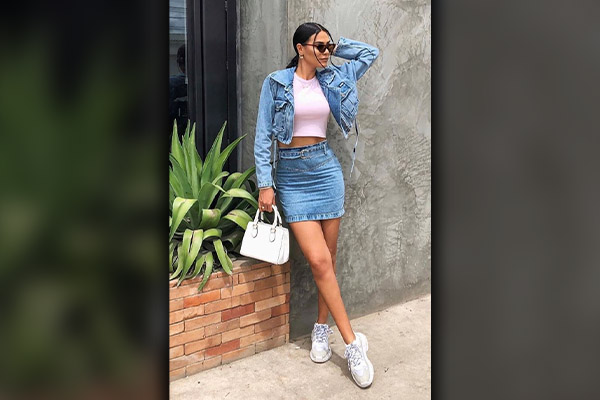 Women love wearing leather skirt outfits, they think that leather skirts are very edgy and not everyone can pull it off. But if you see in today's world, jean skirts have started competing with leather skirts and we think that our fashion industry is broadening. Further, we bring you a style guide that tells you how to style a jean skirt on an everyday basis.
Baddie Flannel Outfits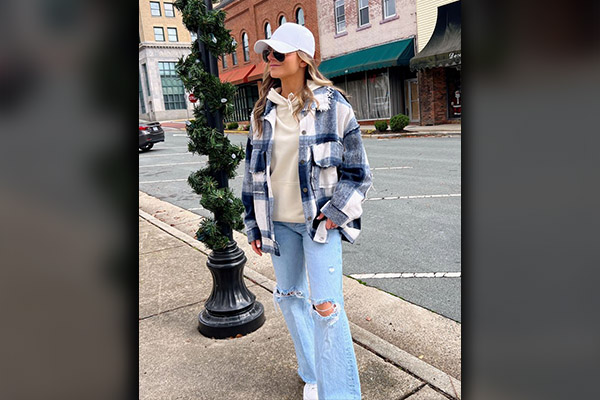 Presenting you with an aesthetic baddie look with a twist from modern fashion just like Los Angeles outfits. Go for a bow tie jeans skirt and wear a knitted slim fit nude colored shirt over it, lastly, slide over an oversized flannel. Let your hair down in beach waves. Put on cat-eyed eyeliner and end your look by wearing trainers. You can wear this outfit out with your friends for everyday events or just get a photoshoot done for the Gram. 
The Usual Baddie Outfit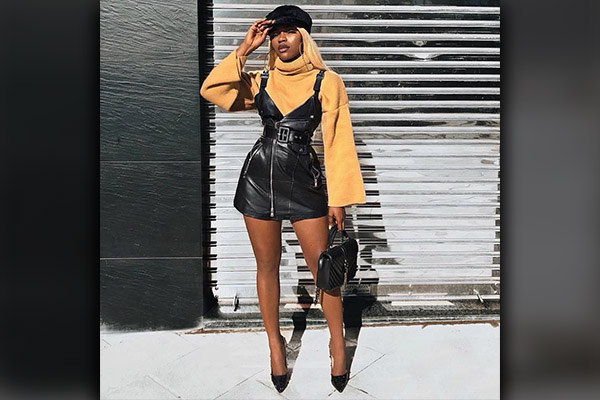 Do you remember baddie girls from early high school movies? Well, they are a perfect portrait of baddie fashion. However, qt times even less is more and you have the instinct that you can slay with minimal effort. Get out a buttoned jeans skirt from your wardrobe, and wear a skin-fit crop top over it. Wear heels with your look. Get your hair in a ponytail, pull out some fringes, and curl them. Lastly, pick up a small cute bag to go with your outfit, plump up your lips, and add metal hoops to your ears.
The Knitted Baddie Aesthetic Outfit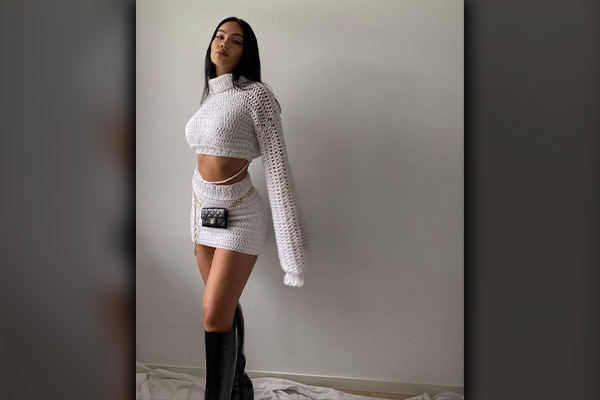 Knitted sweaters also go pretty well with denim skirts. Take out your denim skirts and put on a baggy sweater over them. Let your hair down, but on some clips, winged eyeliner, and nude glossy lip color to enhance your lips. Wear your favorite chunky shoes, put on your bag and you can be your high school diva.
The Denim Pencil Skirt Outfit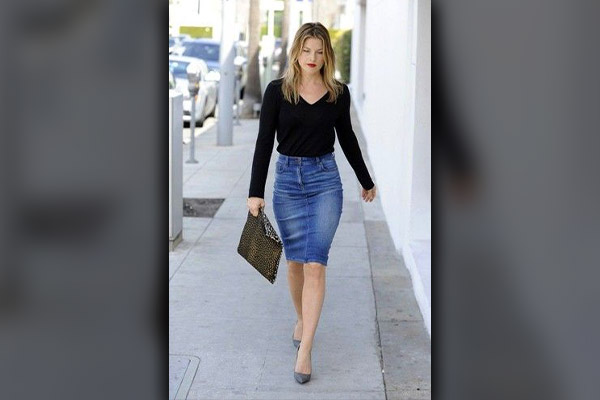 Outfits with jean skirts are a truly bold choice, and so is wearing a denim pencil skirt. You might have seen social media influencers looking stunning in pencil skirts. If you want to look like them, we know how you can dress up. Pull out your denim pencil skirt, wear a tank top, and tie a knot in front of the tank top to give it a crop top look and make it look more intriguing. Opt for a half bun or a half pony, and let your front hair fall in front, if you want you can curl them too. Put on nude lip color and your matrix sunglasses. Slide on your classy heels, and there, you have an edgy aesthetic baddie outfit.
FAQs
What to wear with a jean skirt in the winter?
With winter comes snow and when people ask what to wear in the snow? Well, jeans and skirts are perfect for winter. You can always wear tights underneath them, or if it is not too cold, you can wear long denim skirts in the blissful weather.  
What shoes go with a denim skirt?
Anything that you pick goes with a denim skirt whether it be simple t-shirts, button-down shirts, crop tops, tights, chunky shoes, or trainers. You say it and it matches. 
How do you wear a black denim skirt in the winter?
Pair your black denim skirt with tights. Do not overdo your look, so we suggest you pick a white T-shirt over it and pull on a white blazer. This look is going to be simple yet a standout.  
How to get a layered look with a denim skirt?
You can pick a jeans maxi skirt and tuck in a turtleneck. A turtle neck in monochromatic colors is going to look great. To get that layered look you can always put on a leather jacket. Or if you are not willing to wear a turtleneck, pick a button-down shirt, and wear a hand-knitted sweater over it. In both cases, you are going to look great.   
Can you wear a denim skirt with a denim shirt? 
Yes, you can easily wear a denim skirt with a denim shirt. It looks great and is highly comfy. If you pair both the outerwear together you are going to get that girl next door vibes. All you have to do is add Converse shoes to your feet and you'll have a killer casual look. 
Conclusion
The Baddie aesthetic is going to continue to be a part of our fashion-forward industry as who would not want to look like a queen on their social media platforms. With this fashion, jeans and skirts are going to go on being one of the most liked baddie outfits by women. If you still haven't styled a baddie outfit, this is your sign to do so!