Waking up to snow is an amazing experience for everyone who adores winters. Sipping the morning coffee looking at dazzling white snow covering everything in sight, it's hard not to marvel at the natural beauty.
Nevertheless, the bone-chilling cold accompanying snowfall requires you to rethink your winter-capsule wardrobe. When temperatures plummet and snow blankets the ground, you want clothing and accessories that are going to keep you warm, cozy, and elegant.
In light of the ongoing cold snap, let's discuss what to wear in the snow and some great snow day outfit ideas to help you survive the winter chill with style!
What To Expect In This Article?
Rock A Parka With Fur-Hood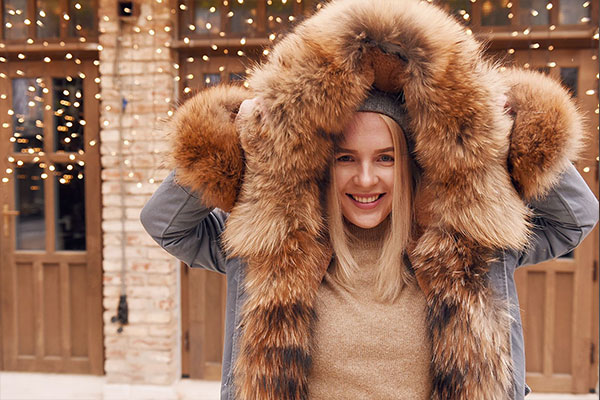 Parkas have advanced beyond their utilitarian design to become a top pick for fashionistas. Originally designed as a man's jacket, this snow warrior has now become a winter wardrobe staple for women too.
The fur-lined hood, length covering the mid-thigh, and unique design of a parka offer a high dose of warmth in snowy weather along with scoring high on the style meter. While you can traverse a variety of styles with a parka, inherently being casual outerwear, pairing them with casual pieces is much effortless.
You can wear a neutral-colored parka with skinny jeans or sweatpants & a perfect fit jumper. Round off this look with boots and a sloppy beanie in the same shade as your parka to create a trendy snow dress channeling a charming vibe.
Layer Like A Pro With Wool Sweaters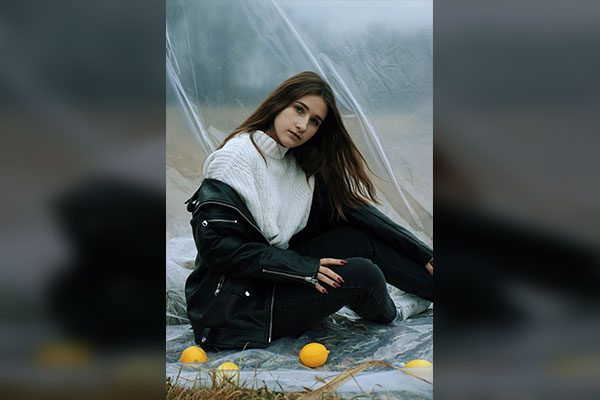 Shopping for snow weather clothes is undoubtedly fun and exciting, but if you are on a budget crunch, layering is the way to go. The right combination of layers of your regular winter clothes like sweaters & leather jackets will keep you cozy and comfortable while out and about in the snow.
Sweaters aren't just for transitioning into fall or spring. They are your best bet for those days when you don't feel like wearing a heavy parka or a trench coat. The key is to pick a sweater made from winter fabrics like wool, cashmere, and not cotton.
Layer your favorite fall jackets over wool sweaters, and you are ready for anything. The two layers will keep the snow chill at bay. You can throw a classic black biker jacket over a ribbed knitted white turtleneck sweater. The combo adds a lot of chic appeal to your outfits for snow weather.
Get Cozy In Trench Coats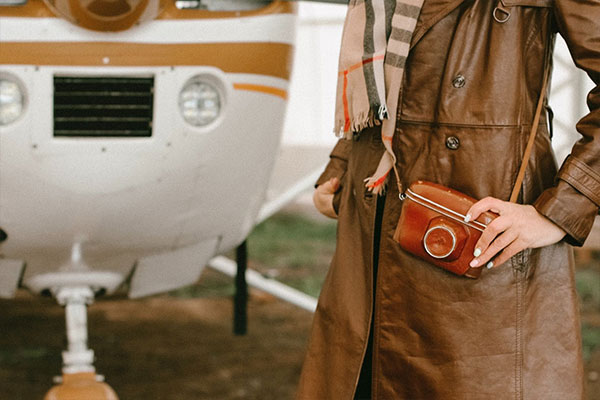 Long before the trench coats were ever worn by royals, celebrities, and women with a keen eye for fashion, soldiers first used them in WWI. It served as a protective layer against the harsh winds of the wintry trenches.
Over time, the style evolved into what we know today — an outerwear favorite with the shape and design to give you the most flattering and striking silhouette. Whether you wear it with a dress, skirt, or pants, this versatile piece will raise your winter snow outfits to new heights.
Plus, the best trench coat will keep you warm when the snow knocks at your door, fulfilling its original intent of creation well.
Experience The Comfort Of Puffer Jackets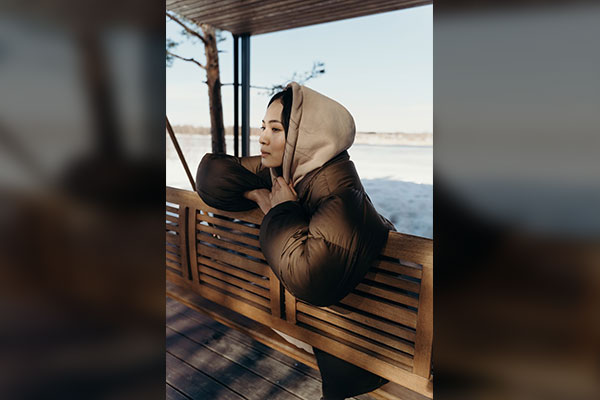 Puffer jackets have an unparalleled combination of lightness and warmth. When you wear one of these incredible outerwear pieces, it feels like your body is encased in clouds.
Deliberately created with a distinctive quilted construction, filled with either down feathers or synthetic fibers, they are a perfect choice for when you're outside on a snowy day. In fact, if you are worried about what to pack for a snow trip, a puffer jacket should always make its way into your suitcase.
When we talk about style, many out there has a perception that the bulky look of a puffer jacket looks unattractive. However, pairing it with items with contrasting silhouettes like leggings, skinny jeans, and slim-fit sweatpants subdue the bulkiness in the outfit.
That being said, puffer jackets come in an assortment of styles, colors, lengths, and patterns— from sleeveless to oversized to unicolor to funky prints, thus giving you maximum room for experiment. They can be dressed up with a crew neck sweater or dressed down with a plain hoodie. Whatever your choice of style, you'll always be staying warm.
Sport A Quilted Windbreaker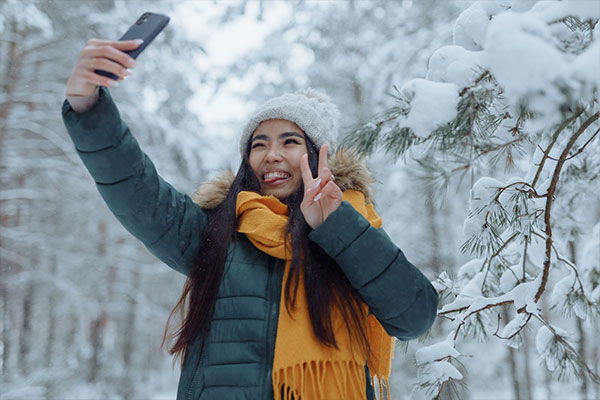 Windbreakers are known for being lightweight, water-resistant, and easy to pack. They are commonly made of nylon or polyester that are way more lightweight than other winter fabrics like leather, corduroy, or wool.
A quilted windbreaker is an enhanced version created for colder months. It has an inner shell with extra padding for added warmth compared to single-layer nylon windbreakers. If you're a lady who loves to hike even when in snow you have no idea what to wear while walking in the snow, a quilted windbreaker keeps you dry and toasty while you explore the wilderness.
To combat the cold and still stay in style, wear a quilted windbreaker jacket with jogger pants and leather boots. We suggest completing this functional look with the latest trend in fashion: a cute pompom beanie and cashmere scarf.
Invest In Snow Boots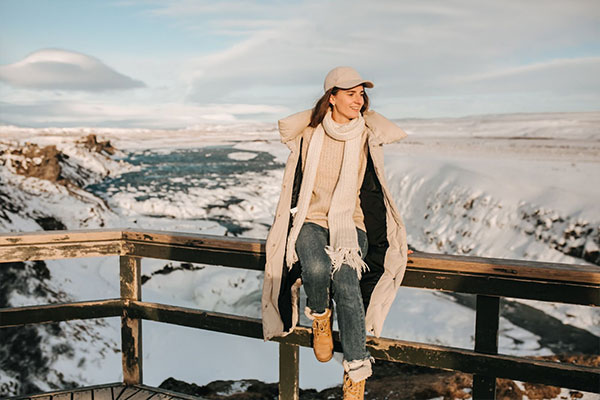 Footwear has a lot of importance to survive walking in the snow. Nobody wants to experience slipping while walking on the snow as it's plain embarrassing. Therefore we see the value of getting a pair of snow boots that keep your feet warm, dry, and luxurious all season long.
Snow boots are designed to provide ample warmth, grip, and support. Also, contrary to popular belief that they are only functional, not fashionable, they come in many different styles and lengths, ranging from high-top duck boots to ankle-length fur-lined boots making their way into endless snow day outfit ideas.
Now you know what shoes to wear in the snow, the best way to wear them is with skinny jeans or leggings. They tone down the chunkiness of the boots and also tuck perfectly into the boots. Bring a cable-knit sweater, a woolen scarf, and a long puffer coat into the equation, and you have a comfortable and fantastic outfit.
Spruce Up The Look With Beanies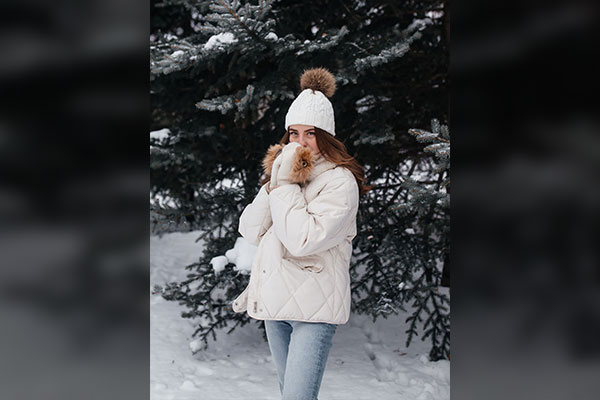 Worried about what to wear in the snow and still look cute? Beanies are the way to go. Perfect for the snow season, beanies are a fashionable way to keep your ears and head feeling happy while you brave the winter elements.
There's a lot more to love about beanies, from their versatility to their easy fit to the fact there's an abundance of fantastic styles and forms to choose from–from beret to knit and playful pom-poms with myriad ways to wear these beanies.
For snowy days, chunky cable-knit wool beanies covering the ears provide optimum warmth. To bring your look to a more feminine and cuter side, pick a beanie with a fur pom-pom. A pair of matching gloves with fur will further warm up your entire look.
FAQ
Is it bad to wear jeans in the snow?
Wearing jeans in the snow is a contentious topic. Yes, jeans are really comfortable and universal—but they may also not be that warm when the weather is cold. Luckily, there are types of jeans like flannel lined jeans or the ones with a fleece or sherpa lining, which will trap heat better than regular jeans.
Are snow pants necessary?
Snow pants can be a great choice to protect your legs, but it is not the end of the world if you don't own one. Short of a pair of snow pants, you can go for some practical alternatives such as fleece pants, wind pants, or fleece-lined sweatpants. However, if you see yourself skiing or snowboarding regularly, buying a decent pair of waterproof snow pants is a wise investment.
Should I wear light blue jeans in winter?
Light blue jeans are a season-less staple that can be worn year-round and meet just about every criteria of fashion at any given time. To make them winter-ready, add a base layer of thermal legging, and you are good to go. 
Can I wear a normal jacket for skiing?
Ski jackets are made to keep you warm, comfortable, and dry while you're out on the mountains.
But a good quality one will definitely not come cheap. Alternatively, you can use a waterproof jacket and wear a turtleneck or light fleece jacket under it combined with waterproof snow pants and winter gloves. However, if you are a regular on the slope, a ski jacket will come in handy every time. 
Can you wear leggings in the snow?
Yes, you can wear leggings in the snow but not your regular spandex pants or breathable ones you love wearing in summer. Get yourself fleece-lined thermal leggings in full length covering your ankles to combat the sub-zero temperature of snow weather.
What shoes to wear in the snow if you don't have boots?
A good-quality pair of boots will help you survive the snow season better, but if you don't like the feel of boots and do not own one, you can trust your well-fitting leather shoes made of cow-hide leather that offers good traction. Don't forget to use a waterproof spray on them to make them ready for the snow.
Bringing It All Together
The best items to wear in snow are the ones that are warm, cozy, and made for the weather. Whether it's a new pair of knee-high boots or a stunning puffer jacket that you're after, the items you choose for snow dressing should help you brave the freezing temperatures. We have listed some of the essentials and outfits to get you through the snowiest months in style. Try them out and let us know about your experience.