There's nothing better than having a well-curated wardrobe, for a man who knows style, function, and most importantly, the importance of quality. Keeping these elements in mind, it is essential to have wardrobe pieces that are meant to serve a specific purpose. This includes windbreaker jackets.
What Are Windbreakers?
Perhaps one of the most popular outerwear pieces for men based more so on functionality than design or style is the windbreaker jacket. If you're wondering what a windbreaker material is called, it is made of thin, lightweight, often synthetic material such as Nylon, Micro-Polyester, Polyester and Tricot. The men's windbreaker jacket is waterproof, breathable and designed to serve as protection from winds, chills, and at times, light rain.
It often comes with an elasticated waistband along with armbands, zipper closure and a removable hood — a common identification of a men's windbreaker jacket. You'd be surprised to find out that bright windbreakers are worn by runners who need protection from the harsh weather and a reflective surface for road safety.
Types of Windbreakers
There are many popular jackets out there. Bomber jackets, biker jackets, denim jackets, fleece jackets and cropped jackets are some of the first names that come to our mind when we think of this outerwear. Not to forget, new designs and styles of jackets are constantly making their way into the fashion industry and trending apparels. So what makes windbreaker jackets so unique and distinct from others?
First of all, they are not only water but also wind-resistant and lightweight with easy wearability. But there's more to that. Did you know that within the windbreaker category, there are subcategories and divisions based on style and design and functional properties? Let's discuss the different types of windbreakers in detail, shall we?
Insulated Windbreaker Jackets
As obvious from the title, they're much more comfortable and warmer than the other types of windbreaker jackets. They are lined with fleece or cotton increasing the resistance to extreme weather. The nylon shields the body from rain water and other moisture. Hence, if you're going out on a chilly winter morning, it's best to grab an insulated windbreaker jacket.
Water Resistant Windbreaker Jackets
This is a specialized jacket on which manufacturers apply a layer of DWR coating which makes it waterproof. What this does is that it makes the rain water glide down instead of getting absorbed by the fabric. These jackets have a shortcoming; the coat of DWR wears off over time. One thing is to be assured, they are some of the best jackets to be worn in the rainy season.
Single Layer Nylon
A more popular type of windbreaker, this one has a single layer of nylon making it appropriate for warmer seasons. If you're ever going out and want to replace your Biker jacket with something else, go for this windbreaker instead.
Outer Shell Jackets
These windbreakers are much lighter in weight compared to other rain jackets. They're also quite roomy leaving space for layers. Despite having the same design and style, these jackets aren't water resistant. The best way to use them is to wear them in layers, especially when its chilly outside.
Polyester Windbreaker Jackets
They're opposite of outer shell jackets; much heavier and bulkier in weight. The good thing about these jackets is that the material is soft in feel and leaves no sound on movements. We're all aware how polyester is a great barrier and apt for all kinds of weather conditions. You can use it to keep yourself warm and protected from moisture.
Tricot Windbreaker Jackets
Out of all, these jackets are the heaviest in weight and equally soft in touch. The only problem that stops them from becoming the best jackets in this category is that they can't withstand water. What makes it completely unique? This one has a natural shine to it.
Difference between Windbreakers and Rain Jackets
Windbreaker and rain jackets have their fair share of similarities. Both are water-resistant and have a similar look and design. They're also available in nylon amongst other fabrics. However, windbreakers have the quality that they are breathable and company with waistbands and elasticized wristbands. They're also cheaper compared to hard shell rain jackets and more appropriate for camping, hunting and biking activities.
Rain jackets, on the other hand, are bulkier and heavier in weight. They also have vinyl and wool and are multi-purpose in terms of construction and durability. You can always wear rain jackets in poor weather conditions.
What Is A Windbreaker Jacket Used For?
With so many similarities, where does a windbreaker play its role? The answer is simple; it is best used when you need a barrier as it keeps you warm with the addition of a protective layer. Hence, wear windbreakers in cold and chilly weather conditions.
Are Windbreaker And Windcheater The Same?
Windbreaker is also known as Windcheater, mostly used in the UK. It is the same outerwear that is lightweight and offers protection against weather. Windbreaker has other names also, like wind attacker and windtrekker.
List of 7 Best Windbreakers
Nyle Quilted Windbreaker Jacket
A Retro-inspired Nylon windbreaker jacket for men that exhibits an architectural element; a wardrobe must-have. It has a lightly padded filling in the inner-shell, snap button and band collar, zipper cuffs and closure, two inner and outer pockets, and a great fit and finish, making this a style essential that will go miles.
This Zack Black Bomber Jacket is a great example of a men's windbreaker jacket; with a simplistic style. Polyester fabric is used to construct this affordable style staple that can easily give you a variety of different looks. A Varsity style collar, knit ribbed cuffs and two inner and outer pockets contribute to making this piece a true classic.
Nashville Quilted Windbreaker Jacket
With a Nylon outer-shell, a Viscose inner lining, a high-neck collar, and ribbed knit cuffs, two inner and outer pockets, Nashville Quilted Windbreaker Jacket becomes a unique style that culminates the classic and contemporary vibes. The glossy front surface hinges subtly on classic style while maintaining a cool contemporary quality that will give your look a fresh take on men's style.
Hanklin Ma-1 Red Hooded Bomber Jacket
Giving you some oomph in men's windbreaker styled outerwear, this awesome; hot Hanklin Ma-1 Red Hooded Bomber Jacket is a 'must-have' to up your style game. The fact that it has a hoodie that is removable lends a contemporary cool factor to this piece. Furthermore, the Nylon fabric from which it is made, the knit ribbed cuffs, two inner and four outer pockets collectively contribute to the uniqueness of this one piece that will give you lots of great looks.
Barry Quilted Windbreaker Jacket
With elements that exhibit a mix of structural design and detail calls to mind special forces on style. This Barry Quilted Windbreaker Jacket is a great investment in quality men's outerwear. Made of Nylon and having a lightly padded filling in the inner lining, the smart-looking belted band collar and snap button cuffs to match the button style closure are just a few qualities that make this wardrobe a truly style-centric piece.
This is a great example to highlight the use of contemporary relevant color with a classic style. Green is trendy and with the culmination of a simplistic style along with a mild dose of color, this windbreaker can be used for different outfits. Made of Nylon, a Varsity style collar, knit ribbed cuffs and a neat zipper closure.
Bo Quilt Windbreaker Jacket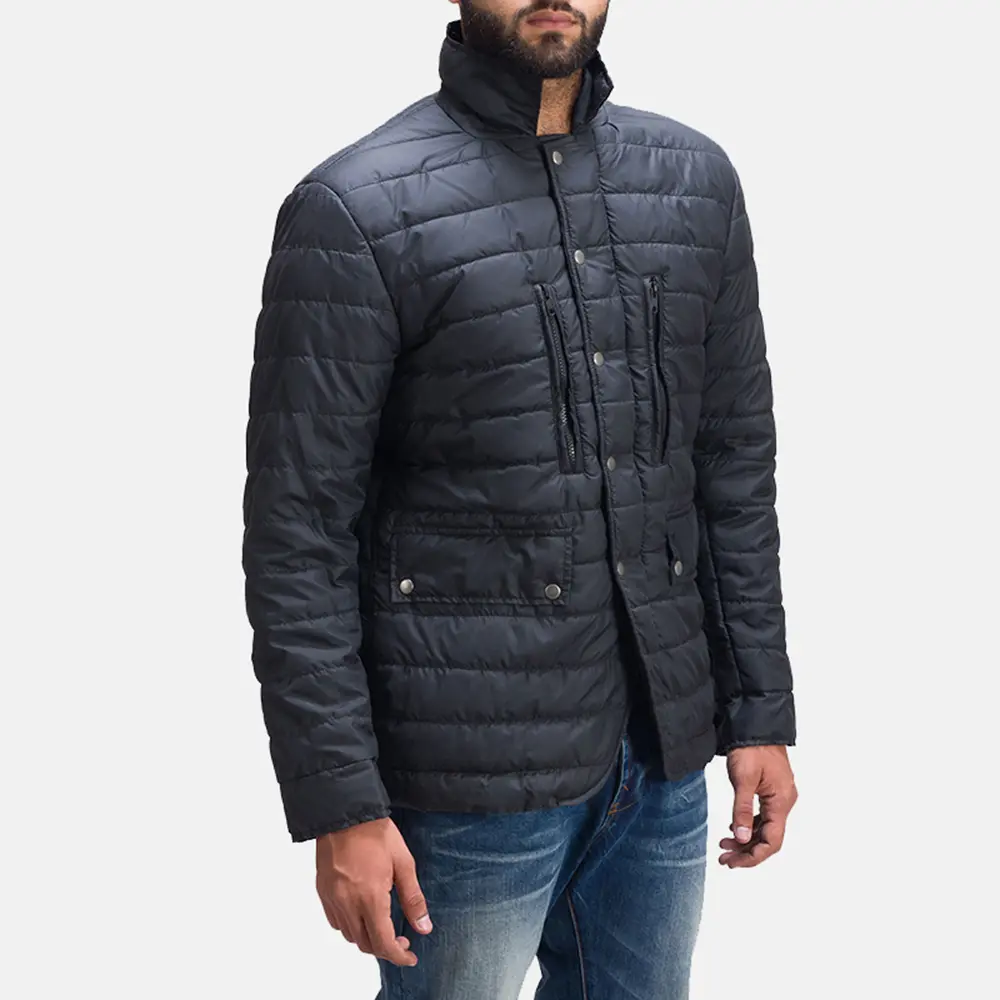 With the balanced design and electric choice of color, this jacket becomes one of the best in this list. Made of Nylon and having a lightly padded filling in the inner shell, this style staple totally transforms your idea of quality men's Windbreaker jacket. Experience a sense of protection against harsh climatic elements as well as a stylish look that does justice to our credo of fashion and function.
Concluding Notes on Men's Windbreaker Jackets
As a final thought on men's Windbreaker Jackets, we've not only covered what Windbreaker jackets are, their physical features and different uses but also seven of the best men's windbreaker jackets for 2021. You can even be looking for classic style or contemporary looks using the best genuine leather at affordable prices. The Jacket Maker is home to all of the above and more. Offering you a wide-range of ready-to-wear, made-to-measure as well as custom windbreaker jackets for men.