A parka jacket is the perfect piece of upper winter-wear, as it provides warmth and protection against the cold, all the while excelling in fashion and style. Created in prehistoric times by the Inuit people, these fur-lined jackets have been protecting humans from the deadly cold for centuries.
Originally the parka jacket, or also referred to as the anorak, was made from sealskin in the Arctic circle and reindeer skin in the northern Russian regions. But everything evolves over time, and so did the parka. Once the modern world started utilizing these cold blocking coats, the outer material got changed to stuff like nylon and polyester for rain and water protection, and wool and fleece for ultimate fashion and style.
What Makes Parka So Good for Cold Climates?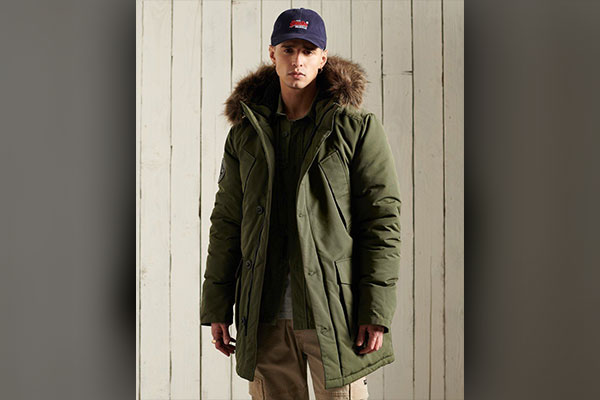 Parka jackets were created for the sole purpose of blocking out the cold wind and keeping the body heat from escaping. The modern parka is as much if not warmer and cozier than the one's from the past, and you can ask anyone who has worn a custom parka at least once, and they will completely agree with this statement.
Nearly all parkas are equipped with a fur-lined hood that wraps around your face like a soft blanket and helps keep the temperature high. Additionally, the lengthy nature of a parka means that it is going to cover more surface area of your body, thus providing better insulation against the frigid cold.
What Is the Difference Between Parka Jackets and Other Jackets?
We will find numerous small changes and differences if we compare any specific parka and jacket. But there is one difference that is almost universal between the two, and that is the height of the upper. Parkas are known for covering more of the body and being mid-thigh high, while almost all jackets are only hip-high.
The other instant differentiator is the presence of a hood. A fur-lined hood is the defining feature of a parka, while almost all jacket designs and variations do not support a hood. There are, however, a handful of exceptions of hooded jackets, but these are exceptionally uncommon.
Another major variance is the number of pockets, as parkas have a lot more than jackets. Simply by virtue of having more space to work with, parka jackets have many pockets, around the hip area, on the chest, and even on the inside of the upper. While leather jackets, on the other hand, are limited to two outside pockets, and that's all.
Which One Is Warmer?
While there are some winter jackets that are designed with cold wind and snow in mind, most are season independent and don't have much protection against the chilly breeze. So, the answer to this question is the clear parka.
What Is the Difference Between Parka and Puffer?
These two appear very similar, but they can't be further apart. The parka is a long coat with a fur-lined hood and is a bit on the heavier side. A puffer, on the other hand, is a hip-long, tightfitting upper. It usually omits the hood and is filled with down or synthetic fabric that makes it puffy and fluffy while keeping it lightweight.
How to Wear a Parka Jacket?
Hooded parka jackets aim to provide both style and function, and we can say with confidence that they succeed at both. Someone who isn't much familiar with these uppers might think that they are restrictive in terms of possible styles, outfits, and fashion. But this can't be further from the truth, as there is a large number of different styles you can pull off and genres of fashion you can touch. Let's look at a few outfits that you can craft and scenarios in which you can rock a parka jacket.
Office Oriented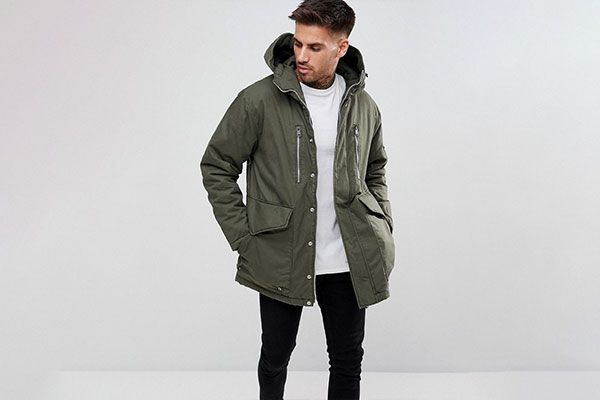 Parka jackets work surprisingly well in an office environment. The key thing to keep in mind when choosing to equip a parka for the office is that the parka goes on top of everything, even your scarf. Other than that, there are two ways of rocking a parka to the office.
You can either just wear whatever you want and throw on a fancy blue parka on top of it. The other method is crafting your dress around your parka jacket. A good example of this in action would be to wear a cream shirt, chocolate brown tie, a gray sweater or blazer, and a matching wool parka to tie the whole outfit together.
Weekend Walk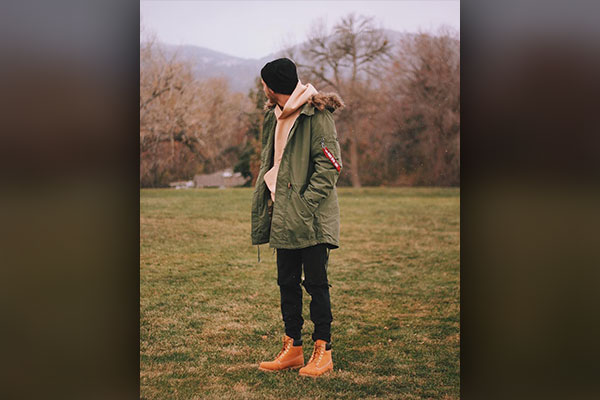 The weekend look is all about maximizing comfort while staying in style. There are several ways to achieve this look. You can approach it with darker colors or lighter colors; the choice is yours.
A good way to decide on an outfit is the weather. If it's snowy/foggy outside, there is already a lot of white and gray in the environment. So, the ideal attire would consist of a lot of darker browns and blacks. But if the weather is clear and even a bit sunny, then going for subtle and soft hues is the perfect option. For example, put on a cream-colored wool shirt with bright blue jeans, a pair of suede boots, and a khaki brown parka jacket for the ultimate weekend look.
Street Stylist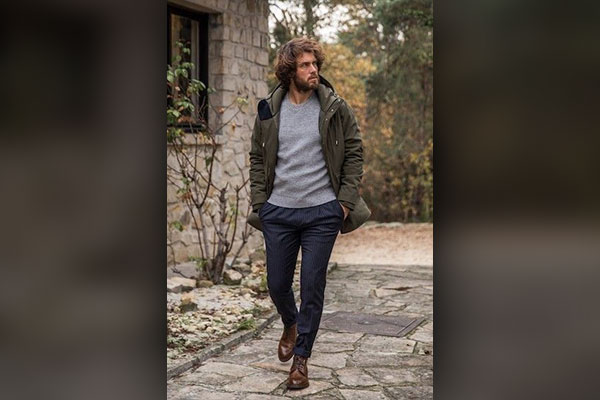 The styles we've talked about so far have been very subtle and calculated. But the streetwear look allows you to pretty much go insane with your outfit choices. To achieve this look is simple. All you have to do is mix and match some patterns and contrast some vibrant colors, and you've got yourself a fashionable attire.
But the hard part is mastering this look and achieving its high points consistently. But no number of blogs or fashion shows can teach you that skill. You have to learn it on your own, by experimenting and trying things you've never worn before.
Evening Ensemble
The purpose of this look is to elevate your attractiveness and make you the focus point of the room you're in. The only way to get to that point is by dressing confidently but staying on the minimal side of things. Don't go overboard with patterns or colors. A tried and tested way of achieving this look is with a V-neck, a pair of ripped jeans (either blue or black), some simple sneakers, and a fluffy and contrasty parka jacket. You can further increase your chic factor by utilizing accessories like watches, scarves, and especially a beanie.
Stylish Spring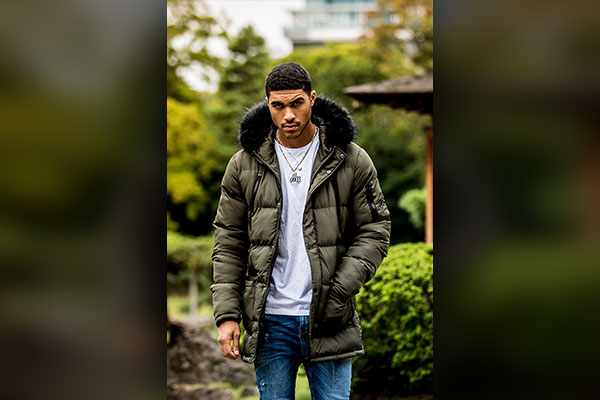 Parka jackets are very much designed to be a part of your winter wardrobe. But there are ways to wear them in seasons like spring and autumn and get the elegance benefits, especially in places where the hot seasons are not really hot. An outfit you can try in this style would include a plain white t-shirt tucked in some gray wool pants, a pair of denim low-top sneakers, and an olive parka jacket with an open front.
How Should a Parka Fit?
Parka jackets have a very atypical and interesting fit. They are not too loose, as that would let cold air in and would ruin the jacket's original purpose. But they can't be too tight as that would restrict movement due to their lengthy design. A proper parka should fit your shoulders completely, without any wiggle room. The waist area should be a snuggly fit like the jacket is softly hugging you, while the bottom of the jacket should be a bit loose, so you can walk around easily.
Of course, these are just the general recommendations for a parka's fit, and not hard and fast rules. You can and should customize the parka to fit your specific body type and shape.
Where to Buy a Parka Jacket?
Parka jackets are undergoing a rise in popularity. This recent surge in popularity has created a market that is filled with parka jackets of all designs, styles, and colors. There are plenty of options available to you, and you can surely find something that fits your taste and needs. But by far, the best method of obtaining a parka jacket is by purchasing a custom parka jacket.
Why Choose the Custom Parka Option?
A parka jacket is meant to be worn for years, so purchasing something that you don't 100% like would just be a waste of money. It might be possible for you to find a parka that is end-to-end exactly to your liking, but this search for the perfect parka is going to take a long time. So, why waste all this time on scouring the market when you can opt for the custom parka jacket option and build your dream parka jacket.
By opting for the custom parka jacket option, you are opening yourself to a whole new world of personalization, modification, and alteration: a world where you can change anything and everything to exactly how you want it to be. You can create an all-black wool parka for maximum style points, or you can go for a classic military design and add a lot of useful pockets. The possibilities available here are truly endless.