While we adore fall for various things, the scale it gives us to explore our fashion scene is definitely higher in the ranks. Since the fall season is not very far in sight, we all are excited about it and noting the essentials we require and the items we can happily part ways with considering the fall fashion trends, especially the most essential item of the season—fall outerwear. After all, who doesn't love layering up an outfit with the best fall jackets for women?
Best Fall Jacket Trends To Wear Into 2023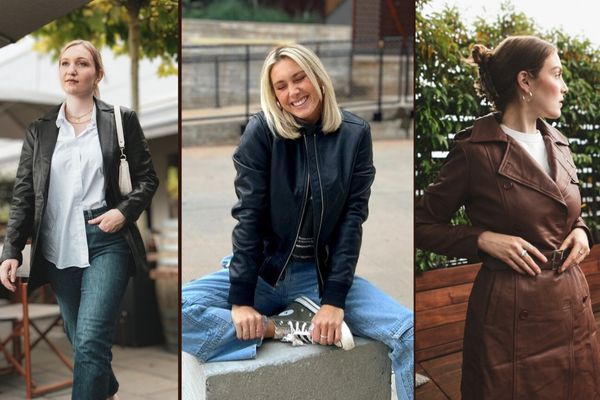 This fall, women's fashion embraces a captivating blend of classic and contemporary styles. Timeless trench coats and modern women's bomber jackets effortlessly bridge the gap between sophistication and edginess, offering versatile outerwear options. Warm, earthy tones dominate the palette, infusing a sense of coziness and elegance into the season's looks.
The continual revival of blazer jackets brings a polished yet relaxed vibe, perfect for both professional settings and casual outings. Adding a burst of vibrancy, colorful leathers take center stage, redefining traditional notions of autumnal hues. For those seeking a rebellious flair, biker chic remains an evergreen trend, while quilted details provide a dramatic and luxurious dimension to various pieces. 
To help you navigate better and make better investment-worthy fall jackets & coat purchases, here's the list of the best 16 fall jackets for women that perfectly align with the fall fashion trends of 2023 and will remain a closet companion for years to come. All you have to do is continue reading our incredible list of the best fall jackets for women.
BEST OVERALL FALL JACKETS
As fall's crisp embrace draws near, it's time to curate your outerwear arsenal with pieces that are classic and versatile enough to be trusted without a thought. Considering this, neutral hues and well-trusted silhouettes are the keystones of the best fall jackets for women. However, this season, you can elevate your style by embracing the chic 'shacket' trend or sticking to the minimalist allure of a clean-lined bomber jacket.
BEST FALL COATS
Leather coats, with their ability to exude elegance and provide warmth, are essential wardrobe pieces for the season. Whether you gravitate towards the timeless trench coat or the dramatic allure of double-breasted quilted designs, these outerwear options will drape you in sartorial splendor and also shield you from the chill.
BEST COLORFUL & CUTE FALL JACKETS
In the realm of fashion, fall ushers in a penchant for exploring bolder choices. This year, the trend leans towards colorful leathers, with pastel shades like soothing beige, sage green, and playful Barbie pink taking center stage. These jackets add a pop of color and playfulness to your fall ensemble, allowing you to express your unique style in ways other than usual.
BEST WARM-HUED FALL JACKETS
When it comes to fall, the warm and earthy tones are a match made in sartorial heaven. Warm tones like brown seriously harmonize with the season's ambiance. So in 2023, rev up your look with classic brown jackets that take on various forms, from boxy leather bombers to timeless trucker jackets. These jackets not only keep you snug but also provide a canvas for expressing your classic fashion sensibilities.
BEST FALL BLAZER JACKETS
The perennially chic leather blazer holds its place as a fashion staple. A well-chosen leather blazer can effortlessly transition from the office to casual outings, making it a versatile addition to any wardrobe. For those who appreciate the power of a polished and sophisticated look, this is an essential fall item. Consider a tailored and sophisticated piece for work and a detailed one for casual outings.
BEST BOMBER JACKETS FOR FALL
Bomber jackets have an evergreen charm that's hard to resist. Continuing their legacy, they are go-to companions and the best fall jackets for women in 2023 for staying warm in style. Whether you're a fan of the timeless black MA-1 bomber jacket or prefer the practicality of a hooded design, these jackets have got your back.
BEST BIKER JACKETS FOR FALL
The allure of biker-chic never wanes, and this fall, classic moto, and cafe-racers steal the spotlight. For those who seek an edgy and rebellious charm in their fall wardrobe, leather biker jackets in black, brown, and maroon remain the ultimate choice. They effortlessly pair with dresses, pants, or skirts, so they are more versatile than one would imagine. 
BEST SUEDE JACKETS FOR FALL
Suede jackets are like a warm hug on a chilly autumn day. The softness and comfort they offer are akin to wrapping yourself in a cozy blanket. But they do it with a dash of style that'll make you the envy of every fashion-forward friend. Embrace the soft, supple, and warm joy of women's suede jackets and sail through fall in comfort and flair.
Wrapping Up The Roundup
Fall is the time when your fashion instincts are best applied. Buy any of the fall jackets for women listed above to elevate your style; they're highly affordable and easily wearable. And women who crave more from their outerwear can take a look at our custom leather jackets offering. From customizing our existing design to creating something from the base, our custom jackets are bespoke in their true essence. Sign up for a free design consultation now!