Winter holds a special place in men's fashion. It gives them a chance to experiment with layers upon layers, crafting the most stylish outfits ever. Unfortunately, unless you live in the Antarctic, winter isn't permanent. You cannot wear the best leather jackets for men or furry winter coats all year round.
Luckily, fashion designers are creative and came up with the shacket, the ultimate solution to men's summer fashion.
What is a Shacket?
The word shacket is a combination of two words, shirt, and jacket. It is exactly what it sounds like, a combination of a shirt and a jacket. You can wear it as a shirt, a jacket, and if you're creative enough, both at the same time.
In essence, the fabric of a shirt-jacket is thicker than a shirt, so it works as outerwear but thinner than an actual jacket, so you can wear it under almost every type of jacket. Its design is also a hybrid, with front pockets and a classic collar taken from a button-up shirt, but with the fit and finish of something meant to be worn on the outer side of a layered outfit.
This versatility is what makes them a must-have for both men and women alike. It can very quickly become the most used item in your closet; all you need is some basic knowledge on how to wear one.
So, how do you wear a shacket?
Before we dive into a discussion about why, where, and how to wear a shacket, we need a complete understanding of the different types of shackets available to you. This will simplify the process of creating unique outfits and understanding the existing trends for you.
Different Types of Shacket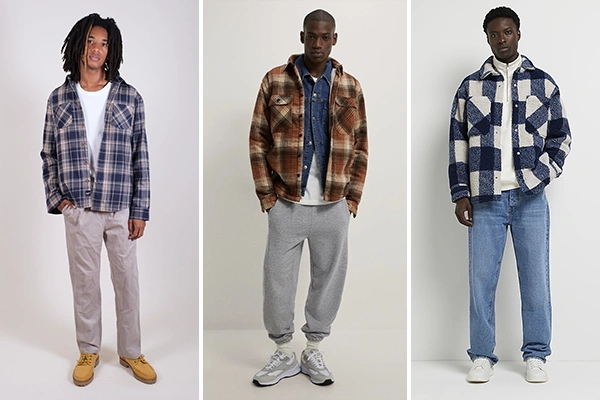 There are many types of shackets out there, with some designs blurring the line between two different types. However, there are three main types that you should definitely know about.
Oversized Shackets
The oversized shacket is often credited as the peak of modern men's fashion, especially by the streetwear community. While its status as the best piece of garment in men's fashion is debatable, what is certain, however, is its outfitting potential.
You can wear an oversized shacket with a pair of skinny jeans, a turtleneck, and your favorite sneakers on a Saturday evening hang out. Or, you can rock your oversized shacket over an all-black t-shirt and jeans combo on your way to class. Accessories like snapbacks and wristwatches are also extremely effective at sprucing up your shacket outfit.
Plaid Shacket
Next up, we have the colorful plaid mixed with the unconventional shirt-jacket, and boy, what a mashup this is.
Plaid and shackets go together as well as peanut butter and jelly or midnight craving and a tub of ice cream. If your first exposure to shackets is with a plaid print, then you will be forgiven to think that plaid is the standard.
Plaid shackets work best as an enhancer. Consider a simple men's casual outfit with a pair of blue jeans, a white t-shirt, and a pair of low-top sneakers. It is certainly good-looking but without anything remarkable or exceptional. Now add a red plaid shacket into the mix, and we've got ourselves an outfit that is ready for a fashion show runway.
Flannel Shacket
Last on our list is a flannel shacket. If you want something foppish without sacrificing comfort, then this is the one for you.
Flannel shackets are mainly meant to be worn at your home. It is the perfect attire for resting, catching up on your favorite TV show, or doing house chores. However, this does not mean that you cannot pull off a flannel shacket outside. Just pair it with a pair of plaid pants, and you've got yourself the perfect comfort outfit for grocery shopping or just chilling out with your friends.
How to wear a Shacket?
A shacket is the practical symbol of comfort and relaxation. The outfits you create with it should also reflect this.
The first thing to understand about rocking a shacket is that it is primarily meant for summer and other warmer months of the year. Keep your outfit simple and low profile.
For example, a light-brown shacket over a pair of blue jeans is all you need. No need to overcomplicate things.
Another thing to keep in mind is that pastel colors are your best friends. Stay as neutral as you possibly can without opting for monochrome outfits. If you do decide to wear something colorful like a red plaid shacket, then make sure that everything around it is either dark grey or black or white.
Why you should wear a Shacket
Shackets are the perfect blend of style and ease. You can craft an outfit in minutes and still look the most stylish at any gathering. That being said, the biggest reason to own a shacket is due to its versatility.
You can champion street style by wearing it over a plain t-shirt, a pair of baggy pants, and your favorite low-top sneakers.
Or, pull off a rugged look by pairing your shirt-jacket with a pair of dark-colored jeans and tactical boots.
You can even spruce up your winter outfit by wearing a pastel shacket under your leather jacket and scarf combo.
The possibilities afforded to you by this one piece of outerwear are truly endless. All you need is a little creativity, and you can craft an outfit for any situation.
Where can you wear a Shacket?
A big part of owning a shacket is knowing when you can and cannot rock it. While you can wear a shacket whenever and wherever you want, it will not fit well in every situation.
For example, anything even closely resembling a formal or professional setting is a no-no. You can wear it to your work only if they allow things like denim jackets. Otherwise, this is not a replacement for a traditional men's leather jacket in black.
On the other hand, shackets are the perfect clothing for anything casual or relaxed. We've mentioned this before, but scenarios like grocery shopping, visiting a coffee shop, reading your favorite book at the local library, or just hanging out with your friends are where the shirt-jacket shines the brightest.
Styling a Shacket
So far, we've looked at what shacket is, how, why, and when to wear it. Let's take things a step further.
Here are a handful of shacket outfits that you should know about.
Chinos and Check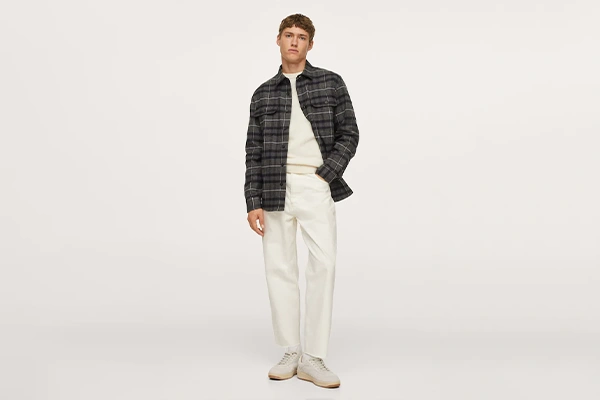 First on our list is an absolute classic of shacket fashion. As the name suggests, you pair your shacket with a pair of dark-colored chinos and a checkered button-up shirt.
This outfit might seem simple, but the devil is in the details. For starters, the shirt is not tucked in, and it has to be, more or less, the same length as the shacket. Secondly, the buttons on the shirt are closed all the way up the collar. Finally, the color of the sneakers is usually matched with the checkered shirt.
Of course, you do not have to put so much effort into it. But if you do, you'd have an outfit that demands respect and draws attention.
Shacket First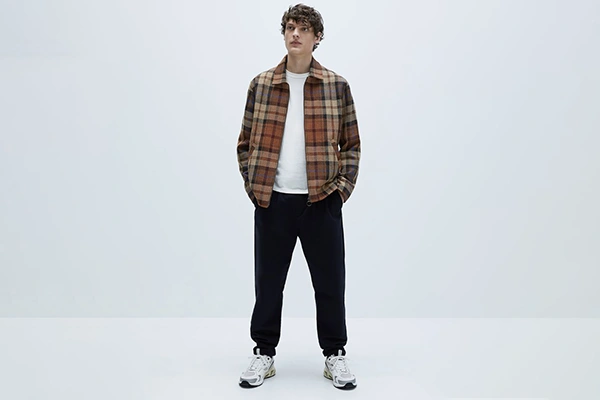 Shackets are a unique piece of clothing, and there is nothing else like them. So why not show this uniqueness by making it the center of the outfit.
All you need is a black sweater and a pair of plain black jeans. Wear a light-colored or plaid shacket over it, and you're dressed to impress.
If you want more style points, then wear a pair of shiny black oxfords underneath. The monochrome clothing will bring all of the attention towards your shacket, making you stand out from the crowd as well.
Autumn Layers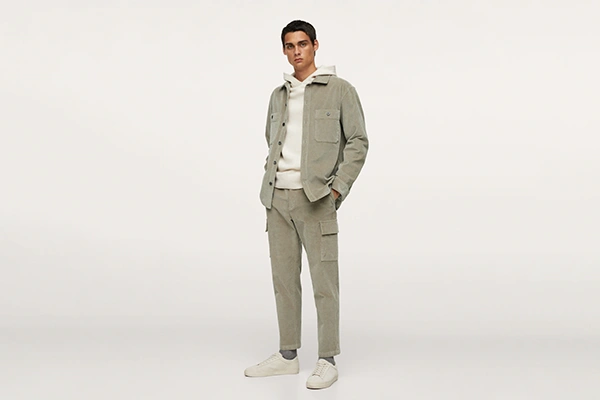 Dressing for autumn can be difficult. It starts getting cold, but there is still enough heat to make regular jackets uncomfortable. This is where the shacket comes to your rescue.
Start your outfit with a pair of navy blue or dark grey jeans. Top them off with a checkered shirt and layer that up with a dark green or grey sweater. Wear a pair of high-top shoes with the jeans tucked in.
This on its own is a fairly decent outfit, ideal for many scenarios. But the thing that elevates it a step further is, of course, the khaki shacket on top of it. Roll up the sleeves of your shirt-jacket for extra panache.
Only Shacket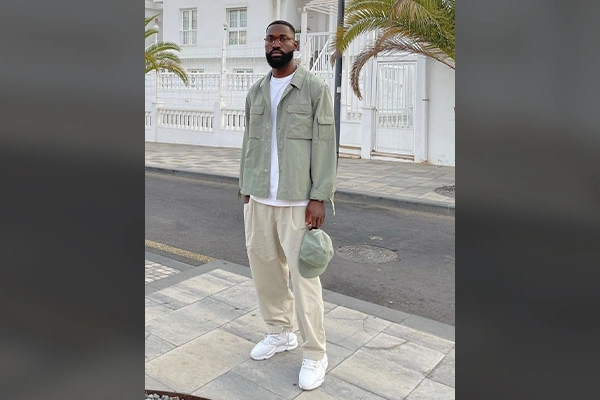 All of the outfits we've looked at so far have used the shacket as a jacket. Let's change that and use its other identity of a shirt.
A simple and easy to craft outfit would be a combination of blue jeans, white sneakers, and a light crown shacket with its buttons closed. That is literally it.
Plaid Colors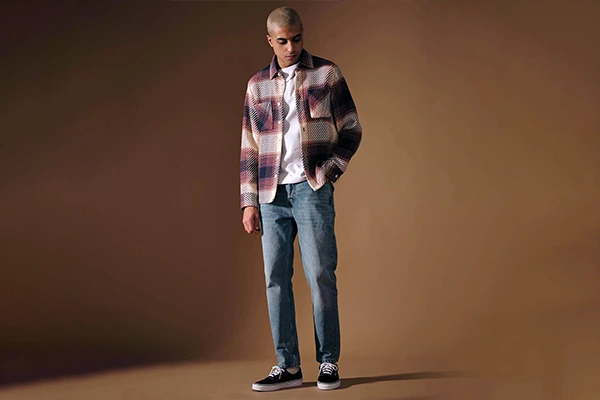 Plaid shackets allow for some of the most fun and lively yet mature-looking outfits. The beauty of wearing plaid is all of the distinct colors and patterns you can choose from. You're not limited to one or two basic colors. Instead, you can really pick the best combination and let your personality shine through your outfit.
As for the things that will go around your plaid shacket, both blue jeans and dark chinos are equally great options. Similarly, turtlenecks, sweatshirts, and especially hooded sweatshirts work flawlessly with a plaid shacket.
Shacket In Winter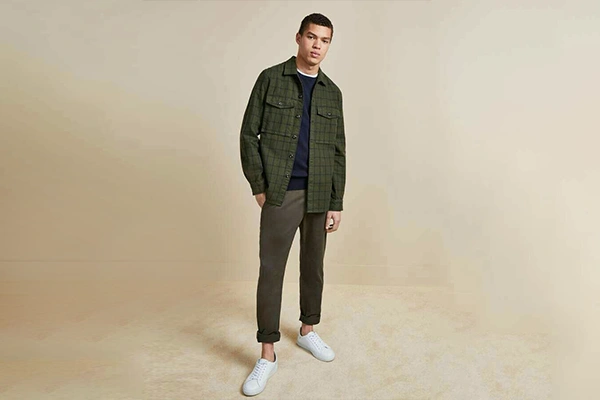 Yes, the intended purpose of a shacket is to provide a layering option in hotter months of the year. But did you know that they work great in winter as well?
The difference between summer and winter is that summer seasons utilize the jacket side of the shacket. Winter, on the other hand, keeps it in between a shirt and a jacket. The easiest way to understand this would be with an example.
Start your outfit with a simple t-shirt and jeans combo. Now layer that up with your shacket and a leather jacket on top of that. Tie the whole thing together with a pair of tactical boots.
Just like that, you have an elegant yet rugged look, and the shacket is between the shirt and the jacket (literally).
Are Shackets Good For Twining?
Yes, they absolutely are.
Shackets are, for the most part, a prime example of unisex clothing. Sure, the fit and finish might differ between men's and women's shackets. But the overall design philosophy, colors, and patterns can remain the same for both sexes. A lady can even wear her boyfriend's shacket without anyone noticing.
These unisex properties make sachets the perfect garment for twining. You can wear the same shacket as your partner, parent, sibling, or friend, with both of you looking snazzy. The unique design of shackets also ensures that you can wear different clothes underneath without losing a similar look.
FAQ
By now, you should have an answer for "what is a shacket?" and "how do you wear a shacket?" However, there is still a lot to learn about them.
Here are a few of the most frequently asked questions about shackets.
What material is a Shacket?
Modern shackets are made from all kinds of natural and synthetic materials. However, the one from Levi's that made shackets mainstream was a wool fabric material.
What is the difference between an Overshirt and a Shacket?
There is no difference. Both overshirt and Shacket are two names for the same shirt plus jacket combo.
Are Shackets in style in 2021?
Yes, they are not only in style, but their popularity has been steadily rising. Pandemic and staying at home made us accustomed to comfort clothing and sweatpants. Now people need something that looks good out in public and is comfortable as well, and shackets are exactly that.
Final Words
Shackets are one of those fashion combos that should not work, but they do. Shackets, in particular, not only work but excel at what they do. Their versatility and style points combined with their exceptional comfort and summer layering capabilities make them a must-have item for every man's closet.