There is no shortage of options when it comes to men's pants. If you want something hassle-free that works with almost everything, then go for a pair of jeans. If you're looking for something a bit dressy and sophisticated, then some tailored pants are the intended answer. But, if you want some color, texture, and pattern in your outfit without much effort, then men's plaid pants are the right choice by a mile.
What To Expect In This Article?
Whatever is Plaid?
Plaid is a type of cloth used in making pants that are worn by both men and women. It originated as a part of Scottish kilts somewhere along the lines of the 1700s. These men's plaid pants are traditionally made out of wool or flannel. Their defining characteristic is their unique crisscross pattern that comes in all sorts of fun colors and sizes. There is no default type pattern as even back in the 1700s; every weave had its own district pattern. They are also called plaid pajama pants by some men.
Outfits you can Craft with Plaid Pants:
Now, looking at the colors and patterns of these, you might assume that they are not that popular. After all, who wants to wear a pair of multi-colored blazer pants combination. Well, it turns out, a lot of people, and not just one subgroup either. The diversity in the admirers of men's plaid pants is as much if not more than the number of pattern and color combos in existence.
You can wear them to college, or hang out with friends, and even on a date. You just need to pair them with the right pieces. Here are a few amazing outfits that you can craft with the help of men's plaid pants without much effort.
Plaid and Blazer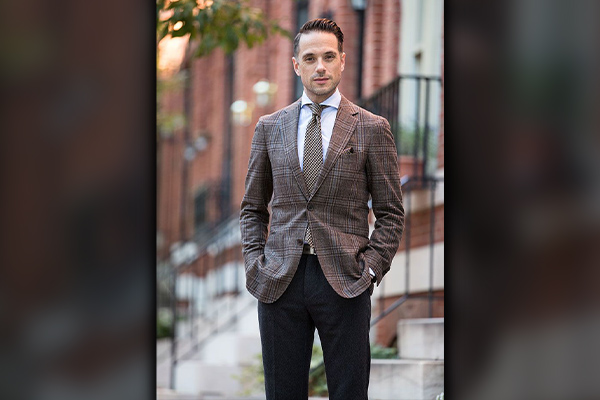 If everyone had to choose just one outfit with plaid pants the majority will choose this one. Any blazer works shockingly well with a pair of plaid pants, no matter the color or the pattern. The best part about the plaid and blazer combo is that you can go super casual and chill, or you can crank up the dressy side of this combo just by swapping out the shirt underneath.
A pair of navy blue and red plaid pants with a grey blazer will look classy with a white button-down shirt and a fancy tie. On the other hand, you can wear a grey t-shirt under the same pairing of blazer and plaid for a more casual style. You can even utilize accessories like chains and leather belts to further increase the panache of your outfit.
The Punk Rock Look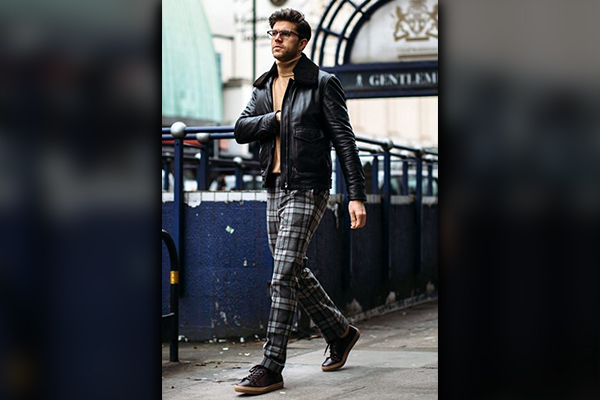 Believe it or not, plaid pants were inseparable from punk rock for the better part of the 1970s and 80s. A pair of red and black plaid pants were the staple symbol of the rebellious punk-inspired youth of that era. But their fashion wasn't limited to this specific color; this was just the most popular one. Their outfits were composed of flashy and bold colored plaids with anything from printed t-shirts to red leather jackets.
While you can certainly recreate this look one to one, the vibrancy needs to be toned down a bit for it to not look obnoxious. There are also many subcultures within this men's fashion subculture. So, just have a look around, and you will surely find something that seamlessly fits your personality.
If you want to start your punk plaid journey from the very beginning, then a pair of maroon and black plaid, paired with a white t-shirt and grey safari jacket, would be a great option. You can swap out the safari jacket for something with a little more flair, like a shiny black leather jacket.
Plaid with Denim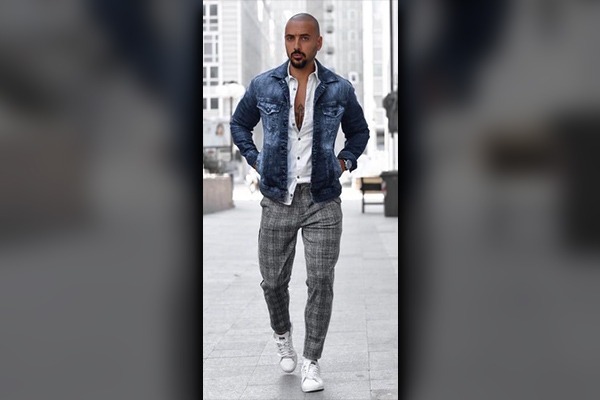 Yes, you read that correctly. The roles have switched from denim pants and a plaid shirt to plaid pants and denim jackets, and it looks just as spectacular. A pair of grey plaid pants with a white t-shirt and a dark grey denim jacket is an outfit for partygoers. It looks sleek and stylish while also being comfy.
The best part about this outfit is the seemingly endless variations that you can try. For example, you can put on a blue denim jacket on a pair of maroon plaid pants, and a black t-shirt, and you're a hip-hop enthusiast. Switch the plaid pants for a grey one, and rock it with a white button-down for a preppy style business casual look. It's that simple.
Plaid Streetwear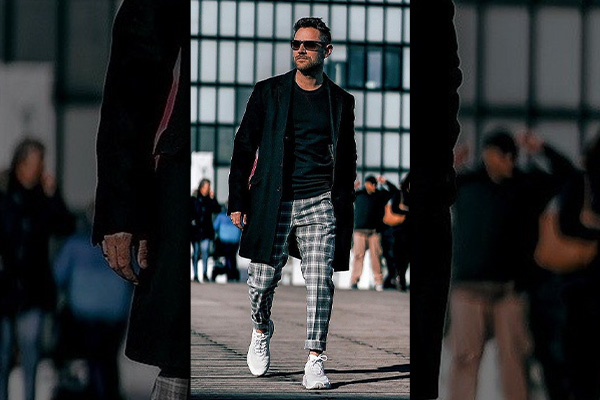 Plaid and streetwear go together like peanut butter and jelly or mac and cheese. Setting this look-up is deceptively simple. Here's a step-by-step guide. Wear your favorite pair of plaid ankle pants. Top them off with your favorite sweatshirt; it doesn't matter if it's printed or plain. Equip a pair of low-top sneakers, and add a little bit of flair with a wristwatch of your choosing. That's it, that's the whole outfit.
Sure, you can wear something like a peacoat over it for added style points, but that honestly is up to you, to stay true to the core of streetwear. Your best bet is to stick to the basics and experiment within this realm. Try out different types of sweatshirts, different plaid colors, or even different accessories. You will eventually stumble upon combinations that speak directly to you, and voilà; you've just found the perfect casual outfit for yourself.
Comfort-first Approach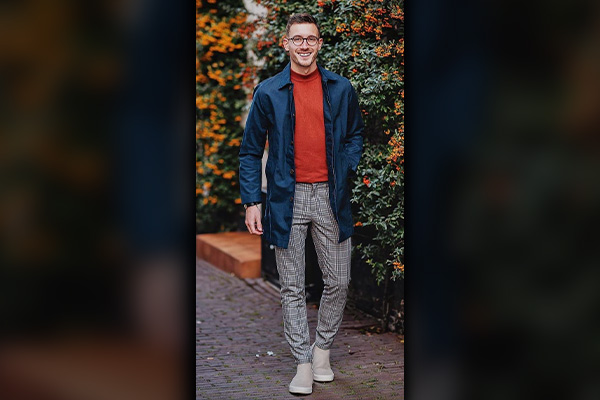 As cool as jeans look, they can feel uncomfortable when worn for extended periods of time. Plaid, on the other hand, is noticeably softer and comfier. So, it makes sense to make your whole outfit comfort-oriented. This does not mean that it won't look good, though. It will look incredible while also being cozy as hell.
Starting off with the most basic tier of comfort clothing is just wearing a hooded sweatshirt over a pair of plaid pants. It gets the job done and looks mighty fine in the meantime. A tier above that is layering a regular t-shirt underneath your hooded t-shirt—a little more comfort and a bit more warmth. The last tier of plaid comfort clothing includes a t-shirt and sweatshirt combo and the plaid pants of your choosing, alongside one of the many types of leather jackets. This will keep you warm in the winter, and the leather jacket will more than double your style points.
Choose the Right Pair of Plaid Pants
The above-mentioned outfits and styles assume that you already have a pair of plaid pants and are ready to rock them. But, what if you don't. How do you find the one that's right for you? Here's what you have to do.
Research:
Finding the right pair of plaid pants will require some time investment. Sure, you can just go to a store and buy the one that looks the best to you. There is nothing wrong with that. But, if you want to bring your fashion game to the s-tier, you need to pay attention to the details.
The first step of finding the right pair is to understand them better. Learn about the different types, patterns, and cuts of plaid pants and how they interact with popular outerwear like men's bomber jackets. Once you've done your homework, making choices will become a whole lot easier.
FAQ
These are the most frequently asked questions about men's plaid pants and the fashion associated with them. Let's try to answer them together.
What do men wear with checkered pants?
There are a lot of things that can be worn with a pair of checkered pants. But, if we were to classify them in a group, most of these outfits would fall into the smart-casual category. You can pair them with as little as a polo shirt and go up from there. Keep in mind, though, that, unlike men's plaid pants, checkered pants don't work well with things like a biker jacket.
Do plaid pants make you look bigger?
They can, but it is massively dependent on the specific pattern and color. Plaids with larger, more pronounced squares can have a widening effect on your looks and can make you look larger. You can try pants with smaller squares, or a better solution is plaid with diagonal patterns. They guide the gaze elegantly across the outfit, avoiding the puffed look.
What looks good with men's plaid shorts?
Plaid pants can be used in business casual or smart casual, but plaid shorts are squarely for a complete casual look. You can pair them with polos and sweatshirts for a quick and easy practical outfit. If you want to dress a little fancy, then a jacket like the Harrington jacket will look dapper till the end.
What color goes with men's plaid pants?
Plaid pants are fairly forgiving when it comes to color coordination. You can try almost any combo; almost none of them will look particularly horrendous. But there are a few colors that work with any shade of plaid. Chief among them is white. No matter if your plaid pants are red, maroon, or brown, a white shirt will always work. Black in a similar vein. If you are not sure about vibrant colors, then muted grey tones are a tried and tested classic.
What is the difference between a tartan and a plaid?
If you've ever tried searching for information about plaid pants, then you've most likely come across the word tartan. What is it? Is it something similar to plaid with slight differences? Plaid is the American equivalent to Tartan. Interestingly all Tartans are plaid but not all plaids are Tartans.
Final words:
Without plaid, the world of men's fashion would get really stale between the jeans and the tailored pants. Men's plaid pants provide some much-needed variety in color and a slew of experimental looks. With their low barrier to entry and endless possibilities, a couple of plaid pants are a must-have for any fashion-conscious man's closet.