You'd see incredible diversity and unique variety if we made a list of men's fashion from around the world. Almost every culture and every geographic region have something distinctive to show. Unfortunately, the whole story changes as soon as you categorize these exceptional outfits with respect to their popularity.
What To Expect In This Article?
The State of Modern Men's Fashion
A significant majority of modern men's fashion is controlled by a few items of clothing like the different types of leather jackets, t-shirts, and dress suits. It's to a point where men's day-to-day attire looks the same, no matter where you go in the world. The biggest culprit of this staleness, however, is classic jeans.
Sure, they are an amazing pair of pants with unlimited versatility and unmatched durability. They are so easy to style that you don't even have to try them. Just wear them under almost anything, and they'll work just fine. But, too much of anything is bad, and jeans are hovering really close to that limit.
Origins of a New Trend
Luckily, things are changing for the better, and competition is starting to emerge. That competition is from skirts. Yes, you read that correctly, skirts for men. They're steadily becoming the biggest and possibly one of the most influential fashion trends in modern men's style.
This push for skirts in men's daily driver attire is backed by two factors. First is the stylistic variety. Men need something new and fresh to populate their closets with, and skirts are a fantastic choice. The second factor is the contemporary deconstruction of what gender means. More and more folks are warming up to the idea that everyone can wear everything; no clothing is reserved for only one gender or sex.
Are they Really Skirts?
A lot of people assume that these skirts for men are something that resembles a skirt but isn't really a skirt. However, these really are the skirts that ladies have been wearing for decades. Everything from thigh-high pleated skirts to panel skirts is finding new homes in men's closets.
Evolution of Men's Skirts
Believe it or not, men wearing skirts is not a new concept.
Ancient
In fact, it dates as far back as the Greek era. The great nation of ancient Mesopotamia, which invented the concept of writing as we know it today, had fur skirts as their ritual attire for men. Clothing similar to skirts was also a significant part of ancient Egyptian men's fashion.
The Romans also adopted skirt-like clothes from the Greeks and made them a part of their culture. Their interpretations innovated the classic by wearing a pair of trousers underneath a knee-high skirt. This era also made the skirts a lot more visually interesting with colors, designs, and ornaments.
Skirts stayed a pivotal piece of men's fashion for a long time. Royal Hindu Maharaja and Mughal leaders sported fancy skirts with gold fiber stitching and expensive gems, while the commoners wore plain single-colored skirts. This trend continued as is up until the French and industrial revolutions.
Decline
The industrial revolution brought with it a stark decline in skirts for men. They were deemed unfit for a man working hard in a factory. This led to fewer and fewer men wearing skirts on a daily basis, and they became feminine-only pieces of clothing. Skirts were quickly replaced by modern trousers.
Resurgence
There was a fantastic push for unisex clothing in the late 1960s, and early 1970s. This movement brought skirts back on the radar for men. Some proponents of this movement also wrote articles on the pros of wearing skirts as a man. They claimed that the lack of restrictive fabric prevented abrasions and dryness that would otherwise contribute to some form of discomfort. Combined with improved airflow, skirts were touted as superior to trousers.
The popularity of skirts for men kept rising slowly but steadily over the years; then, the 21st century arrived.
Men in skirts are becoming increasingly more common with every passing day. The concept of all clothing being unisex is garnering fame, and social media platforms are allowing people to express their views and introduce more people to the potential of skirts for men.
What Is the Difference Between Skirts and Kilts?
Skirts and kilts are technically the same things. Skirts are a piece of clothing that is fastened around the waist and draped over the legs. There is no fabric between the legs.
Kilts are a specific type of skirt worn by men in many cultures and regions. They're mostly known as a traditional outfit for Scottish men. Kilts are knee-length and do not have any extra fabric. They are also worn with all kinds of uppers ranging from peacoats to formal button-ups.
Silhouettes and Materials
The best part about the men in skirt trend is that there is no new "men's only" type of skirt that is becoming famous. Any and all skirts that used to be exclusive to ladies are now up for grabs.
So, skirt shapes like A-line, Circle, Tube, Asymmetrical, and Pleated are also available for men to wear. Similarly, the traditional skirt materials such as jersey, denim, poplin, and worsted are all correct options.
Styling Inspiration
So, you now understand the stylistic and practical benefits of getting men in skirts. You want to get started with your first skirt. But, how do you style a skirt? Let's take a close look at a few of the best skirt outfits and ensembles for men.
Skirt and Black Shirt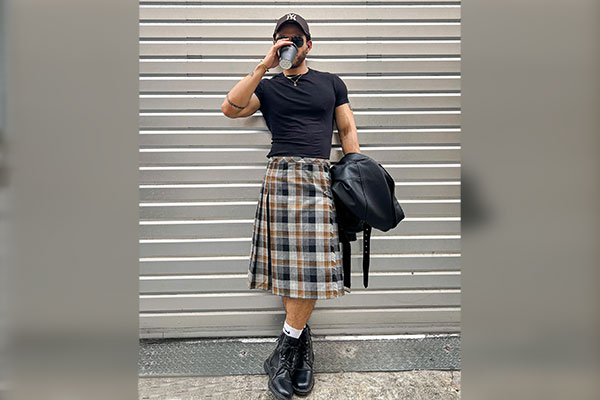 Let's start simple with a plain black shirt. All you need is a checkered knee-high skirt and a plain black button-up. Pair this combo with high-top boots and black socks to complete the outfit.
Skirts with Leather Vests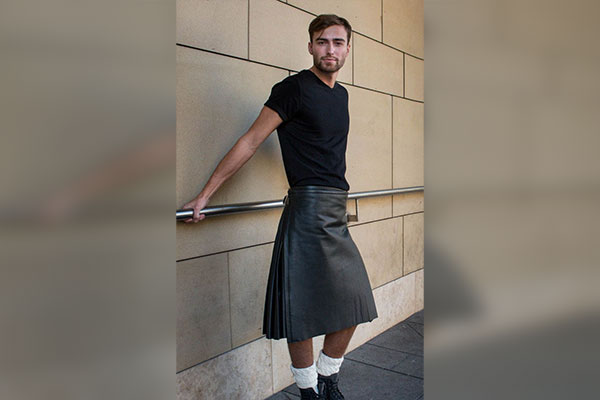 Leather vests make any outfit better, and skirts are no different. Wear a plain button-up over a black skirt, and top it all off with a brown leather vest. The shirt can be any color you want as long as it isn't too vibrant.
Leather Jackets on Skirts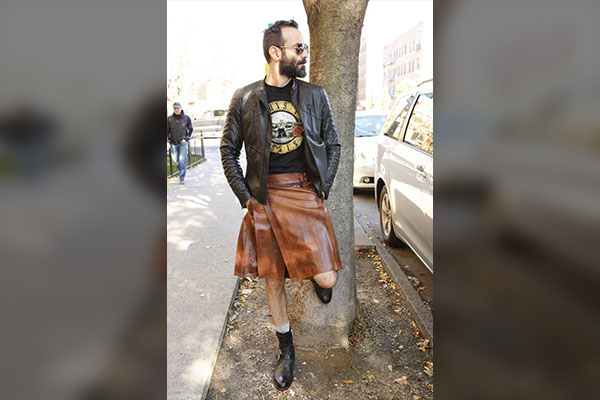 Leather jackets are the king of versatility. So, it is a surprise to no one that they work flawlessly with skirts as well. You can pair dark-colored skirts with something classy like a brown leather bomber jacket.
On the other hand, you can express your personality and add some personal flair to your outfits by wearing unique colors of leather jackets. Maroon, red, blue, and green are all fantastic options.
Skirts paired with Trucker Jackets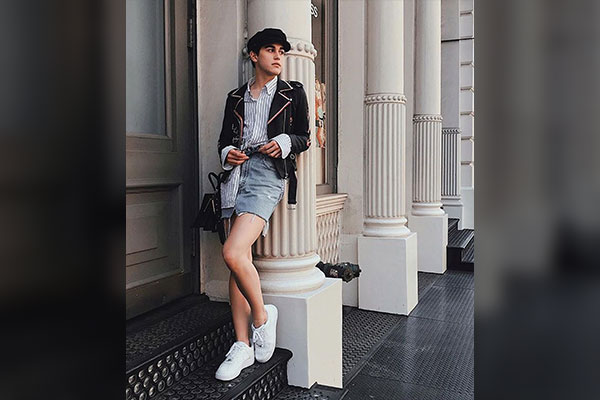 If you're looking for an outfit that is a bit more casual and playful than a leather vest and button-up shirt, then this is the one for you. The star of the show here is a blue trucker jacket. It'll fit perfectly over a colorful printed t-shirt, giving your outfit a complete yet laid-back vibe.
Skirts for Summer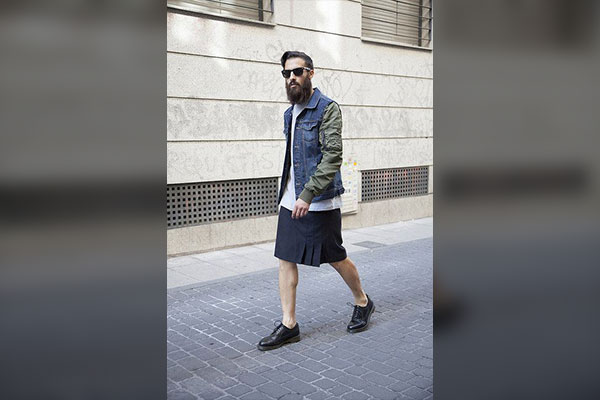 Skirts are the perfect replacement for trousers in summer. They do not cause abrasion and provide excellent airflow for cooling inner thighs. Achieving summer style is as simple as pairing them with a loose colorful tank-top or sleeveless t-shirt.
Skirts for Winter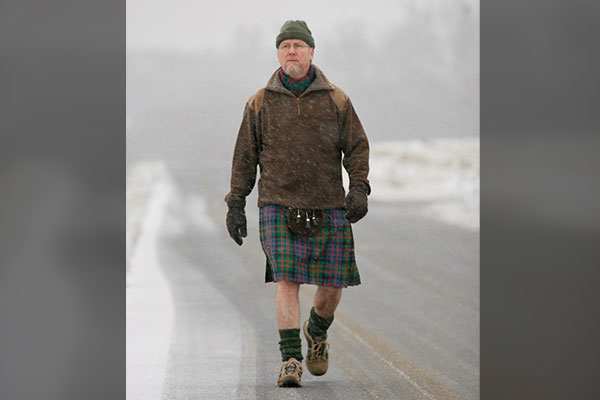 Crafting good-looking winter outfits with skirts takes some time and effort. However, the distinctive look of a skirt with winter clothing is totally worth it.
You can start simply by wearing a fleece jacket on top of a regular skirt outfit and call it a day. This is ideal for early winter when it is cold but not frosty.
Wearing skirts on their own is not possible in sub-zero temps unless you want your legs to stop working. Luckily, tight-fit black jeans are an effective way to cover up your legs without taking attention away from the skirt. A fluffy shearling jacket is another great choice for an upper.
F.A.Qs
Are Skirts Feminine?
No. Skirts are just a piece of clothing that anyone can wear, no matter their gender. Sure, they have been worn primarily by women for a long time now, but skirts also have an extensive history of being worn by men of all social statuses. Suffice to say, there is nothing inherently feminine or masculine about skirts, and everyone can enjoy them.
Is It Ok to Wear Pants Underneath A skirt?
Yes, you can definitely wear pants underneath a skirt. But, baggy pants or pants with extremely vibrant colors do not look good under a skirt. The best choice is tight-fit black or dark grey jeans.
Are Skirts A Good Gift for A Male Friend?
The answer to this question depends entirely on the friend and his fashion preferences. If your friend is comfortable with wearing skirts, already wears them, or wants to try them out, then a skirt is a good gift for him. On the other hand, if he does not like wearing skirts, then you're much better off gifting something that he will actually enjoy wearing.
What Is the Right Length of Socks Underneath A Skirt?
The ideal length of socks would be determined by your entire outfit in addition to the skirt. For example, if you're wearing a Scottish kilt that comes down to your knees, then the socks should be just a few inches below the knees. Or, if you're wearing something contemporary and trendy, short socks that barely stick out of the shoes are the way to go.
Is It Acceptable for Men to Wear Very Short Skirts?
Men can wear any skirt that was traditionally worn only by ladies, and that includes very short skirts. However, there is still a clear line between expressing yourself and wearing something inappropriate in public. Staying away from this line is best for you and everyone around you.
Can A Man Wear A Skirt to Office?
In an ideal world, they would be able to. Unfortunately, the dress code in almost every office is very clear about what is acceptable for women and what is expected from men. So, unless your office clearly allows men to wear skirts, you cannot.
Do Colorful Socks Look Good Under A Skirt?
Yes and no. Colorful socks can look artistic only if they work with the rest of the outfit. For example, a pair of bright yellow socks will not look good under a grey skirt and black shirt outfit. On the other hand, a pair of black and blue striped socks work amazingly as an accent piece underneath an all-black men's skirt outfit.
Final Words
Just as the world of men's popular fashion was becoming stale, skirts barged through the door and flipped everything on its head. Men now have a whole new universe of outfits, styles, and looks to experiment with.
The men in skirts trend are only starting to pick up speed. So, why not become an early adopter? All you need is one skirt and drive to craft snazzy outfits that will revolutionize the way men dress on a day-to-day basis for years to come.