Color has a deep impact on our mood and personality; from the clothes we wear to the rooms we walk in, color is found everywhere and it reflects our being to the very core. Leather jackets, a staple wardrobe item, come in different colors, styles, fit and fabric; the options are endless. Moving away from the classic black and brown and choosing a colored leather jacket can be tricky for some. Read on to find out how you can pick the right color leather jacket for yourself based on both your style and personality.
What To Expect In This Article?
Why Should One Opt for a Colored Leather Jacket?
Leather jackets are versatile, comfortable, classy, and timeless. Also, let's not forget they keep you warm. The design, style, and colors offered are endless. However; what remains to be discussed is the main question: Why should one pick a colored leather jacket when you can easily stick to the classics? While not everyone is comfortable exploring different options when you can just be comfortable and go for the same black or brown leather jacket, it is a good step if you are looking to get out of your comfort zone and start experimenting with your looks. We all need a pop of color for our outfits. 
Besides, you shouldn't always choose brown because everyone finds it apt for multiple occasions; the color of your jacket should be representative of your personality type. Imagine wearing a red-colored leather jacket when in real life you're pretty somber and laid-back. Bad choice, right? Always choose a color that you can identify with because you will be able to carry it even better that way!
Choosing the Right Jacket Color
One of the difficulties of opting for the perfect jacket is finding the right color. Your existing wardrobe is a mirror of your personality. Your clothing colors are what you like to wear and what you think you look good in. So, think of this when picking the color of your jacket. Not to forget when purchasing a leather jacket, you will be pairing it with a clothing item straight out of your closet, which means styling the piece should come easy. 
If you are loud, bold, and want to stand out from the crowd, go for bright colors such as red, yellow, or green. If you're the opposite, go for the subtle and earthy tones like tan, brown, maroon or pale pink, blue, or lavender. 
But look – instead of getting trapped into stereotypes, experiment and figure out what you really want and feel like. It's true that most clothes in your wardrobe are indicative of your personality. But personalities can also be made over time. Are you trying to get out of your comfort zone? Are you usually introverted and hoping to be more out there and spunky? You can achieve this by choosing the right colors for your wardrobe!
What Colors Say About Your Personality
Black:
 Powerful, independent, and sophisticated. 
White:
Purity, simplicity, and grace.
Brown:
Resilience, comfort and warmth.
Red:
Bold, daring and energetic.
Blue:
Peaceful, calm and harmonious.
Burgundy:
Unique, materialistic and ambitious.
Maroon:
Confident, creative and passionate.
Even though black and different tones of brown are two of the most common and popular colors of leather jackets, personality and color go hand in hand. It is easy to pull off and style leather jackets that match your personality as this gives you more confidence and control. We have to admit, wearing a colored leather jacket is stylish and in vogue; a way to make a statement. Remember your jacket should be a fashion statement that brings out your personality.
When Should You Wear a Colored Leather Jacket & How?
Styling a colored jacket says a lot about you. There are a few factors you need to consider. The first thing you need to keep in mind is whether you are going to an event where semi formal attire is more suitable or is it a casual night out. The next step is the color. Of course, you cannot show up to a semi-formal event wearing a bright-colored leather jacket such as sky blue, red or green. Instead go for neutrals or deep dark colors like deep blue, army green, black or brown. Save the lighter and brighter tones for casual laid-back occasions. 
Always match your jacket with your footwear. The two should complement each other. Moving on to your shirt, try not to wear the same color top as your jacket except if it is black. For example, if your jacket is brown and so is your shirt, the two garments will blend into each other. Same tip for your trousers. Avoid the same colors. 
Below are a few options of colored leather jackets that The Jacket Maker has to offer. We provide some of the trendiest, stylish, and best leather jackets in town: 
Black for the Ones Known as Alphas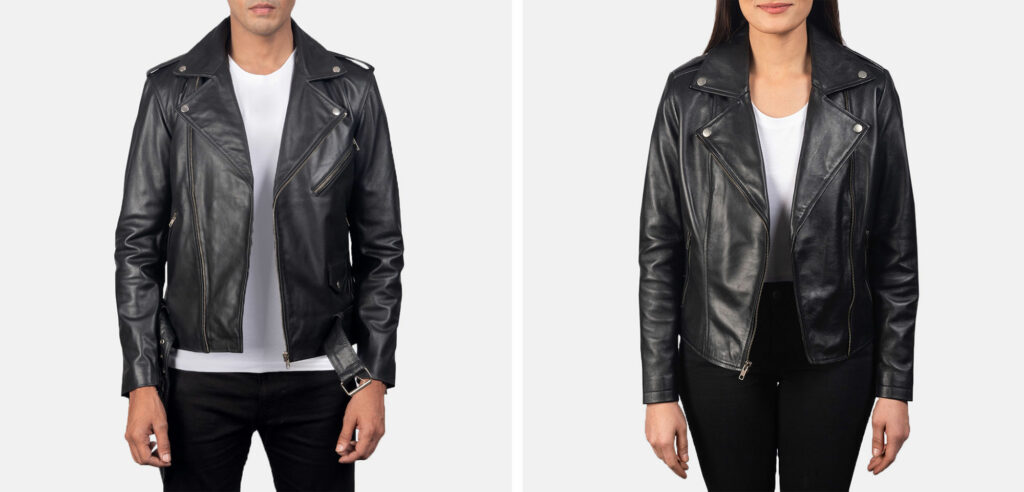 A black leather biker jacket can make you feel powerful and in control. Usually, alpha personalities prefer wearing black as it helps them stand out and emerge as an individualist within crowds. One can never go wrong with this color; it's not only easy to style, it also gives off sophisticated and regal vibes. Both men and women with slightly dominant personalities should opt for this color as it can boost their confidence and help them lead more effectively. 
Brown for the Ones Getting out of Their Shell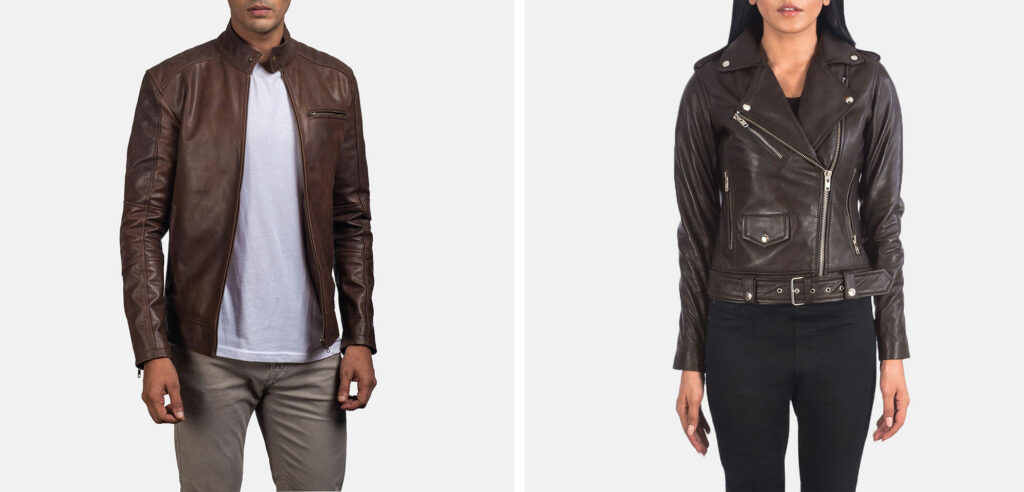 If you're slightly introverted and find comfort in being on your own, it's time to surprise your friends by wearing this jacket and attending their party over the weekend! A leather jacket – whatever style – can add a new bling to your overall personality. Now the color brown is selected for your personality type as it can give the security and motivation you need to come out of your comfort zone. The color brown makes you feel confident within yourself; perfect for both men and women!
Distressed Browns for The Ones Ready to Take on Any Challenge
Do you have an adventurous streak in you? With adventure comes challenges and for that you need to be resilient. Channel your resilient side by wearing this distressed brown shade; designed for both men and women! You may feel invincible because of the deep undertone, but it's needed to wake the shark in you.
Green for the Pleasant Ones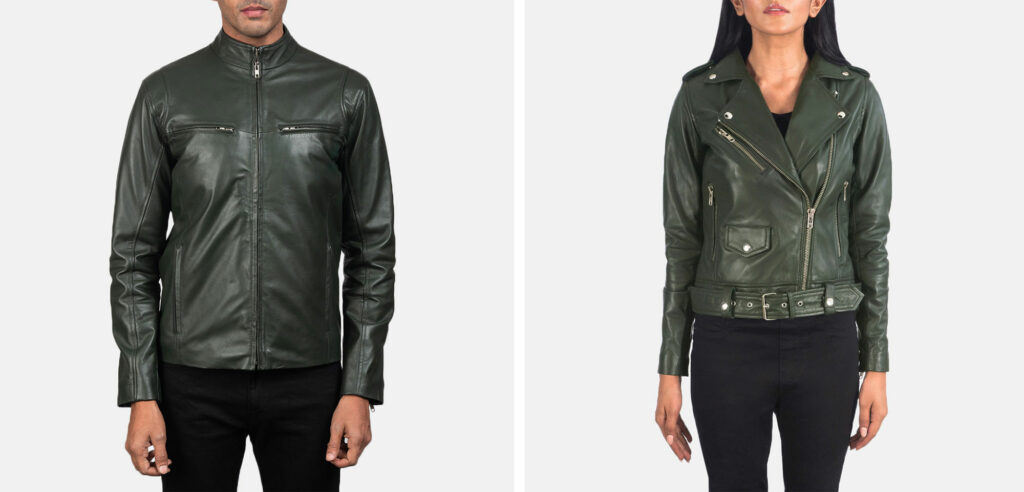 Green is often associated with pleasant and optimistic personalities, indicating that you have sharp instincts. It can't be neglected that green, in fact, is the color of nature and one of the secondary colors in the Color Wheel. Hence; the peaceful and calm attitude that you possess, irrespective of gender, will be reflected when you wear this jacket.
Blue for the Ones Channeling a Feel-Good Vibe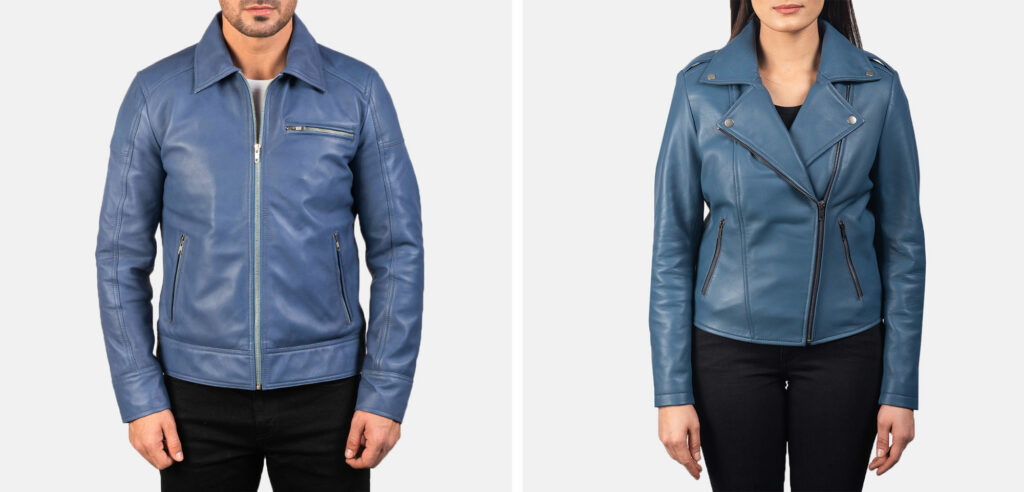 Blue is the color of water; something that can be molded into different shapes and forms. This goes on to show that blue stands for harmony, serenity and courteousness. Think of all the things that are naturally blue; sky, oceans, sapphire, etc. How do these things make you feel? They add a sense of calm to your aura and that is exactly the kind of impact you would have on the people around you every time you wear this jacket. Man or woman, wear this color if you wish to radiate happiness and a carefree attitude.
Tan for the Happy-Go-Lucky Ones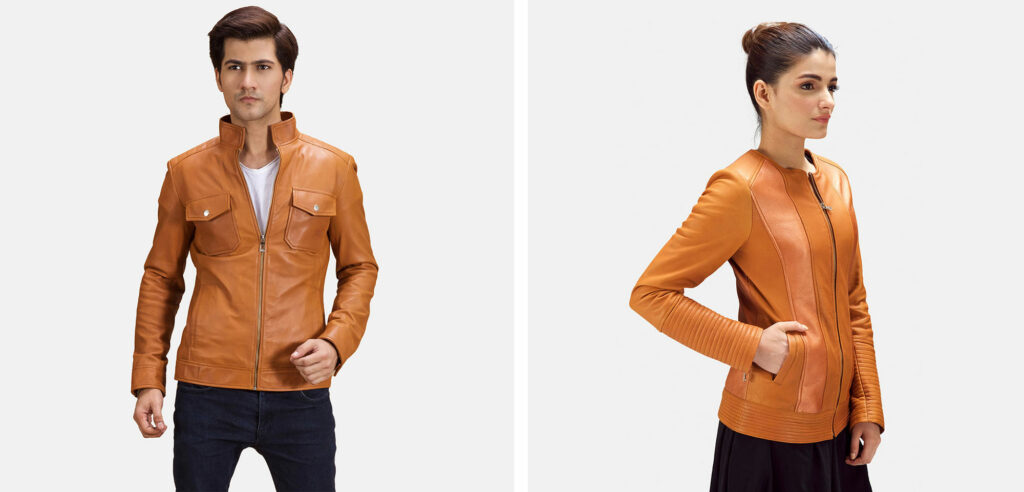 This is a timeless shade of brown as it portrays humility, endurance and high levels of reliability. By wearing this leather jacket, you might even feel invincible because you can weather all kinds of storms. This is an interesting choice of color, especially for men, because it adds to your likability and makes you appear more affable.
Red for the Fiery & Passionate Ones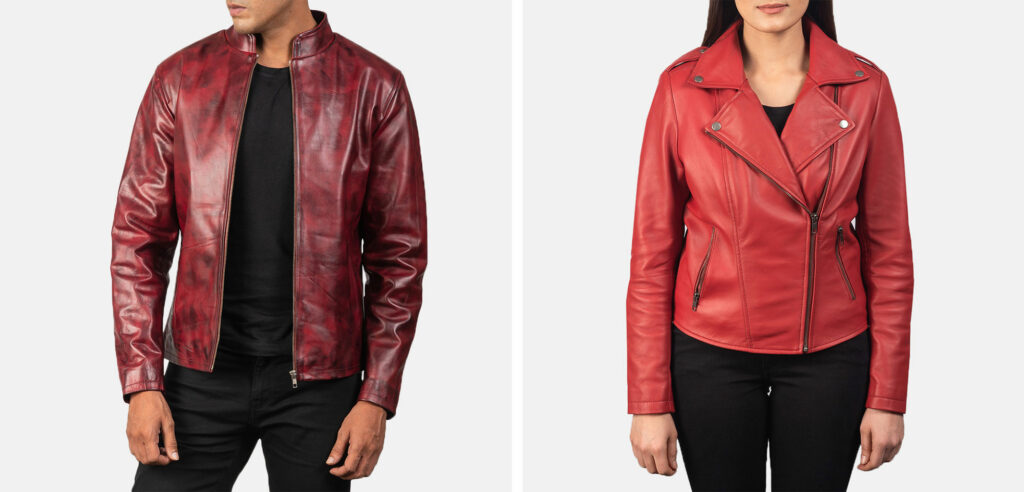 Red, the color of passion and glory, is all about gaining back your power. You build a strong aura around you when you wear this color – you feel dominant, classy and in control. You can compliment your fiery personality with this color. Match it with an all-white or all-black outfit for that perfect pop of color— stand out amongst the crowd if you love grabbing everyone's attention around you. All shades of red have bold confidence written all over it.
Silver for the Playful Ones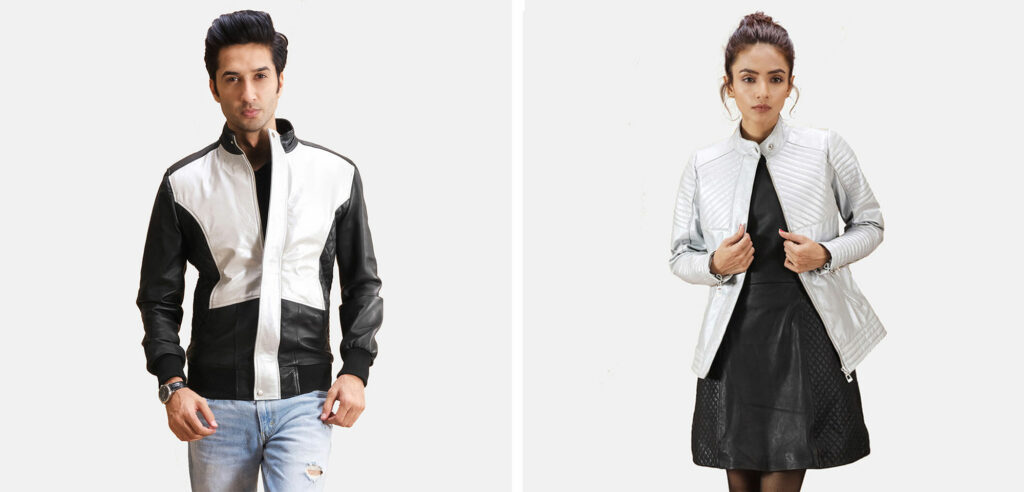 Wearing silver means you are flashy, extroverted and highly flamboyant. This is the color that brings out your audacious side by adding a natural bling. In a world where diamonds are treasured the most, opt for the silver color as it shows that you're a risk taker. Men, specifically, feel ready to party after putting this color on!
Maroon for the Ones Feeling Inspired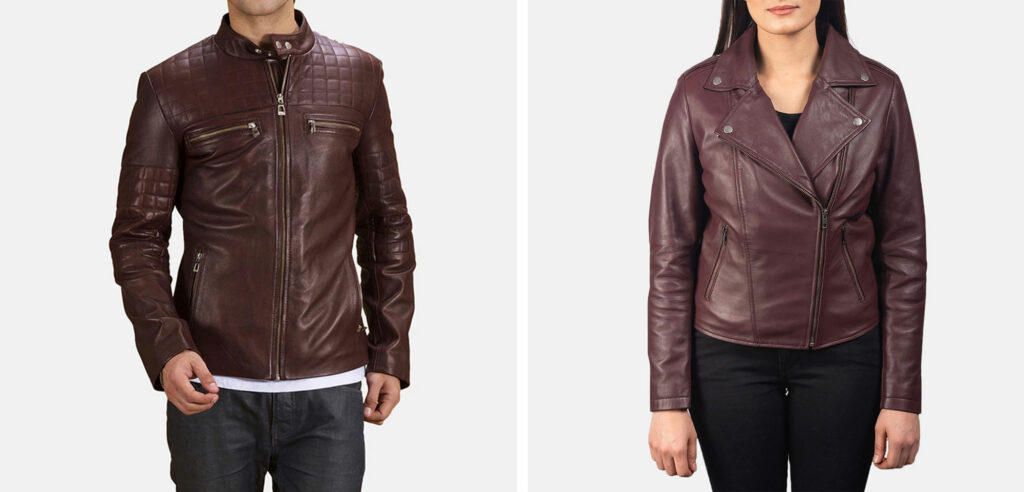 Maroon has a strong impact on your mood and personality. Be selective when you wear this color as it has the potential to overpower the people in your presence. But don't feel alarmed because it's not a bad thing – you actually feel creatively influenced and introspective. It gives you an edge by adding sophistication and charm (sometimes, superficial) to your being.
Customize Your Leather Jacket
If you have a set design or color in mind, we at The Jacket Maker provide 100% customization for all types of jackets. From color, fabric, embroidery, design and more, make a bold fashion statement with your high-quality custom leather jacket.
To Conclude
Leather jackets are versatile pieces of clothing that you can dress up or down. If you are one to step out of your comfort zone and experiment with your looks, definitely go for a colored leather jacket this time around instead of the classics. Also, if this will be your first leather jacket purchase, keep it simple, go for a color that not only matches your personality but can be easily styled with the existing outfits in your wardrobe.