This is a special post dedicated to sharing the different styles of leather jackets that are widely popular, as well as those that are custom requests which we hope will be helpful to those looking for some basic guidance.
Outerwear has received a newfound resilience thanks to its recent promotion from regional status to mainstream fashion prestige and that too for millions of people around the world.
Leather which currently contributes a luxe style statement that makes outerwear even more sought after is an element that will be seen for a long time.
Whether you're looking for some men's leather jacket style or possibly looking for women's leather jacket style. From how a leather jacket should fit to a host of other leather jacket styles that will leave you more informed, inspired and a bigger fan of leather outerwear than before reading this post.
Leather Jackets for Men and Women
There are many different styles that fall in the leather jacket category that we will go through in no particular order below:
1. Biker Jackets
When talking about classic style, timeless utility and looks so good that it can be worn in a wide variety of ways is how the classic biker jackets may best be introduced.
Truthfully a style that is just as popular and high on demand across the globe mainly due to its versatility, makes the biker jacket just as relevant if not more today, as it was back in the forties right through to the sixties, the time-frame where its first appearance was made.
We all remember seeing Tom Cruise in Top Gun or Jimmy Stewart in the Night Passage or the favorite of millions; Fonze in Happy Days or better yet the T Birds in Grease all sharing their own unique styles and individuality through the classic biker jacket.
Yet there is more to the biker jacket that many may not be familiar with. This is a subtle split of the classic biker jacket into two child categories called Café Racers and Double Riders. Both of whom are different types of bikers having distinct characteristics.
a. Double Rider
The double rider style is best identified by the off-centered zipper closure on the front, classic silver snap button detail with optional pockets that can go from two pockets to an additional chest pocket or coin pocket right above the waist belt which is optional as well.
b. Café Racer
Café racers, on the other hand, are a more minimalist appearing biker jacket with a classic centralized zipper closure on the front and snap button closure, a variety of collar styles and optional pockets ranging from two to four.
While this style of jacket has no waist belt, a snap button detail or fused-in belt is fast growing especially within custom orders made by many.
2. Bomber Jackets
One of the most popular choices especially among the younger age groups of both genders, bomber jackets have grabbed global attention and can be found in a multitude of colors, designs and detail aside from its traditional minimalist style.
The bomber jackets move from subtle style element pieces to a few that are artsy and uniquely striking. All to cater to the many different choices of our cool customers.
Formerly known as aviator jackets or flight jackets and worn strictly by the military or aviator pilots as a uniform code as early as the nineteen hundreds.
Bomber jackets today have truly evolved from something that was meant for professional purposes aka leather bomber jackets, to now being a part or element that highlights one's individuality and style.
3. Leather Vests
From evoking the style of the traditional cowboys to a modern adaptation of country and urban elements are where leather vests create an interesting mix of style and genre.
A leather vest is great year-round and adds a distinct style and quality to one's appearance. With the right color, fit, and function, there is no reason why anyone cannot incorporate leather vests into their wardrobe.
Think bohemian, artistic and minimalist or any style with eclectic undertones and leather vests will prove to be the right answer.
4. Leather Blazers
When you hear leather blazers, you cannot help but have a smart casual or semi-formal looking style in mind, that can move anywhere from the professional to the personal.
Depending on the occasion of-course, leather blazers have the effortless ability to smarten up just about anything from denim jeans and a button-down shirt to corduroy, dressy trousers, for women; skirts and dresses, and a multitude of different clothing and fabrics.
Leather blazers can serve the purpose of being a seasonal style staple as well as style you in a classic or contemporary way. It's really your call. Either way, you cannot ever look bad in a leather blazer.
Tips to Remember
Whether you have a list of what you expect from your leather jacket or not, many find this choice-making stage really overwhelming and often times a recipe for stumbling or uncertain minds that we try to put at ease.
Here are a few key points to keep in mind before making your choice and any question that may arise in the process we'll be all too happy to answer.
1. Type of Leather
It is important to know a little about the many types of leather and the different characteristics and qualities that each one has to offer.
This may be regarding how thin or thick, heavy or light you like your leather to be, is it a soft and shiny look you're interested in or something versatile, would you like something with texture as in suede or something that is minimalist and natural with scratches and creases intact.
Choosing the type of leather and knowing exactly what you want actually helps in achieving a satisfactory result as each and every type of leather has a different end result.
2. Matters of Length
The length of your jacket is another point to always consider which many either forget or give less importance to. The length of your jacket is what gives you either a flattering tall stature or a bulky short appearance.
Therefore it is vital to know if a cropped jacket will suit you which ends just a bit above the waist or not, a length that hits the waist or hip region can actually make or break the look of your jacket.
Much of the decision on the length of your jacket also has to do with your body proportions which our design consultants point out over the course of each project.
3. Hardware Heads Up!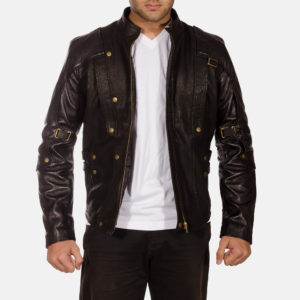 Any Hardware you Choose should Highlight your Jacket
This is another important point to keep in mind and consider seriously before finalizing your selection. This can be the type as well as color and finish of hardware you would like to have on your jacket.
Considering the fact that every custom request at The Jacket Maker is an open invitation to choose exactly what you want or better still what suits you best.
Whether the hardware is functional or not, it is best you pick the one that works for you and also gels well with the rest of your wardrobe.
4. Shoulder Status
One of the many beautiful elements of a well-designed and crafted leather jacket is the structure that can best be compared to the architecture of a building.
If the shape isn't right, you can be sure the fit will be compromised. Hence, the shoulder measurement and fit are one of if not the sole area that determines the outcome, shape, and fit of your jacket regardless of what style it is.
So it is vital to have the most accurate shoulder measurement possible for it to be cut and crafted to fit like a glove.
5. Collar to Lapels
As we always say details matter most but at the same time advise customers to go for collar styles and lapels in more classic looks.
This helps to give your jacket a more timeless factor that you can enjoy for a longer time than a look or detail that is currently trending only to fizzle out after a few months.
For instance, incorporating any type of fur or shearling may seem fashion-forward and even trendy but may not exactly be around for a long time but if you absolutely love to have it or are sure it matches your personal style, we'd advise going for one that is detachable.
However, this area is one that you need to decide on for yourself.
6. Lining Your Jacket
It may seem irrelevant to some but choosing the lining for your jacket is another important point to keep in mind that too if it's possible.
Many brands have one uniform lining that is used for every piece but imagines a cool black leather jacket with a bright yellow lining. The whole point is, you don't want to have the lining overpower your jacket in any way.
7. Watch Your Back
The back of your jacket is another key place to look at before selecting the one to purchase.
Some jacket backs have mild to conspicuously edgy detail that changes the fit and overall look. If it's the one you really love then go for it. If not, don't hesitate to ask for something with a simpler back.
After all, if the jacket you choose is supposed to last you a long time, chances are you'd want to go for something that isn't too current that will lead you to have to make another purchase real soon.
Rounding up…
While there may be many more important aspects to keep in mind before selecting a leather jacket you'd like to purchase, above were a few basics that you will find are extremely handy.
Put them to use and you will see the difference it makes with the style of jacket you end up with. Chances are high that the choice will be the absolute right one, leaving you far happier with your purchase than had you to have picked one purely going by looks.
All you should be thinking of now is how to wear your leather jacket in a cool and stylish way.