A good leather jacket is the ultimate wardrobe staple for men and women. Buying a high-quality leather jacket is often considered a one-time, long-term investment due to the toll it can take on anybody's pocket. It is meant to be timeless, long-lasting, and be greatly versatile to serve multiple functions.
With so many options out there, buying a good leather jacket can become extremely complicated and confusing. This post will guide you through all the stages of buying a perfect leather jacket. It will be focusing on all the factors to look for when buying a leather jacket so that you don't end up regretting your decision after spending a considerable amount.
So, before you opt for any leather jacket, to make your decision worth it we are here with a leather jacket buying guide. This guide is surely going to help you get your hands on the leather jacket which is made for you.
Evaluating a Leather Jacket
Buying a leather jacket is not a very difficult task if you know how to do so and what you actually want. Leather jackets can range from anywhere between $200 to $3000, sometimes much more. So each jacket should be evaluated in relation to its price – Is it providing the best value for the bucks it cost? So, let us head on to the blog where we can get to know how to buy a leather jacket!
1- Leather Type & Quality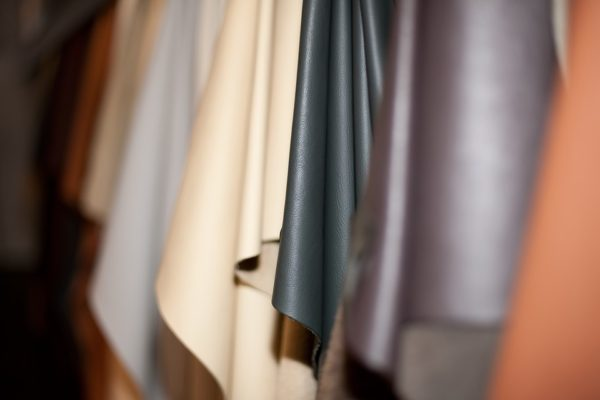 When you think about how to buy leather jacket the most crucial and important part is to pick the type of leather and to know what leather is used in the leather jacket. It can be very difficult for a normal person, who has not much knowledge on this subject to identify what is what. You could do worse than learning about leather in detail before buying your dream leather jacket.
Skin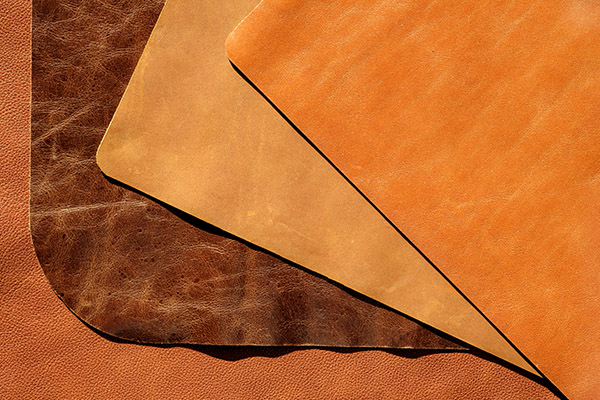 The first thing to consider is what animal skin you want your leather jacket to be made from. It's purely a subjective matter and will be determined by the functionality and available budget.
While there are many animals from which skin is obtained; cow, sheep, lamb, goat and calfskins are the big ones. Exotic leather include Kangaroo, Deer, Pig and Crocodile to name a few.
Cowhide is known for strength, toughness and is extremely durable. Men's Biker Jackets are mostly made using cowhide. On the other hand, lambskin is extremely soft and supple but very expensive, often used for premium products.
As it has both properties: softness and durability – The calfskin, of a young cow, is more expensive than lamb.
Grading or Leather Type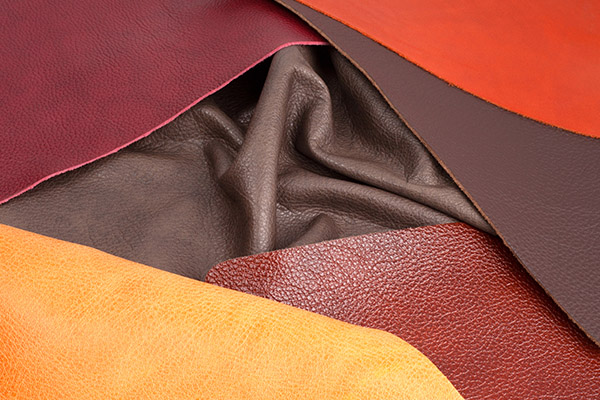 The second thing to decide is the grading or type of leather: Full-grain leather, top-grain leather, genuine or corrected leather.
The entire hide is used in full-grain leather in its natural state with marks, scars, and patterns are retained and not altered. It ages well with use and is higher in price as only the best quality hides are suitable.
Top-grain leather is split from bottom layers, it is thinner and flexible than full-grain and remains the same throughout its life. Putting functionality aside, top-grain leather is used to make most fashion jackets (where the look is the main thing).
The corrected-grain is the lowest quality grade, processed to make it look like higher grades.
Leather Finishing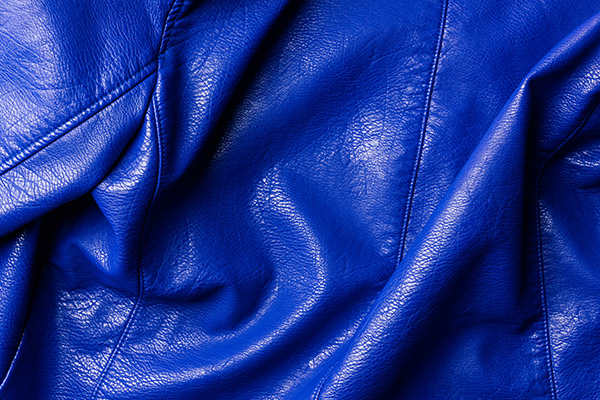 The final point to look for is the finishing of leather; Aniline, semi-aniline will be the terms you will often come across in this regard.
Aniline leather is kept in its natural form with all the marks and blemishes and is more expensive but is susceptible to damage from water and sunlight.
Semi-aniline leather is lightly pigmented to get rid of marks and blemishes, it is more rugged and durable than aniline leather.
Additionally, when talking about leather type and quality, it is important to mention double-face/shearling leather.
The skin of a recently shorn sheep or lamb that has been tanned and treated with the wool intact is what we call shearling leather. Shearling jackets, therefore, are the most expensive ones in the market.
2- Joints and Panels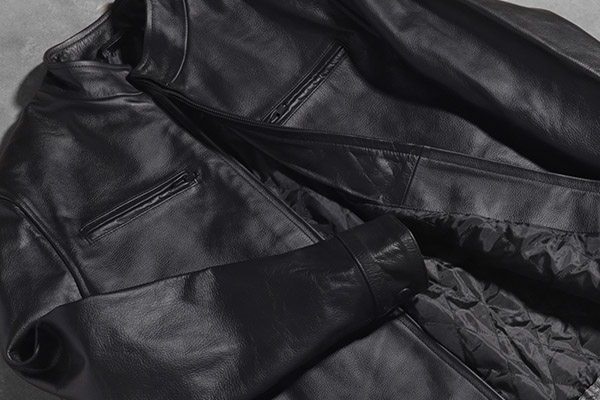 The next tip in our leather jacket guide is to know about the joints and panels of the leather jacket. As a rule of thumb, jackets made with fewer panels making fewer joints would be more expensive than a jacket made with many panels and forming many joints.
There are exceptions though; where a jacket, having many panels and forming many joints may also be expensive due to detailing, embroidery, or embellishment that is used alongside the panels and joints.
These factors have an impact on the cost of production which is also reflected in the price of the jacket.
To cut prices, manufacturers make jackets using different leftovers, excess or remaining leather and wastage from other skins.
Although custom leather jackets made with single panels are expensive because of good selection, it may not necessarily have any bearing on the quality of the final product.
3- Inner Lining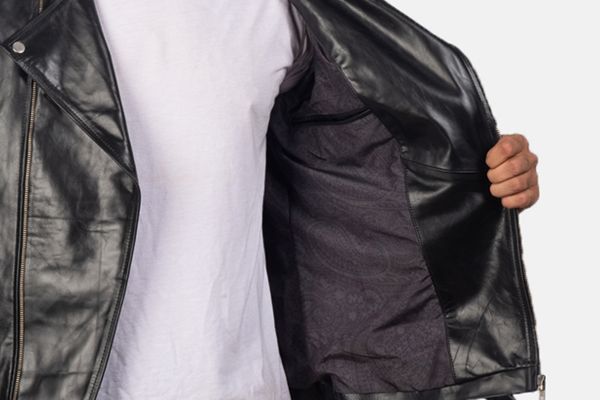 The inner lining is an extra layer of fabric that adds more weight to the jacket and thus tells about the leather jacket quality. It helps to firmly tug down the jacket on your shoulders and makes for a smooth fall from top to bottom. The inner lining also absorbs sweat in some cases, is soft, warm, and makes for comfortable wearing.
Many people don't realize that they have the option to choose fabric for the inner lining, make it plain or quilted or remove the inner lining altogether, especially when buying custom-made jackets from high-end places.
The type of fabric used in the inner lining of the jacket and the qualities it offers will also have a bearing on the price of a jacket. Bemberg lining is considered to be the best option for the inner lining. It is breathable, light, and has a silky touch.
Jackets without inner lining are light, breathable but expensive due to more interior finishing required and added complications in producing them.
4- Stitching & Craftsmanship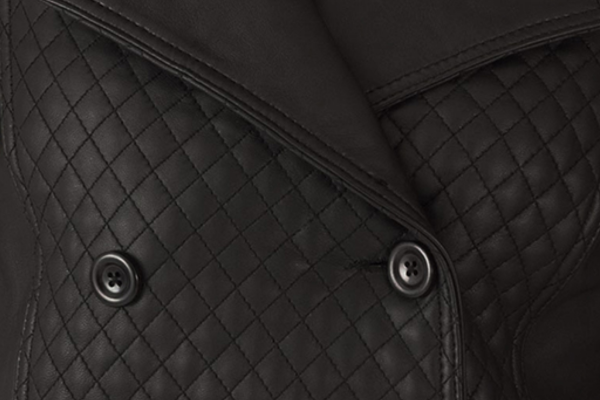 Clean and neat stitching in a jacket is testament to the jacket being of the highest quality, evidence of great effort put into making the jacket. A good leather jacket will be stitched with strong polyester thread evenly and thickly with no loose ends.
Additionally, decorative stitching on pockets and seams is a very desirable detail among jacket enthusiasts. Decorative stitching and details in a jacket require extra effort which leads to an increase in price.
5- Hardware and Accessories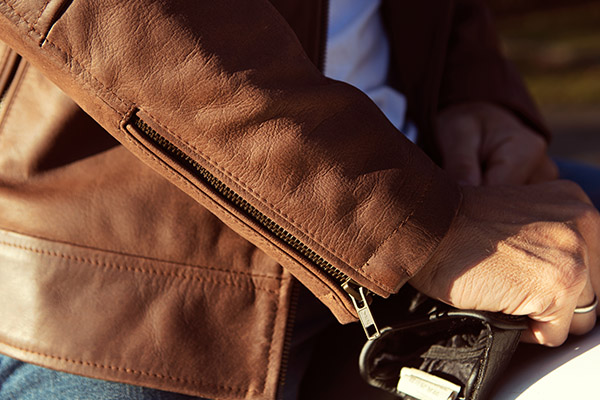 Examining the hardware and accessories used in a leather jacket can be a great and easy way to judge the quality of a jacket or a brand. One must make sure before buying a particular jacket that it contains quality accessories and hardware.
Accessories, also called embellishments, include patches, motifs, studs, eyelets, buckles or any type of additional often decorative elements used to enhance the look of the jacket. Likewise; hardware refers to the zippers, buttons of all types, or metallic elements that have a functional aspect such as closure of the jacket.
For zippers, YKK and RiRi zippers are well-known. Its use means that other components used in the jacket would be of good quality. These zippers are shinier, stronger and smoother in zipping up or down.
6- Leather Jacket Styles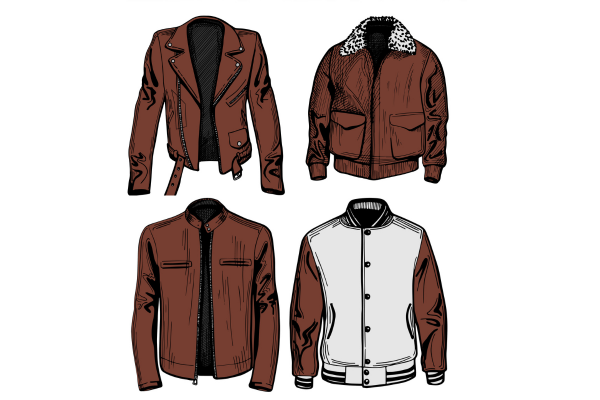 When buying a leather jacket, there are several different styles to choose from. Double Riders aka the classic biker jackets, Cafe Racers, Flight jackets, and Bombers, are the most popular.
Other contemporary styles are leather blazers and leather trench coats, leather vests, or seasonal leather jackets that include windbreakers and shearling leather jackets and coats.
From the classics to the contemporary, there is also a mix of both styles, commonly known as hybrids. These can be a fuse of any two or more leather jackets.
7- Leather Jacket Fit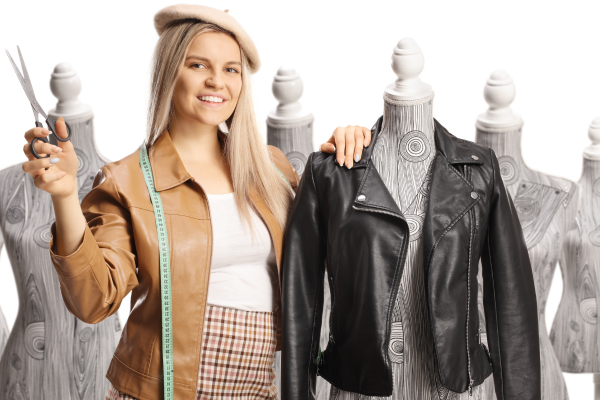 A pretty valid point to remember before you buy a leather jacket is the cut and fit. These two aspects can make or break your chances of looking good in your leather jacket, regardless of where you got it.
If you like the look of a jacket, chances are that's because it is cut well. This gives the jacket a nice shape. Regarding the fit of the jacket, and this can only be established once you've tried it on, is how the jacket fits you.
You want to make sure the shoulder seams of the jacket are in line with or as close to your shoulder points as possible. Too high or too low simply won't work.
Next, you should check the armholes, just like the shoulders, the armholes ought to be as comfortably high as possible. The higher the armhole the better the fit. The lower the armhole, the jacket will be in constant movement. Not a pretty sight.
The sleeves of your jacket should fall either at the end of your wrist, just before your palm or on the base of your thumb. The sleeves width shouldn't be too tight but not too loose either. You should be able to raise both arms comfortably.
The length of your jacket should end at the waistband of your pants. Provided you're not one who wears your pants half off your butt.
Get Your First Leather Jacket By The Jacket Maker
FAQs –  Leather Jacket Buying Guide
Should I buy a leather jacket?
You surely should buy a leather jacket but make sure that you keep your hand on quality leather jackets. It is true that you can find a range of synthetic leather jackets in the market but they don't last long. Original leather jackets are a purchase of a lifetime and they are timeless. 
How to choose a leather jacket? 
If it is your first leather jacket choosing then you should be careful about picking the type of leather. Make sure the leather you pick is soft and supple which does not hinder your movement. 
Should I buy a leather jacket one size up?
Keeping in mind that your jacket is to have a snug but not a tight fit, many people are of the belief that you should go one size down, while many others are of the understanding that going one size up is a good idea. Ultimately, it depends on where you're buying your leather jacket from, the image of the product, and the size chart available for online purchases.
Do leather jackets loosen up with time?
Yes, many leather jackets that have a degree of stretch, do loosen up with time. In such a case, going for a size down would actually work well as the jacket will loosen up to the comfortable level in time.
How long should a leather jacket last?
While there's no correct or incorrect answer to this one, most good-quality leather jackets are observed to last anywhere between six to seven years. With care and maintenance, this can easily add a couple of years more to jacket longevity.
Do leather jackets get better with age?
Yes, totally; especially real leather jackets. These pieces develop a unique and striking patina which adds further beauty to the leather jacket.
How can you tell if a leather jacket is of good quality?
Ideally, such elements as stitching, hardware and feel of leather can indicate a leather jacket's quality. Good quality means neat, sturdy stitching, strong; durable hardware and ease in the feel of leather ensure the jacket is good quality.
Should you zip up a leather jacket?
From a styling aspect, leaving your leather jacket unzipped or unbuttoned is a great idea. This allows for depth and dimension to your look. A leather jacket should only be zipped or buttoned for functional purposes. That is for warmth in cold weather.
Conclusion
For all the leather jacket buyers out there we hope that this leather jacket buying guide was useful for you. All the factors discussed above will help you make a more informed decision in buying a leather jacket. This will also determine the level of the leather jacket and the price that you will now be able to evaluate and justify.
Based on the above mentioned points. If any of the factors, in a jacket, are not according to the points stated above, the price will go down accordingly. Ultimately compromising on quality and longevity of your chosen leather jacket.