Humans have used different types of animal hides, including cowhide leather, for a thousand years. Some of the earliest processes of transforming animal hide into leather included using tools such as scrapers that were used to clean the fat off the hides aside from using it to tan animal hides as well.
Still, what is cowhide leather? What is grained cowhide leather? Where does it fit into all of this, and how is it different from other types of leather? Find out more below.
Cowhide Origins
Before going any further, you should know what cowhide leather meaning. Cowhide is the natural and unbleached skin and hair of a cow. Though it is a product of the food industry related to cattle, it is also very often processed into leather.
From Cowhide to Leather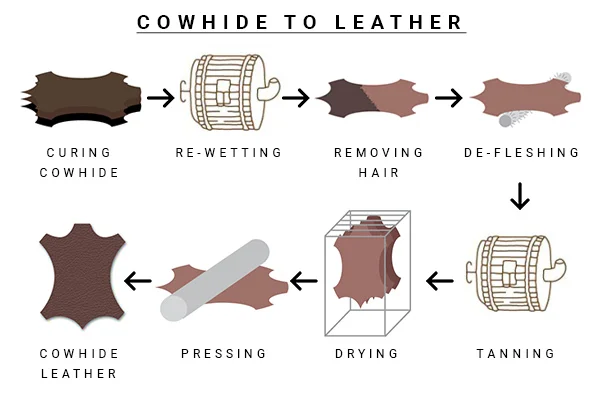 Cowhide leather is the result achieved through various processes, some more common than others, such as tanning cowhide leather.
Beginning with the careful selection of high-quality animal hides, these raw materials are subjected to a series of intensive processes starting with curing, then rewetting, followed by processes that work to meticulously remove all traces of hair and flesh impurities.
What follows is the critical leather tanning phase, during which hides are treated with agents like chromium salts or vegetable tannins that serve to strengthen the fibers and lend durability to the leather.
With the added touch of dyeing and finishing, these once ordinary cowhides now emerge as the leather, ready to be crafted into an array of stylish products that ultimately populate our wardrobes, homes & more.
Our Popular Cowhide Leather Jackets
What is the Difference Between Cowhide Leather and Other Types of Leather
As with all things, leathers too vary to some degree among themselves. Cowhide may be better than goatskin in some respects, whereas goatskin may be better than cowhide in others.
Below we differentiate between cowhide and other types of leather, namely sheepskin, goatskin, and lambskin. Mainly due to the fact that these are the types of leather most commonly used. And from here, you can know different types of cowhide leather as well as it's popular uses.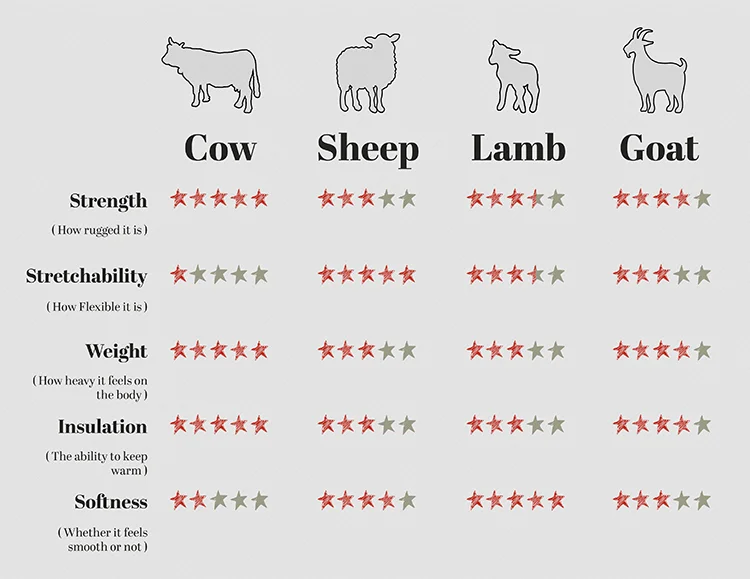 Cowhide vs Goatskin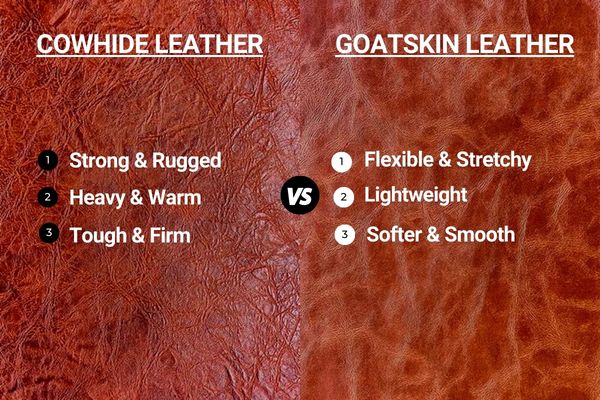 While grain cowhide may be really rugged, which makes it stronger than goatskin, it does not have the flexibility or stretch as much as goatskin does. Cowhide has the tendency to weigh more even as a finished product, whereas goatskin is comparatively lighter.
If you were looking for insulation properties, you'd get more warmth from cowhide than you would from goatskin leather. The same applies for touch. Cowhide isn't as soft or smooth as goatskin leather.
Cowhide vs Sheepskin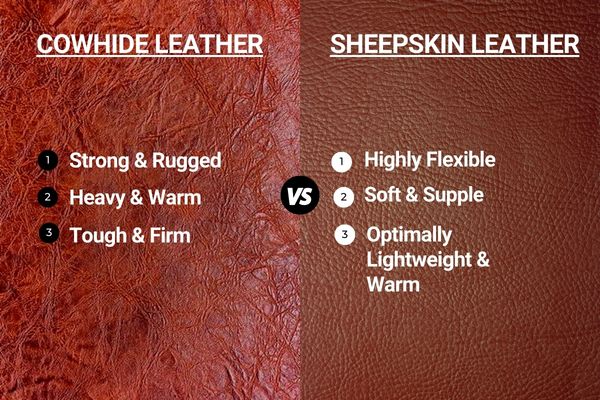 Starting with the strength and durability of both cowhide leather and sheepskin leather, cowhide is a lot better than sheepskin in this regard. Whereas sheepskin leather is a lot more flexible and stretchable than cowhide. Much like goatskin, sheepskin too weighs less than cowhide considerably so.
As far as insulation goes, cowhide offers more warmth than sheepskin. However, in matters of softness and suppleness sheepskin is way better than cowhide.
Cowhide vs Lambskin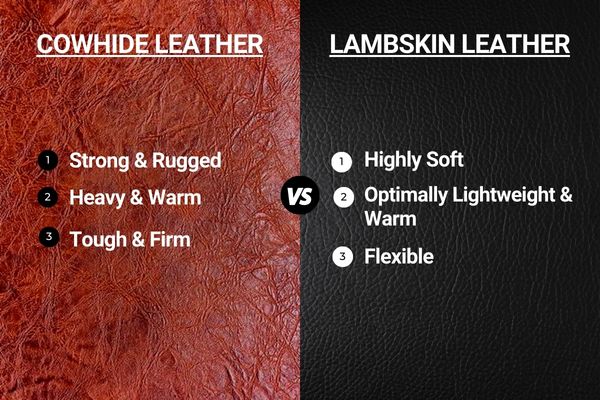 In matters of strength and durability, cowhide is a lot better than lambskin. Although not so surprising, lambskin is way better than cowhide with regard to stretchability. Somewhat similar to sheepskin. As far as weight goes and again not so surprising, cow leather weighs more than lambskin and also does a much better job than lambskin concerning insulation. Lambskin, on the other hand, is a lot softer and more supple than cowhide.
Types Of Cowhide Leather
Cowhide leather comes in a fascinating array of types, each with its own distinct characteristics and applications. The below introductory exploration into the various types of cowhide leather will serve as a valuable guide in helping you make an informed choice when shopping for a cowhide leather product.
Full-grain Leather
This is the highest quality cowhide leather, made from the outermost layer of the cow's skin. Full-grain leather is known for its natural grain patterns, strength, and durability.
Top-grain Leather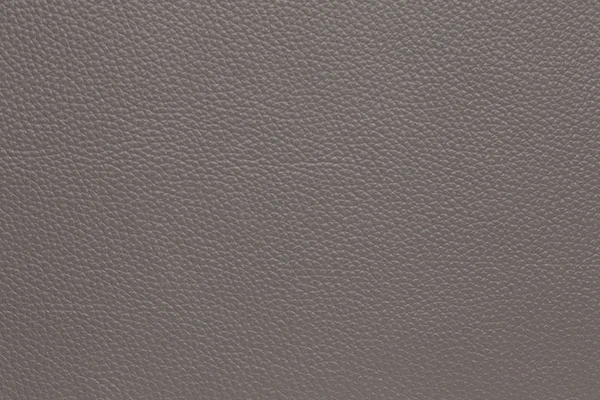 This type of leather is made by removing the top layer of the skin and sanding it to create a smooth surface. Top-grain leather is slightly less durable than full-grain leather but still high quality and commonly used in luxury goods.
Suede Leather
Suede leather is made from the inner layer of cowhide, which is sanded to create a soft, fuzzy surface. It is not as durable as other types of cowhide leather but is valued for its texture and appearance.
Nubuck Leather
Nubuck leather is similar to suede but is made from the outer layer of cowhide. It is sanded to create a soft, velvety surface and is often used in high-end products such as luxury shoes and handbags.
Split Leather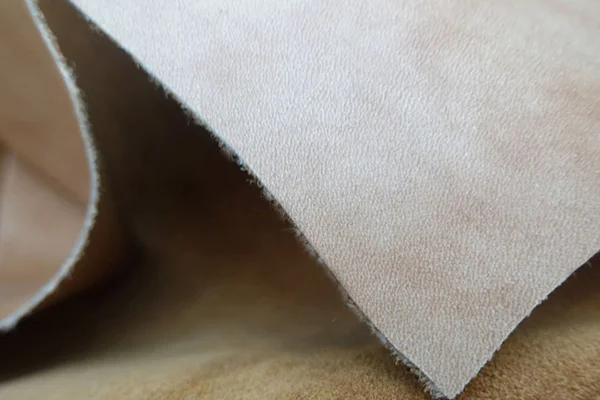 Split leather is made by splitting the innermost or middle layer of the cowhide from the outer layer. It is less durable than full-grain or top-grain leather and is often used in lower-end products.
Cowhide Leather Uses — Some Popular Products
1. Leather Jackets & Coats
Cowhide leather has long been the choice for crafting high-quality leather jackets and coats. Its unmatched durability and toughness not only ensure a lasting investment piece but great warmth, seamlessly melding function and fashion.
2. Boots and Shoes
From cowboy boots to the best dress shoes, cowhide leather is a popular choice for footwear. Cowhide leather boots and shoes are known for their strength and durability, making them ideal for everyday use.
3. Handbags and Purses
Cowhide leather is also a popular material for handbags and purses. With their natural texture, unique patterns, and great patina potential, handbags and purses made from high-quality cowhide leather look swanky,, get better with use & can last a lifetime.
4. Wallets and Cardholders
When it comes to wallets and cardholders, cowhide leather proves to be an exceptional choice of material owing to its strong ability to resist wear and tear— making them an excellent investment for those who appreciate quality and functionality.
5. Luggage and Travel Bags
Cowhide leather is also a popular material for luggage and travel bags. With its toughness and durability, cowhide leather luggage and travel bags can withstand rough handling and last many years.
6. Furniture Upholstery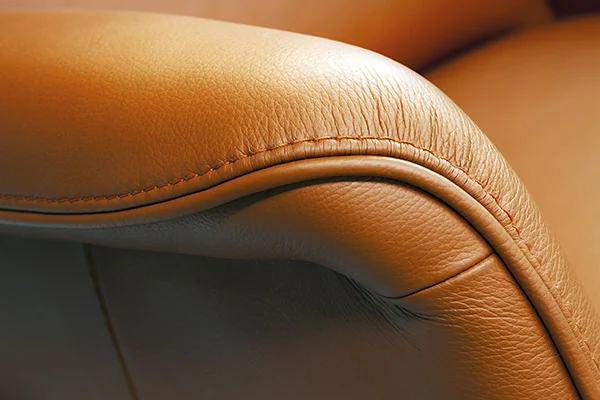 Cowhide leather is often used for furniture upholstery due to being simultaneously practical and aesthetically pleasing. It's preferred for durability, strength, and the advantage of being available in large sizes—also for its unique texture and natural look, which can add character and warmth to any room.
7.Car Seats and Interiors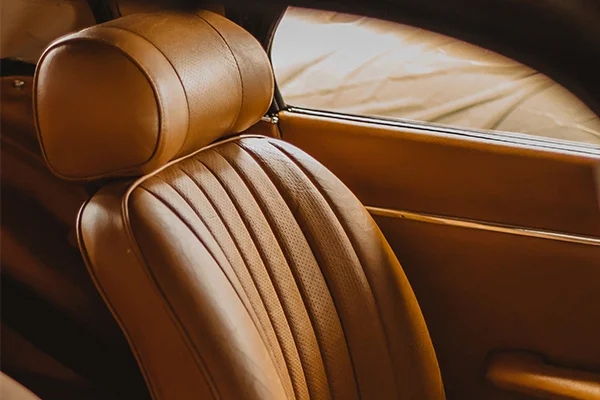 Cowhide leather is also a common choice for car seats and interiors due to its strength and ability to withstand wear and tear. Cowhide leather car seats and interiors also provide a luxurious, sophisticated look and feel.
8.Horse Riding Equipment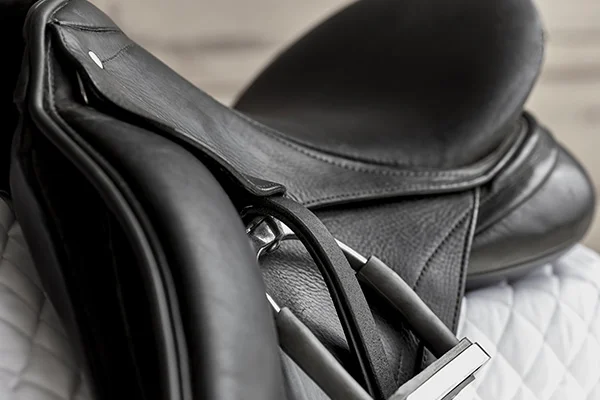 Favored by equestrians for its durability, which allows riders to maintain their gear for years with proper care, cowhide leather is highly preferred for horse riding equipment such as saddles, bridles, and reins. It's flexible enough to adapt to the horse's contours while providing necessary support.
9.Pet Accessories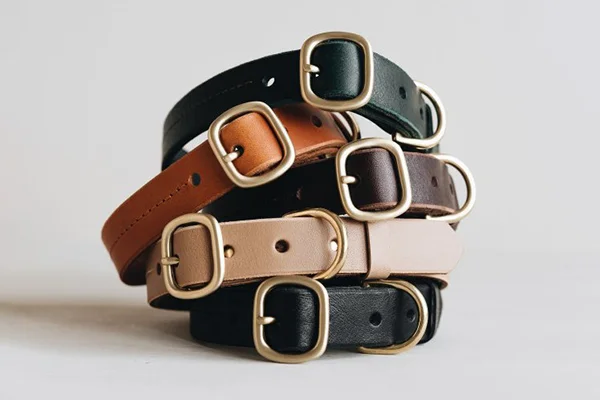 Cowhide leather is used to make a wide range of pet accessories, such as collars, leashes, and harnesses. With its natural texture and strength, cowhide leather pet accessories are both stylish and practical. It's also considered safe and non-allergic for pets.

What is Full Grain Cowhide Leather?
Full-grain leather refers to the hides, in this case, cowhide that has not been sanded, buffed or snuffed. 
What is Genuine Cowhide Leather?
Genuine cowhide leather not only refers to the leather being real but also the lowest quality of leather.
Is Cowhide Real Leather?
The hide of cows used with or without hair is real leather, after undergoing the necessary processes so it can be called genuine cowhide leather after some time.
Does Cowhide Leather Last Long? 
Cowhide leather does last a long time. 
Is cowhide leather good?
It all depends on your choice of leather, if you are looking for leather that is durable and works for you for a longer duration then genuine cow leather is good. 
All We Know About Cowhide Leather
What is cowhide leather? Is cowhide leather good? Well , if all of the above were to be condensed in a nutshell, it would be appropriate to say cowhide leather is not only one of the most common, attached to a long history, it is one of the more practical types of leathers to date.
Cowhide genuine leather may not always look or feel good and luxuriously soft nor may it be as flexible and stretchable as most leathers, it does however offer great longevity, incredible strength, awesome insulation that ensures you are warm and last but not least is a type of leather you can count on.