Wearing black is the hottest trend in men's fashion, and it's been like this for years. If you go out and ask people, "If you can only wear one color for the rest of your life, what would it be?" Nine times out of ten, they'll say black. This is because black is the most versatile color. That's why this guide is here to tell you how to style a black shirt.
The term "shirt" here refers to all kinds of shirts like formal, t-shirts, sweatshirts, etc. Without further ado, let's get started.
Why Should You Wear A Black Shirt?
The first and most well-known benefit of black is its ability to work with anything. You can wear any color, texture, or style around a black shirt, and it will look good. You'd have to go out of your way to make a men's black outfit look bad.
Additionally, black is proven to be a look enhancer. Almost everyone looks better in black than they do in any other color. This is especially true for men, whether they go for a rugged look or just a casual one; black makes them more attractive.  
The third biggest benefit of black is that it saves time. This is connected to the first point of black working with everything. So, you can put together an outfit in mere minutes and know that it will look decent and well put together. 
Outfit Ideas for A Black Shirt
There are endless possibilities when it comes to styling a black shirt into a coherent outfit. But this does not mean that every black shirt outfit is made the same. Some work better than others, and those are the ones that we'll be looking at. Here they are.
Black Shirt with Jeans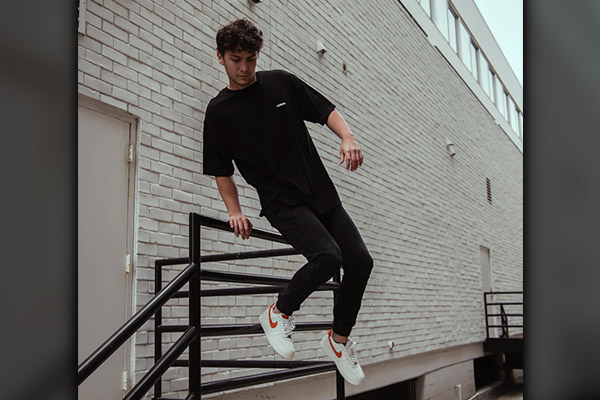 The title says it all. That's it, that's the whole outfit. All you need is a black shirt and a pair of jeans. Wearing a formal shirt over a pair of navy-blue jeans makes a great smart casual outfit without much effort. You can wear it when going out with your friends, or to a business dinner. Just make sure that the shirt and jeans fit right and aren't too large or too small.
Black T-Shirt with Ripped Jeans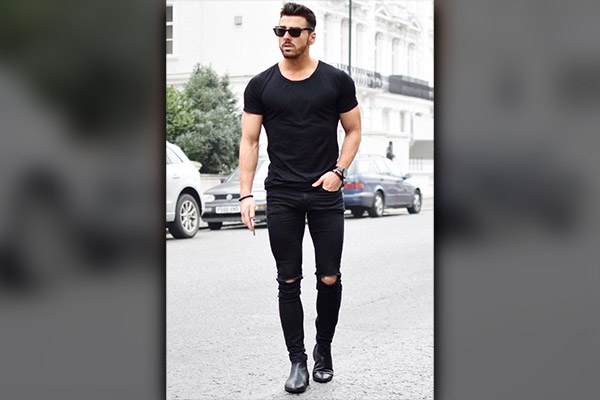 The simple shirt and jeans look work with a black T-shirt as well. However, it gets extra stylish if you swap out normal jeans for ripped ones. This one is a pure casual outfit and will not work in any professional setting. But this does not mean that you're limited by this style. 
Honestly, this is more appropriate for day-to-day use. You can visit your local coffee shop, go grocery shopping, and hang out with your friends all in the same outfit. As far as the color of the jeans goes, both black and blue are excellent choices. You can also try wearing a black T-shirt over brown or grey ripped jeans for something a little unconventional. 
With A Leather Jacket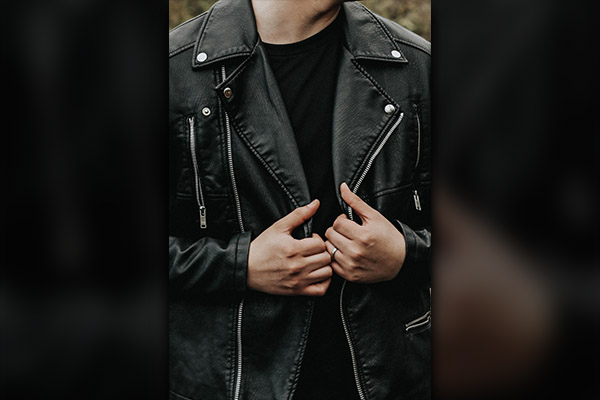 Leather jackets and black shirts have one thing in common; they work with almost anything. So, what do you get when you put both of them together? A banging outfit that makes you look well-dressed and polished without requiring an eternity to set up.
Now, when it comes to leather jackets, you have tons and tons of options. First, you have the most famous types like men's bomber jackets and biker jackets. They are a core part of men's fashion as a whole, and you probably already have one of these in your wardrobe. Just put the jacket over your black button-up shirt or t-shirt, and you're done.
Then there are the lesser-known types like leather sports jackets. They look just as good and even have a design that most people have not seen before. So, if you want to stand out from the crowd and become the center of attention for a party, look into these other options.
Colors
As far as the leather jacket's color is concerned, a leather black jacket outfit with a black shirt is the safest, and brown is the best by far. But, on the flip side, unconventional colors like green or blue allow you to add a sense of personal expression to your overall outfit. 
Black Shirt in formal Settings
The conventional wisdom is that a white shirt is an optimal choice for formal or semi-formal attire. This statement is true but to an extent. Black shirts are just as good a fit for semi-formal events as white. Some would even say that black looks classier and more polished than white.
A great place to start with semi-formal fashion would be an all-black tuxedo with a black shirt and a black tie. You might think that something so monochrome will look uninspired or boring; that's not the case at all. This all-black outfit looks fabulous.
Preppy Style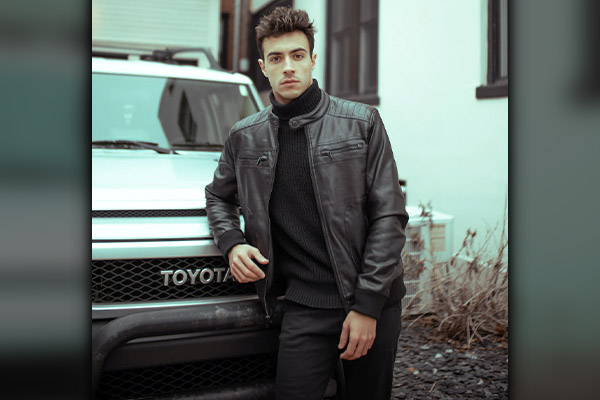 Do you want to look professional and neat without putting any effort into your outfit? Try wearing a blazer over your black T-shirt alongside a pair of bright blue jeans. A simple outfit with jaw-dropping aesthetics. 
Outfits like these are part of the preppy style. They make you look like a sophisticated modern gentleman in no time. It looks like you put in tons of effort, but you really did not. If done correctly, the results-to-effort ratio can seem too good to be true. 
Streetwear with A Black Shirt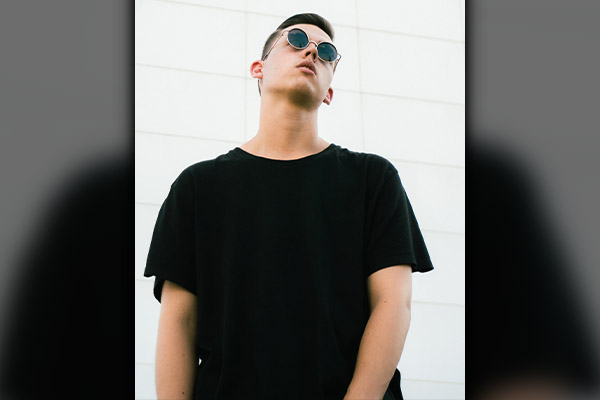 Streetwear and black shirts go hand in hand. A long-sleeve black t-shirt with a pair of black streetwear sweatpants is all you need to perfectly follow the street style. It's easy to execute and looks as modern as it gets. You can also experiment with multi-colored sweatpants and vibrant shoes.
The point of streetwear is to experiment with unusual cuts and colors and express yourself. However, keeping a simple black shirt consistent between your various outfits gives you a center point of your outfit.
Shirt and Shorts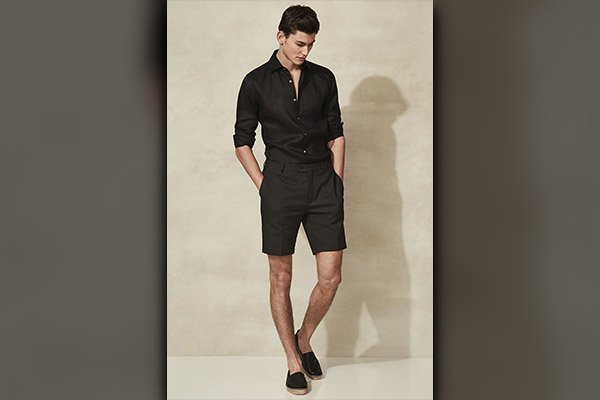 Finding something good-looking to wear in summer can be tough. The stuff that makes a nice-looking outfit tends to be hot, while the items that are light enough for intense heat don't form a coherent outfit. Well, this is the case, with one exception; a black T-shirt and black shorts.
This outfit is simple enough that a baby can figure it out. Moreover, it provides you something decent to wear when going out in the blistering sun, without getting baked in the process.
Business Casual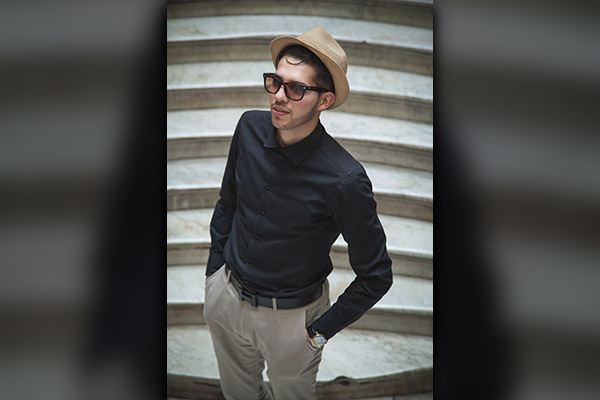 Business casual is clothing that looks interesting and feels comfortable while staying within the workplace dress code. Black button-up shirts, in particular, are a great addition to these sorts of outfits. A black shirt underneath a sweater is a great example of a business casual style. 
If you want to wear something a bit more professional, then try a black dress shirt with grey dress pants and a grey tie. Finish the outfit off with a pair of brown leather oxfords, and you'll look like you mean business in no time.
All-Black Outfits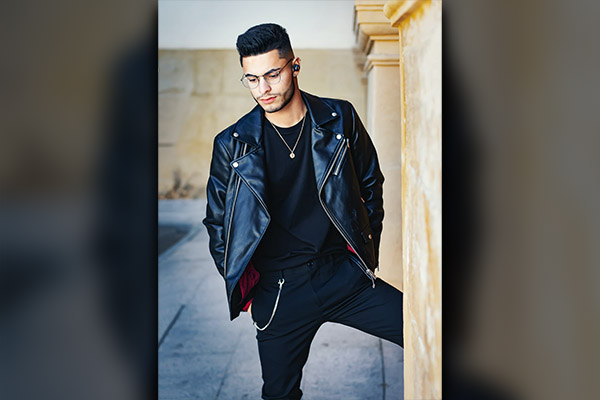 Yes, technically, an all-black outfit is not part of any particular style. You can wear anything from a blazer and jeans to a formal suit in all black without it looking out of place.
Black is basically the only color, besides maybe white, that you can craft an entire outfit from head to toe. A black t-shirt with a leather jacket, black jeans, and black sneakers is a mighty fine ensemble. You can even add black accessories like watches, scarves, and beanie hats without it looking over the top.
The crazy thing is, instead of looking simplistic and basic, an all-black outfit looks fancy and stylish.
Creating new all-black outfits is also super beginner-friendly. You could have no idea what works with what and still craft something magnificent. So, it is encouraged to come up with your own combos, your own all-black ensembles. Who knows? You might find the next big trend in men's fashion.
FAQ
The above-mentioned, obviously, does not cover every possible style that you can try with a black shirt. But these are some of the most popular and wildly-loved sectors of men's black shirt fashion.
Here are a few of the most commonly asked questions regarding black shirts and things associated with them.
Do Black T-Shirts with Prints Look Good?
Whether printed black shirts look good totally depends on the person you are asking. A general rule of thumb regarding prints is that you want as little of it as possible. Additionally, prints that are only in white are preferred over colorful ones.
One thing to keep in mind is that printed black t-shirts heavily limit your outfitting options. So, if you want something universal, avoid prints altogether.

Is It Okay to Wear Black Shirts in Summer?
Yes, you can wear black shirts in summer without any issues. In fact, a clean black shirt looks great in bright sunlight. But, areas with really hot summers might make wearing black a bit tricky. Black color absorbs almost all of the light hitting it and thus heats up faster as well. This can make you uncomfortable really fast if you live in an area with particularly hot summers. 
Do Black Shirts Work with Plaid Pants?
Yes, they not only just work but create a pleasing contrast between the plain black shirt and colorful pants with bold patterns. If you don't want to wear colorful plaid pants, then grey ones work perfectly fine as well. 
Final Words
To say that a black shirt is a must-have would be an understatement. It is, arguably, the single most important shirt in a man's wardrobe. A white and black shirt combo is all you'll need in any situation that you might find yourself in.
If plain black shirts are not to your liking, then look into the countless available variations like sweatshirts, hoodies, V-necks, and many more.
The best way to wear a black shirt, however, is with an outfit that you crafted yourself. So, sit down, and try to come up with something personal for you. You'd be surprised by how amazing some of your creations end up being.