As the saying rightly goes, "old is gold", same goes for jeans. A jean pant is very precious and it grows more precious as time passes by. Made out of hard-wearing fabric, jeans never wear off. They have been a part of men's essential clothing for many years.
History has witnessed jeans as an everyday clothing item. Therefore, they have been durable and long-lasting. But no one cared how it looked back then. The fits were mostly baggy, tapered, or voluminous, great for any body type. However, designers were constantly working on improving the silhouette of all jeans. In this era, jeans are developed with new techniques and sewing ways that create the perfect fit.
For those who wear jeans like a second skin, why wear them shapeless or sloppy? If it is your skin, then you should flaunt all the best parts of it! There cannot be a perfect answer to how jeans should fit, but the objective is to find a fit that balances with your body shape and highlights your best features.
Here are the key points that should be considered for properly fitted jeans:
How Long is Too Long?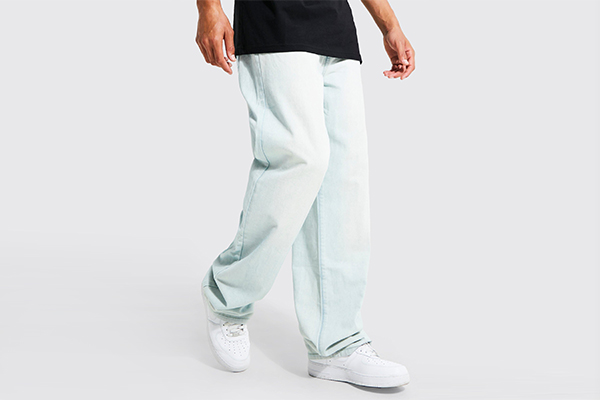 This is a significant aspect of the fit that is usually messed up by most men. You will notice that most of us are following the two extremes.
First is when we wear lengthy jeans that are stacking up above the shoes. This spoils the whole look of your outfit. It will make you look short and bulky and if you are a tall guy, then people will doubt your sense of dressing. A quick fix for this extreme would be to cuff your jeans to avoid excess fabric bunching over the shoes.
Second, is when you wear jeans that are short that they fall 2-3 inches above your ankles. Also, if your socks are showing while standing then your jeans are short. This also gives an unappealing look to your outfit.
So, the question remains, how long is too long? Well, your jeans should be showing a slight break in the fabric around the ankles. When we say 'break', we refer to the amount of fabric that folds and pleats around the ankles. There are four sorts of breaks.
Full Break Jeans
It creates a deep crease around the ankles such that any more length would cause a second crease to develop.
Half Break Jeans
The fabric of the pants bends noticeably at the ankles but without any significant crease.
Slight Break Jeans
When the pants meet the shoes and creases at the ankles, but only slightly, a quarter break appears.
No Break Jeans
This will show no extra fabric or creases at the ankle.
The best decision will be to seek a slight break to a half break.
Highlight your Waist
Don't camouflage your waist with ill-fitted jeans!
That being said, you should know that jeans should slightly hug you without being tight. Silhouetting the exact shape of your hips is not ideal. As a basic principle, you should be able to pinch 1-2 inches of fabric between your hips and jeans.
The hold around the waist is too loose if you need a belt to keep your jeans in place. Also, if you feel the jeans slipping down while walking, it is noted as loose-fitting. Such baggy jeans never look good on anyone.
The waistband of your jeans is too tight if you have trouble closing the button. Also, if you feel the button is pressing hard against your stomach and you feel uncomfortable because of it, then you should look for better options.
A quick fix is to sit down in the jeans and try to move, lift your legs and squat. If any of these movements urge the need to unbutton your jeans, then you are required to go up a size in the waist. Therefore, the relaxed mobility of the jean is a prime objective.
Thigh Way or the High Way
There should be enough room in the thigh area so that you can easily sit down. If it is pulling at the knees then it is too tight. As a rule of thumb, you should easily pinch 0.5 inches of fabric in the thighs. This will determine the tight factor and loose factor accurately.
The Wise Rise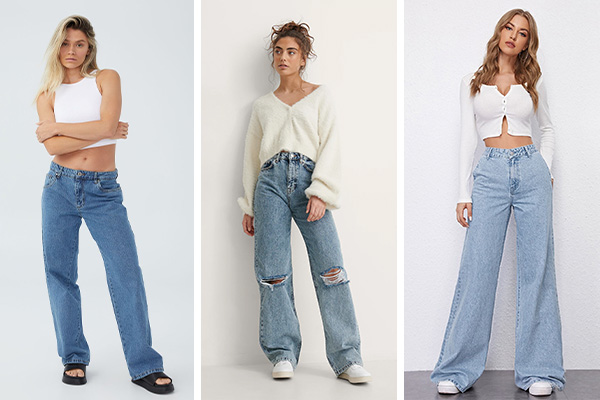 Wondering what is a jean rise? The definition says that the rise of jeans is the distance from the top of the waistband to the bottom of the crotch seam. This is the crucial part of a jean due to which it gets their perceived waistline. There are four styles of rises available.
Low-Rise
Jeans that are low-rise are also called low-waist jeans. These pants do not have extra material in the crotch area and are ideal for shorter bodies.
Mid-Rise
Jeans that are mid-rise are also called regular rise. They are identified by having the waistband between the hip and belly button, that is, about 1-2 inches below the belly button. This fit makes your hips look slimmer.
High-Rise
Jeans that are high-rise are also called high-waist jeans. They are characterized by having the waistband above the belly button. For men who have longer upper bodies and shorter legs, this type of jeans will make your legs look longer. Overall this will give a proportional impression.
Fabric does Matter
Jeans are made of denim and denim is made from 100% cotton. There are two types of denim, classic rigid denim and evolved stretch denim.
The classic rigid denim has a tight and fitted feel. Usually, stiffer fabrics are pleasing but they mold according to your body over time.
Stretch denim is a result of progressive technology and has become the new normal for many fabric makers. It has the soft touch of cotton with the added feature of stretchability. The key advantage is that it is very comfortable and contains one to three percent elasticity. Nowadays, comfort is a high priority. Stretch jeans are flexible enough to fit in more body types and adjust for discrepancies in size.
So, if you are habituated to super relaxed jeans, then rigid denim is not your style. However, men who still prefer rigid jeans have a true love for the classics.
Decoding the Types of Fit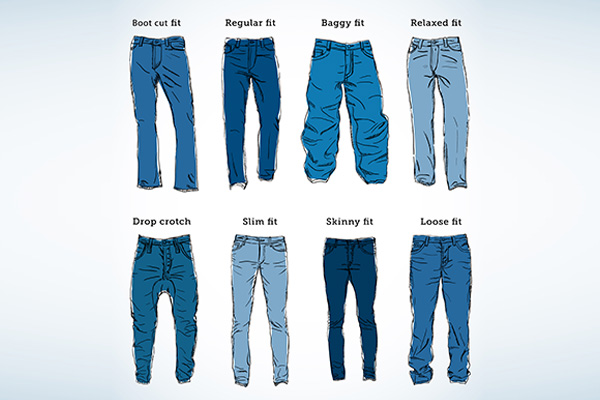 This is the part where you read the labels when buying jeans. The labels mention the types of fits that are adjusted to your physique and body shape. So how should your jeans fit overall? Whether you have long legs, short legs, skinny or bulky figures, broad hips, or slim hips –there's something for everyone!
Skinny Fit
This is a skin-tight fit. This type of fit closely follows the outline of your legs, just like a second skin. The skinny-fitted jeans look good in darker colors. If you like to play out of the ordinary, then you should try burgundy pants with a skinny fit.
Slim Fit
This type of fit is cozy and narrows down to the ankle. This fit follows the natural outline of your legs without being skin-tight. It would be a great pick for your garden party outfit.
Straight Fit
This type of fit has the same width at the top and the bottom. It is loose around the calves and ankles. It is perfect for men's summer fashion outfits.
Tapered Fit
This type of fit is for men who don't have weighty thighs and the lower part of the leg is smaller. The tapered jeans work best with indie-style outfits.
Athletic Fit
This type of fit is best for men who love to work out and build heavy thighs. It offers more space in the seat and thighs but it thins down to the ankles.
Boot-Cut Fit
This type of fit has more room below the knee so that it can provide accommodation for cowboy boots.
Relaxed Fit
This type of fit has more free space in the seat, crotch, and thighs and is cut in a straight pattern. When worn, it gives a baggy look.
FAQs
Should jeans be tight at first?
Jeans should be fitted at your waist, such that you won't need a belt. However, for rigid denim jeans, it will feel tight initially. But for stretchy denim jeans, you will be comfortable on your first wear.
Is it better to size up or down in jeans?
It is better to size down when buying jeans because the fabric of jeans tends to ease over a period of time.
How do you know if jeans are too big?
If you feel your jeans are slipping down when you are walking or if you need a belt to keep them up, both are indicators that your jeans are too big.
Should you go up a size in high-waisted jeans?
No, high-waisted jeans should have a snug fit. 
How do you know if pants fit?
You know your pants are fit if you don't need a belt to hold them and there is room to place a finger or two between your waistband and waist. 
Conclusion
We can conclude that the best-fitting jeans for you depend on a lot of factors. Each of these factors, as discussed above, is crucial in their roles. Your body shape also plays an essential part in selecting the right fit.
We are blessed that the fashion market is full of varying fits. Yes! Whatever your body type is, you will find a satisfying fit. There are loads of combinations available. They are mentioned as 'labels' in the shops such as straight-fit, slim-fit, skinny-fit, relaxed-fit, high-waist, low-waist, medium-waist, tapered-fit, boot-cut, and athletic-fit, to name a few.
So if you are off to get a pair of perfectly fitting jeans, these guidelines will help you not get confused. We have covered each aspect of how jeans should fit. Happy shopping!