Even if you have a wide variety of black, blue, grey, and even white jeans, it's natural to get bored with them at times. One of the rising trends in menswear is that of burgundy pants outfit which look incredibly stylish. Hold on all the style-conscious guys out there. In this blog, we will lay out some classy burgundy pants outfit suggestions that you can try.
Men usually hesitate to try any other colors for bottom wear, but branching out to different eye-pleasing colors for pants may be a good idea to make a unique style statement.
Burgundy, also known as maroon, is a deep red hue that signifies power and sophistication. Wearing a burgundy pants outfit the right way is surely going to boost your style score, showing your good taste in fashion.
We are using the umbrella term burgundy pants which include jeans, chinos, corduroy trousers, sweat pants, and dress pants in dark wine color.
What to Wear with Burgundy Pants?
The complementing colors with burgundy are grey, white, navy blue, beige, and black. These neutral hues will look amazing with the rich shade and give you a neat look. However, colors like red, green, and shades of orange can clash with burgundy and look awkward, so it is better to avoid them.
You can also pair earthy tones like olive, mustard, camel, or coral with your maroon pants. Monochrome outfits for men look very classy, such as wearing pants with a maroon Henley and a burgundy leather jacket.
When it comes to the right clothing that can be paired along the burgundy bottoms, your wardrobe must-have plenty of them already. You can simply wear them with French-style Breton shirts, chambray shirts, and t-shirts, Henley's and turtlenecks in neutral colors, and white collared shirts. Grey hoodies also look quite stylish over these maroon-shaded pants.
Outerwear Options with Burgundy Pants
If you are looking for layering options, your best bet would be leather jackets in different styles, like the minimal cafe racer jacket, or the edgy leather motorcycle jacket in black. A navy blue varsity jacket or a denim jacket will also go well along with the burgundy pants. For dressier options, opt for pea coats or blazers.
Wearing an oversized cable knit sweater in earthy tones is a nice way to elevate the burgundy pants look. Or, go for cardigans over warm t-shirts for a cozy winter outfit.
You can wear various types of long coats over a basic turtleneck and burgundy pants, like brown, grey, black, and beige trench coats, duffle coats, or parka coats.
Footwear Options with Burgundy Pants
Keep the above mentioned complementing colors in mind when choosing footwear with burgundy bottoms. The versatile brown Chelsea boots are the best option with these pants, and they are also the appropriate shoes to wear with a leather jacket, so go for them to create a rugged look.
For laid back looks, you can opt for black, white, and brown sneakers, converse shoes, chukkas, and loafers. Stick to brown, black, or grey brogues or derbies for dressier ensembles. You can even go for unique navy blue suede shoes to complement your navy blue outerwear.
How To Create A Burgundy Pants Outfit?
Men's burgundy pant outfits are easy to put together, as you already have read what colors go well with them. No more do you need to worry whether you can pull them off or not. If you want to go for burgundy corduroy pants, jeans, chinos, or even joggers, it's better to get a straight fit or a slim fit style.
As it is a dark color that looks better in a slim silhouette, suitable for street style, smart casual, or even business casual style. However, if baggy is your personal style, there is no one stopping you to flaunt those baggy pants with casual style shirts and hoodies.
Here are your ultimate burgundy pant outfits inspiration:
With the Navy Blazer
The sleek look of the burgundy chinos is well complemented with the tailored navy blazer. Pair it with a light blue or white collared shirt and slay the business casual style with ease. Consider wearing brown Oxford shoes with this outfit. Add a brown belt and brown leather strap watch to tie the whole look together.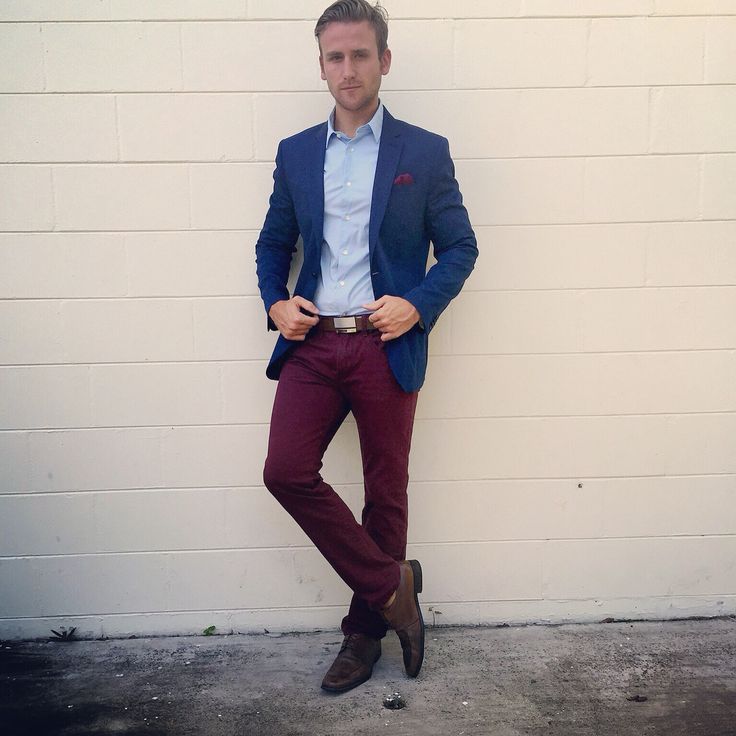 With a Grey Shawl Collar Sweater
Shawl collar sweaters are trending high these days. You can wear them over a basic t-shirt, or striped dress shirts for a nice contrast. Team up a light grey shawl collar sweater and burgundy jeans or corduroy pants for a cozy look. For the footwear choice, put on your black sneakers with this outfit.
With a Smart Checked Shirt
For a crisp look, wear a tailored black and white checked shirt over burgundy pants. Use a black leather belt and brown lace up boots to complete this suave outfit. Rol up the sleeves, and wear a stylish black watch for a dashing appearance.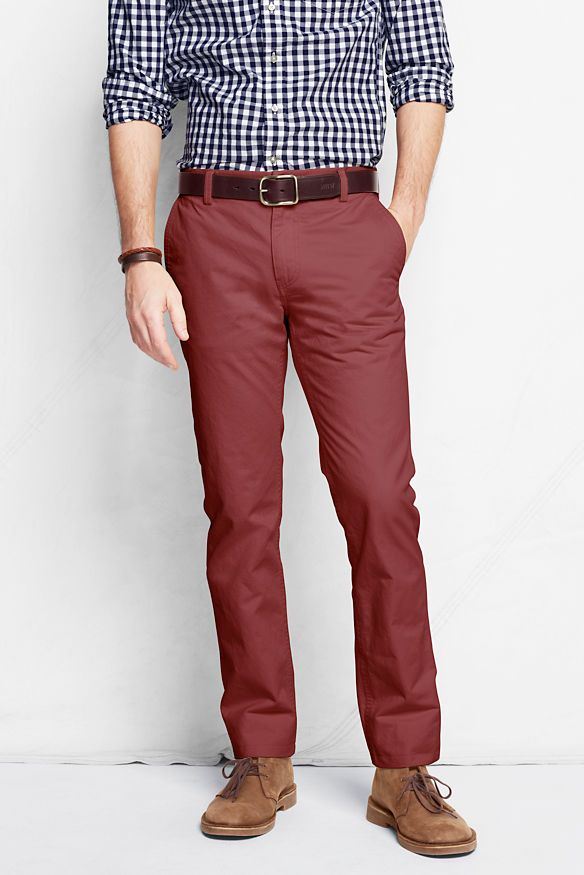 With a Breton T-shirt and Cardigan
Breton shirts are highly versatile and are a great option when you want to experiment with bottom wear in different colors. The same is the case with burgundy pants as a Breton shirt perfectly accompanies them. You can wear a brown cardigan with this outfit for a cozy look. Other options are a long trench coat, or a black varsity jacket to layer this ensemble.
Opt for white sneakers for the footwear, and add cozy vibes with a white beanie.
With a Light Pink Chambray Shirt
For a cool casual look, wear a light pink chambray shirt along with burgundy chinos. Round off the look with brown casual boots and wayfarer sunglasses.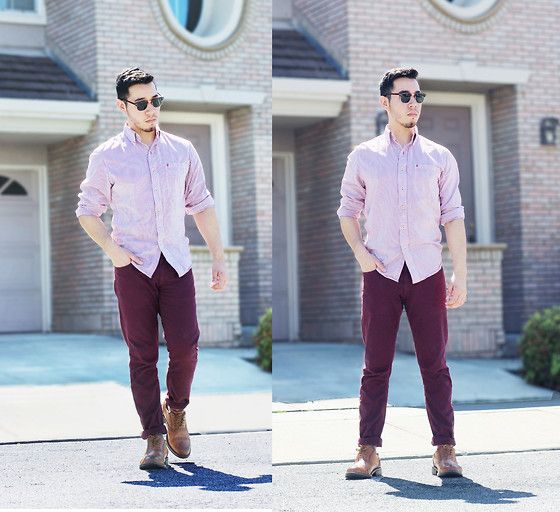 With a Black Polo Shirt
No outfit can be more stylish than a minimal black polo shirt paired with well fitted burgundy chinos. Style the look with a black watch, black sneakers, and a beret hat.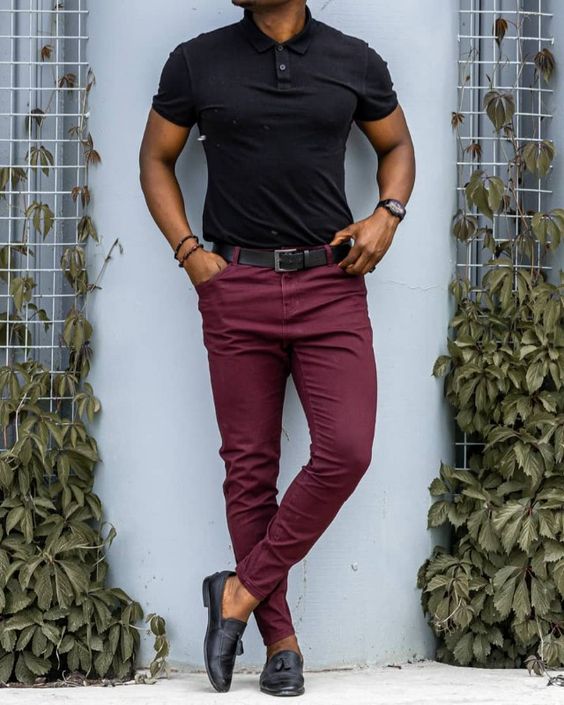 With a Denim Shirt
A denim shirt can give you an effortlessly casual look when you pair them with pants in unique colors. As blue and burgundy make a cool contrast, pair your denim shirt with maroon pants and a lightweight jacket. Raise the style quotient of this simple outfit with a pair of brown Chelsea boots and leather bands.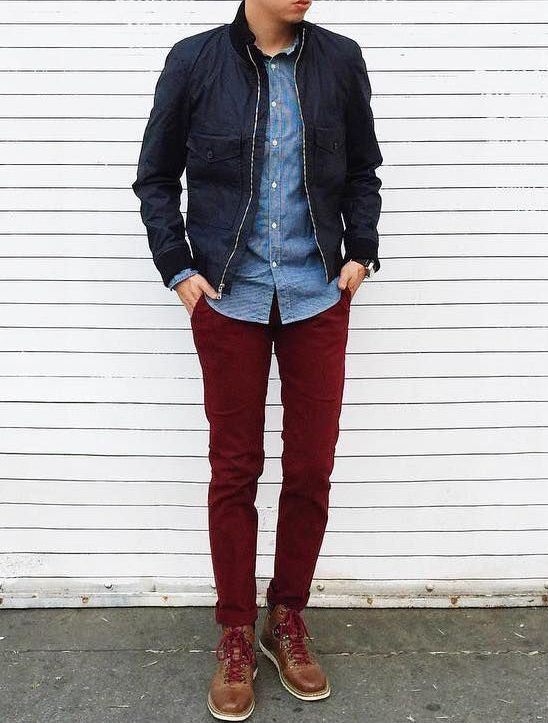 With a Black Overcoat
Just like the German men's style is pulled off with dark muted hues, you can create a dapper look with a black sweater, burgundy pants, and a black overcoat. This outfit is extremely easy to pull off, as there is no faux pas involved. Elevate the look even more with black double monk strap shoes, and a black woolen scarf.
Burgundy Jacket Outfit with Burgundy Pants
Complete your burgundy pants outfit for men with classy outerwear choices. Below are a few ways to nail the layered looks with style.
With a Beige Henley and Black Windbreaker Jacket
For an outfit that brings out the charm in your personality, go for a simple beige henley and burgundy trousers. Add a black windbreaker to complete the look that looks stylish besides keeping you warm.
With a Grey Sports Jacket
Another refined outfit can be built by pairing a black shirt and grey sports jacket with burgundy trousers. The ley to look well dressed is to get the fit right. Complete this look with a pair of polished derbies.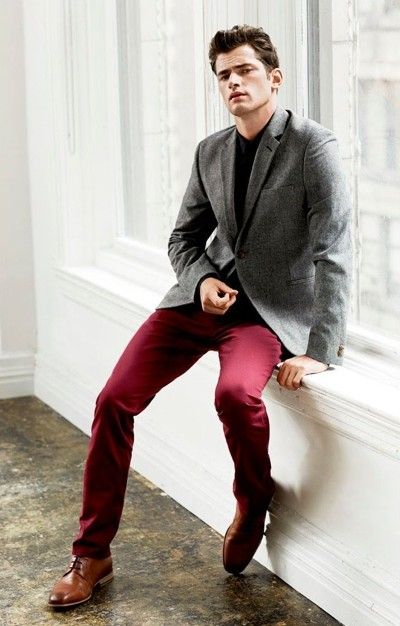 With a Brown Biker Jacket
There is no way you could go wrong with a brown leather jacket and burgundy jeans combo. Wear your jacket over a white collared shirt. The pairing makes you look dapper with a hint of ruggedness. Rock a pair of tan boots to finish the look.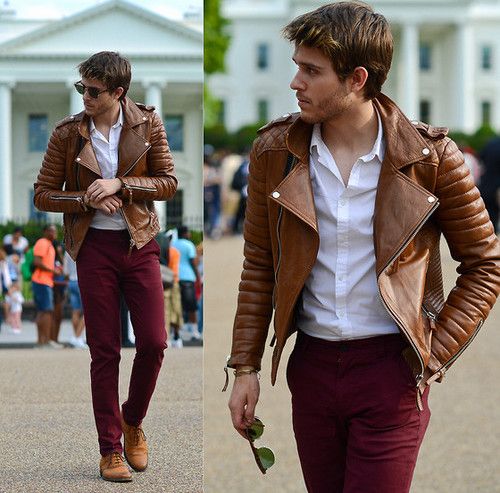 With a Burgundy Jacket
Team up a black turtleneck with plaid burgundy pants a deep red leather jacket. Bump up the look with black chukka boots and black shades.
Conclusion
Burgundy may be a color not as common as blue and black, but it certainly is an earthy tone that you can pair with a variety of colors. Burgundy pants are a great way to hike up those style meter readings, and a fresh break from your usual bottom wear. Try the outfits suggested above to rock the burgundy pant looks with absolute panache.