Many men consider white jeans a daring thing to wear, owing to the fact that it quickly gets dirty. But ask any fashion-savvy person, and they will tell you how white denim can be the ultimate style statement to make a lasting impression on anyone. If you want some fashion advice on what to wear with white jeans, dive right in.
Blue and black jeans outfits maybe your typical go-to style for everyday casual or smart casual looks. However, the dashing looks of a white pair of jeans cannot be underestimated. Trying on white jeans with appropriate clothing can really amp up your sartorial game. It lends itself easily to almost all colors, giving you immense pairing options.
Let's explore how white jeans outfits for men can bring up the fashion factor for you.
White Jeans and Men's Fashion
Many fashion aesthetics include outfits with white jeans for men as it gives a very clean, minimalist look. Whether you want a charming beach look or a proper professional look, white jeans can do that for you effortlessly. The color white makes it easy to dress up and down these pants in multiple ways.
If you are building a men's capsule wardrobe, don't forget to add well-fitting white jeans to it for increased versatility.
Pair trendy ripped white jeans with a lightweight chambray shirt for a cool summer outfit. Or, go with slim-fit style jeans and style it with a leather jacket, preferably a black men's bomber jacket for streetwear vibes. You can also use a pair of straight-fit white jeans along with a grey henley and a navy blazer for sophisticated business casual attire.
Wearing white denim is possible both during the day and at night, and here are some no-fail ways to rock it.
White Jeans for Day
Pair white with light neutrals, and you will never go wrong. From a breezy light blue button-down to a light brown suede jacket, light-colored clothing staples are the perfect puzzle pieces to a day outfit with white jeans.
T-shirts and White Jeans
During the day, donning the t-shirt over a pair of off-white or ivory jeans is the easiest way to pull off a relaxed outfit. Opt for a black and white look by choosing a black t-shirt over ripped white jeans. Add the street casual vibes with a black snapback and a neck chain. A pair of white sneakers will round off the outfit.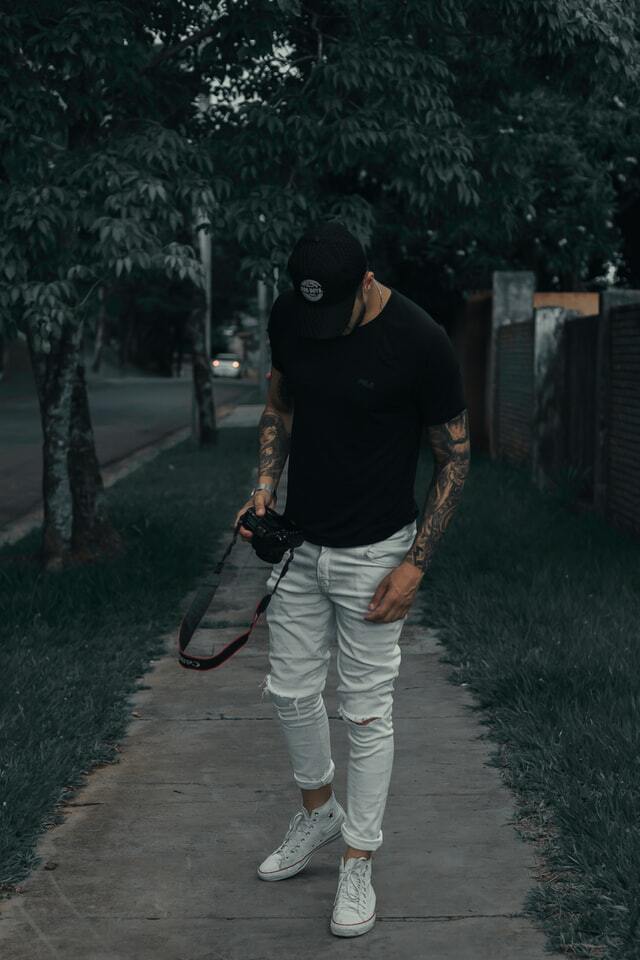 White distressed skinny denim paired with a black leather biker jacket gives the 2000 emo fashion vibes, and a typical emo hairstyle with bangs or spikes will add authenticity to the look.
You can also choose a burgundy full-sleeved t-shirt with white jeans and layer the outfit with a men's grey trench coat for a refined look. Black low-top sneakers and shades accessorize the look to perfection. With a classy outfit like this, you don't have to try anything else, as the dashing vibes are enough to get those admiring gazes from everyone around.
Casual Shirts with White Jeans
All the charm comes your way when you choose white jeans to pair along with your trendy casual shirts. Whether it is a peppy Hawaiian shirt or a Henley, white jeans lend themselves effortlessly. If you're going for a Hawaiian shirt outfit, add tan loafers and retro-style shades for a quirky look.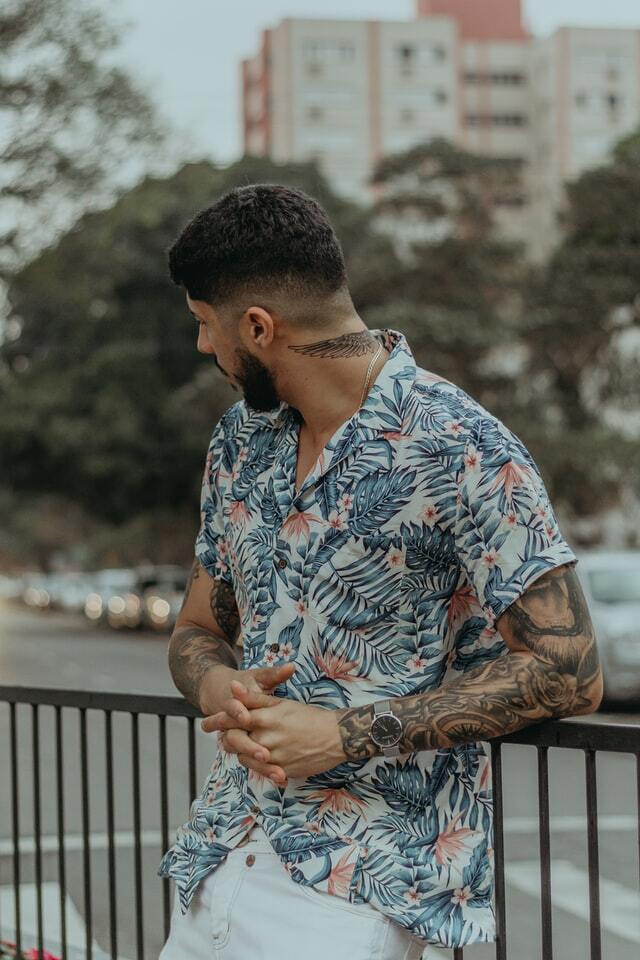 You can also style a flannel with white jeans by wearing a basic black crewneck t-shirt underneath. Or, select a denim shirt with white jeans for a quick smart outfit. Use brown Chelsea boots with either of these looks.
Men with a nerdy style can also try an all-white look. Choose a yellow half sleeve shirt along with straight-cut white jeans for a day out. You can also go for slightly looser fits to get into the aesthetic even more. Add suspenders for added style and complete the look with light brown brogues.
Team up a lightweight olive green casual shirt with white jeans. Go for brown loafers, a leather strap watch, and black wayfarer shades to pull off the look with panache.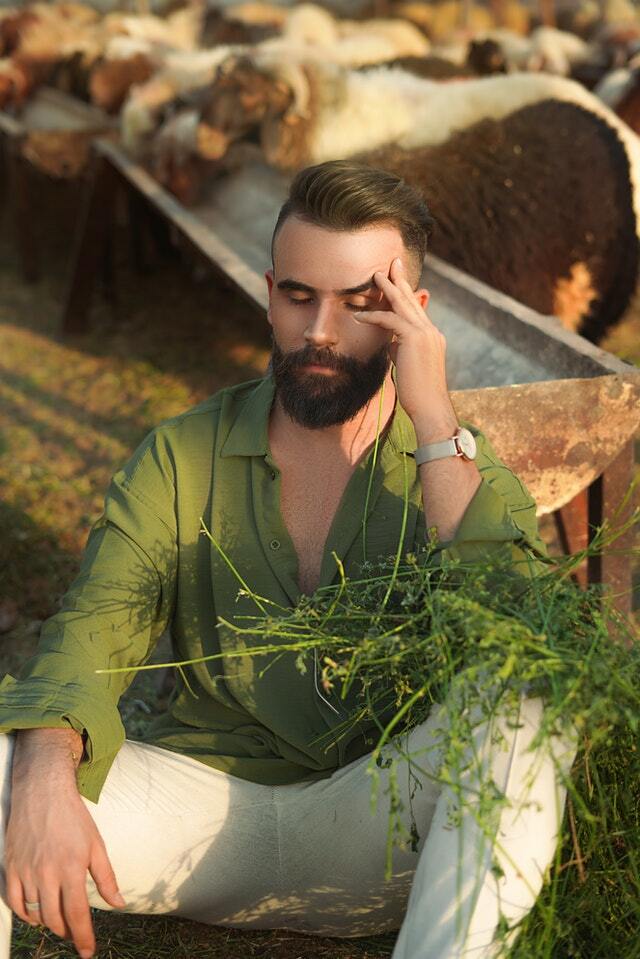 All White Outfits
All white outfits with white jeans can do wonders for a neat and refined look during the daytime. It's not that difficult a style to pull off if you get the pairing on point. Adding a hint of color with your shoes, watch, and sunglasses are the right way to wear all white and avoid a monotonous look.
For instance, wearing a cream white turtleneck with crisp white jeans is a no-fail street style outfit that replicates the 90's style. Black minimal sneakers are definitely the right choice for this look.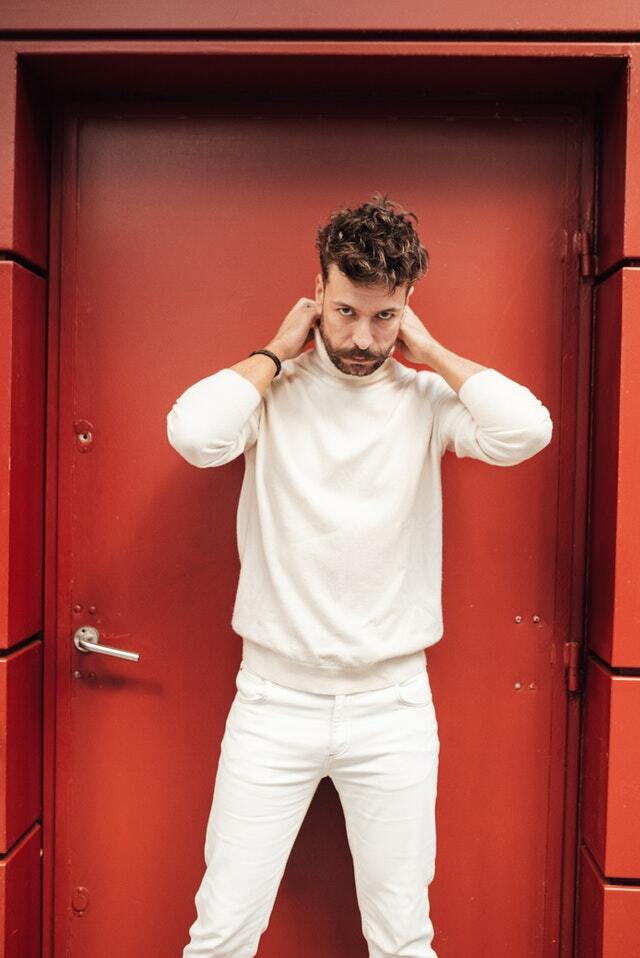 If you love the way Italian men dress, replicate their style by teaming up a white button-up shirt, white jeans, a fedora hat, and aviator-style shades.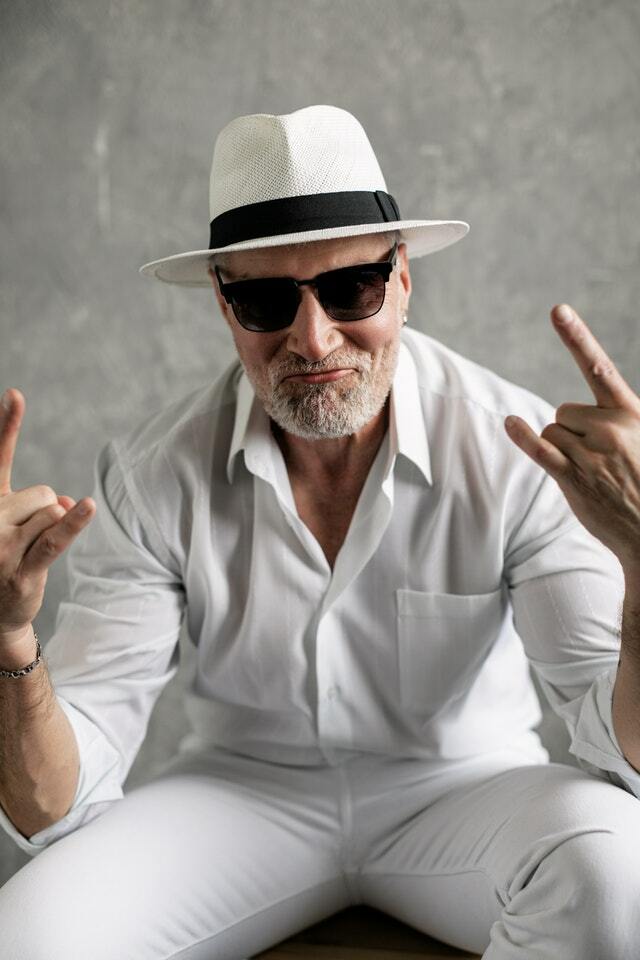 You can even add an edge to an all-white t-shirt and jeans outfit with a white leather jacket. Choose a cafe racer-style jacket for a sleek touch.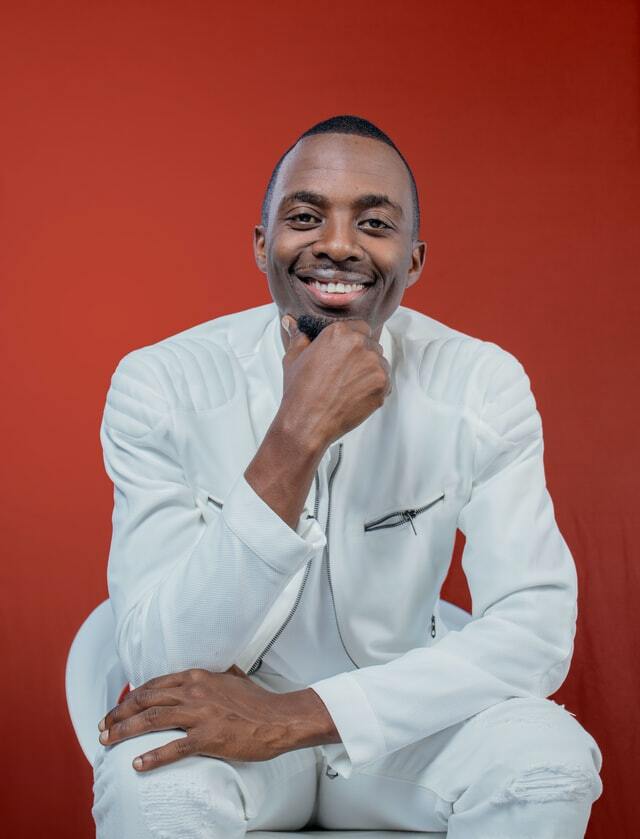 White Jeans and Sports Jacket
As the smart casual and business casual style is the norm these days for work and events, men often look for ideas to wear these outfits with white jeans. A sports jacket in muted colors and patterns is the best way to pull off these looks as they add a classy touch to an outfit besides making you look well dressed.
You can try the trending palewave style with a pastel green sweatshirt, light grey sports jacket, and white denim pants. For footwear, you can choose a pair of espadrilles in a light shade of grey to blend in with the look.
White Jeans for Evening
You can actually look quite suave with a white jeans outfit later in the day or night. Here are a few ideas to nail it.
Button-ups and White Jeans
Team up white jeans with different solid colored and patterned button-ups to look stylish. A black shirt with white jeans is a classic outfit that you can opt for a dapper look. This black and white outfit can be appropriate for a casual night out with friends or an after work meet up.
For times when you want an on trend look without trying too much and searching through your wardrobe, go for a dark colored shirt with white jeans. Opt for suede chukka boots to finish off this look.
White Jeans and Blazers
White blazers are a wardrobe mainstay for men who love a strong style statement. For a look that is both classic and casual, go for a beige double breasted blazer along with a striped collared shirt and off white jeans.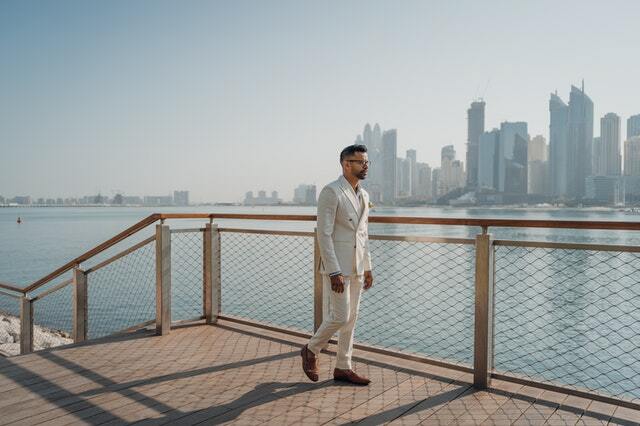 You can also go for a bright colored blazer with white jeans for a quirky yet smart look. Try royal blue, green, or a burgundy blazer for a distinguished style.
Layered Looks with White Jeans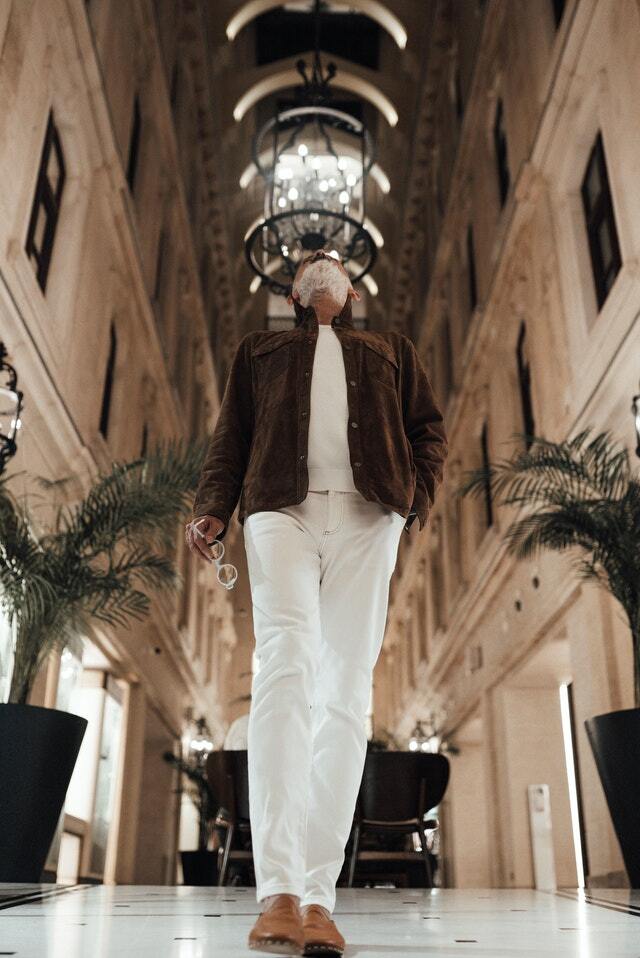 White jeans, being highly versatile, give you multiple opportunities to add layers in appealing hues in the chilling weather. You can wear dark colored sweaters with shirts, quilted jackets, parkas, and heavy wool coats with white jeans.
Fashionable leather jackets like a double rider jacket, shearling jackets, or bomber jackets in different colors are also a great pairing option with white and cream denim pants.
On a day with wild cold weather, just go for a brown crewneck sweater, a black leather vest, and white slim-fit jeans. Pair your casual sneakers with this outfit.
A red jacket looks so nice when you wear it over a warm cable knit sweater and white jeans. Amp up the style with brown fleece lined boots for a cozy touch.
Or, try a dark shaded jacket, such as a dark brown suede jacket over white henley and jeans. Opt for a pair of tan derbies for a classy touch.
FAQs
Are White Jeans in Style for Men?
Ace designers have incorporated men's white jeans into spring fashion trends for 2022. Also, by observing the street style trends around the fashion capitals of the world, we reckon that the white jeans trend is certainly in vogue.
Are White Jeans Appropriate for Business Casual?
White jeans can give you sleek outfits for business casual style. Use solid colored button-ups polos shirts, blazers, and vests to put together business casual outfits along with it. Opt for neutral and muted dark hues for a professional look.
Can You Wear White Jeans at Night?
Wearing white jeans at night is perfectly fine, but you need to build the outfit keeping in mind the occasion you are dressing for. Try a dark plaid shacket over a crewneck shirt and white jeans and pair it with grey and black sneakers. Or, you can go for a brown henley and a grey overcoat with white denim for a perfect evening look.
What Color Shoes Go With White Jeans?
Your casual footwear in black, grey, and brown colors contrasts well with white jeans. You can play with shades and go with mid-tone neutrals like tan, charcoal, tobacco, and olive shoes when wearing white pants.
What Color Belt Goes With White Jeans?
A black leather belt is the safest option, but you can also try different shades of brown with white jeans outfits for men for a neat appearance.
Why Do People Avoid Wearing White Jeans?
It is a common understanding that men steer clear of white jeans as stains are inevitable on the pristine white fabric. Also, some of the stains are hard to remove completely, which makes one worry about the garment getting ruined with no chance of restoration. Some may think that white jeans are old-fashioned and give a bizarre appearance.
All these things, even if true, can be avoided and shouldn't deter you from wearing these stylish pants. You can save your white denim from ruining by using a good fabric stain removal product and drying it under natural sunlight.
How To Pair White Jeans With Winter Essentials?
Here is a fashion-forward look with white jeans. Try a Scandinavian style winter outfit with a beige fitted turtleneck, an olive wool coat, and loose-fit white jeans. Wrap a grey wool muffler around the neck and round off the look with dark brown high-top sneakers.
You can also try a very classy winter outfit that looks regal. Wear a white turtleneck and ivory jeans, and layer it with an exclusive navy fur-lined coat. Choose brown Chelsea boots for this luxe look.
Conclusion
White jeans may be a garment that men find a bit tricky to pull off, you must not get discouraged to try it as it gives a very charismatic look. Any of the outfits we have mentioned above are easy to get right, with most built with essentials that a man already has in his wardrobe. As white complements most of the hues from the color palette, you can definitely take things up a notch with this stylish wardrobe staple.