The 90s. A decade defined by its unparalleled prosperity, breakdance fueled hip-hop, and the emergence of the internet as we know it today. Despite all these amazing things to remember the decade by, the first thing that comes to mind when talking about it is the unapologetically bashful 90s men's fashion.
Some say it was over the top. While others praise that style for its diversity. Some even claim that it was the peak of men's fashion in all of recorded human history, and no trend has since managed to achieve that charm.
Although the brilliance of that era's fashion is still up for debate, one thing that everyone agrees upon is that it was certainly distinct. "So, what?" you might think. "That decade is long gone, and so is its fashion." And that's where you'd be wrong. 90s retro style outfits are back.
What To Expect In This Article?
Biggest 90s Fashion Trends:
Let's take a look at all of the major fashion trends of the 90s. This will help you to better incorporate 90s fashion trends in your wardrobe.
Baggy Jeans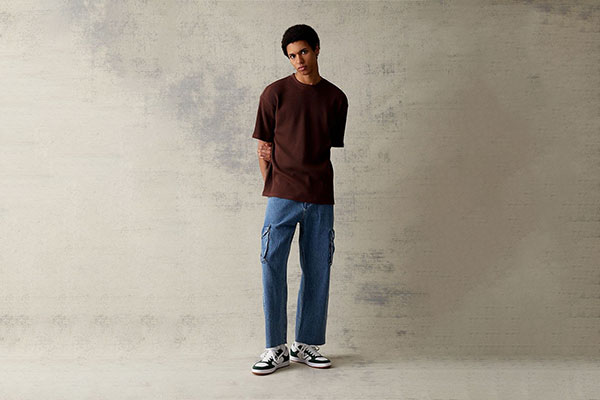 Starting off our list is a pair of pants that many people have strong opinions about. Some absolutely despise them, while many others love them to this very day. These jeans were a part of the larger baggy style of clothing popularized by break dancers and hip-hop enthusiasts. A lot of popular celebrities, mainly rappers, were wearing them, and they became the go-to pants for millions of teenagers.
They were usually paired with an oversized baggy t-shirt. That t-shirt was mostly made of colorful patterns, and the choice of whether to tuck in or leave it out was completely up to the wearer. A popular way of wearing baggy jeans was to fold up the bottom and let the colorful socks shine through.
Today, the association of baggy jeans with hip-hop or rap is all but forgotten about. The men's fashion industry has been focusing a lot on narrow and tight-fitting pants for quite some time now. People are getting tired of them, and a lot of them are moving over to the baggy jeans club. The airy nature of these outfits also makes them an ideal summer outfit for men of all ages.
Denim Jackets and Shirts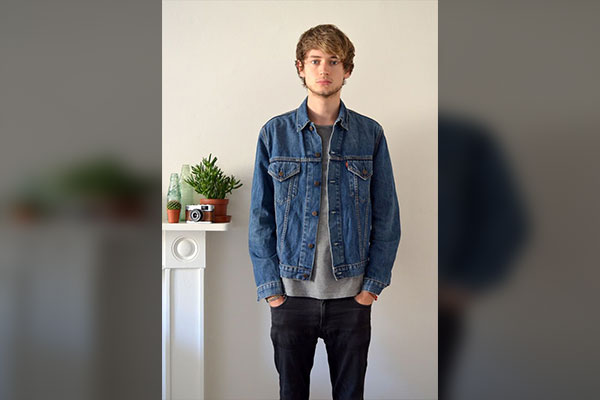 Denim is one of those materials that never dies. We see it everywhere even today, but it was at its all-time high during the 90s. The various denim jacket styles were considered an essential part of any well-put-together man's wardrobe.
While there were many ways to wear a denim jacket, the most popular one was to wear them over a regular t-shirt with a pair of jeans. Some even tried these jackets over dress shirts which looked nice but weren't that visually striking.
Where the appeal of denim jackets as a whole has slowed down a bit, the denim over denim outfit has stayed strong. The modern denim jackets and jeans combo are a bit more tailored and tight-fitting than the ones from the late 20th century, but they are certainly inspired by them.
Leather Biker Jackets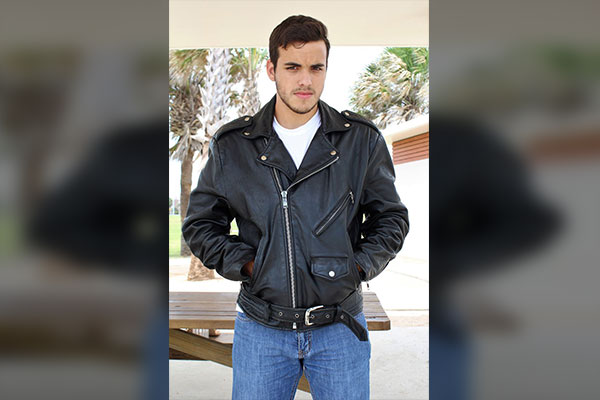 Speaking of materials that never go out of trend, leather jackets. Specifically, the biker jackets had a huge surge in popularity in the 90s. This was mostly thanks to pop culture as a whole which was putting emphasis on being the biggest gangster and a tough guy in general. A look certainly achieved by wearing a biker jacket.
If you want to wear something that is pretty much the same as it was back then, then go for a biker jacket. Their design was perfected in the 90s and has remained the same ever since. The only thing that has changed significantly is the lack of metal spikes on the modern ones.
Biker jackets on their own are one of the best leather jackets on the market, and it gets even better when you factor the 90s trend into the mix. The leather material alone makes them a must-buy for any man on this planet. It is strong, and reliable and it looks marvelous. Add the legendary biker design into the mix, and you've got yourself a recipe for the ultimate 90s men's outfit. You should check out our article on the various kinds of leather and biker jackets for more information.
Windbreaker Jackets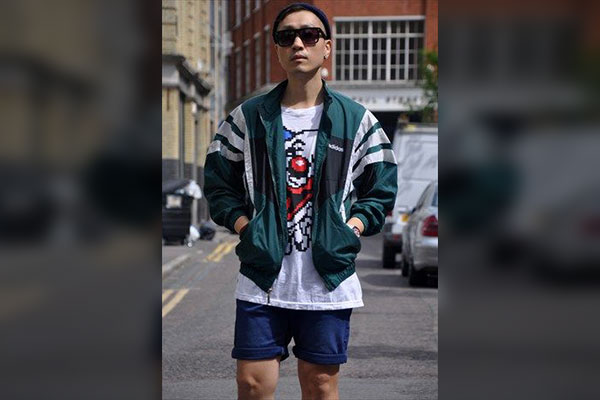 Staying on the topic of jackets, the windbreaker jackets were the perfect pairing with baggy jeans. They were a little baggy themselves and usually hosted fun patterns and vibrant colors. Additionally, these jackets were worn with pretty much all types of pants, and they worked with almost everything.
If you were a young man living in the 90s, you would've seen windbreakers a lot more often than leather bikers or even denim jackets. This is simply thanks to the lower cost and increased versatility of windbreaker jackets.
Your 21st-century closets can definitely do with some nice windbreaker jackets. They can be worn over everything and anything, and the vibrant colors look just as good today as they did decades ago.
Ripped Jeans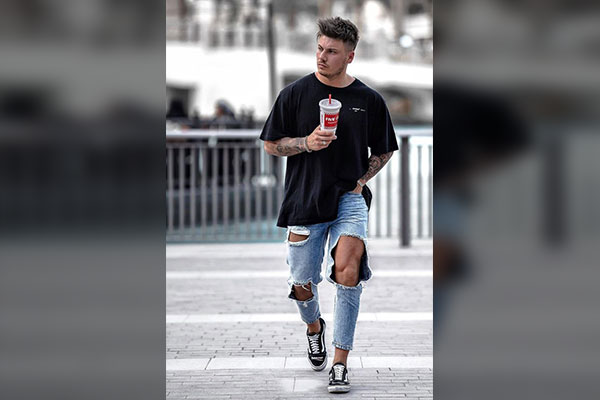 Yes, you read that correctly; ripped jeans are not a modern invention. They were just as big a part of 90s men's fashion as baggy jeans. Today, you might see them and not give a second thought, but things were different back then. The youth of that era ripped their jeans as a sign of being fed up with the system and society as a whole. These jeans were a symbol of grunge and a rebellion against the posh and tidy.
The outfits that were crafted around these ripped jeans were absolutely fabulous as well. Some wore them with simple white t-shirts or, at most, a printed t-shirt. While others took it to men's fashion extremes with oversized jackets, trench coats and turtlenecks.
Wearing a pair of ripped jeans today has none of these historical implications and intentions, but their spirit lives on in the design itself. A pair of ripped jeans can add a little bit of an edge and sharpness to your entire outfit that a normal pair of jeans simply cannot.
Graphic T-shirts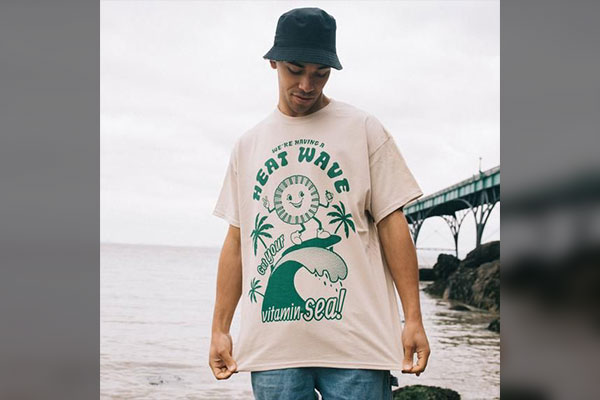 Large printed t-shirts were, at a time, everywhere. Every single person had some writing, or picture, or both on their shirt's front. A large part of this fashion trend was fan culture, as a significant number of these printed graphic Ts were decorated with a portrait of the wearer's favorite rapper or music artist. People even used to wear the same print alongside their friends to form an outfit bound gang of sorts.
Unfortunately, graphic t-shirts died alongside the decade. You can certainly find some today on the market or even get a custom-made one; they are just not a popular option. You can try this trend by wearing one today.
Popular Accessories Outside of Clothing
90s men's fashion went way deeper than just a few jackets and a couple types of jeans. Even with this limited assortment, you could find a lot of diversity, all thanks to the accessories.
There were different types of leather shoes that men, especially teenagers, liked to wear, such as combat boots. There were also the metallic chains worn around necks, wrists, and belts. Last but not least, were the iconic snap-back, bucket, and baseball hats. Each had a unique look and represented entirely different fashion vibes.
The 90s accessories were a major, but sometimes overlooked, reason behind the success of that decade's fashion and style.
What jeans were in style in the 90s?
As we've seen so far, the two most popular types of jeans were ripped jeans and baggy jeans. There were obviously many lesser-known designs available that are still present to this day, but their designs were pretty generic and held no significant historical or fashion value.
There was a general trend towards jeans that were a little on the loose side. Men of that time liked the freedom of movement provided by these 90s pants while maintaining killer looks. The main color at the time was also just blue for everything. Sure, there were some different types of grey jeans, but anything to do with denim usually consisted of a shade of blue.
What hairstyles were popular in the 1990s?
Hair got just as much love in the 90s as pants or graphic t-shirts. There was probably more variety in hairstyles than there were types of outfits available on the market.
For starters, you had your standard slicked back hair or highlights. These were kind of the basic hairdo. Then there was the stuff inspired by rappers and hip-hop music like waves and cornrows.
90s men's hairstyles were also filled to the brim with distinctly African-American hairstyles like afros and flat tops. At the same time, spiked hair and frosted tips were the more socially accepted vision of a mohawk.
One thing to note is that the focus of this generation's hairstylists was more on the shape and the texture of the hair, as opposed to the color.
What to wear to a 90s party?
So, you're going to a 90s themed party and don't know what to wear. Don't worry, as chances are that you already own the stuff needed for a distinctly 90s look.
Biker jacket
Your first option is the biker jacket look. Just put your leather biker jacket on top of a plain white shirt and a pair of dark grey jeans, and you're good to go. A nice belt with plenty of chains and metal would be a killer addition to this outfit, but it isn't necessary.
Denim jacket and ripped jeans
Next up is another outfit that might already be present in your wardrobe. All you have to do is wear your ripped jeans, under a large t-shirt (ideally printed) and a denim jacket. Bonus points if you can match this outfit with a pair of large combat boots.
Windbreaker with sweatpants
If you own a windbreaker jacket, then you can wear that with a pair of sweatpants. Just close the jacket's zipper, and you're in the 90s. This outfit might not be ideal for parties as it can be a bit too informal, but it is still a fun look to try.
What was trendy in the 90s?
It was freedom.
The prosperous time was filled with inspiring music that created a blissfully rebellious youth, and their clothing was an indicator of that. Tight, restricting clothes were thrown out in favor of things that provided better freedom of movement. Ripped jeans were just tight jeans modified to be less restricting on the knees.
The printed shirts and similar colored pants were there to provide a sense of community, while the accessories were present to give every person a distinct visual identity.
Final words:
90s men's fashion might look chaotic and unrestricted on the surface, but cut a little deeper, and you'll find something far more sophisticated and meaningful. But, even if we ignore all the meaning behind it and just take the outfits at their face value, the 90s still provide something that is most definitely driving these trends to stick around for a long time to come.