Jeans are the uncontested king of men's modern fashion. Grey jeans, in particular, are a master of variety. You can pair them with a plain white t-shirt for a casual look or get dressed for a business meeting with a formal shirt and a sports jacket. This versatility, combined with the timeless nature of men's grey jeans, makes them a certified must-have for everyone, with no exceptions.
However, not all grey jeans outfits are created equal. You can wear them over almost everything and look fantastic, but there are few attire items, like flannel shirts, that work exceptionally well. These are the combinations and outfits that you should know about if you want to attain a robust fashion arsenal.
What To Expect In This Article?
Men's Grey Skinny Jeans with Chambray Shirt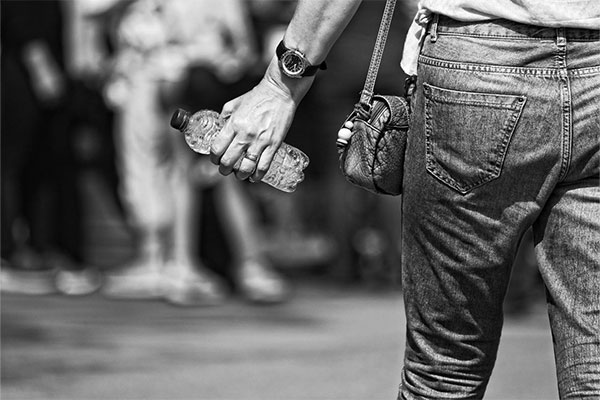 The first combo on our list is also one of the easiest to pull off. All you need is a pair of grey skinny jeans and a light blue chambray shirt. Additionally, a pair of nice low-top leather sneakers will tie the whole thing together and grant you extra style points.
If you want something that is quick to put on, doesn't require any preparation ahead of time, and works in every casual situation, then this is it; this is the outfit you're looking for. The contrast of grey skinny jeans with a lively loose chambray shirt makes this one of the best grey jeans outfits for men.
Men's Grey Ripped Jeans with Denim Shirt
Need something fancy for a small party but don't want to look overdressed? Look no further than the combination of a denim shirt and a pair of ripped grey jeans. You can opt for a blue denim shirt if you want some color in your attire, or you can go monochrome style with a grey shirt.
This whole outfit is deceptively simple yet exceptionally stylish. You'll fit right in, with any modern urban setting while also attracting attention to your perfect pairing.
Another option is to include a white or black tee underneath the denim shirt and keep the buttons open.
Men's Grey Distressed Jeans and a Biker Jacket
Let's move a bit further from smooth grey pants and look towards the incredible distressed finishes. A pair of distressed grey jeans worn with a black t-shirt and a black biker jacket is the ultimate modern macho outfit. Now, all you need is a pair of tactical leather boots to bring the whole outfit together, and you're dressed to impress.
This is an outfit that inspires confidence and masculinity without making you uncomfortable. The biker jacket alone is cozy, not to mention the tactical shoes that cushion every step you take. Once in this outfit, you'll feel like you can complete a marathon in style.
Dark Grey Jeans with a Bomber Jacket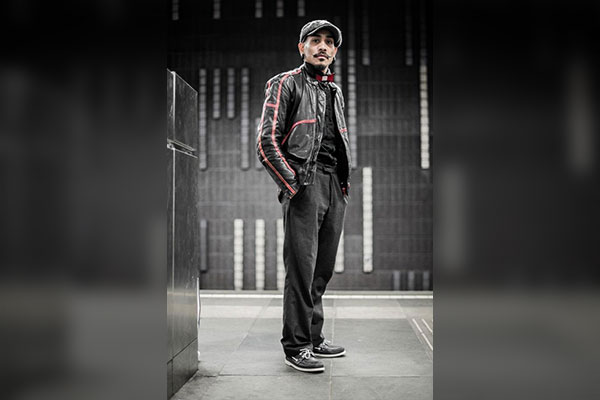 So, winter is coming, and you need something that is warm, comfy, and as modish as it gets. However, you also don't want to put hours of your time crafting something meticulous. Well, look no further than an outfit that consists of a pair of dark grey jeans and a traditional men's bomber jacket.
The best men's bomber jackets over a white t-shirt should serve you well for early winter when it's cold but not much. However, once it starts getting colder, you can swap out the t-shirt for a hooded charcoal sweatshirt.
This bomber jacket, dark grey jeans, and charcoal sweatshirt attire is your ultimate outfit for winter. The leather jacket protects from cold, and the grayscale colors fit perfectly with the cloudy snowfall.
Grey Biker Jeans with Suede Jacket
So, you love the grey jeans and the trending best leather jackets for men combo, but a regular leather jacket is too hot for any season other than winter? A lightweight suede jacket is a perfect solution to your problem. Suede is less warm than regular leather while retaining the vibe of a traditional leather upper. Additionally, the unique texture of suede combined with grey jeans makes the whole outfit visually interesting.
For example, a pair of grey biker jeans with a simple black t-shirt and a brown suede jacket is the epitome of practical yet well-put-together attire.
If you want even more style points, then roll up the bottoms of your jeans and wear a pair of low-top white sneakers.
Grey Denim Jeans with A Shearling Jacket
What if you live in an extremely cold environment where snow is the default weather and the temperature remains below freezing for months on end? Can you still enjoy a pair of grey denim jeans?
Of course, you can, by pairing them with snug fur shearling jackets. It'll keep you warm even in the coldest environment while also maintaining a polished look. You also have the option to introduce some color to your attire by using a brown or blue shearling jacket.
What to Wear with Grey Jeans?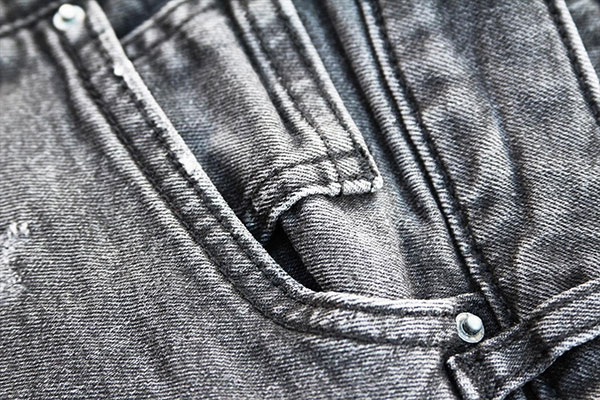 Finding stuff to wear with grey jeans is incredibly easy. There is a good chance that your closet has at least two items that will work flawlessly with greyscale jeans.
You can rock a t-shirt, sweatshirt, flannel, and even a button-up with great success. If it's getting a little chilly, then all kinds of tops, from leather jackets to trench coats, are welcomed by the grey denim pants.
Shoes to Wear with Grey Jeans
So far, we've focused more on the shirts and jackets; things you wear above the jeans. But, what about the other end, the shoes?
Choosing a pair of leather shoes for grey pants is a little different than many other types of pants. This is because grey jeans do not have any shoe preferences on their own. Your choice mainly depends on the stuff you put above them.
For example, if you're wearing a plain t-shirt or a hooded sweatshirt, then low-top sneakers are the way to go. Alternatively, if you are sporting a brown leather jacket outfit with then a pair of brown suede shoes is the correct option.
What Colors of Shirts Work the Best with Grey Jeans?
Grey jeans are extremely forgiving when it comes to the color of the shirt. You can wear almost any hue, and it would look decent, at the very least. However, if you want to wear something that fits perfectly with grey jeans, then stay away from anything too vibrant. Dark colors and grey tones should be your first option.
What's the Main Difference between Grey and Black Jeans?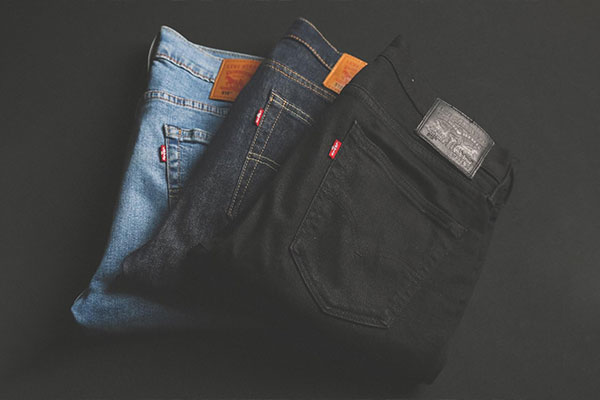 On a surface level, both grey and black jeans serve the same purpose. Both work with almost any color and design of tops and shoes. You'll rarely find something that does not fit these two colors of jeans. The difference between the two lies in their presence in an outfit.
Black is not an attention-grabbing color by any means. However, it sticks out when compared to grey jeans. If your outfit consists of black jeans, you won't pay attention to them, but you know they are there. Grey jeans, on the other hand, enhance the look of any attire while also blending in seamlessly.
Are GREY Jeans Flattering?
Yes, they are. In fact, the darker shade of grey is one of, if not the most, flattering color of men's jeans out there. It smooths out any body shape and makes you look sleek.
What Jeans Make You Look Slimmer?
Generally, jeans with darker colors make you look the slimmest. As far as the design is concerned, both slim-fit and bootcut jeans are a great option to choose from.
Final Words
Grey jeans are comfortable, versatile, and sophisticated looking. If you have to choose one color of jeans for the rest of your life, grey is one of the options to choose.
The best part about wearing a pair of grey jeans is that they are easy to work with. You can go through your wardrobe and create something that adheres to your personal style in no time.