A preferred choice of pants for many fashion forward men, skinny jeans have been popular for many decades. Usually made with stretchable denim, they have a small leg opening and fit snugly to the legs. If you are wearing the right size, skinny jeans are comfortable, stylish, and give the wearer a flattering look.
Every garment has its pros and cons for diverse body types, and the same is the case with skinny jeans. On one hand, it is the best type of pants to show off your toned legs if you have a fit or slender physique. On the other hand, pulling off skinny jeans with style is not very easy if you have a large body, as it can hamper your overall look. Perhaps that is the reason why many people discourage men from wearing skinny jeans.
In this blog, we will go in depth to conclude whether the idea of men in skinny jeans is a yay or nay. We will explain why skinny jeans can be a worthy option for your wardrobe and discuss several ways to pull it off with panache.
Evolution of the Skinny Jeans Trend in Men's Fashion
Skinny jeans for men are just another fashion trend that originated many decades ago. It has been in and out of fashion many times. As contemporary fashion is way more inclusive than earlier fashion eras, we can see men wearing skinny jeans everywhere, as well as those who don't like to wear them.
Skinny jeans were popularized in the 1950s when the famous rock n roll musicians like Elvis Presley and Roy Rogers started wearing them. As the idea of men in tight skinny jeans became acceptable, it became an iconic garment for rock music. Members of music bands from the 60s, like The Beatles and Rolling Stones also wore them, making it even more popular as a fashion trend.
After a short decline in its popularity, mainly during the 1970s, everyone replaced skinny jeans with bell-bottoms. In the 1980s, skinny jeans started reigning again as they became a choice of punk musicians. The credit for men wearing skinny jeans in the 90s goes to the pop culture of that era when some pop stars started wearing tight fitting jeans.
After a short hiatus, skinny jeans got immensely popular in 2010 when lean and fit clothing became a norm. Moving forward to this day, the trend of skinny jeans has once again resurfaced. You can see street style outfits and even business casual outfits for men featuring skinny jeans that look pretty smart.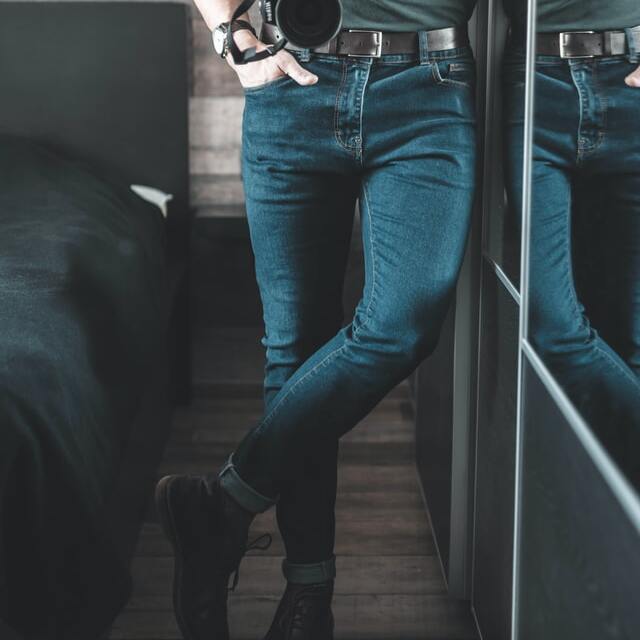 Types of Skinny Jeans
The idea of skinny jeans of all types is the same. They are pants made with denim in a form-fitting silhouette. Skinny jeans are tapered towards the ankle, which defines the shape of your legs(which is a big plus if you have perfectly toned ones). The fit of these jeans makes them a statement piece, a deciding factor of your overall look. 
You can find skinny jeans in Sprayed On the form, which are made with a blend of cotton and elastane. The style of sprayed-on jeans mimics leggings, as they are skin tight from the thighs to the ankles. 
The other type of skinny jeans that are more popular than the sprayed-on style is the Standard skinny jeans. Although they too fit snugly, they are less swathed due to the fact that they are slightly tapered towards the end. The standard jeans provide better mobility as compared to the sprayed-on jeans. 
Fabrics, Styles and Colors
It is vital for skinny jeans to be a bit stretchable so that they can be worn with ease. The denim for skinny jeans is a blend of cotton and some stretchable material like spandex or elastane. Depending upon the weather, these jeans can be made with heavy or lightweight denim.
Skinny jeans come in a variety of styles. You can find low rise, mid-rise, or high rise jeans. All of them give a different silhouette, so it is better to try your jeans on to see how it looks. You can also find plain, acid-washed, distressed or ripped skinny jeans. 
Men who want to wear fitting jeans have numerous color options to choose from. Blue remains the accustomed choice, and its various shades, like indigo, standard blue, navy blue, faded blue, or stonewash, look very stylish. But you can also look equally dapper in black, white, grey, brown, and red skinny jeans.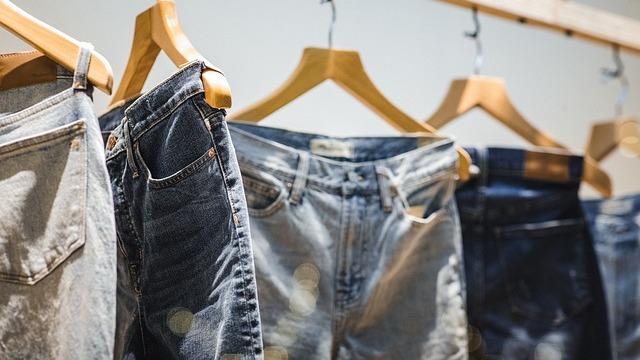 How to Look Good in Skinny Jeans?
Here are a few tips to make sure you put your best foot forward as a man wearing skinny jeans.
Whatever fabric, style or color you choose, make sure you try on the jeans before you buy them. If you can move, walk and bend your knees flexibly without any sort of discomfort, the size is right.
Analyze yourself in the mirror wearing skinny jeans. It is the best way to judge your looks and carry the outfit with utmost confidence.
The mid-rise skinny jeans are an option for everyone. Its length is appropriate, which is why men of all body types can wear it comfortably. Especially for men who wear big and tall, mid-rise skinny jeans are the right choice.
If you are a man with a lean physique (smaller waist, toned legs), try the high-rise skinny jeans.
Buy the correct length according to your height. The excess fabric of the jeans collects at the ankles, hampering your look. 
Learn the difference between skin tight and skinny. Skin-tight jeans can be very uncomfortable to wear. It is good to wear jeans that give a bit of room for easy movement and breathability.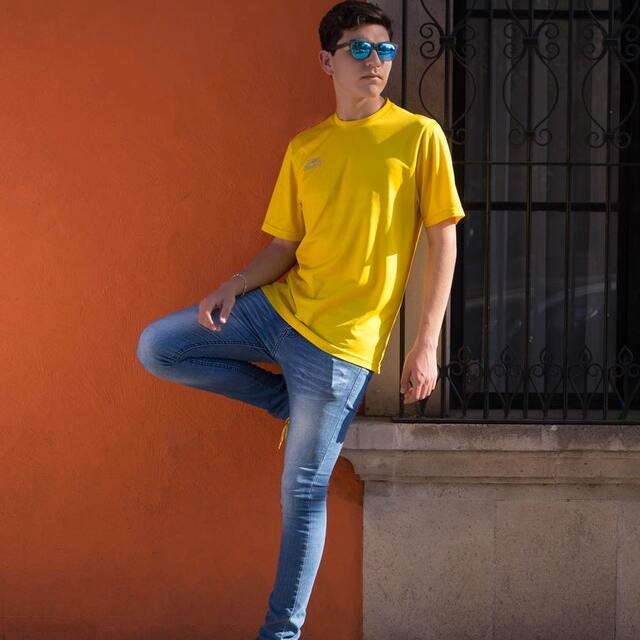 Bulky Men in Skinny Jeans
Although men of all body types can wear skinny jeans, pulling them off may be a bit of a struggle for men who have a big and tall physique. If a curvy man is wearing super skinny jeans in the wrong size and not wearing anything to cover his stomach area, the look can be awkward.
The trick to look smart in skinny jeans, even if you have a big body, is to wear the standard one that is not too tight around the waist and thighs. A regular fit shirt and a jacket with skinny jeans add shape to your body. You can select any type of leather jacket, a lightweight chore coat, or a windbreaker jacket which will take the emphasis away from a big torso.
Lean Men in Skinny Jeans
Skinny jeans are probably a better option than any other type of pants for skinny men. If a lean man wears baggy jeans, it looks more like a faux pas. Skinny jeans give the appearance of a bigger upper body and flatter the look of slim legs.
It is recommended not to wear tight shirts with skinny jeans. Instead, go for loose t-shirts, flannel shirts, hoodies, or sweatshirts. Layering your outfit adds to the good looks, so you can try wearing denim, polyester, or full-grain leather jackets for a charismatic look. 
Outfit Ideas to Rock the Skinny Jeans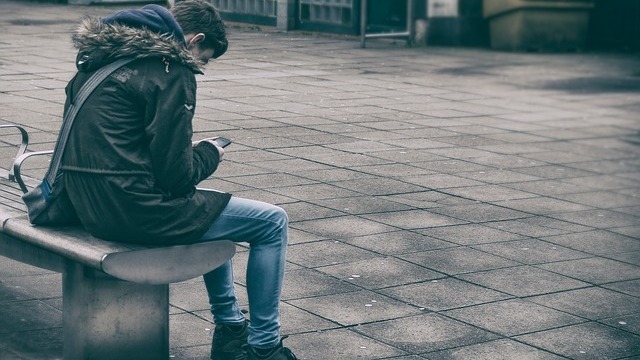 Need some flawless outfit ideas with skinny jeans? Read on to get inspired by our suggestions:
Outfit Number 1
Wear skinny grey jeans in winter by pairing them with a crewneck t-shirt and a fleece hoodie. If you need more layers, go with a long wool coat or a black suede jacket to complete the look. You can wear brown chukka boots with this outfit.
Outfit Number 2
A stylish casual look is to wear a light grey t-shirt over a low-waisted, distressed skinny jeans in light blue. When you need to step out, you can layer cool outfits like this with a dark blue trucker jacket or zipped fleece hoodies. Finish off the look by wearing white sneakers. 
Outfit Number 3
If you love to wear distressed skinny jeans, build street-style outfits with them by teaming distressed black jeans with a striped Henley shirt. Top it off with a café racer jacket and light brown slip-on shoes. Accessorize this look with stylish shades and a black leather strap watch.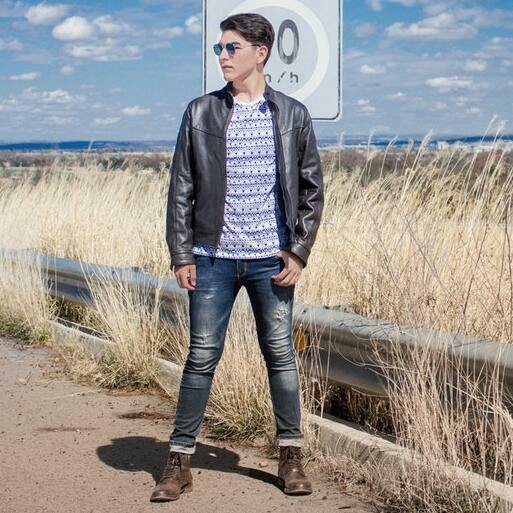 Outfit Number 4
Another way to look dapper is to wear grey acid wash jeans with a black crewneck sweater and a brown leather bomber jacket. Match ankle boots with your jacket to build an outfit that is worthy of the runway.
Outfit Number 5
Skinny jeans go well with loosely fit flannel shirts. Create a cool and quirky look with a red and black flannel shirt and skinny white jeans. Pair the outfit with black loafers.
Outfit Number 6
Nail another street look by wearing a black double rider jacket over a black t-shirt and black skinny denim pants. Wear a pair of sleek Chelsea boots, and your all black look will surely make heads turn.
Outfit Number 7
Wear a maroon v-neck sweater over a white casual collared shirt and skinny indigo jeans for a stylish preppy look. You can add another layer to make this outfit fit for smart-casual style by wearing a cream blazer. Give finishing touches to the outfit with a pair of off-white suede loafers and sunglasses.
Our Verdict?
Skinny jeans can look absolutely stylish only if they are the right size and don't make a man look uncomfortable. It suits skinny men, but if you want to go for looser denim pants, it is totally an acceptable choice. Similarly, if you are on the heavier side and want to try skinny jeans, you can go ahead and nail the look. Just stick to the style tips mentioned above to wear skinny jeans with confidence.
FAQs
Should Guys Wear Skinny Jeans?
Many people regard skinny jeans as a staple for women only. This is not true as it is a garment without any gender-specific features. Also, several male celebrities and fashion influencers rock the skinny jeans looks with utmost panache. 
Skinny jeans are in vogue, comfortable (if the size is correct), and available in a variety of styles. Therefore, it is perfectly fine if a guy chooses to wear them.
How Should Men Choose Skinny Jeans?
When a man decides to buy skinny jeans, the first thing he needs to see is whether the fabric of the jeans is comfortable and stretchable enough. Also, one should buy the right size by trying on the jeans and selecting the appropriate length according to his height. Lastly, choose a color that will match with clothing essentials already in your wardrobe/
How Do Guys Wear Skinny Jeans Without a Bulge?
If the jeans are uncomfortably tight around the waist, you may face the bulge, also known as the muffin top. Select jeans with a proper fit around the waist, as it will help you portray a flawless silhouette.
How Tight Should Skinny Jeans Be on a Guy?
Wearing skinny jeans doesn't mean that they should be extremely tight. No one can stay comfortable in a garment that hinders mobility, so go for a size that has enough room for you to bend, sit and walk easily. 
Can Old Men Wear Skinny Jeans?
When they were first invented, skinny jeans were adopted by younger men. Even the styles that were available in those days suited the young men better. But today, as we live in the incredibly diverse fashion era, there are styles and fits readily available for older men as well. Mature men over 40 can look dashing wearing skinny jeans along with decent jackets and coats.
Takeaway
Skinny jeans are part of mainstream fashion these days. Men wear them all the time with casual, street style and smart casual outfits. The key to avoid the skinny jean faux pas is to get the proper fit and pair it with appropriate clothing essentials like a loose shirt to flatter the silhouette. Without any doubt, the proper styling of skinny jeans can make you stand out from the crowd!