Opting for red outfits is a bold choice and wearing red pants is more of a risk as not everyone can carry them off effortlessly well. People feel like they are stepping out of their comfort zone and going into the realm of avant-garde fashion when it comes to red pants. However, if you are willing to give it a try then styling the look is going to be a lot of fun.
Red pants mean grabbing the attention of everyone around you as you are taking fashion to the next level. Red pants outfits are perfect for the gents who like to take risks with their looks to stand out in a crowd and look stylish at the same time. However, rocking such pants takes more than just your reliance. You need to be knowledgeable about your clothing pieces and what is going to work well with your red pants.
Here we are today with our knowledgeable guide to bold yet stylish men's red pants. So, take out those red pants which have been in your closet for ages, as it is time to style them up. 
Red Pants and Men's Fashion
The deep, dark, and rich tones of red make men feel energized and confident as they step out of their comfort zone just like the men who wear skirts. However, those men have an outgoing nature which resulted in men opting for red pants as they prefer to be highlighted and praised. So now, men's red pants have made their way into their closets as pairing them up in the right way teleports them to a desired fashion placement.   
Tones of Red- Deep, Dark, and Light
Like boho styles are known to be freestyle, so you should have that carefree attitude too when it comes to dressing up. Add red to your outfit as it attracts people and is a perfect bold and attractive color. There are several tones of red that you can come across but every shade gives a different vibe. Try out different shades of red as we suggest you not limit your choice of red; it is because the shade goes well with your every style and complexion.
If you want to be noticed, go for bright red shades however if you are wearing red for the sake of making a difference then go for a darker red shade. Let us help you in knowing some of the shades of red that are light, bright, and dark. 
Scarlet Red: It is a bright red color with a tinge of orange if seen up close. In bright light, it is somewhat in the middle of red and orange. Although closer to red and further away from orange.
Barn Red: A shade of red that is kind of reddish-brown but is redder than the typical mahogany. Stronger and redder than oxblood.  
Chili Pepper Red: The shade is picked from the chili pepper with a subtle tinge of brown.
Carmine: It is known to be a vivid red that goes from a crimson to a rich red shade.
Maroon: Maroon is a dark red with the addition of brown in the shade. In short, it is a bit close to the chestnut which is brownish-red. 
Vermillion: It refers to a scarlet pigmented red, having a bit more of a touch of orange to the bright red color. Although a darker shade of Vermillion also exists, involving more of a deep bluish-red than orange.
Raspberry: As the name suggests, it is exactly the same red color a raspberry is known for.
Mahogany: It is a dark, deep red with a brown to it. It is almost like the color of Mahogany wood, the name that the color takes from. 
Crimson: It refers to the color of our blood. It is a rich and deep red which we can say is inclined to resemble a tone of purple.
Burgundy: It is a wine red color. Dark red and has a bit of purple in it. By the name, we know it comes from the Burgundy wine that comes from France. 
Ways to Wear Red Pants
If we talk about men's red pants in outfits, various options come to mind about how we can pair red pants with other clothing pieces to pull the look together. If you know what works well with men's red pants then the rest will automatically fall into place.
When it comes to red pants, try pairing them with lowkey garments that complement them and do not need that particular attention. Cool tones work well however avoiding bold, screaming colors is the best.
Men's Casual Red Pants Outfit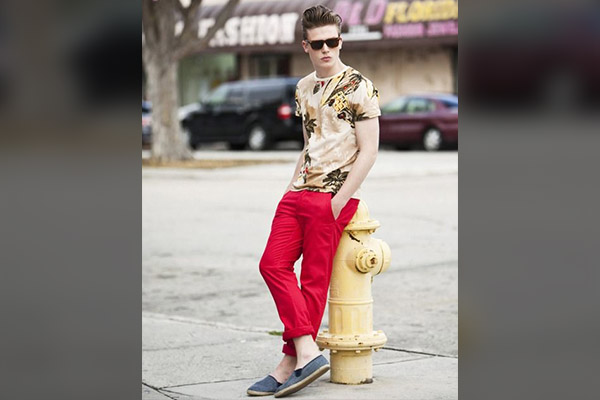 Running errands on an everyday basis requires you to be casual and true to your style. Treating red pants on a much lighter yet casual note, will not require a lot of effort however the colors you pair it up with are going to matter most.
Black and white will always be the perfect colors to pair your red pants with so pick a black shirt and you can wear a leather bomber jacket over it. Finish your look by wearing sneakers or joggers, and wear some hand bands, a beanie, and sunglasses. This will not be an overdone look, it may be out of the box for some but nevertheless perfect for your casual day.
Red Plaid Pants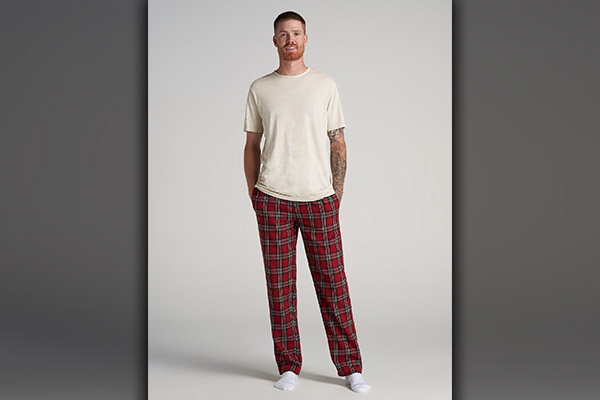 Red pants already being a challenge for some, make red plaid pants, an even bigger test in styling as not everyone has a fail-proof method of getting 'the' look. Plaid pants should be treated as a smart casual and in a few cases semi-formal piece, short of business casual. Go for red, plaid, casual, and slim-fit pants, pick a white button-up shirt to go with it, and top it up with a suit jacket. Style your hair and complete your look with stylish shoes such as oxfords.
Men's Maroon Pants Outfit
When it comes to office outfits, you do not always have to wear the same kind of clothes and look boring. Spice up the outfit, go for bold colors like wearing maroon pants. Make an effort to dress up a bit before you go to work, and take out maroon pants and a light-colored checkered button-down shirt. Adding textures to your outfit will always make your look interesting so you can top your shirt with a hand-knitted sweater and then wear your trench coat over it. 
Keep the color combination of the shirt calm with light blues, cream or gray. Wear loafers or suede boots to complete your look.
Styling a Red Leather Jacket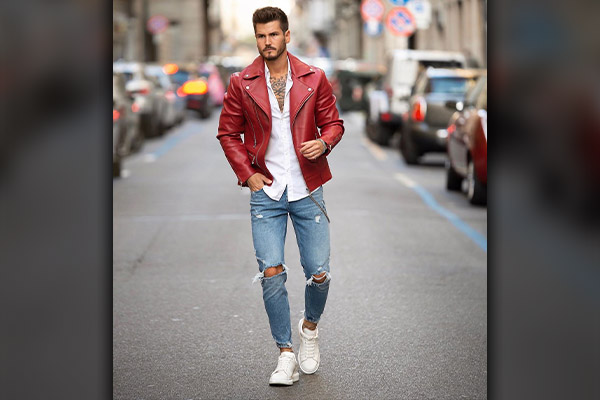 Thinking of wearing a red leather jacket outfit is surely a bold choice, but what is better than going for such an out-of-the-box look. Make your outfit more flashy when you are going to a party, like for a retro-themed party you can always go with this attire. Wear your desired red pants, pick out a light colored T-shirt with it, and slide on your red leather jacket over it. If you are meaning to grab all the attention then you surely are going to do so. 
Styling a Nerd Outfit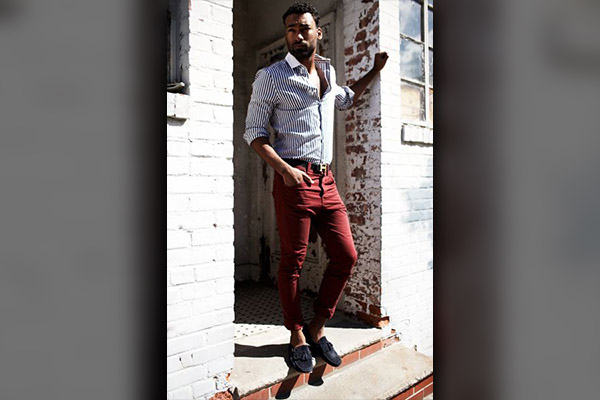 Thinking about nerd outfits and red pants can be a perfect go-to choice. If you are a nerd and if you are reading this, don't worry we have you covered. Men's red chinos should be the main element of your outfit, with it you can wear your flannel shirt. Wear your favorite sneakers or loafers and don't forget your cool sunglasses. 
Color Combos with Red
Red itself is an extremely vibrant color that tends to speak for itself and does not need a supporting color. Thus, if you are choosing colors to pair with red then you need to be quite sensible about it.
Go for light colors like light blue, cream, and light brown. 
Black and white will never look odd on you, especially when combined with red.
Dark tones like navy blue and deep forest colors will also complement your red pants.
FAQs
What color shirt goes with red pants?
Any light-colored button-up shirt or t-shirt will complement red pants. Colors like cream, brown, white, black, navy blue, and deep green are going to look great.
What kind of jackets suit red pants?
If you want a semi-formal look you can wear red dressy pants, a buttoned shirt with an unstructured blazer. However, if you are dressing up casually you can even wear a shacket over your round-necked t-shirt and red denim.
What type of shoes can you wear with red pants? 
Red pants should be paired with suede boots, sneakers, oxfords, loafers, or any other, but make sure the colors are neutral. Brown tones are going to look great though.
Are red pants a part of men's fashion?
Red pants are thought to be a bold choice because of their color. However, people who are well aware of the current fashion will know that daring clothing, picked out of the box, is always appreciated if styled right. You just need the right tips to get the right look. 
Are red pants not a very bright choice for formal wear?
Yes, red pants will be too loud for men's formal wear. At best, deep burgundy or maroon may be acceptable in some semi-formal to business formal settings.
Should you opt for a completely red outfit?
A complete red outfit is strictly reserved for individuals who are extremely confident with themselves and their personal style. It takes great precision to pull off a completely red outfit. However, the closest you can go if not totally red is to wear red pants and a red jacket, but as for the shirt and shoes go for a light color so that each clothing piece speaks for itself. 
What matches with red pants?
Any kind of shirt, jacket, shoes, or accessories that does not outdo your red pants will surely match it. 
Conclusion
Now you know how a bright color like red can make your outfit pop in all the right ways. Thanks to our style guide, you now know about dressing up in red pants while staying true to your personal style.
Choose the right shade of red and pair it up according to your event, it can be casual, business/smart casual, or business formal. You should be willing to step out of your comfort zone and take risks every now and then and what better way to achieve that than with stylish-looking red pants as the key ingredient.