The world of menswear is rich with tradition and history. From the elegant suits of yesteryear to the streetwear movement of today, men have always relied on a set of essentials to create different looks and primarily dress to impress.
While conforming to the norm is what most men choose when dressing up, experimenting with different styles and expressing your individuality has its own charm. That being said, the rules of men's fashion have never been so blurry and no longer set in stone as they were decades ago.
So if you're not happy with being confined to sartorial convenience, avant-garde fashion is your chance to break free and express yourself. This avant-garde fashion for men guide is for all of you who want to dress outside of the fashion box and desire to spice things up a bit with avant-garde fashion. So let's begin with the basics.
The History Of Avant-Garde
"Avant-garde" is a French word with a literal meaning in the English language as the vanguard of an army. The term was first used by the French army. It referred to a new wave of troops sent out in front of the main force.
Then the term entered the political realm, and the left-wing french radicals in pursuit of a political revolution embraced the term. Later in the late 19th century, it was linked with artistic and cultural matters more than its earlier associations.
In the contemporary world, avant-garde is a group of creative individuals who are known for rejecting traditionalist thinking and ushering in new and forward-thinking ways.
They can be artists, writers, musicians, and fashion designers who experiment with different approaches in their respective fields, pushing the envelope on what's considered acceptable by communities at large. They often challenge the status quo and provoke audiences to reconsider conventional social values.
What is Avant-Garde Fashion?
Avant-garde fashion is a movement in its own right. The idea of breaking away from the social conventions that dictate what we wear and how to dress up is the inspiration behind it. It is a general term used to describe something which has a radical approach towards fashion.
Similarly, men's avant-garde fashion values the individual, carving out fashion from other societal norms, and pushes boundaries with cutting-edge, unconventional clothing and accessories.
To the common eye, avant-garde clothing appears to be the opposite of what fashionable clothing is all about. But this is the concept behind it, not trying to follow trends or be ahead of future fashion trends but seeing fashion as an art form. It promotes individualism, stands for freedom, breaks the rules, and carves a world of your own.
Avant-Garde Fashion – What's Common In The Aesthetics?
When we talk about a certain fashion style, a set of staples and its aesthetic always pop up in mind. Think of grunge fashion–if you are acquainted with it or have a hint about it, flannel shirt, converse shoes, oversized silhouettes, in short, an overall unpolished look reminiscent of the Seattle musical bands of the 80s is probably something you will picture.
Similarly, it's not too difficult to identify hipster men by the signature bushy beard, slim-cut denim jeans, oversized upper wear, and retro shirts. But if avant-garde style glorifies individuality, then what the point of having a common aesthetic is?
Avant-garde designers are notoriously broad in their conceptual frameworks, embracing a wide variety of aesthetics and styles to create artistic aesthetic outfits that often differ widely from one another. However, there are some broad stroke similarities between them. Let's enlighten you with some of them.
Use Of Disparate Fabrics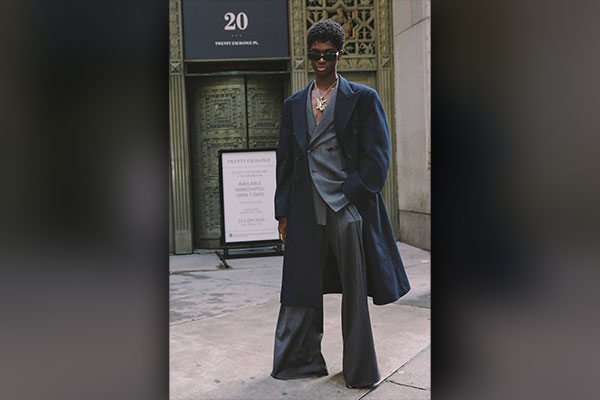 Heterogenous fabrics are one of the more defining logistical aspects of avant-garde fashion in terms of garment construction. By mixing different types of fabrics or different variations of one fabric in a single garment, what we end up with are unique looks that celebrate the art of avant-garde fashion.
This very idea of using unrelated fabrics ( think summer fabrics like cotton and winter fabrics like leather or materials like rubber ) interwoven with one another to create one garment empowers avant-gardists to have a new approach to the way a product is presented and showcase their design prowess.
Deep Focus On Volume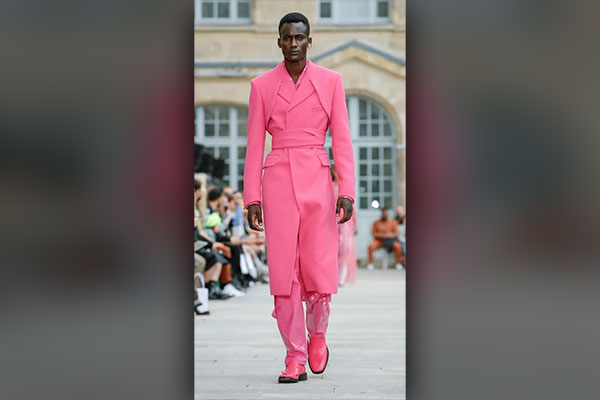 Modern avant-garde fashion designers tend to have a great focus on creating volume in the clothes. However, they do not necessarily focus on the mix and match of fitted and voluminous garments together.
This blending of clothing of different volumes gives an overall put-together vibe and helps draw attention to your shape while still allowing the clothing to do its job. On the contrary, the end goal of an avant-garde look is not to flaunt your body, but rather the artistic avant-garde dress takes center stage.
Volume in avant-garde dresses is usually created by adding extreme geometric shapes, bold asymmetry, over-the-top ruffles, and pleats.
Layering & Draping Is There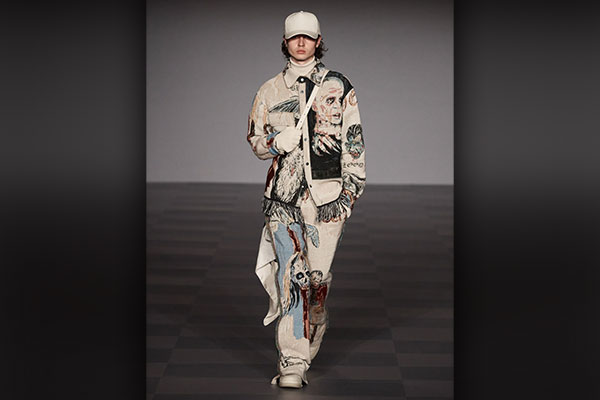 From street style to normcore and everything in between and beyond, layering has always been a vital element of every style for men. It's also quite visible in avant-garde fashion too. Avant-garde designers leverage layering to develop volume and an unorthodox vibe in their clothes.
Extravagant blazers, extra long trench coats with asymmetrical hemlines, extremely oversized hoodie pieces, jackets with accouterments, off-balanced vests, sheer tunics are all some of the things used in avant-garde style to layer up. On the other hand, the use of draped clothing, fluid shirts, loose-cut designs are also to be seen quite frequently in the arsenal of avant-garde style.
 All Black & Monochrome Aesthetics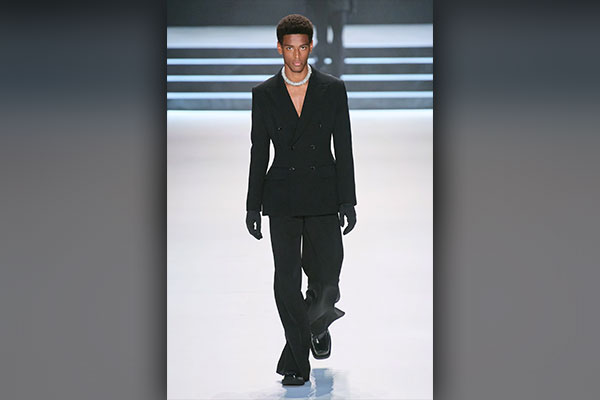 When most people think of avant-garde dressing, they probably imagine all-black-everything—And that's kind of true. The all-black look is the official uniform of avant-garde fashion, and it is marked by its propensity for monochromatic shades.
However, avant-garde experts dabble in everything from the rainbow to black and white, as there are no hard and fast rules. But one thing we find particularly interesting and common is the use of a single color throughout an entire outfit.
The monochromatic outfit aesthetic also brings more attention to the cuts, silhouettes, texture of the fabric, and the overall look of the avant-garde ensemble.
Gender Fluidity & No Age Appropriateness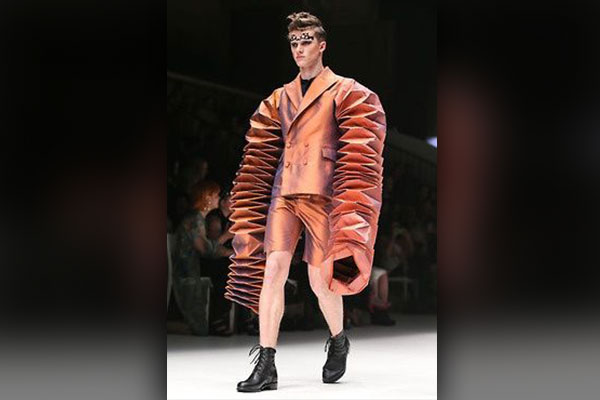 One of the distinctive features of avant-garde fashion is gender fluidity. The majority of avant-garde clothing is androgynous in nature. The style is rooted in the passion for creating garments that transcend gender — putting an end to a long history and tradition of labels, clothing items, and fashion lines that have cast men and women as two separate entities.
This creates a whole new experience with fashion when you shed the gender-binary stereotypes. These unisex clothes give the wearer a sense of freedom to express themselves in whatever way they want.
Avant-garde fashion is also not age-specific. All age groups can wear the same pieces because this style of clothing is designed to fit anyone who has the ability to identify with the messages that it sends.
Building Blocks Of Avant-Garde Fashion
Outerwear In Avant-Garde Fashion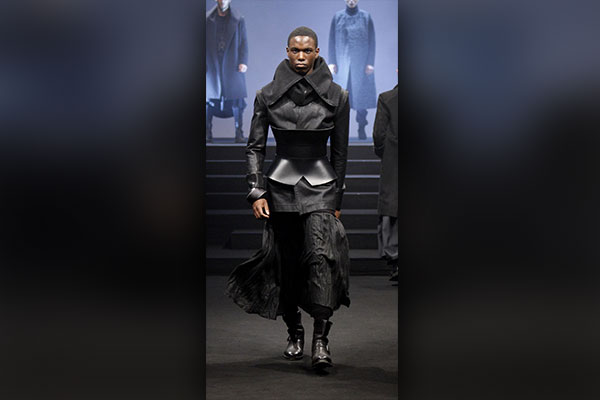 Avant-garde outerwear is an integral part of any cutting-edge avant-garde wardrobe. At its core, it's defined by a focus on experimental silhouettes and texture, with a high degree of sculpturalism often thrown into the mix.
Avant-garde outerwear is characterized by the strange placement of pockets, quirky zippers, and asymmetrical details. Extravagant, long, and oversized hoodies, long trench coats, draped cardigans are some prime examples of avant-garde outerwear.
Leather jackets in a shiny finish, especially double rider biker jackets and bomber jackets, are the mainstay of this niche, and most leading designers include them in their lineups.
Pants In Avant-Garde Fashion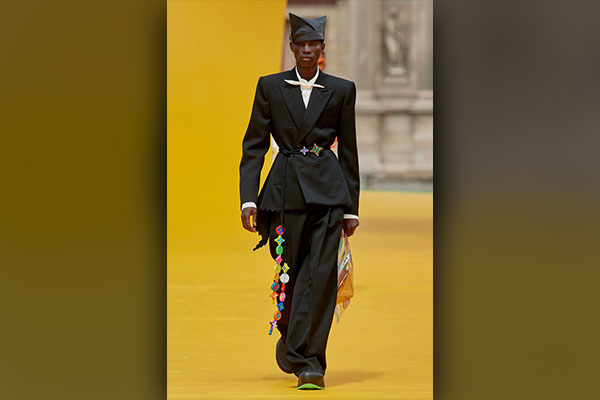 Avant-garde pants are more than just pants; they're works of art. They are nothing like your regular denim and jeans that are more utilitarian than artistic. Curved leg pants, harem pants, drop-crotch pants are common in avant-garde fashion. They combine flexibility with a relaxed silhouette and a futuristic vibe.
Shirts In Avant-Garde Fashion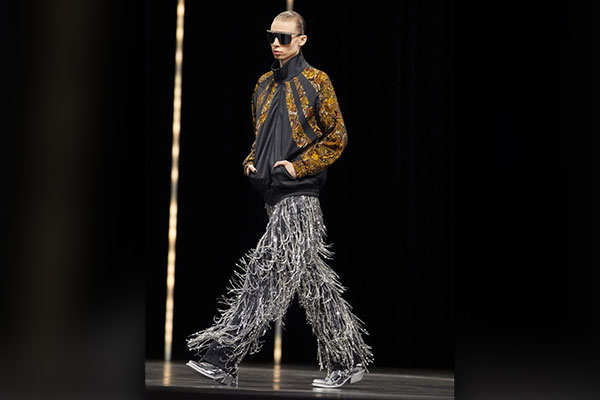 Avant-garde shirts are all about the details: length, fabric, and hemline. When it comes to material avant-gardists use thin fabrics, the hemlines are weirdly asymmetrical, and the lengths are way longer than regular. As far as the colors are concerned, most avant-garde clothing designers opt for basic colors such as black, gray, and white with minimal detailing. The focus is on the cut and silhouette more.
Footwear In Avant-Garde Fashion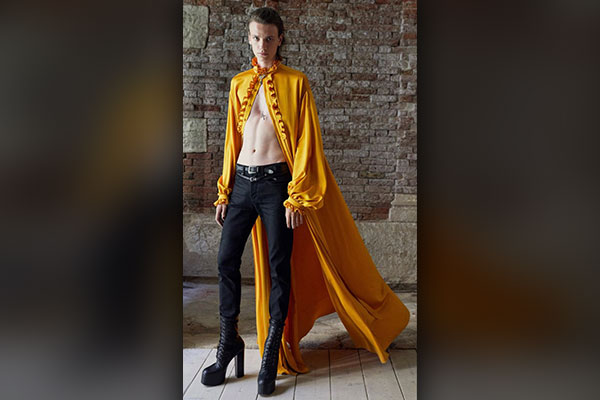 Avant-garde footwear is also about breaking convention and is very daring and different. The shoes are not for the office or the family gathering but rather serve as a way to really bring your personal style to life. The style is avant-garde in the true essence, and the pieces are often unconventional and shocking for some. Leather footwear in logic-less and impractical designs is quite visible, and designers also play with sports shoes, sneakers, and formal shoes— the designs remain impractical yet artistic.
FAQ
How To Pick A Style Of Clothes?
We all have an innate desire to look good and unique. But when picking clothes, the rational way is to go for what suits your lifestyle and personal style both. For most men building a capsule wardrobe consisting of all the basic essentials should be the first priority but if you identify yourself as a non-conformist, going for avant-garde fashion is a definite possibility.
How To Dress Like A Designer?
The answer is simple: they invest in timeless pieces. Most of the designers opt for a classy look, which means buying muted colors, well-tailored clothes, and simple designs. However, it all comes down to their personal preferences too. Want to get an idea about how your favorite designers dress? Follow them on social media and also have a look at their runway looks.
How To Reinvent Your Look As A Male?
Change happens over time, and reinventing your overall look only happens in the movies ( unless you hire a stylist and follow their advice religiously). If you want to reinvent your look, experimentation is the key. Invest in new styles and types of clothing and figure out over time what works for you and whatnot.
How To Dress For A Party As A Male?
There's more than one way to step up your style for any party situation, but it all comes back to the basics: a crisp shirt and trousers, good shoes, and a nice watch. Layer it up with a suit jacket or blazer if you dare. For daytime parties like garden parties, opt for lighter fabrics and hues like pastels. For night parties, darker shades of blue, black, gray are a classic choice.
Why Is High Fashion So Weird?
Fashion shows are where ideas go to meet the world. They're a way for designers to showcase their originality and design skills into a series of looks that provide a clear idea of what's coming next season. New ideas always seem weird to the eye at first but slowly, they become the norm. Also, there is a high chance that you are confusing high-fashion with avant-garde fashion– which is unconventional and you might find it weird.
Ending Note:
In fashion, the avant-garde is a bolder, more daring movement that moves away from the mainstream. It takes risks; it encompasses forward-thinking and experimentation. It's always pushing the envelope of what people think is wearable and trumps society's standards. In short, currently, avant-garde fashion and looks are not for everyone, but those who do choose to embrace the avant-garde look, do so for all the right reasons; it's an expression of self.