There was a time in human history when clothing was only a way of protection from the elements of nature. However, this notion evolved alongside civilization, and clothes became a way of presenting yourself to the world. Things have changed a lot since then, but our clothes are still a major part of how we're perceived by the people around us.
Luckily, dressing to impress is not as difficult as you may think. All you need is a confident personal style that represents you as a person while also making you look presentable. However, there is no "magic outfit" out there that will look good on every person in every situation. The key to looking impressive is to be prepared ahead of time.
Here's a quick guide on building an arsenal of impressive outfits, what factors to consider, and what clothes you need. Let's dive in.
Dressing to Impress… Who Again?
As mentioned earlier, there is no outfit that will fit every single situation. To impress people, you have to understand your audience and their expectations. A well-fitted navy-blue suit will look fantastic in a professional or formal environment. But that same suit will look awkward when hanging out with friends on the weekend.
So, the best way forward is to divide your outfit arsenal into different sections based on what's appropriate for each scenario. You can then expand into your personal sense of style and fashion from this base layer.
Dressing for Yourself
The first step of dressing to impress others is to impress yourself. This might sound cliche to some, but your confidence in an outfit will have a pronounced effect on how others see it as well. Even something as basic as a plain t-shirt on a pair of khaki pants can become an amazing casual outfit if you truly believe that it looks good on you.
Dressing for the Office
A lot of people spend a large chunk of their weekdays in an office environment. Office is also the place where dressing properly can be a contributor in finding new career opportunities. Luckily, standing out as a cut above the rest in an office atmosphere is easier than you might think.
Formal Office Attire
Start with, arguably, the most important part of an office outfit; the business suit. Instead of wearing a plain black suit, opt for stuff like striped suits that will stand out from the rest without looking out of place. You can mix and match colors from the same family as well, like wearing a gray vest under a black suit. Also, make sure that the fitting on the suit is just right.
Then there is the shirt and the tie, and this is where you introduce your personal flair into the outfit. Don't be afraid to wear colors that no one else does. Men in pink look great, so a light pink shirt looks fantastic when worn with the right attitude. Ties are a similar story. Instead of going for a single color, plain ties; Look for interesting patterns and subtle accents.
Lastly, don't forget about the aspect of office outfits that a lot of folks don't focus on at all; the shoes. A single pair of quality leather oxford shoes will go a long way in completing your attires. Brown and black are the safest choices, but you can also look into gray or distressed options if they better fit your ensemble.
Business Casual
Having a catalog of proper formal business outfits is great, but you will not wear these every day. This is where business casual comes into the picture. Though, finding what looks impressive on you in business casual is slightly more complicated than just wearing a well-fitted suit.
The first step of impressive business casual is to stay away from t-shirts and jeans, even if you look great in them. Just save that combo for a completely casual situation. Instead, wear dress shirts with structured collars, black or gray trousers, and appropriate leather shoes. If it's winter, then an appropriate woolen sweater is the right way to go.
Inspired Dressing for the Street
Looking impressive in street style can also be a challenging prospect. Not because there aren't any attractive attires in street style, but because there are too many to choose from.
Finding what works for you can take a lot of time, especially if you've never paid much attention to it before. However, there are a few safe choices that look brilliant on almost everyone while also leaving enough room for personalization.
Pants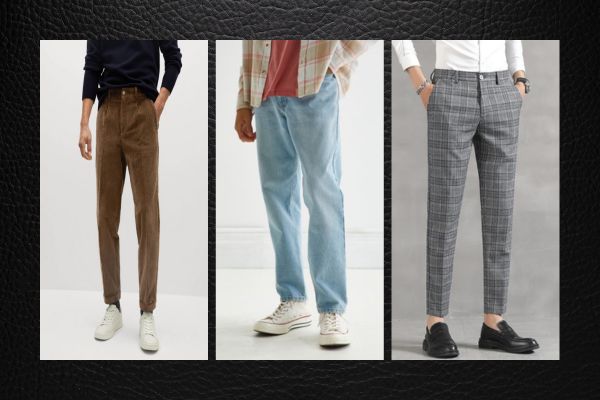 Start things off with pants, and there is no better option than a pair of jeans. If you're looking for jeans that are easy to pair with all kinds of shirts, then plain blue or black ones are the right choices.
But these basic jeans are also fairly common and will just blend into the crowd. Luckily, you can add a lot of extra style to your outfits by opting for ripped jeans or jeans with high tops. Switching up the color for gray or charcoal will have a similar effect.
Shirt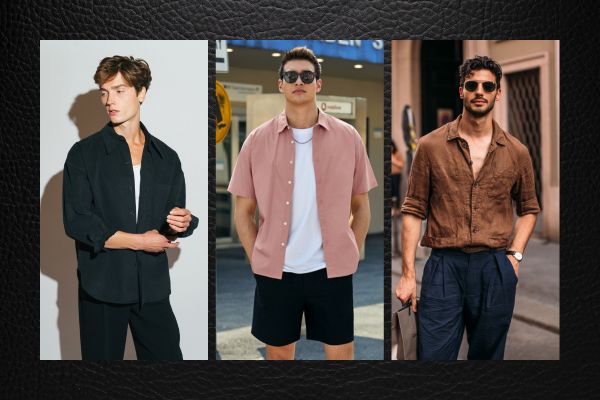 As for the shirt, anything goes. You can definitely get a bit fancy and wear something along the lines of a denim shirt. But, the complete opposite route with plain t-shirts and V-necks is also an option. Though, if you do decide to go with plain shirts, then you're going to need an upper.
Outerwear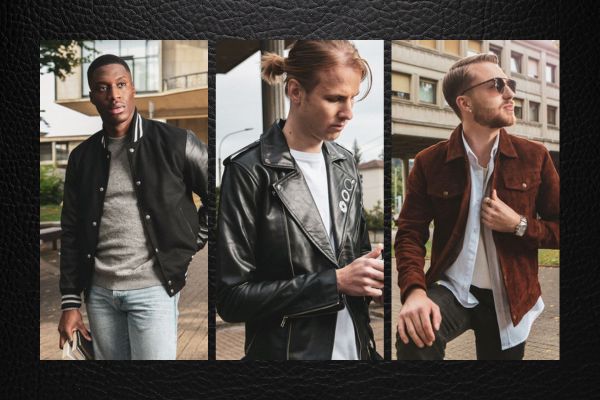 Layering is a quick and easy way to pretty much double your style points, and there are no better pieces of outerwear for this job than the coveted leather jackets. They look fancy, work with almost everything, and they're comfortable. Not to mention the hundreds of different types of leather jackets with unique designs, colors, and finishes.
Footwear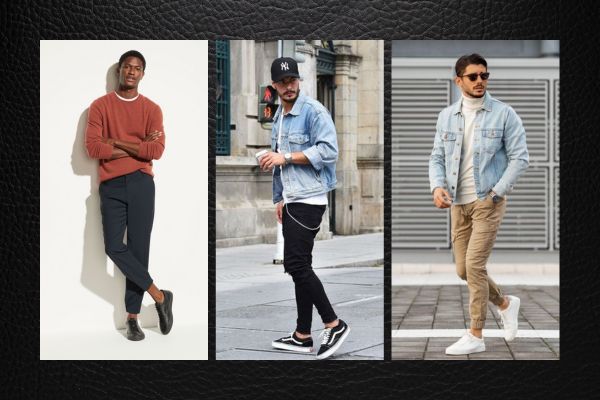 The last critical part of street style is the shoes. They are the thing that ties the whole outfit together and makes them feel cohesive. Plus, a pair of good-looking shoes can elevate a good-looking outfit into a masterpiece and drag a mediocre attire out into the realm of decency.
So, what are your options? Well, the easiest and arguably the best-looking option is the high-top sneakers. Low-top ones look good as well, but something about high-top ones just fits the classy casual vibe.
Example
A great example of an impressive street style outfit would be a white V-neck and a shiny black biker jacket over a pair of white jeans. Finish the outfit off with a pair of black low-top sneakers, and you look straight out of a fashion magazine.
Dressing to Impress that Special Someone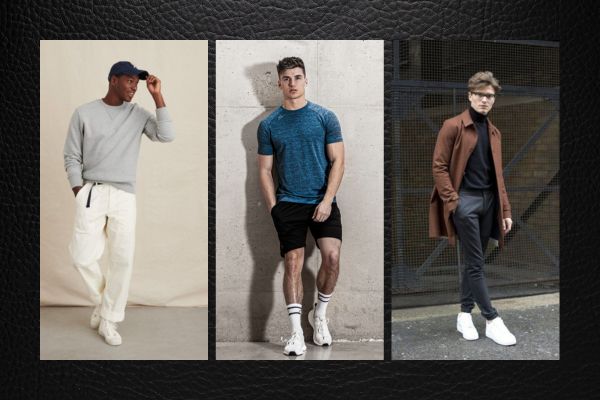 So, you're going on a first date and want to have a killer first impression. What should you do? The first step would be to dress appropriately. So, what is appropriate for a date? Well, it depends on the type of date, as well as the other person.
Date in A Fancy Restaurant
Let's say you're going on a date in a fancy restaurant. In that case, something like a suit would be the best choice. But suits are not extremely comfortable and might take your attention away from the date. In that case, look into the world of elevated casual date night outfits.
Unstructured blazers are your best friend here. They should be the focal point of your outfit. However, this does not mean that you can put minimal effort into the rest of the outfit and call it a day.
Start by picking a blazer that works the best for you. A gray blazer is one of the best options. The next step is picking the shirt. You can play this safe and go for a classic white button-up. However, a more artistic choice would be a white or black turtle-neck.
Then it's time for choosing the pants. Again, the safest route is to wear neutral gray or black trousers. But where is the fun in that? Instead, go for a pair of blue mid-wash jeans. They look livelier and more energetic compared to gray trousers.
Casual Date in A Park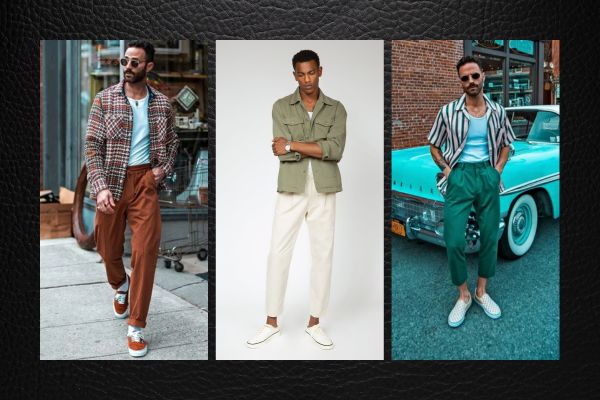 Things are a lot different if your date is going to be in a park or some casual place like a bowling alley or a theme park. This is the time to stretch your smart-casual muscles and look well-dressed while also being fully comfortable.
Start things off with a t-shirt and jeans. Classic blue jeans and light-colored t-shirts will work well. But, just wearing jeans and a t-shirt is not ideal. You can do it, but you can look a lot better with a nice upper like a suede jacket.
This one additional layer will transform your basic ensemble into something inspiring for the onlookers. As for the footwear, nothing will work better than a pair of black low-top sneakers.
Impressive Workout Style
Not many people think about what they're wearing while working out. They'll just wear old worn down t-shirts and sweatpants. After all, what's the point of dressing up for the gym if it's all going to be sweaty by the end of a workout session?
Well, think of it this way. Gyms are social locations. You can make a lot of new friends there, or even find the love of your life if you're lucky. However, you need to be approachable for this to happen. Sure, you cannot wear a suit to the gym.
But there are still many ways to leave a strong positive impression within the bounds of workout clothing.
A great starting point is athleisure. This is the style that lets you dress up in fancy workout clothing. When done properly, an outfit in this style will work well at both the gym and a casual part. Start your outfit with a pair of well-fitted joggers.
Extremely loose and oversized joggers do not impress anyone. Then look for unique hooded sweatshirts. The cut of this sweatshirt doesn't have to be anything remarkable. Instead, focus on the design and color.
Try to inject your personality into this one garment. But, make sure that the color of your hooded sweatshirt doesn't clash with your sweatpants if you want this sports luxe look to work as intended.
From Dressing to Impressing- The Essentials
Dressing to impress is a complicated subject with tons of moving parts surrounding it. However, it can be condensed into a few pieces of advice that will come in handy no matter the situation. Here are the most important ones.
Focus on Cleanliness
Cleanliness does not come up much in style guides and outfit recommendations. But, having messy uncombed hair, for example, will destroy your impression of others, no matter if you're wearing one of the best-looking suits in the world. To impress people with fancy outfits, you have to first look presentable without them.
Buy Quality Clothes
It is often said that a single pair of quality jeans is better than ten cheap ones, and this applies to everything else. Try to focus on quality over quantity. This quality will not only affect the life span of your clothing but their appearance as well. At the end of the day, it is very difficult to impress someone while wearing a cheap t-shirt with a misaligned print and inconsistent stitching.
Ignore Trends
You might be tempted to board the hype train for a new style, but you should not. Most of these trends will not last long. Besides, having a strong sense of personal style is a lot more impressive than blindly following popular trends.
Don't Be Afraid of Colors
A lot of men mistake blank monotone clothing as mature and sophisticated. Do not limit yourself to the gray tones and venture into the world of color.
Frequently Asked Questions
Can I wear loafers under a pair of jeans?
Yes, but it depends on what you're wearing on top. If the outermost layer is a blazer, then yes, you can. If the outermost layer is a peacoat, then there are better options than leather loafers.
Do rip blue jeans look good with leather jackets?
Yes, they do. In fact, ripped blue jeans are the perfect matchup for brown suede jackets.
Is a three-piece suit appropriate for a movie date?
No, it is not. The best style for movie dates is usually smart casual.
Are hats like beanies impressive looking?
It depends on the outfit. For example, beanies look impressive on casual outfits, but they will look extremely out of place in business casual attire.
Final Words
"Dress to impress" can sound and appear too daunting of a task for many. This is especially true for folks who are not used to thinking much about their outfitting habits. Luckily, turning yourself around is not that difficult, and you can get started right now with the stuff you have in your closet.