Men's fashion is filled to the brim with stylish pants. Everything from classic jeans to the bold plaid pants and everything in between. However, none of these is a match for the legendary joggers. Joggers are one of, if not the most beloved pair of pants in a man's closet and not without reason. Let's take a look at what joggers are and how to wear joggers for men.
What To Expect In This Article?
What are Joggers?
Joggers are the most comfortable pair of pants out there. They are loose and lightweight, letting you move around freely without any hindrance. Today, they are primarily used for working out or just relaxing on the weekend. However, the sentiment around them is changing; more and more people are becoming aware of the stylistic potential of their favorite joggers.
They are certainly not going to become a part of the formal dress code, but they are making their way up the casual fashion ladder fairly quickly.
Joggers of the Past – A Brief History
Men's Joggers began their life as a pair of pants for Olympic athletes in the 1920s. The French clothing merchant and founder of Le Coq Sportif, Émile Camuset, is thought to be the original designer. The design became popular as soon as it hit the market, and the 1930s Olympics were filled with joggers. However, their popularity was mainly built among athletes.
The mainstream explosion of joggers happened in the 1980s with the birth of hip-hop. Hip-hop proved the stylistic potential of joggers to the whole world, and they've become a part of men's wardrobe ever since.
How to Wear Joggers
Wearing joggers can be as simple as just wearing a matching t-shirt on top. Or, you can get meticulous with it; utilize the power of layers and experiment with all sorts of interesting colors. The best part about wearing joggers, however, is the sheer versatility afforded to you. With the exception of semi-formal, almost every style is possible with a regular pair of joggers and a little bit of ingenuity.
Let's take a look at the best outfit ideas for joggers.
Joggers with Shirts
First on our list is a brilliant matchup of a preppy style shirt with laid-back joggers. You might not even think that this combination is possible, let alone a viable option for day-to-day use. But it is, and it can amp up your appearance to the next level if done correctly.
All you need is a pair of black or dark-colored joggers and a classic button-up, that's it. The only thing to keep in mind is to stay minimalist and limit your color options for the shirts to lighter tones.
Joggers with Polo Shirts
Joggers with polo shirts, another unusual yet brilliant combination that combines the elevated casual looks of polo with the relaxed vibe of joggers. Polos also allow you to have a lot more fun with your outfit, especially in terms of colors; wearing vibrant maroon polo over a pair of grey joggers, for example.
Hoodies and Joggers
Hoodies and joggers are a match made in heaven, and there is no way to deny this fact. It is easy to pull off yet exceptionally rewarding. However, what makes this particular combination so good is its versatility.
You can wear a hoodie and joggers to a party, a shopping trip, on your way to Saturday morning coffee, and everything in between. So, if you're not sure about what to wear, just wear your favorite pair of joggers and match them with a cozy hoodie.
Blazers with Joggers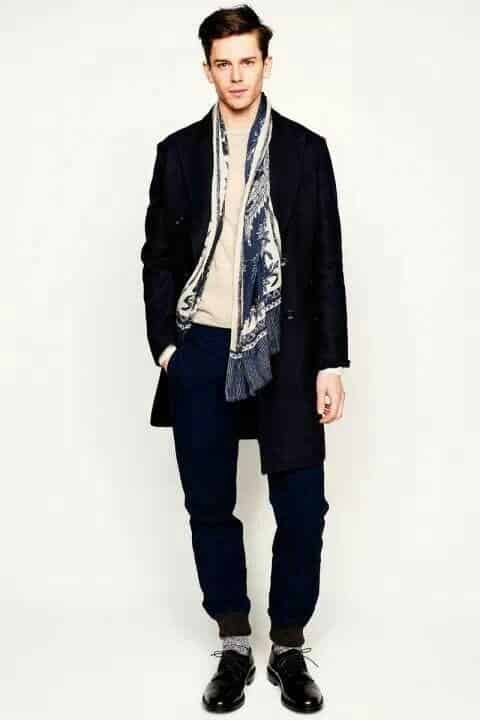 Need to dress up for work but don't want to abandon the comfy joggers? Just throw on an unstructured blazer over a t-shirt and joggers combo. Tie the whole thing together with a pair of clean white sneakers, and you're looking as professional as it gets in joggers.
As far as overall looks are concerned, joggers with blazers are just as, if not more stylish, than the trusty old jeans and blazer combo.
The only thing you need to remember is to stick with dark-colored joggers; even regular grey is too light.
Black Joggers Men's Outfit
You can find men's joggers in almost every color under the sun. However, as far as outfitting and stylistic options are concerned, black is in a league of its own. The thing about black joggers, in particular, is that they enhance, not distract.
For example, let's say you have a really nice and stylish hoodie that you want to show off. What should you wear under it? The right answer to this question is black joggers. Similarly, a flannel shirt would get lost in an outfit that consists of a pair of blue jeans and a fancy leather jacket on top. However, the same flannel will pop off and look absolutely marvelous when worn over a pair of black joggers.
Jogger Pants Outfit with Sneakers
So far, we've mainly talked about shirts and tops. However, footwear is just as important of a factor when it comes to styling a pair of joggers. The right pairing can turn a decent joggers' outfit into an amazing one, and leather sneakers are by far the best choice.
If you're wearing a retro style, hip-hop-inspired hoodie, and joggers outfit, then some classic high-top sneakers are your best option. On the other hand, if you're going for a business casual approach with a blazer on top, then some pristine white low-tops will serve you well.
Jogger Pants with Leather Jackets
Jogger pants are not exclusive to summer/hotter days of the year. All you need one of your favorite vintage leather jackets, and your regular jogger outfits are ready for winter. The crazy thing is, you don't even have to put much work into it. For example, an amazing jogger pants outfit is a pair of joggers with a hooded sweatshirt. Now, just wear a leather jacket on top, and you've got an entirely new outfit that's a great fit for low-temperature days.
Additionally, almost every type of jacket works flawlessly, so you can choose a classic biker jacket, a leather bomber jacket, a shearling coat, or anything in between.
Dressy Jogger Pants Men's Style
Joggers are not meant to be formal or dressy. You won't be using a pair of joggers in a cocktail outfit anytime soon. However, there are ways to make them look dressy and well put together.
The key to pulling off this sophisticated look is to layer up the top. For example, if you're wearing a button-up shirt, wear a cardigan on top; if your top of choice is a plain t-shirt, layer that with a simple leather jacket or a black suede jacket.
If you want to look well dressed, keep things minimal and to the point, and avoid wearing vibrant colors. The philosophy of "less is more" is the driving force behind the dressy jogger pants outfits.
Khaki Joggers Outfit
Khaki joggers often get sidelined in favor of more famous colors like black and grey. However, khakis are just as capable of creating posh-looking outfits.
You have plenty of color options when it comes to shirts and shoes. But, pure white and light blue are by far the best options to choose from. Additionally, light blue button-ups are a wonderful choice for any occasion.
Cargo Joggers Outfit
Cargo joggers are the modern iteration of the classic jogger pants design and fit perfectly in urban fashion. Whether you're looking for something urban casual or you want to dabble in the world of streetwear, cargo joggers are the way to go.
A great example of cargo joggers' potential would be a combination of a long white t-shirt with a light brown hoodie, a pair of bright white sneakers, and a pair of navy blue joggers. Add in a contrasty wristwatch and a white beanie, and you've got an outfit that's worthy of being on the front page of a fashion magazine.
Grey Joggers Outfit
Grey joggers are the default joggers. They are the ones that first come to mind when people think about joggers in general. So, it is only natural that outfitting them is incredibly simple. Even something as basic as a matching hoodie looks fantastic. However, you can do much better.
You have the choice to go for black/white tops, or you can start introducing some much-needed color into your outfit while using the grey joggers as a neutral base.
Green Jogger Outfit
Green is an unusual color for men's clothing, especially for joggers. Green joggers are super uncommon, and you would not see a pair on the streets very often. However, it is this lack of mainstream popularity that makes wearing green joggers so amazing.
The only thing to remember when styling a pair of green joggers is to always consider the color matchups. A light-green or khaki top might fit brilliantly, even light blue is not a bad choice, but a maroon top will just look bad.
Frequently Asked Questions:
Hopefully, by now, you have a good idea of what joggers are and how you can wear them. These are the most frequently asked questions regarding men's joggers. Answering these will further our understanding of what joggers are.
Are Joggers in Style In 2021?
Yes, joggers are not only in style but have become a critical part of every man's closet. Their popularity was on a constant increase but that slow growth hit a steep wall as soon as the pandemic started.
People were spending more and more time at home, and the demand for something comfortable yet good-looking was through the roof. People quickly noticed that modern joggers fit their needs perfectly, and the rest is history.
Today, joggers are a crucial part of every man's wardrobe. Even something as minimalistic as a capsule wardrobe is incomplete without these jogger pants.
Are Joggers Supposed to Be Tight?
Modern joggers lie in between the two extremes of tightness. They are tight enough to outline your body shape yet loose enough to completely avoid the skin-tight label. Considering their athletic origins, joggers should offer great movement first and aesthetics second.
What Is the Difference Between Joggers And Sweatpants?
Joggers and sweatpants are often confused with one another, and some even use these terms interchangeably. However, they are not the same thing. Yes, they are both as comfortable as it gets and are often worn for comfort first and style second, but that is where the similarities end.
Sweatpants are made from a slightly thicker fabric that is exceptional at absorbing sweat even after a long workout. They are also very loose and free-flowing. Joggers, on the other hand, are the lightweight of the two, made from thin, breathable fabric. Their overall design is also much tighter and more defined.
Can You Wear Joggers to Work?
Yes, you absolutely can. Wearing a pair of black joggers alongside a black t-shirt and a neat blazer will look professional in most situations.
The only thing to look out for is that a few workplaces' dress codes might prohibit joggers and sweatpants, no matter how they are worn.
Are Joggers Good for Hip-Hop Dancing?
Joggers are one of, if not the best, pairs of pants for a hip-hop dance session. They are loose enough to let you move freely, without any extra fabric flapping around.
Do Loafers Work with Joggers?
As mentioned earlier, footwear is just as important a factor in a jogger pant's outfit as the top. So, choosing the right shoe for the situation is crucial. Luckily, great options like leather loafers are completely compatible and produce breathtaking results when matched correctly.
Final Words
Joggers are, undeniably, one of the greatest pieces of men's worldwide fashion. They are everything you want from a pair of pants, stylish, comfortable, and versatile. This versatility, in particular, is what separates joggers from everything else in the market. If you'd have to pick one type of pants for the rest of your life, joggers would be as close to the correct answer as you can possibly get.