Men with a great fashion sense abide by the rule of dressing according to the occasion. Deciding the outfits is easy when the occasion is strictly formal or evidently casual. However, if you are required to have a slight level of formality on a casual occasion, no need to be confused, the very classy combo of blazer with jeans should be your choice.
A blazer and jeans outfit, when styled correctly, is the most fashion forward look one can have. The crisp look of the blazer jacket fuses with the laid back feel of the denim, helping you rock the semi formal looks.
When it comes to the blazer jacket, you must not limit yourself to the navy blue one. The style guide below will equip you with many ideas using several types of blazers that are paired with different jeans create awesome outfits that will definitely woo the onlookers.
Before we hop on to the outfit suggestions, let us answer two of the most asked questions about blazers:
What is a blazer? And, Can you wear a blazer with jeans?
What To Expect In This Article?
What is a Blazer?
Having an identical appearance to the suit jacket, the blazer is less structured and with a comparatively loose fit. It can be in the single or double breasted style and is usually made with worsted wool, flannel, serge or linen fabrics. The texture of the blazer is smooth, hence the similarity with the suit jacket. However, its silhouette featuring the soft shoulders makes it less dressy than the suit.
Buttons in golden or contrasting colors are a specific feature of the blazer jacket. Plus, they don't come with a matching pair of trousers like the suit jacket.
Can You Wear a Casual Blazer with Jeans?
Yes, you definitely can! When there is a need to layer your smart casual outfits, nothing can give a sharp and stylish look than a well fitting, solid colored blazer. As most men prefer to wear jeans for almost every type of casual look, the blazer and jeans combo is definitely a minimalist and classy choice.
Jeans and Blazer — A Man's Best Outfit Combination
You can never go wrong with a sports jacket with jeans; an outfit that is perfect for the practical, laid back men. Generally, blazer and jeans are opted by men who want to look appropriate and out together in front of other, regardless of how dysfunctional their daily schedule gets.
Blazer and jeans outfits are exceptional choices for men with a set capsule wardrobe; a tailored suit jacket to go with multiple collared shirts in basic shades. For instance, a black blazer with jeans and a white shirt are a match made in heaven.
You can wear this look to corporate meetings, semi-formal dinners, and even at a formal family function. Of course, you must always take the fitting and design of the men's casual blazer into count. These are basics that a man should not forget to cover.
Trendy Jeans and Blazer Outfits for the Fashion Conscious Men
Some of the basic men's wardrobe essentials, combined with the right shoes and complementing accessories, can build eye pleasing jeans with blazer outfits. Make sure that the blazer fits you well. A streamlined fit with aligned shoulders, wrist length sleeves, and comfortable fitting waist is the right way to go.
The jeans that you opt for are neither too skinny nor baggy. Also, avoid wearing jeans and a blazer in the same shade as it would mimic a suit.
1. Monochrome Outfit with Men's Casual Blazer and Jeans
Can a stylish man ever look bad in an all black outfit? Never!
The outfit below proves that with this extremely suave look featuring a black blazer over a black T-shirt and black jeans. The v neck shirt is ideal for the casual style, complementing the plain black blazer well. All you need to do is put on a nice pair of shades, a watch, and a confident smile to help you rock this sophisticated outfit.
2. Street Style — Khaki Blazer with T-shirt and Jeans
When we talk about casual and street style, the most commonly worn outfit combos consist of a t-shirt and jeans. Not only do they offer a relaxed feel, but they work together on almost any casual look.
This particular outfit featuring a khaki blazer is created with a highly appealing cream colored knitted t-shirt which exudes magnificence. Add a stonewash blue straight fit jeans to the mix, and you will end up impressing onlookers with your gentleman looks. A pair of chukka boots in dark brown color will be the perfect footwear choice with this street style look.
3. Best Blazer with Jeans for a Preppy Style
Neat, young, exquisite, and classic are the words that perfectly define the preppy style. The blazer-jeans combo works well to build a preppy outfit due to the crisp, youthful look it gives. Combine it with the right accessories, and you will rock the fashion forward look!
Delve into your closet and take out that nice knitted scarf that has been waiting for a showtime. It will be a perfect accessory for this preppy style outfit of a dark brown tweed blazer with blue jeans. Go ahead and add a stylish bow, followed by brown sneakers to finish off the look with a panache.
The addition of shades and a dress watch will further enhance the extremely stylish, masculine look.
4. The Classic Navy Blazer with Dark Denims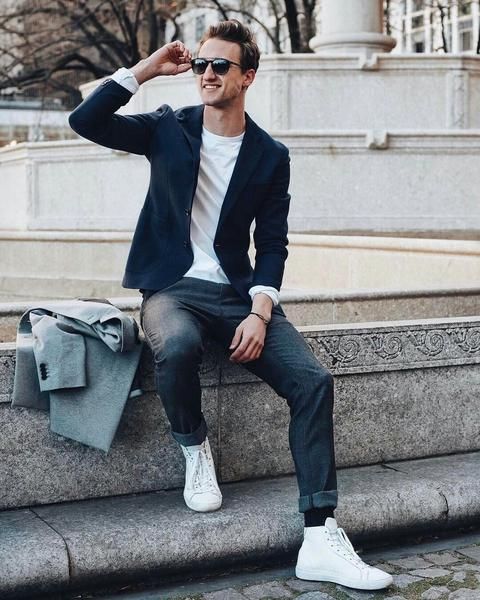 An effortless look which any man can pull off, this navy blazer and dark blue jeans along with a basic white henley shirt is a classic outfit. You can easily wear it to a brunch date, a friends get together, or even as a business casual outfit.
The white ankle length sneakers add a sporty touch to the outfit, which you can swap with brogues or Chelsea boots for a sharper look. Don't forget to add an irresistible appeal by throwing on a nice pair of sunglasses when you step out.
5. Dressing it Down with a Grey Double Breasted Blazer and Blue Jeans
A double breasted blazer is slightly dressier than a single breasted one, making it the apt choice for business casual looks. Refer to the image below. You will see that this man is personifying style with panache in a grey double breasted blazer. The choice of denims with this look should be a lighter shade of blue or dark to enhance the light hue of the jacket.
The blazer is worn over a white button up shirt, giving this work-ready look a neat feel. Add a pocket square and a leather office bag to complement this attire and give it a semi-formal touch.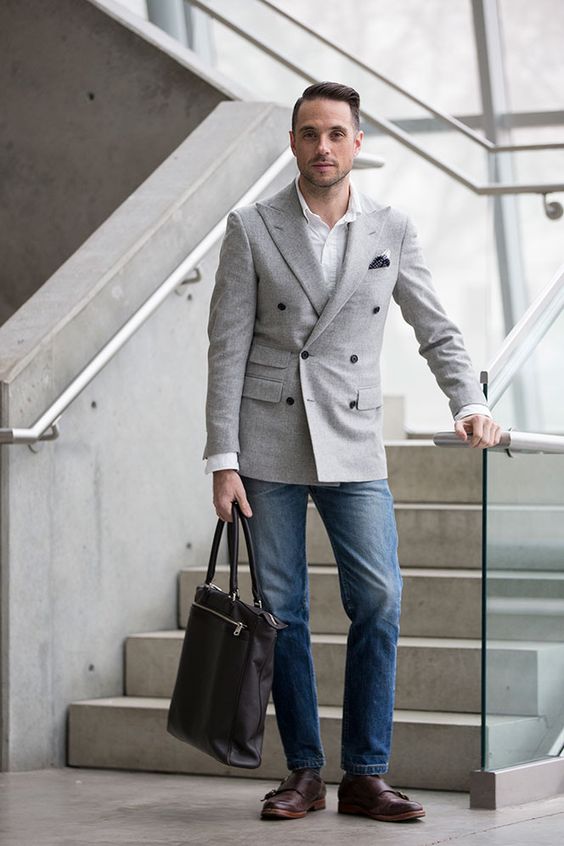 6. Layering the Grey Blazer Over a Hoodie and Black Slimfit Jeans
A leather blazer for men can help you pull off a dressy look even in winters. The choice of leather blazer for this outfit is a grey flannel one that goes well with a light grey hoodie. The snug hoodie will offer warmth and relaxation, making this a perfect casual attire for fall and winter.
The black slim fit jeans look great with this combo, and a pair of dress boots add a majestic appeal to this business casual look.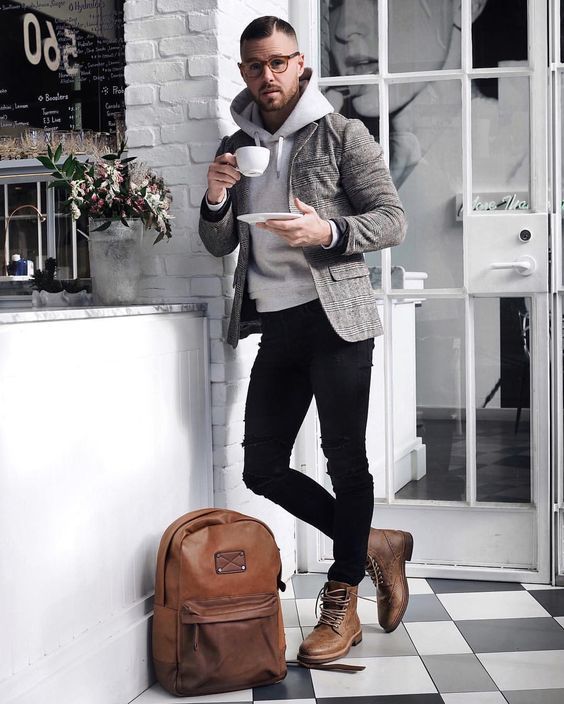 Sports Coat vs. Blazers vs. Casual Suits: Which One is the Best for the Smart Casual Look?
We see men using the terms sports jacket and blazer interchangeably as an outerwear choice for casual outfits. That's perfectly acceptable even though the two are different from each other.
There is a difference in structure of the jackets, the blazer being slightly more structured than the sports coat. Also, the fabrics are different as the sports coat is usually made of printed or textured fabric like tweed or hopsack. Blazer, on the other hand, is made with smoother fabrics like serge or linen.
The sports coat with jeans looks similar to the blazer with jeans outfits in terms of appearance Although the blazer is the most apt choice when it comes to the smart casual look, below is an outfit idea with a sports coat for those who like patterns and textures in outerwear.
Mixing a Patterned Sports Coat With Jeans
Consider opting for a denim shirt while building this smart casual outfit. The denim shirt is a classy clothing essential that looks sophisticated as well as trendy. It teams up greatly with a white jeans, giving the perfect charismatic vibes to the wearer. The choice of outerwear for this outfit is a flannel sports jacket in grey color. The boat shoes complement the laid back look perfectly.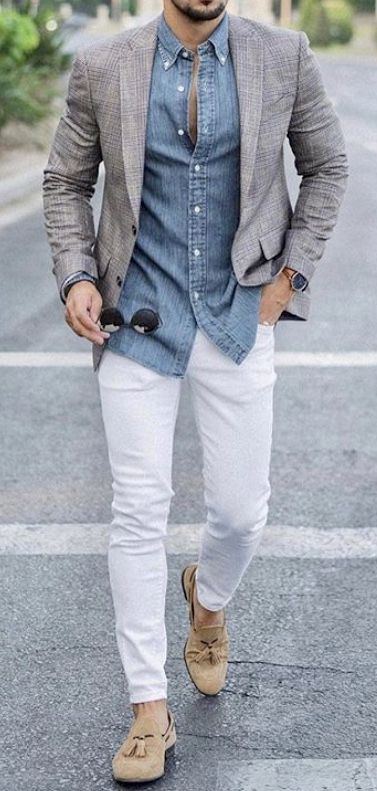 FAQs
How do you wear a blazer casually?
Although the blazer is appropriate for a dressed up look, you can wear it with casual clothing essentials like jeans, T-shirts, or chinos to build smart casual outfits. Leave the blazer unbuttoned for a relaxed feel.
What Color blazer looks best with jeans?
The Navy blazer is a classic choice that can never look bad with any kind of jeans. But you can also go for brown, black, white, or cream colored blazers for a casual jeans-blazer outfit. All these colors are versatile enough to be paired with different shades of denim and shirts.
What shoes go with a blazer and jeans?
The jeans and blazer combo is used to build smart casual outfits like the street style, preppy style, or business casual style. Therefore, opt for leather shoes that are neither too formal nor very casual. Ankle boots, chelsea boots, dress boots, and brogues look appropriate with a blazer and jeans.
How to wear a blazer and jeans in every season?
Most outfits featuring the blazer and jeans are perfect for summer and spring seasons. However, the addition of warm clothing essentials like a woolen scarf, hoodie, or a sweatshirt can help you pull off this look even in the fall or winter season.
Should a blazer be darker than pants?
There is no hard and fast fashion rule as to whether the blazer should be darker or lighter in color than the pants. Light colored blazers look very sophisticated with dark jeans, whereas dark blazers and light shaded jeans make one look dapper.
Just make sure not to opt for the same color of blazer and jeans, unless it is black. Doing so will give off an appearance of a suit, which is certainly undesired at a semi formal or casual occasion.
Is a blazer and jeans formal?
Blazer and jeans outfits are definitely not formal outfits. You should never opt for these if an occasion calls for a formal look. You should better go with a suit and keep the blazer and jeans for semi formal and casual looks.
Conclusion
The stylish combination of blazer and jeans help a man look sharp and dressy while feeling relaxed. Celebrities and fashion bloggers frequently opt for this look in street style casual outfits, making it a raging trend.
So the next time you want to dress up and appear well groomed on a semi formal occasion, go for this eye pleasing combination along with the right accessories to nail the smart casual look.