Even after years and years of shopping, some people can't decide the kind of style they have. And so the first thing you need to do is determine your personal style otherwise you will never feel comfortable and become reduced to a version of someone else.
Here are some styling tips to answer the most popular question of all time: how to dress up.
Reasons To Dress Up Your Outfit
Men and women might have different opinions on various facets of life. There is one thing where the majority is clueless—how to dress up and maintain a the average fashion expectations.
Styling isn't rocket science, but it is an art. With art, subjectivity leads and that's great news. The art of style should be treat as a jigsaw puzzle; look for the right piece in your closet to get the complete outfit.
For instance, guys with a basic style think they can't do much about their casual outfits, but that's not true. Similarly, if a woman wants to fill her wardrobe with dresses, she can achieve countless looks. By selecting the right type of dress, one can roll in style from streets to parties.
In any case, fashion sense is subjective. Clothes that you think look ravishing on you, for others they can be very dull or avant-garde. Therefore, we have hand-picked these useful tips that give a new lease of life to everyone's closet.
Tips to Dress Up Your Outfit for Women
When we search for how to dress casually, the internet gives us some solid suggestions. Nonetheless, they are not for everyone. Keeping that in mind, we have made evening and streetwear outfits simple for all the ladies. Read on to know how to dress simple but stylishly.
Imagine you are getting late for the office, would you waste more time in choosing the outfit of the day? Of course not. Simply, use these easy tricks to dress up beautifully in a few minutes every morning:
How To Dress Up In A Casual Outfit
Plain T-shirts, jeans, and high-top sneakers are great for a comfy on-the-go kind of look. Especially, after lockdown, people don't mind wearing and seeing others in casual wear. That means nobody will judge you for under-dressing.
With these tees, you can wear cotton pants, flared jeans, or modest shorts to add more character. To spice up this look, you can use neutral footwear, such as a pair of white sneakers, nude heels, and black or brown leather boots.
If the weather is cold, a plush oversized fleece jacket would incorporate a new element. T-shirts with seditious words or images look better in the store racks rather than in your closet.
How To Dress Up and Get That Refined Look
In this kind of style, you have a myriad of options. Let's take a look at them:
How to Dress Up — Add Layers
Every girl has one simple universal top. When you add a blazer to a dress or a classic top, the transformation becomes praiseworthy. For a modern twist, wear a blazer with skinny jeans, a leather belt with a metal buckle, and ankle-high boots.
How To Dress Up — Wear A Jacket
Dark blue or black denim jacket immediately changes the feel of an outfit from casual to evening-appropriate. Add strappy heels and a few rings to make this look more polished.
In fact, it is the safest jacket to wear with a dress for a brunch with your friends.
Smart Color Combination
Regardless of the personality, anyone can nail the timeless white and black looks. From a white blouse and black jumpsuit to a monochrome dress, nothing can go wrong with this combination. With such a look, you can add a subtle piece of jewelry like small diamond studs and a delicate necklace.
Taking Your Style Up a Notch
How To Dress Up According To Your Body
It's no secret how flattering a dress looks on a woman of any size and shape. On that note, a blouson dress is the epitome of elegance. From plunging necks to defined waists, they are available in fantastic variations. These dresses look best with small pendants and ear studs. Basically, try to understand your body type and pick numbers that fall in either of the two categories:
Flatter your shape
Complement your skin tone
How To Dress Up in Leather Bottoms
On a windy day, a leather skirt is hands-down an immaculate garment. Appearance-wise, no other category of bottoms holds a candle in front of an effortless leather skirt. A black leather skirt looks fun with a crop top and matching heels.
Clean Up to Dress Up
After finalizing your outfit, give your hair the extra effort. Your hairdo has the power to make or break a style. Apart from that, you can mix and match your bags, belt, and jewelry with any attire you like. These things are literally the icing of a cake as they class up the entire look.
Tips to Dress up Your Outfit for Men
Let's be honest, mostly, men keep hoarding items that they don't wear. And, they always refuse to throw them out. We know that deciding what to wear can be a mind-numbing experience. That's why we won't blame you for not changing many clothes from last year. So, to clear that closet clutter, you can consider these styles:
How To Dress Up While Staying in Your Comfort Zone
How To Dress Up — White Denim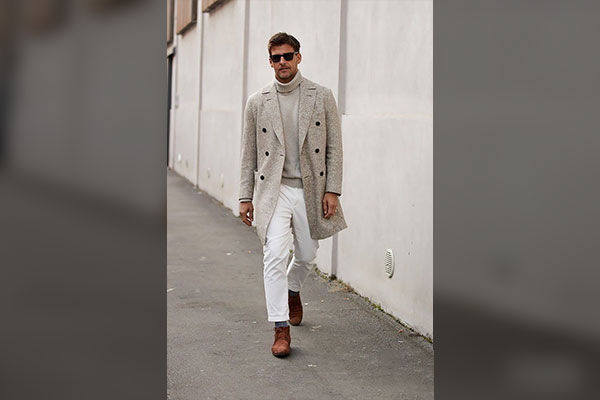 Because white denim is a risky choice, people don't wear it that frequently. Well, the first thing you must do is get rid of the fear and find out how to wear white denim on regular basis. Yes, it can stain the moment you wear it. But once you decide to be brave, you will realize what you were missing out on in life. You can upgrade this getup by wearing a navy short sleeve shirt with dark brown loafers.
How To Dress Up — Denim Shirt
Men like to invest in a durable, minimalistic, and versatile fabric. Thus, including a denim shirt in their wardrobe is a no-brainer. Also, it is the ideal staple for a neat style.
Feel free to wear those funky sneakers and bracelets with your casual outfits.
How To Dress Up In Innovative Styles
How To Dress Up in A Smart Casual Style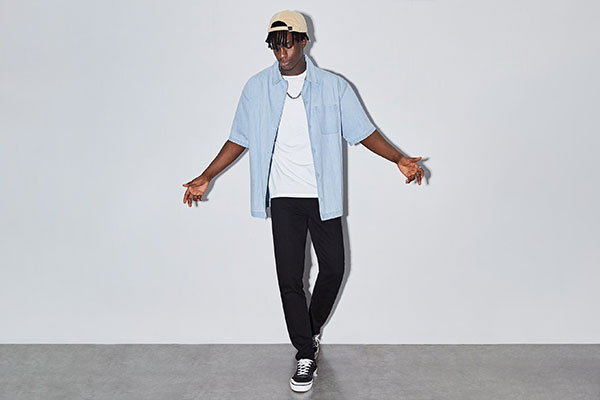 Smart casual leaves us in ambiguity. We do see or hear this term everywhere around us, yet a lot of guys are uncertain about this dress code. Nevertheless, we will tell you how you can rock this look.
In this style, you wear chinos or denim with a shirt, a men's leather blazer, and a pair of leather shoes. For instance, wearing a white oxford shirt, blazer, black jeans with black sunglasses is a failsafe outfit.
How To Dress Up in A Tailored Blazer with Jeans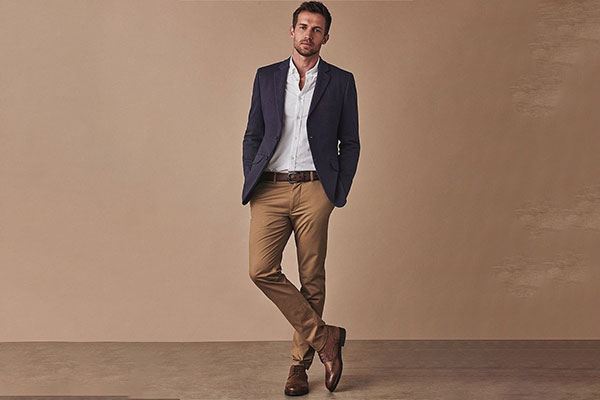 Outside the rigid boundaries of the dress codes, some looks give people the freedom to express themselves while being comfortable. Business casual outfits allow a person to wear a blazer with a simple dress shirt and a pair of jeans.
Whether you are going for a blue, grey, or black blazer, dark wash jeans with jet-black leather Chelsea boots and black belt will always look sleek.
How To Dress Up in Formal Wear
Understated Colors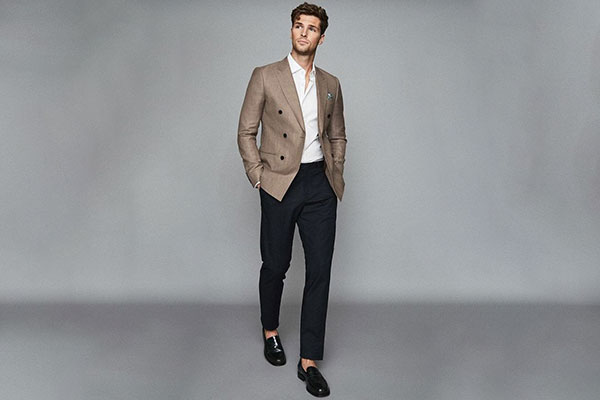 There are some colors that synchronize with every outfit. Likewise, a navy blue suit is one of the most economical formal attire. With a blue suit, your business ensemble becomes dapper. To accessorize it, you only need a silk tie with a gold or silver colors tie clip and your black loafers.
Neat Up to Dress Up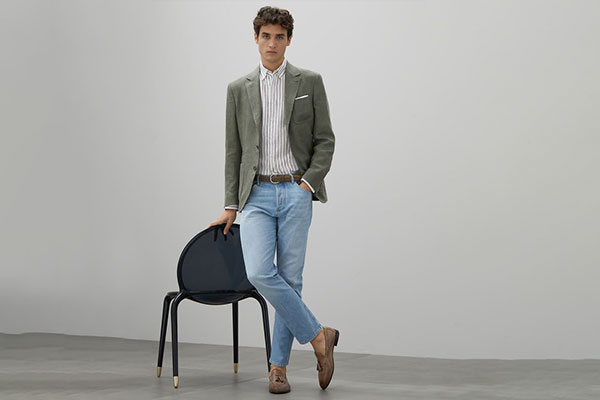 Having said that, don't go overboard with the accessories. You may have heard the phrase: less is more. In this situation, it fits perfectly. In simple words, when you dress up, the point of interest should be your outfit.
FAQs
What type of jacket looks trendy and keeps us warm in winters?
There is one jacket that will always be a fashion statement: Parka Jackets. If you still don't have one, we have good news. The Jacket Maker provides excellent custom parka jackets as per your style.
How to dress down a dress without looking drab or dull?
If you think that you are looking a bit too extra for the event, pick cute flats over heels.
How to dress classy in the office without wearing a suit?
A dress shirt or a cozy sweater looks amazing with jeans or khaki at the office. There are many ways to dress up; especially an outfit with khakis for work is immaculate. On top of that, a pair of khaki pants will get you a long way. 
Is it necessary to wear belts?
Belts are there for a reason. If your pants fit snugly, you can totally ditch a belt. But if you decide to wear it, you look more classy and stylish. 
How to dress classy and elegant every day?
Bold patterns and prints are a sophisticated addition to your clothing. Make sure the size is correct. When your clothes are too tight or too loose, the discomfort is impossible to conceal. If the gentlemen desire to appear graceful every day, a black suit with brown shoes is a great call.
Is it mandatory to match the shoes with the belt?
It basically depends on the type of the event. If you have to attend a formal event, the best option is to match your shoes and belt. It's okay if you don't match them when wearing casual outfits.
What is the most comfortable outfit for men?
Well, these days, sports luxe is the new name for comfortable style for men. Moreover, you can wear any type of accessory with such hip outfits.
Concluding How To Dress Up
Now you know how to dress up in no time. Additionally, you should never get scared of jumping from one style to another. Your wardrobe represents your personality and so it is an extension of yourself. By taking baby steps, anyone can up their game in the world of fashion.